2022 All-Actuaries Summit
How totally excellent actuaries can save the world with radical thinking
It's the wild, rebellious, and out-there thinkers of the world that have transformed industries, paradigms and society, with actuaries being no different. One plenary session at this year's All-Actuaries Summit plans to give those weird and wonderful thinkers a space to play.
From retirement, insurance and superannuation, actuaries with radical and daring ideas have challenged the norm and worked against conventional thinking to create something new or better. These pioneers were relentless in their dedication to their thinking.
The Actuaries Institute has been promoting greater diversity and inclusion in all functions and activities, particularly for young actuaries, creating a space for those new to the profession to express themselves.  
During this year's All-Actuaries Summit, the Institute is providing an even greater opportunity for young actuaries through this year's 'Radical actuaries and how they'd save the world' plenary session.
The session is facilitated by Naomi Edwards, Vice President of the Institute, Independent Chair of Spirit Super and Convenor for this year's Summit, and Jeffrey Chan, President of the Young Actuaries Advisory Board and Senior Data Scientist at Boston Consulting Group.
Naomi said many young members have been developing a lot of great ideas across multiple disciplines with passion and enthusiasm.
"Young actuaries don't just want to look at their profession," she said. "We wanted to have a platform at the plenary for all young actuaries to present your most radical ideas on how you could shape a whole bunch of business areas, or how you could reshape the world if you want to."
Jeffrey said he and Naomi wanted young members to present ideas that push boundaries and can bring about positive change that completely changes how we think about the problem.
"We want our young members to present the biggest and craziest ideas," he said. "Something that may totally change our thinking relating to the problem areas rather than presenting some solutions which may bring incremental changes to the existing way of working."

What it means to be a 'radical' actuary
Being a radical actuary doesn't just mean in attitude. It can mean having a big or ground-breaking idea or pursuing a goal no matter the challenges in front of you.
Recent examples of what a radical actuary looks like includes the unconventional journeys of those who join the Actuary Without Borders program. Actuaries are vital in numerous projects that make real change, including working in Africa developing microinsurance for low-income populations with lower premiums.
It could even be the radical idea of creating an 'Actuaryland' theme park for visitors to learn everything about actuaries.
Naomi said they are looking for any idea that you have, no matter how big.
"It doesn't have to be purely actuarial. We do data analytics and modelling in any area. And this totally goes hand in hand with our summit title this year, which is getting closer, but thinking bigger," she said.

How to get involved in the 'radical actuaries' plenary
Anyone with a burst of inspiration or just an 'out there' idea is encouraged to share their idea in an outline to events@actuaries.asn.au by 8 April 2022 for review.
Approved presenters will have 10 minutes to pitch their ideas based on a problem to the All-Actuaries Summit attendees on Tuesday 3 May 2022 at the Melbourne Convention and Exhibition Centre (in-person or virtually) and attempt to solve them.
Summit attendees will then vote on the most daring pitch.
We'll be covering six different problem areas, including:
Data Analytics

Environmental, Social and Governance (ESG)

Space Insurance

Government Policy

Superannuation
Jeffrey said individuals or groups will be supported by a coordinator and a mentor who specialises in their problem area and can provide support and advice.
"Mentors will be experienced industry professionals who will provide feedback on approaches and content," he said. "While the coordinator is the contact person to ensure he presenting team or individual will meet regularly to discuss, and the final presentation will be submitted by the deadline." 
The two winners will be announced in an email to all members and an Actuaries Digital article.
This is a big call out to all our young members," Naomi said. "Get together in a group, have a big idea, do something really fun for 10 minutes!"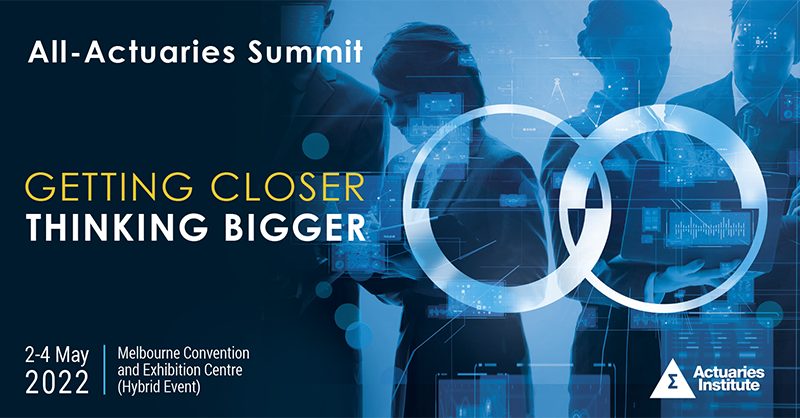 CPD: Actuaries Institute Members can claim two CPD points for every podcast listened to.