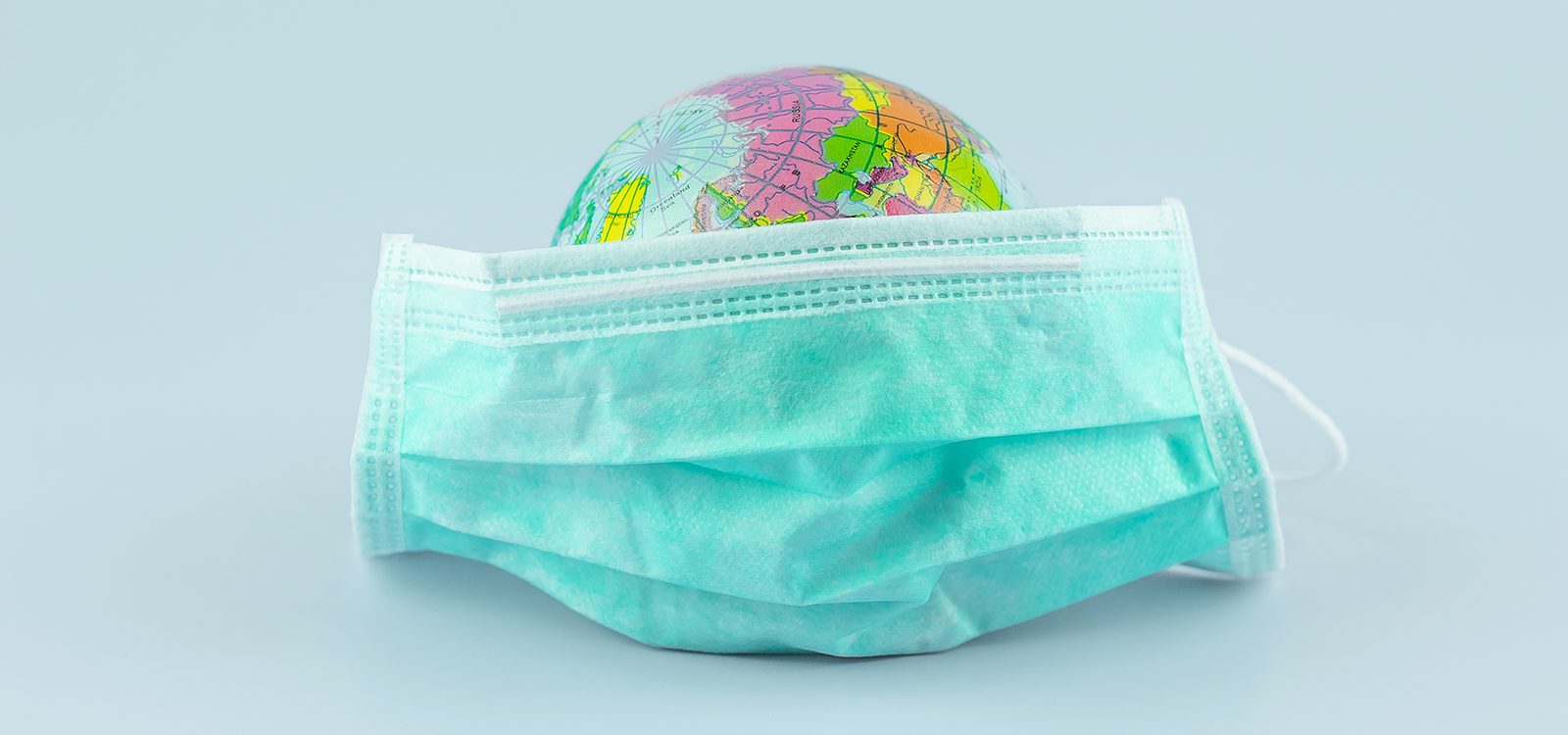 Climate Change Blog
COVID-19, Climate Change, and the Green Recovery
This edition of the Climate Change Blog looks at the effects of COVID-19 on the atmosphere and how policy makers are responding with economic stimulus that could restart growth and hiring while ushering in a more environmentally sustainable 'next normal'.
COVID-19 and Atmosphere
The tragedy of the COVID-19 crisis has an enormous impact on the globe, both in the people infected by the virus, as well as in the people hit by isolation measures used to combat the virus's spread.
Among the negative impacts of COVID-19 on the world, there are some environmental "bright spots" stemming from isolation measures that are being talked about in media:
In the context of global warming, we monitor the concentration of greenhouse gases in the atmosphere. To limit global warming to a set scenario (e.g. 2 degrees temperature rise above pre-industrial levels), there is a certain level of greenhouse gas, converted to carbon dioxide equivalence (CO2-e), allowed in the atmosphere (the concentration of CO2). There is a set level of carbon that can be released by human activity (known as the carbon budget) in order to have a reasonable chance of achieving a lower global warming scenario. CO2 in the atmosphere naturally reduces due to what is collectively known as carbon sinks (e.g. trees and the ocean), which currently absorb approximately half of human carbon emissions, though the amount absorbed varies widely year on year.
The reduction in human activity, and subsequent/associated carbon emissions, resulting from isolation measures is temporary, with expected increases in activity as isolation measures are released. The Carbon Brief noted that the International Energy Agency (IEA) projects a reduction on global emissions of 8% over the year (e.g. Chinese emissions fell 25% in February, and have increased again). With the reduction in emissions being temporary, this impact is unfortunately just a blip in terms of global warming and CO2 concentration in the atmosphere.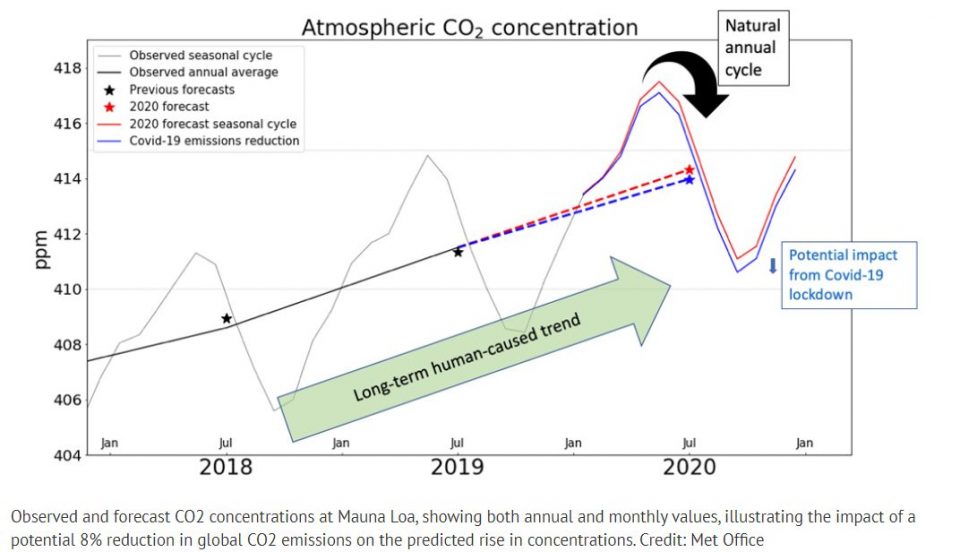 In the words of the Carbon Brief, consider an analogy; filling a bath from a tap.
"If the tap represents CO2 emissions, and the water level in the bath is CO2 concentrations, while we have slightly turned the tap down temporarily, water is still flowing into the bath and so the level is still rising. To slow climate change, the tap needs to be turned right down – and permanently."
Reopening the economy
Since the onset of the pandemic, policy makers have devoted themselves to protecting lives and likelihood and planning on how to "reopen the economy". Gina Raimondo, governor of Rhode Island, aptly described during a Freakonomics interview what many policy makers might have had in mind: "What's it going to take to safely reopen the economy? How can I get the most people back to work the fastest, as safely as possible?"
Fast forward four months later, efforts to provide economic relief and restart growth after the pandemic are well under the way. Governments around the world have devoted more than $10 trillion USD to economic-stimulus measures, which is 3 times more than the response to the 2008-09 financial crisis.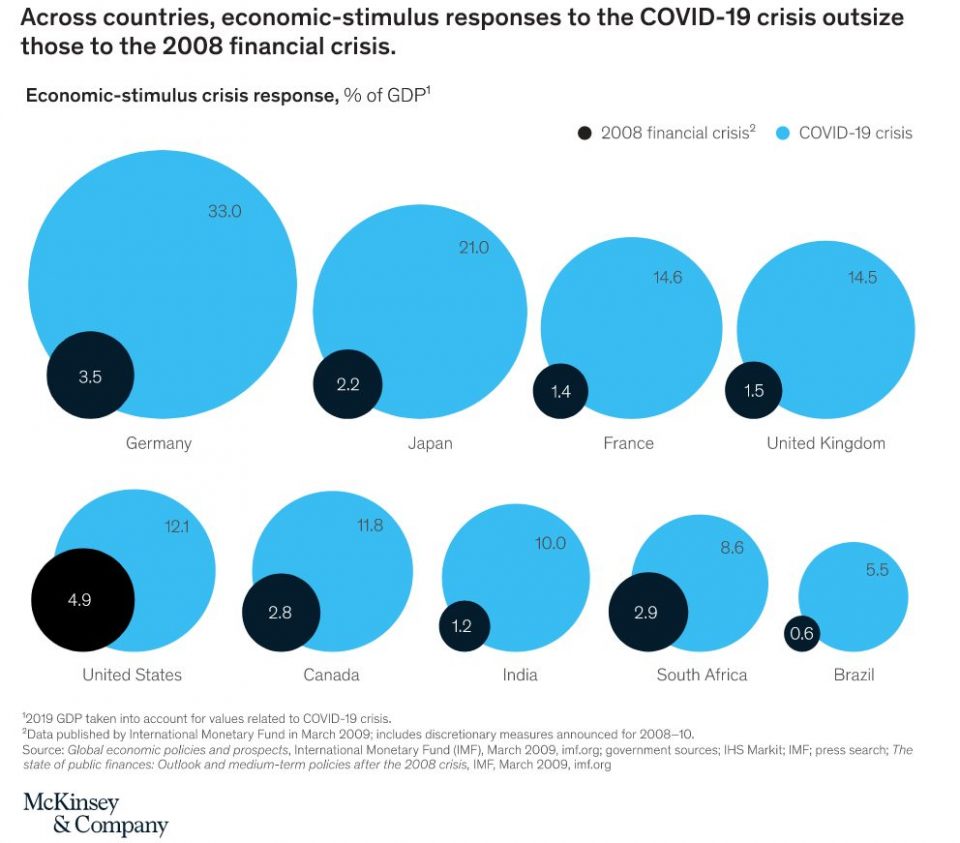 Thus far, the announced stimulus measures have three primary objectives – maintain financial stability, maintain household economic welfare, and help companies survive the crisis. The same report found that more than 90% of countries have released measures that specifically target SMEs, and more than 50% have released measures targeting tourism, transport, and travel. The world's economic response so far has focused on relief.
A green recovery
A report published by McKinsey & Co. concluded that a low-carbon recovery, or a "green recovery", could not only initiate the significant emissions reductions needed to achieve net zero by 2050, but also create more jobs and economic growth than a high-carbon recovery would. A study of government spending on energy technologies showed that spending on renewables creates 5 more jobs per million dollars invested than spending on non-renewable energy.
The next few sections of the article outline what governments are doing to achieve a, hopefully, green recovery.
Australia
Australia's National COVID-19 Commission Advisory Board (NCC) supports the Government's plans for Australia's economic recovery and getting as many people back into jobs as quickly as possible. In May 2020, the NCC outlined its plans for a gas-fired recovery and suggested promoting gas exploration, gas pipelines and gas-fired power stations. One of the organisations to respond was the Institute of Energy Economics and Financial Analysis (IEEFA), who issued a report explaining that a "gas-led" recovery might switch energy resources from coal to gas and provide "quick wins" for the economy, but it will not materially reduce our carbon footprint.
Several organisations together call for support for COVID economic recovery to stimulate jobs and to rebuild a sustainable economy. The statement outlines the opportunities for investment for better energy efficiency and energy management and emphasised that a major drive to improve the energy efficiency of buildings and industry could deliver over 120,000 job-years of employment.
A research note by RBA showed renewable investment had been an important contributor to economic growth but had fallen in 2020 due to policy paralysis. The note showed that the renewable energy industry had supported activity and employment, particularly in regional areas. The report found the longer-term outlook for clean energy investment was more positive, but would depend on government policy, electricity grid considerations and wholesale electricity prices holding up.
"Governments can help stimulate new investment, and in turn new jobs and growth, by prioritising a net zero emissions transition and clean energy plans in a sustainable recovery from COVID-19."
Erwin Jackson, policy director with the Investor Group on Climate Change
The NSW government decided to take an alternative path to the NCC. It plans to establish its first Renewable Energy Zone (REZ) in NSW's Central West so it issued a call for wind, solar and storage project proposals, which successfully attracted 113 registrations of interest for projects totalling a massive 27 gigawatts and valued at $38billion. This phenomenal response shows the massive opportunity REZs can create with jobs, investment and new revenue streams for regional NSW.
Recovery plan for Europe
The European Commission is set to transform their Green Deal strategy to reach net zero emissions by 2050 into a pandemic economic recovery plan that will drive private investment and create jobs across the continent. EU Leaders have negotiated and finally reached a deal on 21 July with all 27 member states. EU leaders agreed to a €1.8 trillion package that combines the Multiannual Financial Framework (MFF) from 2021 to 2027 and additional funds to support economic recovery called 'Next Generation EU' (NGEU).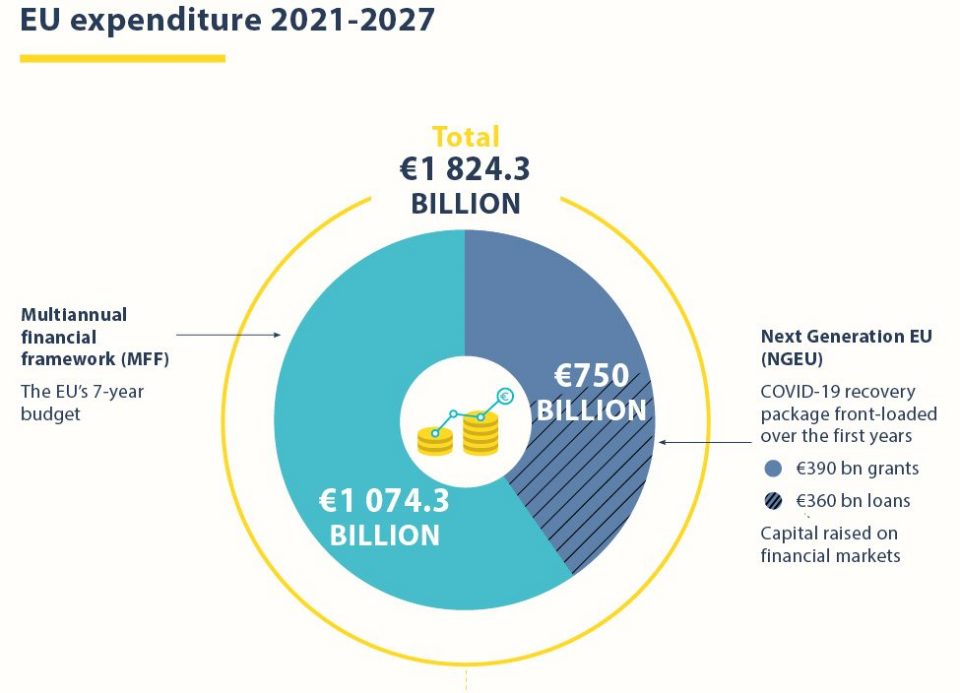 The deal also aims for 30% of the total €1.8 trillion expenditure from the MFF and NGEU to be targeting climate-related projects. Expenses under the MFF and Next Generation EU will comply with the EU's objective of climate neutrality by 2050, the EU's 2030 climate targets and the Paris Agreement.
Other overseas developments
Developments from other nations that connected government aid with climate action:
CarbonBrief tracks the world's "green recovery" plans to cut emissions after the pandemic. No doubt there will be more development in the months to come so we will keep you posted on this topic.
Would you like to know more?
The climate change blog series:
CPD: Actuaries Institute Members can claim two CPD points for every hour of reading articles on Actuaries Digital.