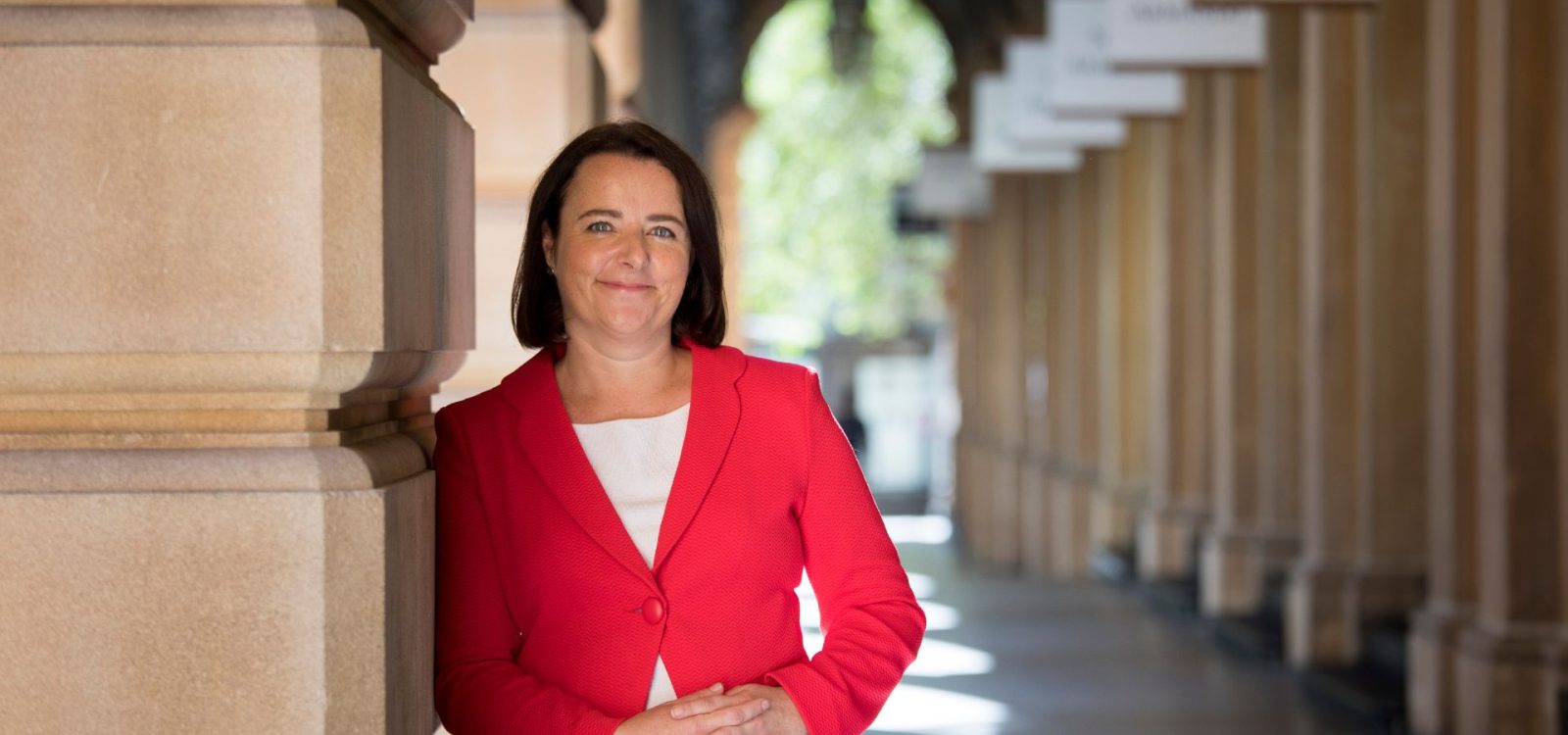 Under the Spotlight
Growing with Grace
This month we celebrate 5 years with CEO Elayne Grace at the helm of the Institute and 10 years at the Institute!
Elayne has been a charismatic and inspirational leader who is much loved by the HQ team and members.
If we were to put her leadership into data, this is what her last 5 years would look like:
Achieving over 1,500 media mentions of actuaries from our content, elevating the profile of actuary  
Bringing 1,000+ actuaries to Sydney in 2023 from over 50 countries for the International Congress for Actuaries, for the first time in 34 years  
Leading fearlessly through one unprecedented pandemic without skipping a beat, while pivoting the education program to online 
Celebrating 125 years of the profession, including 5 celebration parties across the Asia-Pacific, opening one time capsule and sealing another one for 25 years 
Backing 3 strategically important growth strategies – 2018-2021, 2022-2024 and Horizon 2035 
Overseeing the qualification of 631 Fellows and 831 Associates   
Achieving an 86% member satisfaction score  
Launching two brand campaigns – 'Using data for good' to answer the universal question in simple language of what it is an actuary does, and 'Do Data Better' to support the growth strategy in data science 
Publishing 30 thought leadership papers ranging across important societal issues including climate change, health, cyber and intragenerational disparity 
Enhancing qualification education through delivery of an education strategy review and launching the first micro credential – expanding our education program into life-long learning, starting with the data science micro-credential 
Lodging 92 Government submissions across climate change, annuitant mortality, future of life insurance, retirement and the rise of the gig economy 
Being named in the AFR Top 100 Women of Influence  
Raising two children

while doing all of this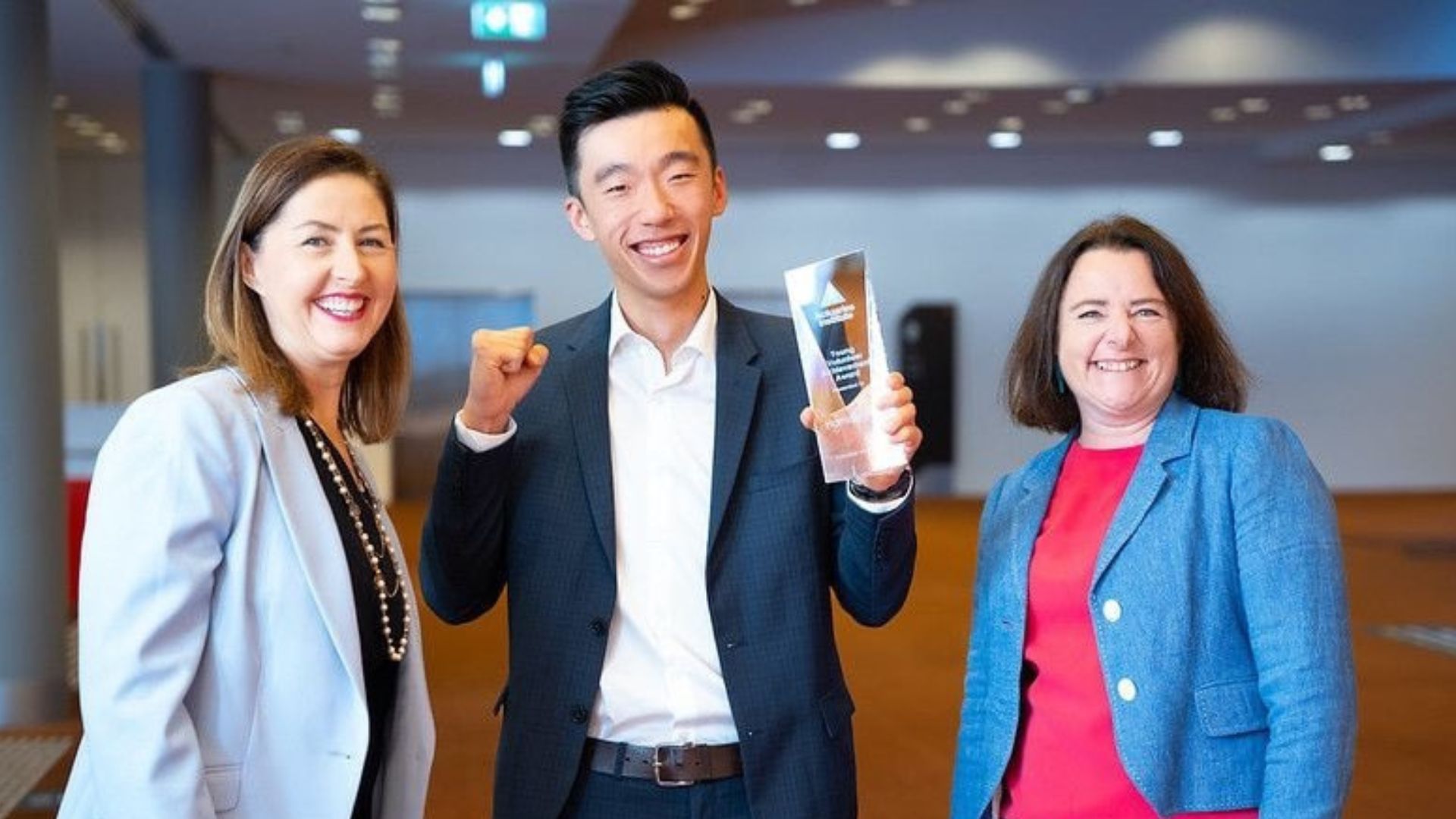 (Elayne with previous Actuaries Institute President Annette King and Harrison Gee at the 2022 Volunteer Awards) 
"Influencing public policy takes time. It's fundamentally about people but bringing factual, objective insight to important stakeholders so we can create stepping-stones for delivering better outcomes for Australia." – Elayne Grace
In 2018, Elayne took the helm as CEO. In his announcement email, the then-President of the Institute, John Evans, said this about Elayne:
"Elayne has a proven track record in raising the influence and awareness of the actuarial profession and the Institute, having delivered major thought-leadership position papers, and driven significant involvement in: the Financial System Inquiry; the Australian Human Rights Commission Anti-Discrimination Laws and Insurance Steering Group; and other Royal Commission and Productivity Commission inquiries."
Elayne has unique insights into the issues facing the profession, having led the development of the Institute's 2018-2020 Strategic Plan. Her vision is to build a strong actuarial profession that is in high demand now and in the future. A modern, outward-looking profession that is known for its cutting-edge data analytics, trusted insights and commercial strategy, as much as for its public policy thought leadership and its historic regulatory roles."

(Elayne with the 2022 Council Members  Iris Lun, Alan Merten, Anthony Asher, Scott Reeves, Win-Li Toh, David Whittle — Vice President, Naomi Edwards — President, Greg Bird, Annette King, Jeffrey Chan (2023 new member), Jia Yi Tan, Maathu Ranjan (2023 new member), Darren Stevens (absent), John Moroney (2023 new member absent)
Since then, Elayne has led the Institute Team to be more efficient, strategic and focused on Member needs. Under a new strategic direction, the Actuaries Institute launched our 2018-2020 Strategic Plan, which underpins our drive for excellence and continues to cement actuaries' reputation as trusted advisors.
As COVID-19 changed the world as we knew it, Elayne led the Institute Team in pivoting key milestone events like the 20/20 All-Actuaries Virtual Summit and student exams to the virtual world. The impact of COVID-19 provided an opportunity for the profession to contribute its experience and profound skill sets to help policymakers and the wider community come to grips with and understand the impacts of the virus. The implementation of a high-level COVID-19 Working Group with over 70 volunteers was quickly established, as well as a dedicated pandemic resource portal, COVID-19 blog, pandemic guidance notes and numerous articles to help members, industry, and the community better understand the impacts of the pandemic.
Despite the challenges of COVID-19, Elayne's leadership saw the strengthening of our connection as a community and a workplace as Member satisfaction, and the Institute Team engagement score remains high.

(Elayne with the 2022 Executive Team Michael Callan — Executive General Manager, Education, Fiona MacGillivray — Executive General Manager, Marketing & Communications, Brad Sherringham — COO/CFO and Vanessa Beenders — Executive General Manager, Public Policy & Professionalism)
Future-thinking: The Age of the Actuary
Celebrating the Institute's 125th birthday last year, Elayne noted that data analytics role during the age of data has never been more important. The essence of what an actuary is hasn't changed. The fundamentals, social purpose and information analysis have remained the same, but everything else has changed. And we are here to harness, integrate and question data to ensure that it is used wisely.
"We have continued to evolve. We work right across data science, retail, telcos, climate change, ESG (environmental and social governance), cyber." – Elayne Grace
Reflecting on today's focus, this commitment to using data for good places actuaries in a position of demand and longevity.
"We're doing well, we're in demand. Young people want to get in jobs that are meaningful and actually deliver value, and companies also want that." – Elayne, quoted by Insurance News
"Elayne's innovative and forward-thinking approach to leadership has firmly established the Institute as a global leader in the actuarial profession, a field that has never been more relevant in the age of artificial intelligence, machine learning and data science. Her inspiring vision and unwavering commitment to our future have in particular inspired tomorrow's generation of actuaries, with under-35-year-olds now making up over 50% of our membership." – President Naomi Edwards
Thank you Elayne, for your leadership!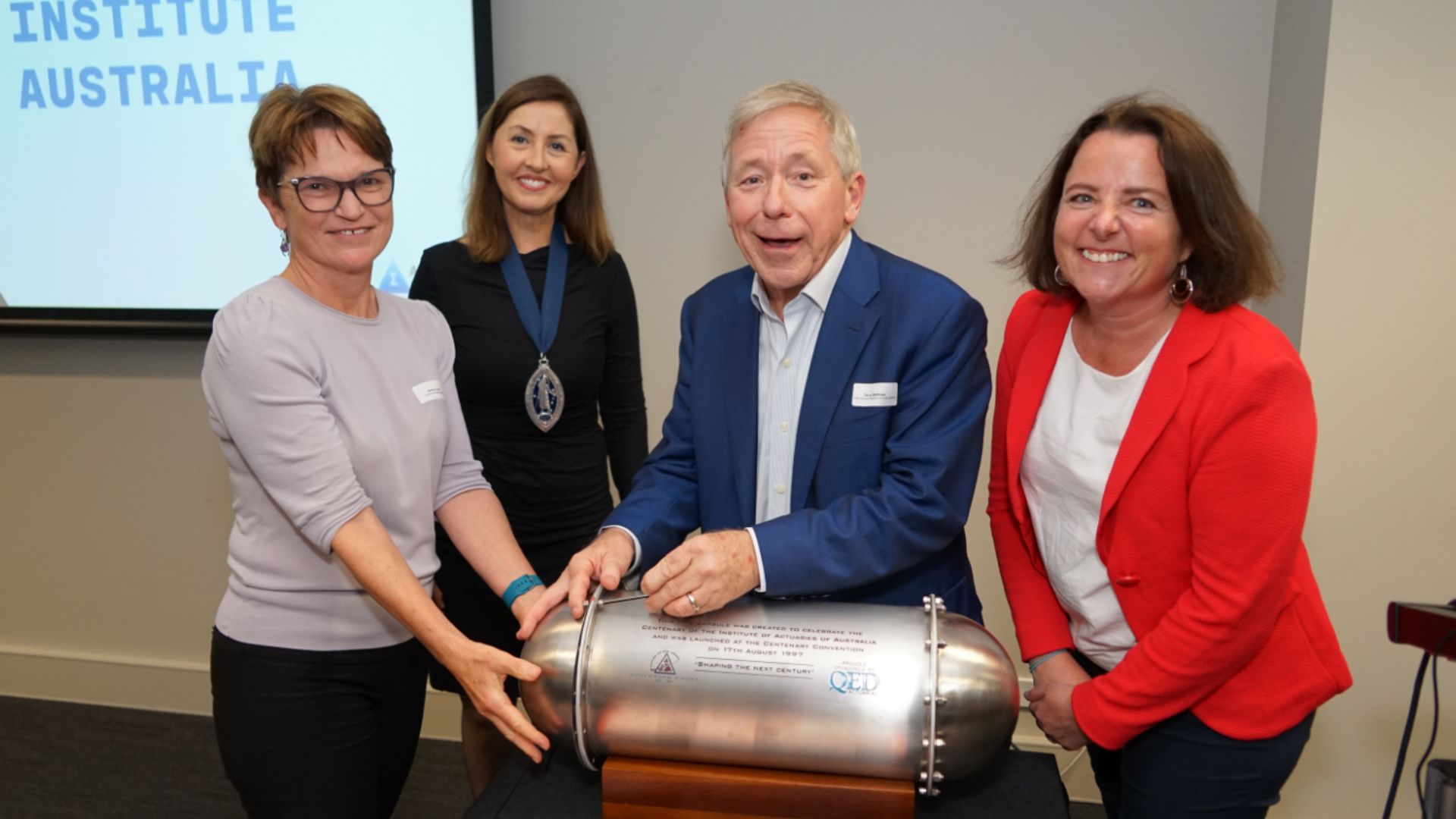 (Elayne Grace with Trevor Matthews, Jenny Lyon and previous Actuaries Institute President Annette King at our 2022 Sydney, Celebrating 125 Years Event)
CPD: Actuaries Institute Members can claim two CPD points for every hour of reading articles on Actuaries Digital.