Under the Spotlight
Under the Spotlight – Arthur Dann
Ahead of this weekend's Sydney Gay and Lesbian Mardi Gras Parade, Arthur Dann (co-chair of the Actuaries Institute's Diversity and Inclusion Working Group) goes Under the Spotlight to talk about his journey across multiple continents and what the #WorldPride festival means to him.
If I had to describe myself in an elevator, it would be an actuary who loves a good pun, spends a lot of time at the theatre, and always takes photos of buildings. You can see the photos I take on Instagram under @love.actuary.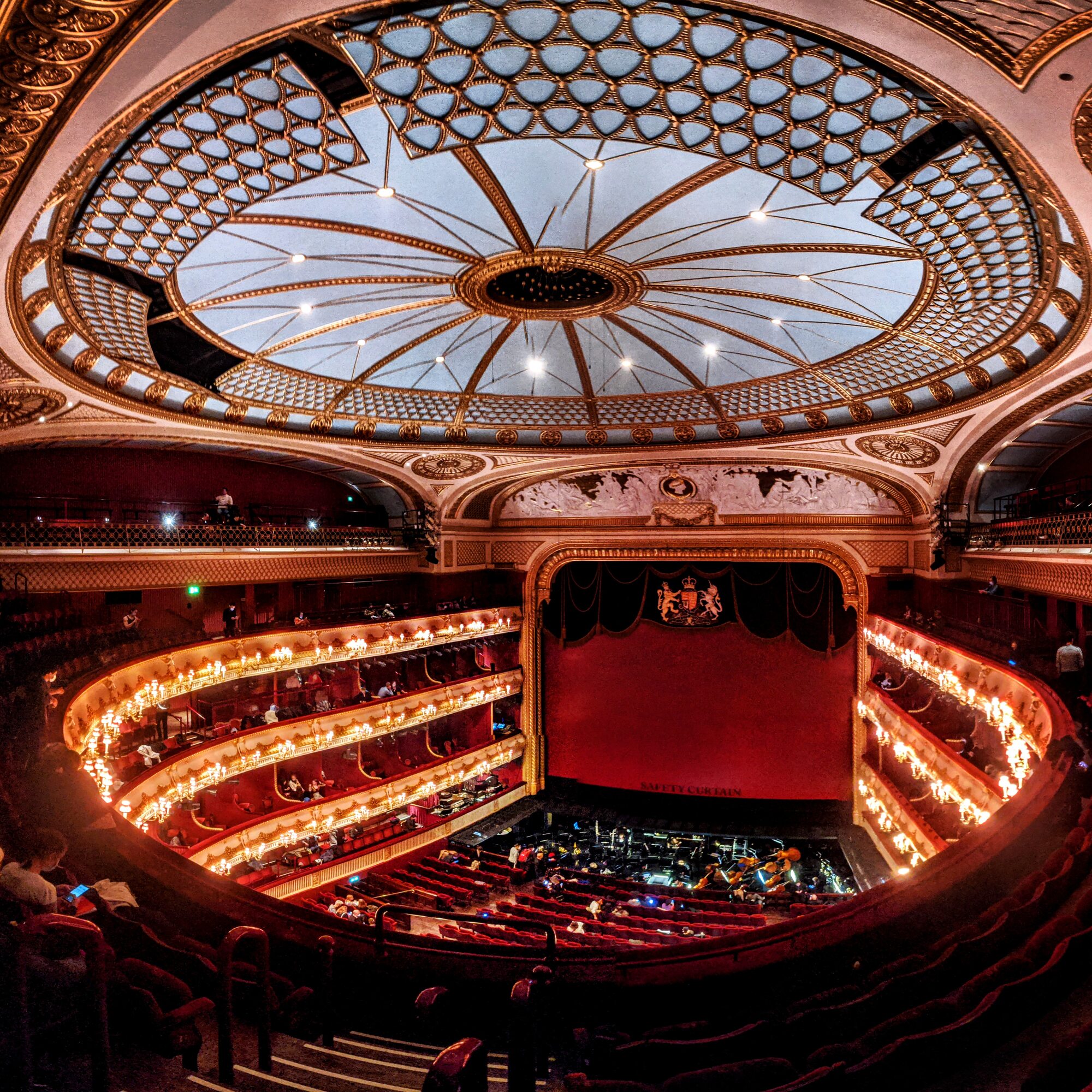 (Combining his love of theatre and buildings – The Royal Opera House)
Like many actuaries, I have a spreadsheet for just about everything! I've tracked over 500 theatre visits since 2007, and took stock of every food item I had during the first COVID-19 lockdown in London. I did this to track how many days I could survive without leaving my flat. Outside of these quirky actuarial hobbies, I've been teaching myself to play the piano since I was 12.
Being born in Australia, I still like to approach life here with an explorer's mentality; I don't see why we should take our home cities for granted. There are so many cultural experiences waiting for us – even simple pleasures like a walk along the coast or exploring the side streets near my house.
I became an actuary because my mathematics teacher said I should! I studied for my Master's degree at Macquarie University. I never realised that I was studying at one of Sydney's brutalist masterpieces, so I continue to regularly visit as an alumnus.
My career started in Sydney, where I was first involved in sales and support for actuarial software. I gradually moved into the General Insurance sector and then took a plunge in 2012 to live in London. In London, I discovered excellent opportunities to use my skillset for interesting purposes such as cyber, climate risk, reinsurance, and risk management. After ten years working in London, I found my way back home to Oz.
Throughout the years, I've been influenced by the people who believed in me, showed me empathy when needed and made me feel welcome.
When I came out to my colleagues, it was equally daunting as it was liberating. I was fortunate to have a very supportive CEO who was genuinely committed to inclusion. This prompted me to become involved in a range of D&I working groups and steering committees.
The most valuable skill we can possess as an actuary is effective communication. The heart of our profession is built on clearly defining a problem and effectively presenting a solution to our audience or client. As actuaries, we get excited by the data and what this means, but we need to put our audience lenses on and think, is this easy for the audience to understand? How can we make it clear, effective and easy to consume? I love visualisations and am always excited to hear how impressed the audience or client is to view their data in new and exciting ways.
I've continued being an actuary because actuaries have a vital role to play in every organisation. Our work is very highly valued amongst our peers, and that gives me purpose.
Looking forward, my vision for the profession is that we continue finding ways to be relevant and raise our voices – collectively or individually – where it matters and is needed the most.
Where I am currently, I am seeing how we can contribute to the data science and augmented intelligence space.
For those looking to work as an actuary, you are joining a rare and beautiful corner of the professional landscape. It might not always be glamorous, but you are making a difference in our world by using data to empower people, businesses, and governments.
My advice for up-and-coming actuaries is to put your hand up for anything and everything – assuming you've got the time! If something looks interesting, try to learn more by sharing some research or participating in a project. It is exciting to see actuaries breaking new ground.
A few years ago, in 2019, I attended the NYC WorldPride, and there was such an electric atmosphere across the city. That electricity is definitely here in Sydney, too, as #WorldPride kicks off! It feels like the 2000 Olympics or even the upcoming ICA. In each case, a dedicated group of people have worked very hard to highlight Sydney as an iconic city – it's an honour to be chosen and showcased on a world stage.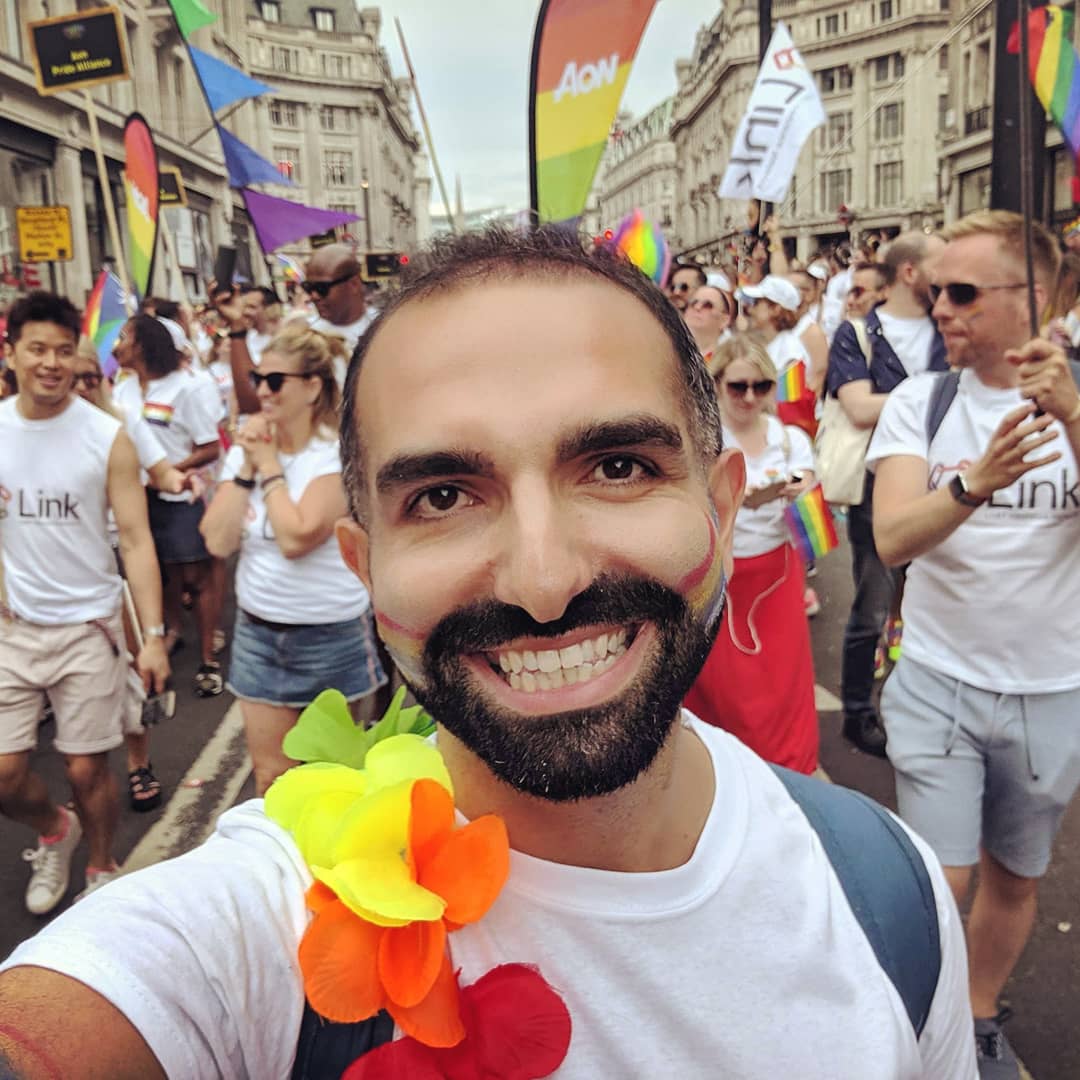 (Arthur at London Pride in 2019)
This #WorldPride, I will be spending time with friends, hitting up dance parties and taking in the Oxford Street lights from my balcony. I'm also planning to visit the theatre and opera a few times. On Sunday, March 5th, I'll walk across the Harbour Bridge for the Pride March with over 5,000 marchers and will be cheered on by 40,000 spectators! 
It genuinely makes a difference knowing that there are allies across the profession.
There are hundreds of different ways to show your support like attending a networking event or joining a Diversity and Inclusion Group. Make an effort to accommodate names and pronouns and integrate inclusive language. It doesn't matter what you do to show support, but what does matter is that you genuinely show up for the LGBTQ+ community.
At a more basic level, it is nice to be recognised as a regular colleague. We all have families, friends, and interests outside of the workplace. Don't hesitate to ask about our outside lives in the same way!
To learn more about Mardi Gras and Sydney WorldPride, check out the Diversity and Inclusion Working Group's article; Sydney takes centre-stage this #WorldPride.
CPD: Actuaries Institute Members can claim two CPD points for every hour of reading articles on Actuaries Digital.