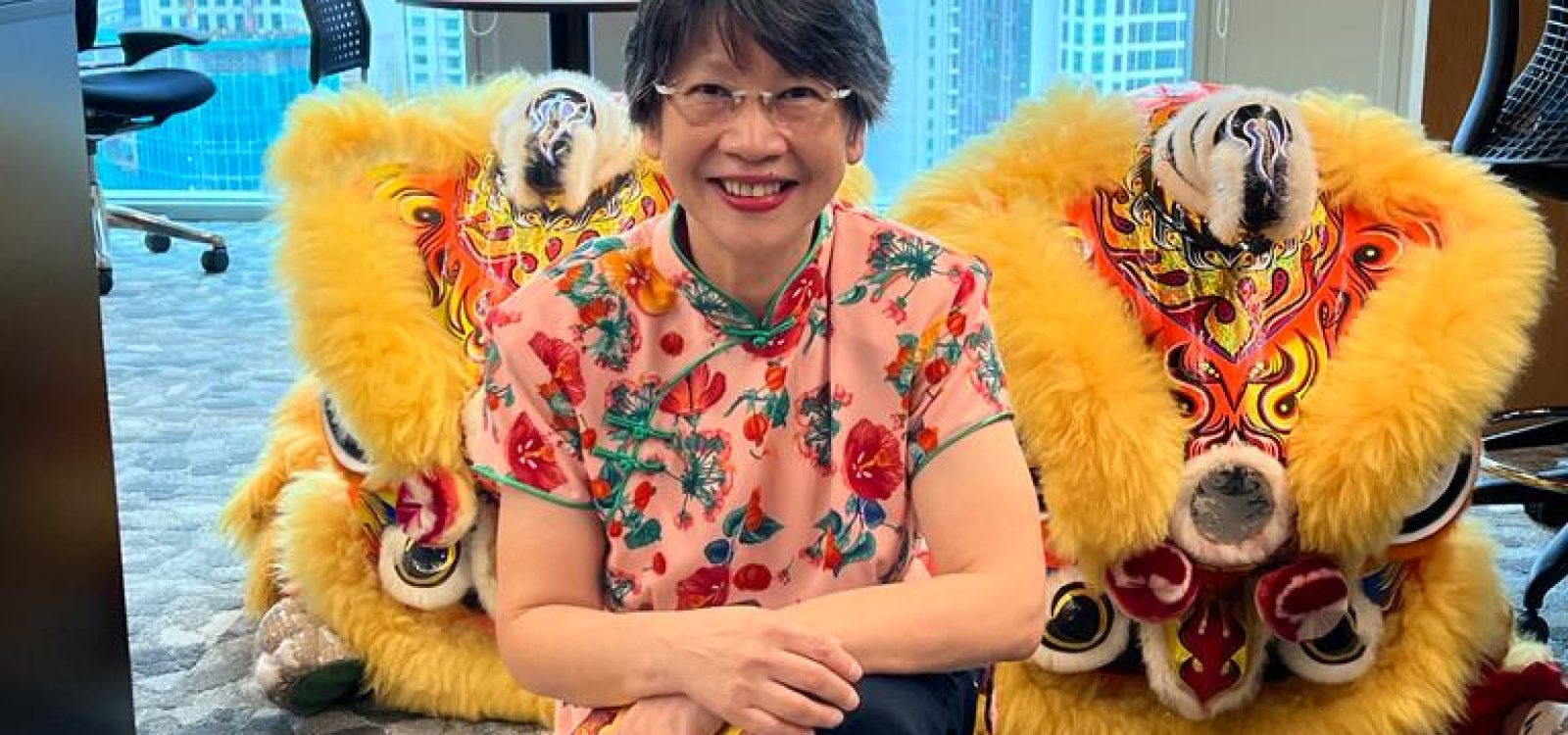 International Women's Day
Under the Spotlight with Sim Ng
In our last 2023 International Women's Day Under the Spotlight Series, Sim Ng, Chief Financial Officer at Prudential Malaysia shares her career journey and offers her insights into women succeeding in the workplace. 
One of my favourite hobbies is cooking and baking things that cannot be brought. If I have a craving and can't pop into a shop to buy – like a strawberry mouse – I'll make it.
Growing up, I admired Margaret Thatcher and her journey in becoming the first female British Prime Minister. Her courage and determination were inspiring, and if I was brave enough when I was younger, I would have entered politics.
Continuous learning and change are a reoccurring themes throughout my career.
I first began in the manufacturing industry with Kodak Australia before starting my actuarial career in the insurance industry. As an actuary, I have lived and worked in Australia and Hong Kong as an Appointed Actuary, Chief Financial Officer (CFO) and even worked in roles negotiating joint venture agreements. A few years prior to the COVID-19 pandemic, I moved to Malaysia to be closer to my elderly parents and to this day, it's a decision that I don't regret.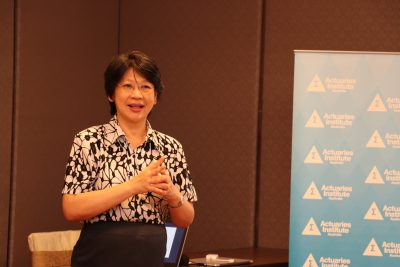 Sim Ng presenting at the Actuaries Institute Asia Tour 2018 
I discovered the actuarial profession while skiing with friends when I was working at Kodak. It was a change that I embraced as I never expected the negative film industry to last my working life!
I became an actuary through self-study and passing the professional examinations. I am a FIAA, FSA, CPA and hold a Ph.D. in Science
As a CFO for a life insurance company, it's my responsibility to ensure that we are here for our customers when they need us the most. That's why my eyes are on every part of our organisation so that we can ensure the sustainability of the business. The breadth of this role keeps my interest alive!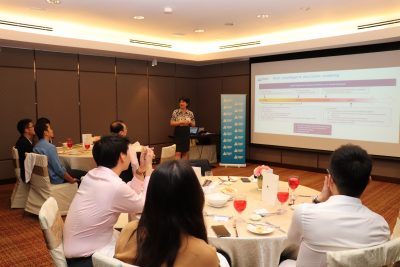 Sim Ng presenting at the Actuaries Institute Asia Tour 2018 
I believe that the most valuable skill an actuary can possess is pragmatism in combination with commercial acumen.
For young actuaries, I encourage looking for opportunities to grow within emerging industries and markets. These areas not only provide career opportunities but also provide personal growth.
My advice for actuaries planning to work in Asia is to be willing to accept that things are different in Asia. However, if you contribute as much as you can, you'll be rewarded by gaining invaluable experience. 
It's important that workplaces actively promote and practice diversity outside of gender equality. Diversity should be about differences of thought and opinion and most importantly, it should be about sweeping aside unconscious bias.
The woman who inspires me the most is Madam Curie – the first person to ever win a Noble Prize twice and in two scientific fields! Madan Curie was a pioneer in showing that women are capable of being the 'first'.
I think balancing career, personal life and passions is in the eye of the beholder. The calling is for different balancing acts at different periods and stages of life.
The most significant barrier to female leadership is women trying to be more like men. As women, we should use our differences as a way to strengthen the way in which we lead. 
That's why I encourage women to develop long-term career plans by joining professional and business networks, remaining curious and seeking people outside of their circle to get a broad range of insights and views. It's also essential for women to make their own decisions and own their career development.
CPD: Actuaries Institute Members can claim two CPD points for every hour of reading articles on Actuaries Digital.