Covid-19 Blog
COVID-19 Monday Roundup 17 August 2020
Despite another week of record COVID-19 numbers globally, acceleration of the outbreak seems to be slowing while in Australia, Victoria appears to be past the 'peak'. Sadly, New Zealand's surprise outbreak remains unexplained. Russia approved a vaccine despite no Phase Three trials, while in the UK, modellers estimate that mortality and morbidity would have been at least three times higher without a lockdown, even after allowing for all the health effects of lockdown and a lockdown-induced recession.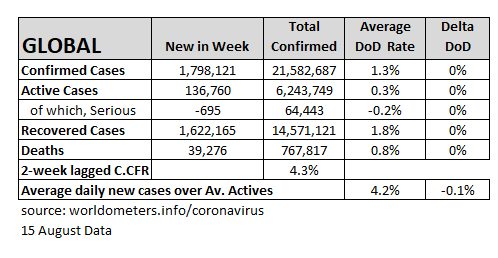 World Summary – 15 August
There were record new cases again this week, but in a positive sign, the rate at which new cases are growing fell for a second week in a row to 1.3%.
62% of new cases were in India, USA and Brazil; and 25% were in just 16 other countries with over 10,000 new cases each, headed by Colombia with 80,000, 4.4% of the weekly total. USA and Brazil have peaked on new cases and probably also deaths, but have not yet established control.
USA, Brazil, India, Peru and Mexico accounted for 78% of all deaths this week with over 4,000 deaths each. Another four countries had over 1,000 deaths each.
In addition to India, there are large (over 60,000 total cases) uncontrolled outbreaks in three other South American countries, two in Eastern Europe, two in S.E. Asia and one in the Middle East. Elsewhere, large outbreaks have peaked, are coming under control or are controlled.
The number of large uncontrolled outbreaks fell by one and the number of controlled large outbreaks rose by four.
France, Netherlands and Belgium are experiencing potentially dangerous new surges that are yet to be controlled, while Spain appears to have capped its recent surge.
A very concerning development is the as-yet unexplained outbreak in otherwise COVID-free New Zealand, and the possibility that the virus can persist on surfaces longer than anticipated. This would significantly increase the challenge of controlling the virus' spread.
Australia Summary – 16 August
Australia recorded 2,203 new cases this week (3,188 last week), taking total case numbers to 23,286.  Overseas travellers accounted for only 23 cases (12 last week).
Victoria again dominates the numbers, recording 2,105 cases (3,102 last week).  The considerably lower numbers likely reflects the impact of mandated mask usage, plus the beginnings of the impact of Stage Four restrictions.
While total numbers were down considerably, new cases diagnosed in health & aged care workers accounted for 618 cases (29%), similar to the previous week (610 cases).  Exact numbers of new aged care residents diagnosed are not available, but estimates are of around 300-400 new cases, similar to last week; the total number of aged care residents diagnosed is now 1,471. 
Regional Victoria recorded 117 new cases this week, down from 228 last week.  There have been some sizable clusters in regional Victoria, and the reduction in numbers reflects those clusters coming under control. 
Victoria recorded 100 deaths this week, up from 86 last week.  Of those, 73 deaths were associated with outbreaks in aged care.   
NSW recorded 75 locally acquired cases this week (69 last week).  These were made up of:
22 cases from Tangara School (three last week, total 25).
Three cases from Our Lady Mercy College (one last week, total four).
Five cases in residents returned from Victoria (five last week).
34 cases linked to known clusters/cases.
Four cases from two new new clusters, both with an unknown source of transmission in the initial case.
Seven other cases with an unknown source of transmission. In total there were Nine cases with an unknown source of transmission this week, the same number as last week.
NSW also recorded two deaths this week.
No other state/territory reported any locally acquired cases this week, noting the scare in South Australia associated with the Thebarton College cluster has passed (all contacts were released from hotel quarantine on Saturday).
Key market update
New COVID-19 research this week
New on the Actuaries Institute website this week.
CPD: Actuaries Institute Members can claim two CPD points for every hour of reading articles on Actuaries Digital.