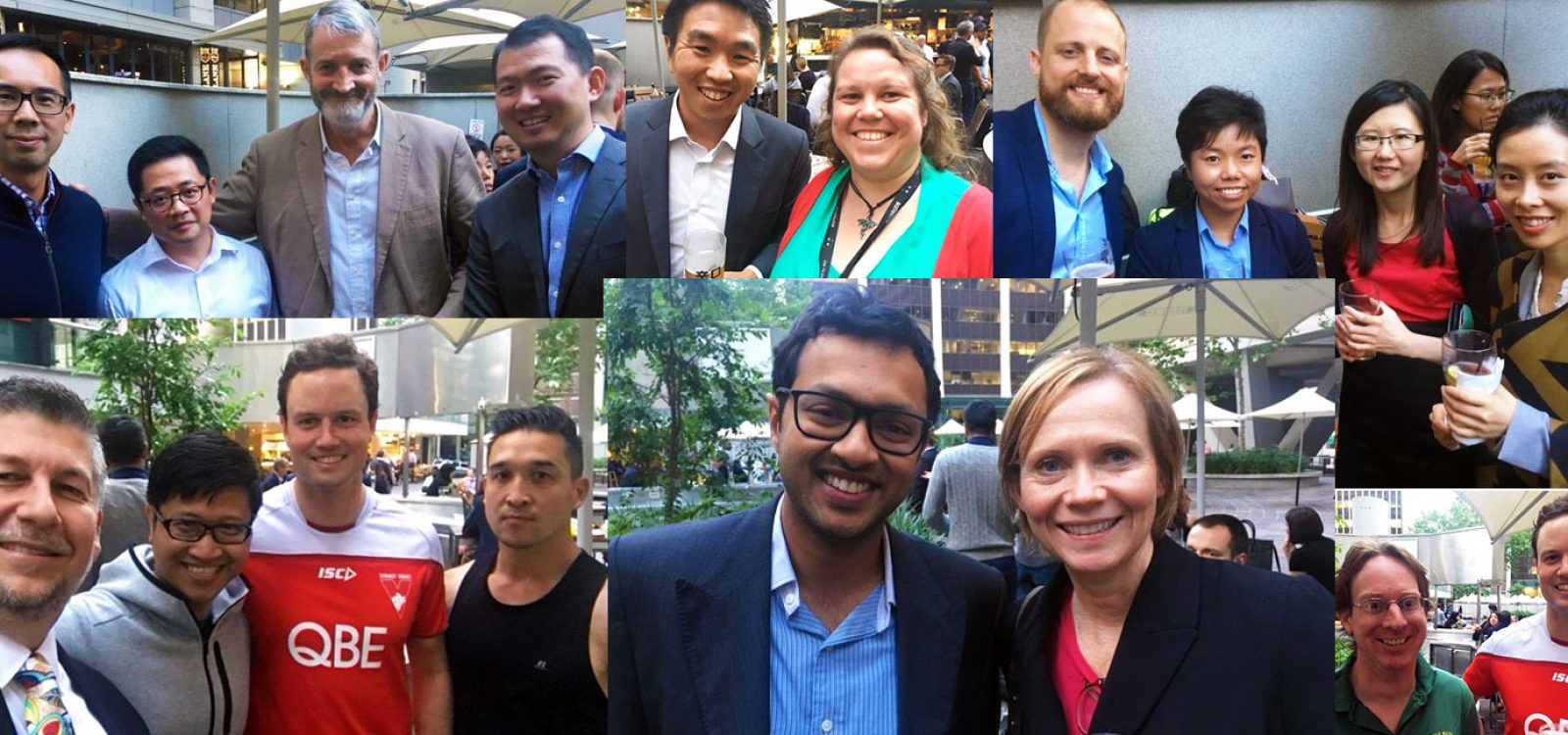 Event Reports
Post-work drinks at Ryan's Bar – Social Networking Actuaries Group series
The first 'post work drinks' event, brought to you by the Social Networking Actuaries Group, was held at Ryans Bar, a popular outdoor drinks venue at Australia Square in Sydney.
The night started early with the crowd building up quickly. The dedicated organisers with the help of some early arrivals (thanks Kim!) manage to keep the stream of office workers from muscling into our reserved area. The weather was a little mild but dry, a nice change from the wet weather.
The event was well attended with over 30 attendees coming from a range of companies in different industries. A lot of sharing occurred on the night with conversations that varies from work to a personal level.
Timing was great for Arie Van Den Berg from Brisbane who was nice enough to drop in to join us.  
John De Ravin was also in attendance and some took the opportunity to pick his brain on financial planning knowledge. John was well prepared as he is just fresh from publishing his book Slow and Steady which provides 100 wealth building strategies.
Near the end of the night, we were pleasantly surprised by a few guys from Munich Re (Steve, Tom, Colm and Jason) who decided come along after their basketball game and to cool down with a few beers.
 A lovely night was had by all in a great relaxing atmosphere.
A big thanks to the Actuaries Social Networking Group (SNG) for organising the event and the Actuaries Institute's help with publicising and promoting the event.
The next event will a morning coffee catch up on Thursday 14 December, at the Barangaroo harbour precinct.
Please head to our Meetup page for more pictures from the event and to RSVP to the next catch up!
About the Group
The SNAG aims to create opportunities for members to engage and grow through positive networking, whether it's with other Institute members or with those in non-actuarial but related communities. We plan to hold events that:
focus on building skills; and
allows members to expand their network.
All our events will be relaxed and accessible and there will be plenty of opportunities for members to participate.
Please feel free to reach out to any of us to anytime if you have any feedback on our events and ideas for future events:
Leonie Semmens – Melbourne
Wan Wah Wong – Sydney
Phin Wern Ting -Sydney
Zhan Wang – Sydney
Christopher Armstrong – Sydney
Jason Yu – Sydney
Hillary Cao – Sydney
Kim Hoddinott-Sydney
John Low – Sydney
Karandeep Singh Chadha – Sydney
Christine See – Sydney
Melissa Tam – Melbourne
Ash Evans – Sydney
Bill Konstantinidis – (Council member) Sydney
CPD: Actuaries Institute Members can claim two CPD points for every hour of reading articles on Actuaries Digital.