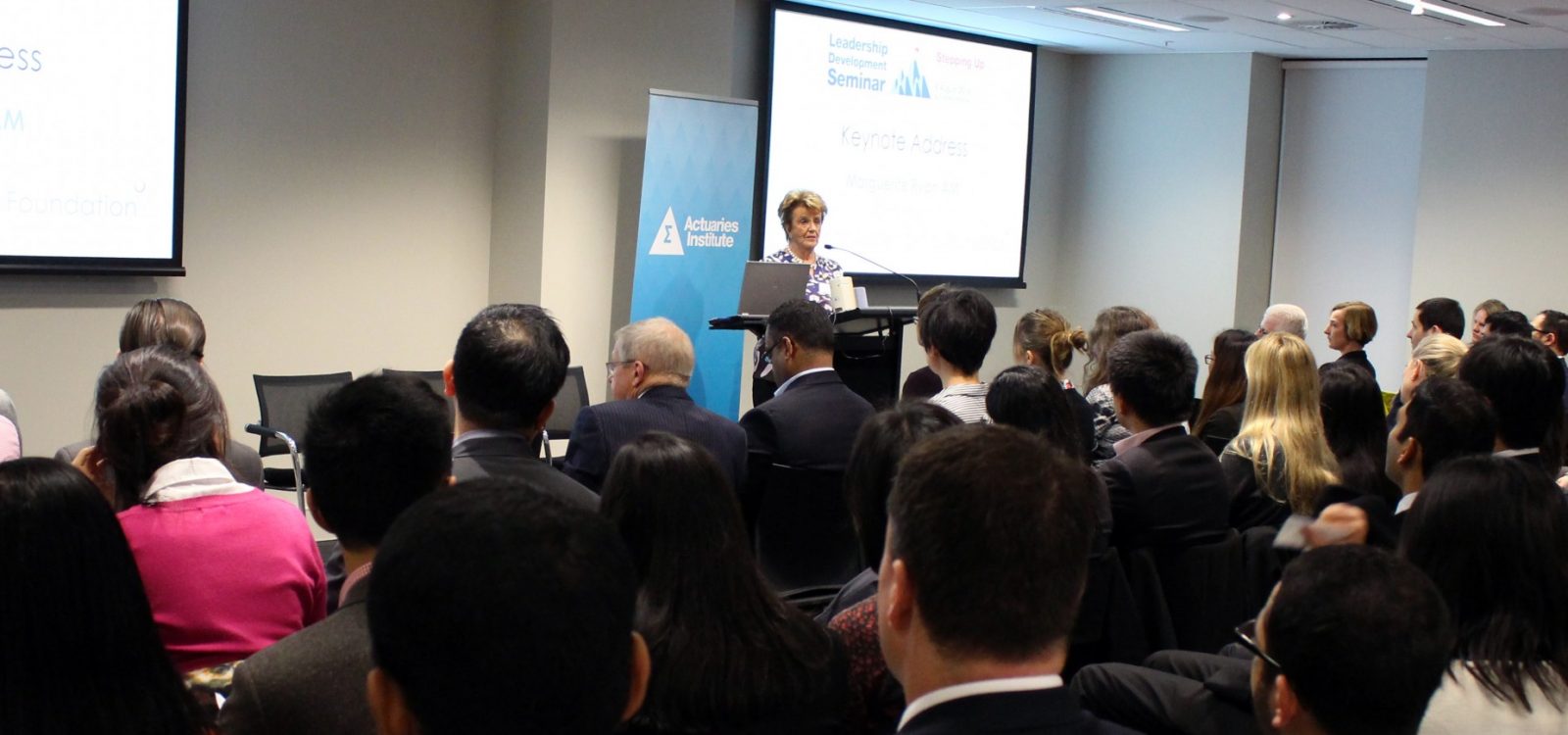 Event Reports
Inspiring new generations of leaders
Chris Scheuber shares practical insights from the 2016 Actuaries Institute Leadership Development Seminar.
Sometimes it can be difficult to get up on a Monday morning to go to work. The interesting thing that I've noticed is that it's not really related to how tiring the weekend might have been, but actually my motivation and excitement for the week ahead. So it was really easy for me to get up on Monday 8 August as my employer had given me the excellent opportunity to attend the inaugural Actuaries Institute Leadership Development Seminar.
This course came at a perfect time for me as I recently took on a role to manage a team of four bright enthusiastic colleagues, and I'm keen to learn anything I can to help give them that Monday morning excitement for achieving our team's goals.
A valuable training session for me is one where I can listen, apply my perspective / thoughts, and take away two to three things that I can do differently. This session was definitely beneficial and what better way to hold me to account than to air my views to Actuaries Digital readers.
From the Ground Up
The key-note speaker was Marguerite Ryan, Chair of Women for Women in Africa Foundation, which is a charity that is helping to educate under-privileged children from the Kibera slum in Nairobi. Her purpose was to inspire us and that she did. She showed a provocative video which demonstrated how her charity is making a difference to so many children's lives. A key take out for me was that leadership is not necessarily something that you seek out or strive for (e.g. to become the CEO or Chairperson of an organisation) but may be a by-product of doing something you're passionate about and something you think you can help to improve. This is important to consider when viewing our career (or other life pursuit) opportunities.
The rest of the morning was taken up by three plenaries involving very experienced speakers.
Actuaries as Leaders
The first session was run as interview-style with Jan Swinhoe interviewing 'actuarial royalty' (Jan's words, and backed up by their extremely impressive CVs) in Trevor Matthews (Chairman AMP Life) and Ian Pollard (Chairman, Billabong International and RGA Reinsurance). The focus of this session was Actuaries as Leaders.
There were a plethora of insights from these two very experienced speakers, but I'll highlight two key take-outs:
That business is not perfect – our aim should not be for perfection (nor to demand that from our teams) given the environment and competing priorities. The aim should be to be focussed, accurate and detailed on the material and critical items, and accept more practical, less perfect solutions on other items; and
Senior people depend on those close to the detail to provide constructive feedback and detailed information so that they can manage effectively and make appropriately informed decisions. Team members that demonstrate these skills can show leadership even though they may not be in leadership roles.
Stepping Up
The second plenary had two engaging speakers, Jocelyn Furlan (Principal, Furlan Consulting) and Suzanne Smith (GM, MLC Group Insurance) talking about stepping up into leadership roles. Jocelyn began with how to prepare to step up and Suzanne concluded with what to do once you've made the step up. They both spoke from great experience and diverse backgrounds, as a lawyer (in the case of Jocelyn) and nurse (for Suzanne) as their initial occupations.
The key take-outs for me were:
Always be prepared to step up – it won't necessarily present itself as an obvious opportunity, nor will it necessarily present itself with sufficient notice. Being proactive is key and Jocelyn gave some very practical tips on how to do this.
"Don't waste a crisis" – Suzanne's point was to learn from every experience that you go through. It resonated with me and I think it is even more important in a team environment. I do a lot of personal reflection on how I can improve and it's important for me to now translate that into the team environment and leverage the insightful thoughts of the team so that we can collectively learn and improve.
Disruptive Leadership

The final plenary was about disruptive leadership. Dr Jochen Schweitzer (Director, MBA Entrepreneurship, UTS BusinessSchool) spoke first of a process to follow that encourages creative thinking, and John Walsh AM (Principal, Magoo Actuarial Consulting) spoke of his experiences including his well-recognised service to the disability sector.
The key take-out for me was what John coined "committed self-doubt". That is, the most important thing as a leader is to maintain the scepticism and thoroughness we are taught as actuaries, and balance that with being decisive based on the information at hand. Then once the decision is made, committing to it, and not letting the doubt lead to inaction.
So what will I do differently now? Firstly, I want to encourage a team environment where feedback is actively sought and highly valued. Secondly, I want to role-model committed self-doubt. I want to thoroughly understand the available data including the risks involved, formulate actions based on this information, and most importantly commit to the course of action once the decision is made.
However, everyone's perspective will be different.  You may want to refer to the Presentation Slides from the session, but better yet I would recommend keeping an eye out for the 2017 Leadership Development Seminar. There is no better experience than learning first hand from very experienced professionals.
Read more insights from the 2016 Leadership Development Seminar in this article.
CPD: Actuaries Institute Members can claim two CPD points for every hour of reading articles on Actuaries Digital.