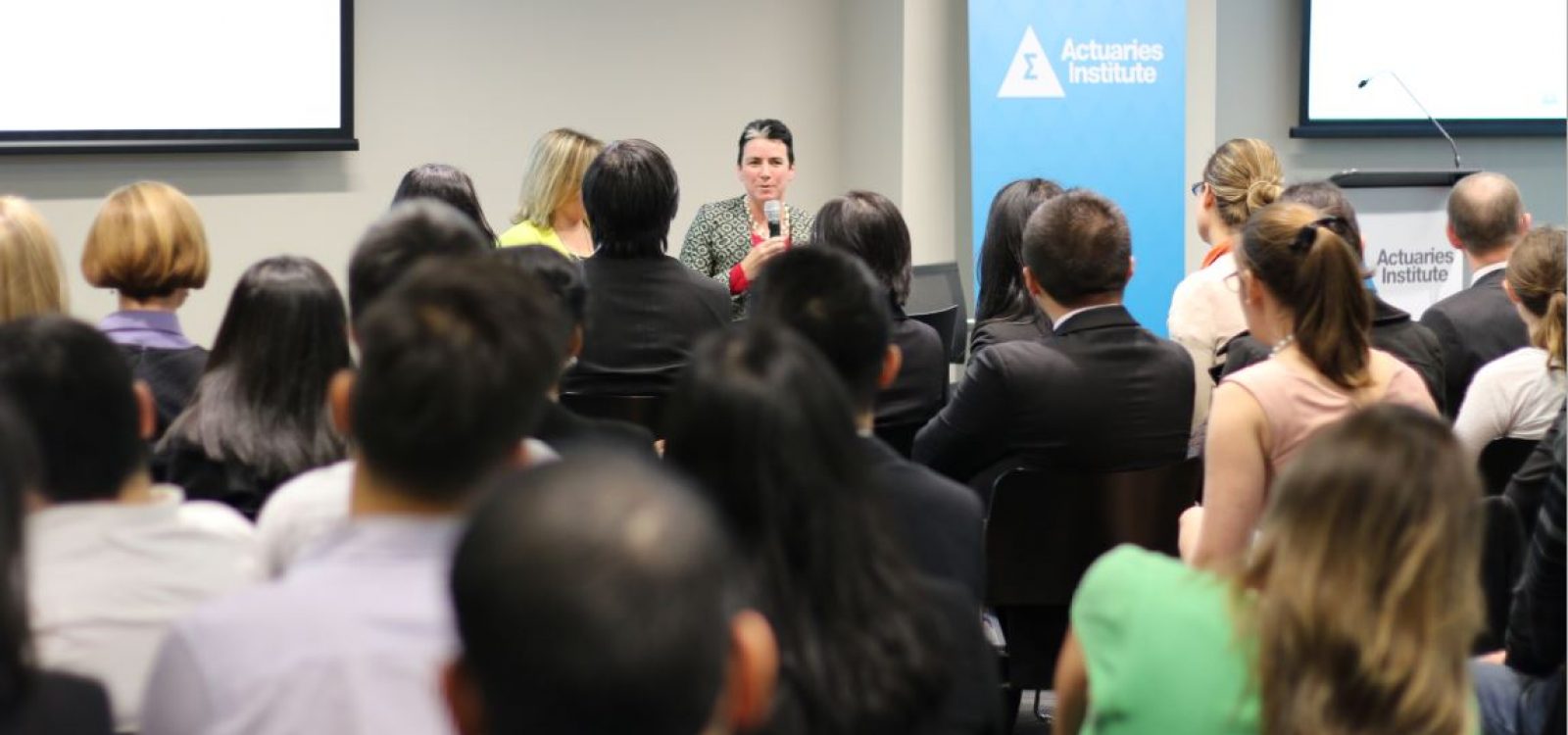 Leadership
Actuaries in leadership: An interview with Jennifer Lang
Esther Kahumburu speaks with CFO and Chief Actuary of CommInsure, Jennifer Lang, about her career and approach to leadership.
Following the Actuaries Institute insight session on "Jumping the Crevasse from Technical to Leadership" presented by Natalie Eckersall and Jennifer Lang, and hosted by Trang Duncanson, we sought Jennifer's view on being a leader. Jennifer is the CFO and Chief Actuary of CommInsure, CBA and has previously held leadership roles at NAB Wealth, KPMG, Deloitte, Trowbridge Deloitte and AMP.
Jennifer believes that a good leader has solid technical skills, commercial acumen, and is able to influence people.
Describe a high point of your career
There are many, but the one that comes to mind is the restitution program I sponsored for Commonwealth Bank's Life insurance subsidiary. It involved compensating customers who had been affected by incorrect unit prices. This was a highpoint because I was looking after the policyholder, which is my job as an actuary – I was the Appointed Actuary at the time. It was a great opportunity to step outside the actuarial space and understand what was involved in delivery of a big complex project. It involved frequent discussion with both the business and the regulators. As part of my role as Appointed Actuary, I helped the business understand just how crucial it was to appropriately compensate customers for the errors we had made. In the end, we achieved a good outcome for our customers.
How did you secure your leadership roles – did you wait for an opportunity or did you work towards a specific role?
I always try to do something outside my comfort zone and learn new things. I've never gone looking for specific leadership roles, but I have always enjoyed helping people develop in their careers whether or not they report to me.
What is your leadership style?
I am always curious about my people, my business, and the work we can do as a team to support the business. I also keep in mind Mihaly Csikszentmihalyi's concept of Flow – what makes people content is the combination of being stretched and mastery. You don't get Flow doing something really easy or something really hard – it is important to get the right balance. It is about realising that people are at different stages of knowledge and experience, and working with them to get this balance. This is good for both the person and the business!
What skills did you have, what skills were you missing, and which ones did you have to develop?
One of the important things is thinking broadly about skill sets. Many actuaries excel in technical roles at a young age, and don't realise what other skill sets are important. Often they are then given management roles without any training. I am sure that I am not the only one who did not know how to manage people when I started as an actuary. I wish I had had more training at the time. I have picked up skills by watching good managers in action. I had a mentor during my first management role in London who sat behind the scenes and gave me tips and hints at the time. For anyone taking up a management role, I highly recommend manager tools podcasts which cover a range of specific management issues and provide useful granular advice.
Have you made any decisions as a leader that you wish you hadn't?
Yes of course. The main things I look back on are when I have not had the hard conversations. It is easy to avoid a conversation with someone who you think is not doing as good a job as they should. It is not a pleasant conversation. But if you delay that conversation then it is only worse later. So a small course correction at the beginning becomes a conversation around "how come no one has ever told me this". It is important for managers, as well as team members to be open to feedback and see it as something that will help you develop. This can be difficult, so it is vital to remember that feedback is not about the person, it is about the behaviour. Feedback, both positive and negative, is bidirectional and should be provided early and often.
How do you motivate your team?
It's about everyone understanding where we are trying to go and everyone going in the same direction – having one vision that we are working towards. Once you connect to that vision it is easier to feel that you are part of something. Factors that motivate individuals change over time, so I pay attention to the individual and try to balance opportunities that are good for them and good for the business.
How do you manage your time?
This means being ruthless about saying "No". I like to take a step back and consider whether I am spending what I like to think of as my 40 hours of work a week in the best way. You have to think about the trade-offs. If you are spending time on one thing what else are you missing out on?
What advice would you give an aspiring leader and actuary in the early years of their career?
Do you want to be a leader? You learn and grow over time, so what you think you want now might change in ten years' time. You can seek leadership on a project or a particular initiative to get some experience, before jumping into managing a team. Find small leadership opportunities to gain experience, instead of waiting for the 'perfect' next role that involves managing five people. This way you learn about yourself and whether you enjoy being a leader.
How valuable are mentors, sponsors, and connectors for your career progression?
The more people know about your strengths and interests, the greater the chances that they will recommend you when an opportunity arises. One strategy that works for me is putting people in touch with each other. This is helpful for both people, and they remember me for making the connection. The more I feel I am being helpful to people, the more I enjoy networking with people.
What are your thoughts on the future of the profession?
Our training provides a good understanding of data, but unlike pure data scientists we also learn about business. I recall some credit risk modelling work a colleague was involved in where he mentioned that a change would affect the volatility of profit. The team had not thought about this, yet for actuaries it is second-nature. So we are not the guru data scientists, but we have a good balance of business focus and data science. I believe that the profession is very well placed in the era of big data – we stand at the intersection of statistics and business, and also at the intersection of finance and risk, for example actuaries are running the ICAAP for several companies including most of the big four banks.
This interview was originally published in the October 2015 edition of the LIWMPC Newsletter.
CPD: Actuaries Institute Members can claim two CPD points for every hour of reading articles on Actuaries Digital.