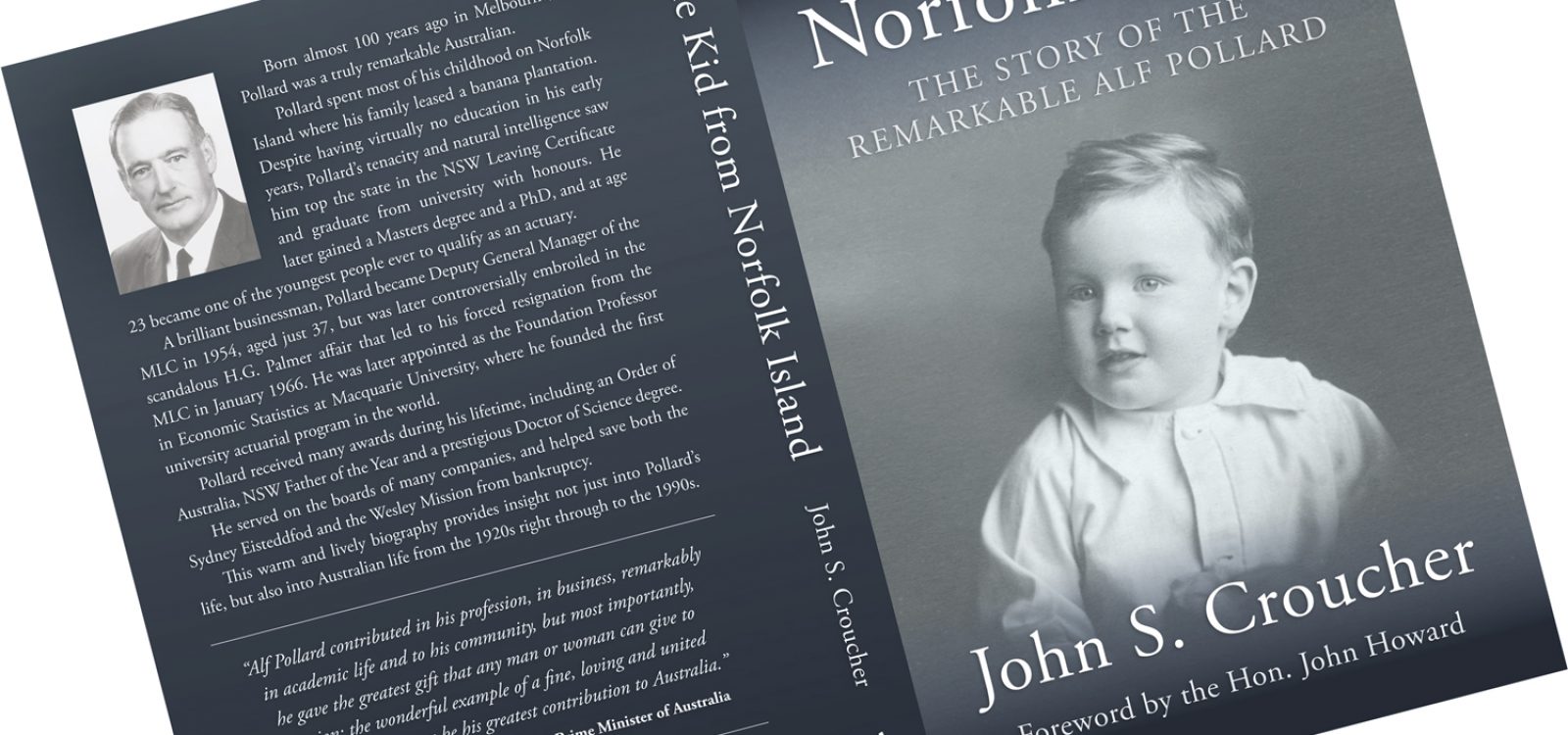 Current Issues
The Kid from Norfolk Island
Finding myself at the launch of John Croucher's biography of Alf Pollard I listened to John Howard speak with real affection and respect about Alf. Having visited Lord Howe Island last year, the knowledge that he had spent part of his young life on Norfolk Island also helped prompt me to buy the book. A week later I found myself in bed for two days with a bug, I started the book and barely stopped reading until I'd finished it.
While I had some understanding of Alf's position in the profession and his work in setting up the actuarial program at Macquarie I had not known him personally, having arrived in Australia in the early '80s after finishing a maths degree in the UK and starting my exams 'from scratch'. This positioned me well to see the advantages my Macquarie graduate friends had – fewer exams to pass while working, a much greater knowledge of what being an actuary really meant, the ability to progress at work much more quickly and of course they had received valuable scholarships while at university.
The book as you would expect is about very much more than establishing actuarial degrees, although it recognises this as one clear example of Alf's leadership. It provides a historical context of Australia from the very early part of the 20th century including the significant impact of the depression on Alf's family as he was growing up. There are also some interesting insights into the developing financial services industry and computer technology. Overall it is the story of a remarkable man (the book is subtitled The story of the Remarkable Alf Pollard).
A biography potentially offers the reader a number of things:
an understanding of the subject's life 'as a whole' and not just within the narrow confines in which you knew (or knew of) the late Professor Alfred Hurlstone Pollard;
a personal story within the historical context of the times and with possibilities for reflection with the benefits of hindsight; and
the opportunity to reflect on one's own life.
This book is very much about the person as well as Alf's work and professional life. In fact it was his commitment to pursuing all aspects of his life with energy and enthusiasm which struck me. The breadth of his interests and involvement, including dedication to sport, church and community as well as his academic interests were all on top of his day job. There is so much talk about 'work-life balance' now that it made me reflect on how/if things were different then – certainly the standard hours worked (in the office) were shorter than many would work now and once you had left work then there was no mobile phone or email checking. However it is clear Alf often worked the equivalent of a second day at home pursuing academic studies, family and other interests and commitments.
When his parents fell on hard times the decision was made to take advantage of an offer by the NSW government to lease land on Norfolk Island and grow bananas. John Croucher comments, "The best that could be said about the idea was that it was 'courageous'." With enthusiasm and the knowledge they could work hard, they set out in 1925 to build a better life for the family. While Alf attended school on the island the opportunities for academic learning seemed to have been almost non- existent. However lessons for life: survival; contributing to and taking responsibility for family, as well as an ability to work hard must have influenced some of Alf's decisions and behaviour in the future.
One of the truly remarkable aspects of Alf's story is around his schooling and academic achievements. Returning to Sydney in 1930, Alf's mother was persistent in her efforts to have him accepted into Canterbury High School despite the school's opposition on the basis that Alf's lack of schooling would pull down their academic performance. Alf's mother sounds a formidable character and while he started a long way behind his peers, his will and determination to repay his mother's faith in him, ultimately saw him at 16 become dux of the school, overall first in the state in the Leaving Certificate and inundated with awards and scholarships. (This simple statement here does not do justice to the time, effort and probably blood, sweat and tears required.) It's clear from the book that Alf had a significant intellect and that he developed and made the most of it through sheer determination..
In my mind Alf Pollard was an actuary. I was surprised to discover that he really wanted
to follow an academic life and was well positioned to do this with scholarships to study overseas following his
success at university (another understatement). He reluctantly decided to take a role at MLC and became an actuary, his
main motivations being to support his family who were unwell and had sacrificed so much for him.
Much of the work he initially did as an actuarial student was not at all challenging – described as "mind-numbingly boring and repetitive" but he stuck with it and by learning and continuing to challenge himself he was not only successful but made for himself an interesting career. For those of us who found the actuarial exams somewhat testing it may be disconcerting to hear that Alf qualified in four years and that while he was studying for the actuarial exams also completed the first part of a Bachelor of Divinity and started a degree in economics! With many other academic achievements ahead of him including a PhD, Alf did ultimately follow the academic life he desired.
In June 1958 under Alf's leadership Australia's first commercial computer was installed in the MLC buildings in North Sydney. It weighed five tonnes, had a room of its own, cost £160,000 and took 20 million times longer to do an arithmetic calculation than a personal computer would take today!
Alf's mother's efforts to have him accepted into Canterbury high School met with opposition on the basis that alf's lack of schooling would pull down their academic performance… Ultimately, at 16 he became dux of the school and overall first in the state in the leaving Certificate.
Alf's commercial career was cut short through unfortunate circumstances which saw him lose his job suddenly and unexpectedly. While he was ultimately exonerated of blame, he suffered from bad press which would have affected him personally and professionally. This section is well worth reading to think about how we might react as an actuary in similar circumstances and what we can learn from the situation. It focuses the mind on the professional responsibilities you assume as an actuary or in a senior management role, and how you can develop the skills and fortitude to manage difficult situations.
An ultimate outcome was his appointment at the newly established Macquarie University, the academic life he went on to and the ongoing contribution he made in a range of different fields.
The key messages I took about Alf from the book were:
he was prepared to take a risk;
he backed himself and his own abilities;
he suffered disappointments and setbacks which could have destroyed some people;
he was passionate about achieving the goals he had set himself and as a result was able to get things done; and
he demonstrated great self-leadership.


Alf in May 1982 after being awarded a Doctor of Science by Macquarie University
I recommend this book as being an engaging read in which the author's own relationship with and admiration for Alf is reflected in the way it is written. It offers insights into a leader who had a key impact on where the Australian profession sits today. The awarding of a silver medal by the UK Institute of Actuaries (the first to an overseas member) illustrates that he was a leader on the global stage as well as in Australia. It also provides a window through which to consider the changes in Australia from the 1920s to the 1990s.
One aspect of the book which I've left until now to cover is his focus and dedication to his family. This is a very strong thread which runs throughout the book, from his support by and to his parents and then to his wife and children. My impression is that the author feels that of all his legacies, his strong and successful family is the most important and the one of which he was most proud.
This book offers insights into a leader of global standing, who had a key impact on where the australian profession sits today.
CPD: Actuaries Institute Members can claim two CPD points for every hour of reading articles on Actuaries Digital.