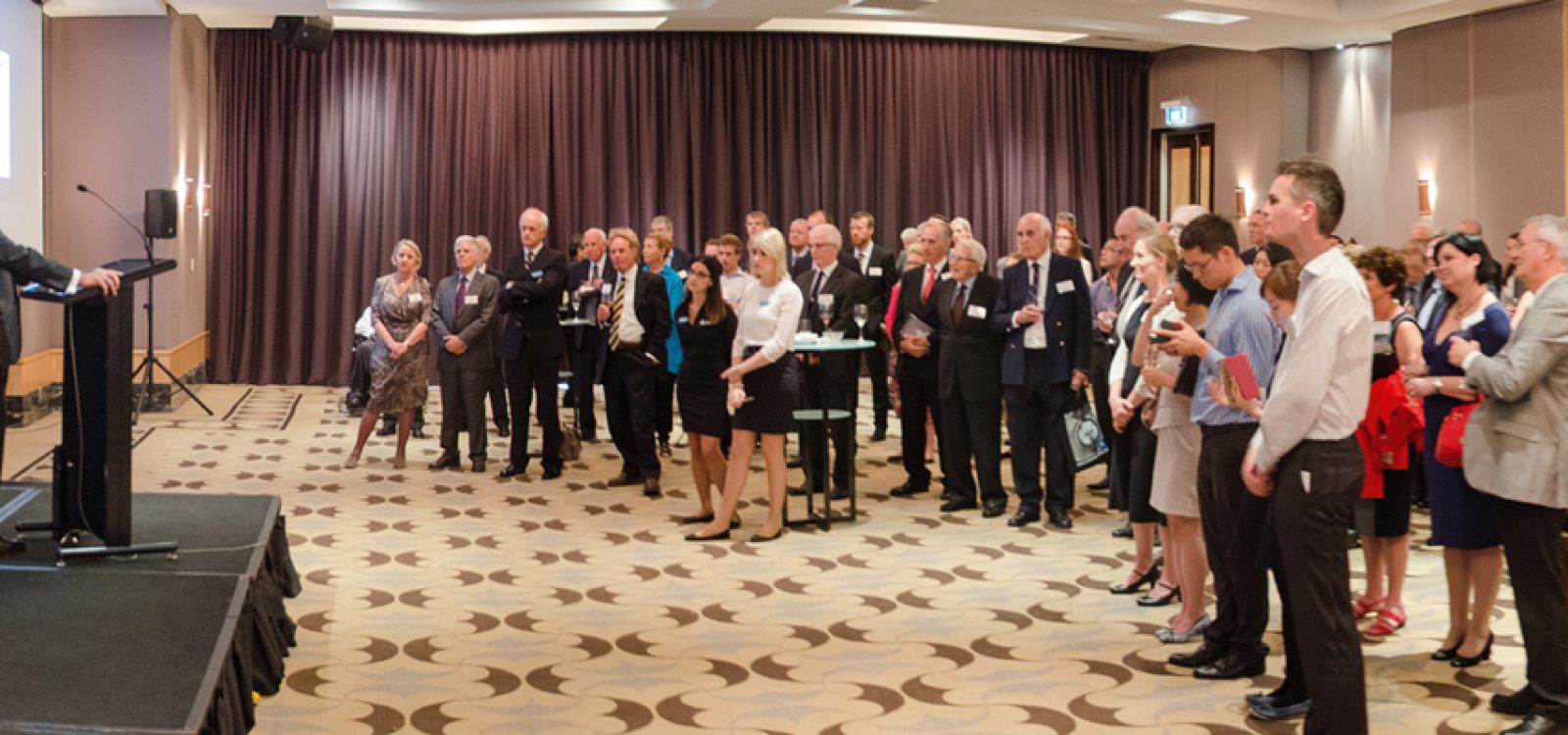 Features
The Kid from Norfolk Island
A biography of the late Professor Alfred Hurlstone Pollard was launched at an Institute cocktail party held in the Ballroom at the Amora Hotel Jamison on Wednesday 12 March with former Prime Minister the Hon John Howard OM AC in attendance, along with the multitude of members and friends of Alf Pollard.
Author Professor John Croucher of Macquarie University's Graduate School of Management was appointed to the statistics staff at Macquarie University by Alf Pollard in 1974, and John's career was very much influenced by Alf. John approached the Pollard family in 2012 for permission to write a biography and sought as much material as we could provide. He had access to many papers and photographs as well as a private very personal autobiography of Alf and an autobiography by his elder sister the late Florence Kaldor.
In his preparatory work John Croucher did much more than simply rely on the materials provided by the family. His research, for example, uncovered the colourful history of the island trader SS Makambo, the boat which sailed monthly between Sydney and Norfolk Island in the 1920s and 1930s, and which took the Pollard family to the island in 1925 and brought them back in 1930 to settle in Sydney in poverty at the depth of the Great Depression. His research also revealed the early development of Canterbury Boys' High School and the background of its headmaster who always blamed 'the kid from Norfolk island' whenever there was a problem at the school – the kid who after only three years' secondary schooling and virtually no primary education topped the state in the NSW Leaving Certificate at the tender age of 16 and put Canterbury Boy's High School on the map. Former Prime Minister John Howard is an alumnus of a later period.
The biography records all the many ups and downs of Alf Pollard's life – highs including his award of the Rhodes Prize of the Institute of Actuaries (London) and his PhD by the University of London in 1948 and the successes of his children, and lows including the H G Palmer collapse and his sacking from MLC.
Of particular interest to members is how he accidentally became an actuary. His mathematics teacher for the Leaving Certificate suggested that at university he should make himself known to the mathematics professor. He should also inquire about the actuarial profession. It was only in his second year that he plucked up enough courage to approach Professor Carslaw. During their brief encounter, Alf muttered something about actuarial work, and surprisingly Carslaw seemed to encourage him to inquire further and provided him with a letter of introduction to Hubert Vaughan at the MLC, which he then felt obliged to follow up. The net result was a part-time job over the long
university break. He found the work boring, but it brought in a small income for the family, and he passed a number of actuarial examinations in his third year of university.
After a brilliant undergraduate career, he was offered a one-year lectureship which would tide him over until a scholarship he had won became available to take him to Cambridge to study towards a PhD degree. It was then that his father had a severe stroke, so that Alf now had two invalid parents. There was no way he could go off to Cambridge. The decision he had to make, therefore, was whether to pursue an academic career or become an actuary at MLC. General Manager Milton Alder was very persuasive. Referring to an academic career, Alder said "And where does that lead to? A professorship? What do they get?
A miserable 900 pounds a year. You could get far more than that here." It took a
lot more soul-searching, but given the family circumstances and without any enthusiasm, he decided to start at MLC and qualify as an actuary.
Alf Pollard passed away on 4 December 2000, exactly five weeks to the day after the death of his wife Pearl. A thanksgiving service for his life two weeks later at the Wesley Mission was attended by over 600 people from all walks of life. The final chapter of the biography records these events and the tributes paid at that service by the family, the then Prime Minister John Howard, and Reverend Gordon Moyes of the Wesley Mission.
Author John Croucher has included four appendices at the end of the biography and the reflections of several people influenced by Alf: Rosina Gallace (a personal assistant at Macquarie University), John Waddell (good friend and tennis partner), Piroozi Desai-Keane (Chief Executive of the Sydney Eisteddfod), Greg Taylor (actuary, colleague and friend); John Shepherd (former student and an Associate of our Institute) and Trevor Matthews (early Macquarie student and a past President of our Institute).
CPD: Actuaries Institute Members can claim two CPD points for every hour of reading articles on Actuaries Digital.