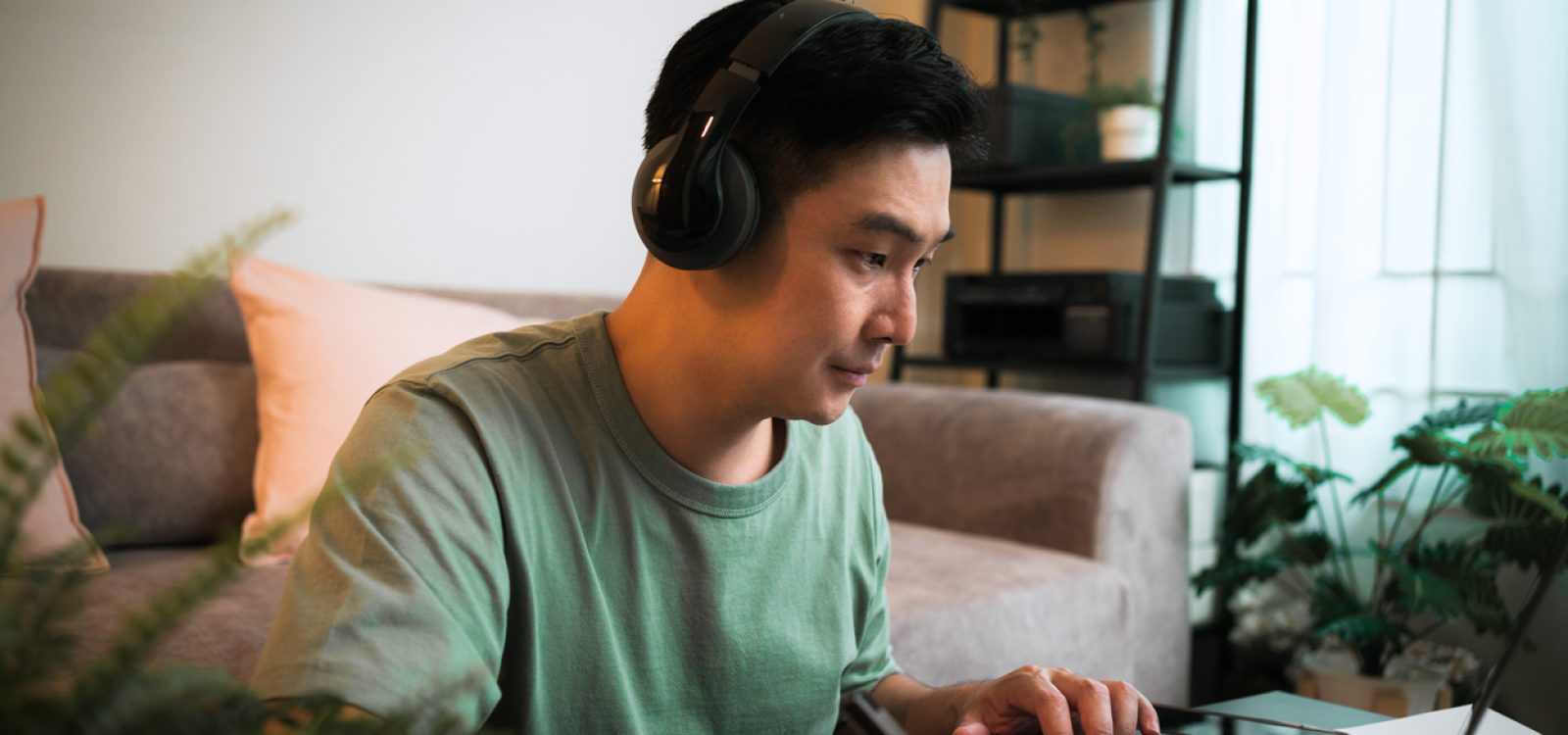 Education Update
Empowering Future Actuaries
The Institute is pleased to announce that our 2023 Semester 1 results reflect the hard work and dedication of our students, the Education Team, and the 200+ Fellows who volunteer their time to educate the next generation of actuaries.
Key highlights: 
Strong pass rates across subjects demonstrate the effectiveness of our education program, meeting the standards set by the Education Strategy Committee and independent examiners.
86 new Fellows welcomed.
This semester saw the launch of microcredentials, and we congratulate our first Data Science Applications Professional Certificate students!
As a profession, we are continuing to invest in transforming our professional development education program. It is extremely pleasing to witness exemplary pass rates while meeting the standards set by Council through the Education Strategy Committee (ESC) and independently verified by Fellows who act as independent examiners.
Congratulations to all our students who passed Semester 1 subjects on their journey to becoming a Fellow or Associate. An especial welcome to our 86 new Fellows!
Semester 1 2023 Pass Rates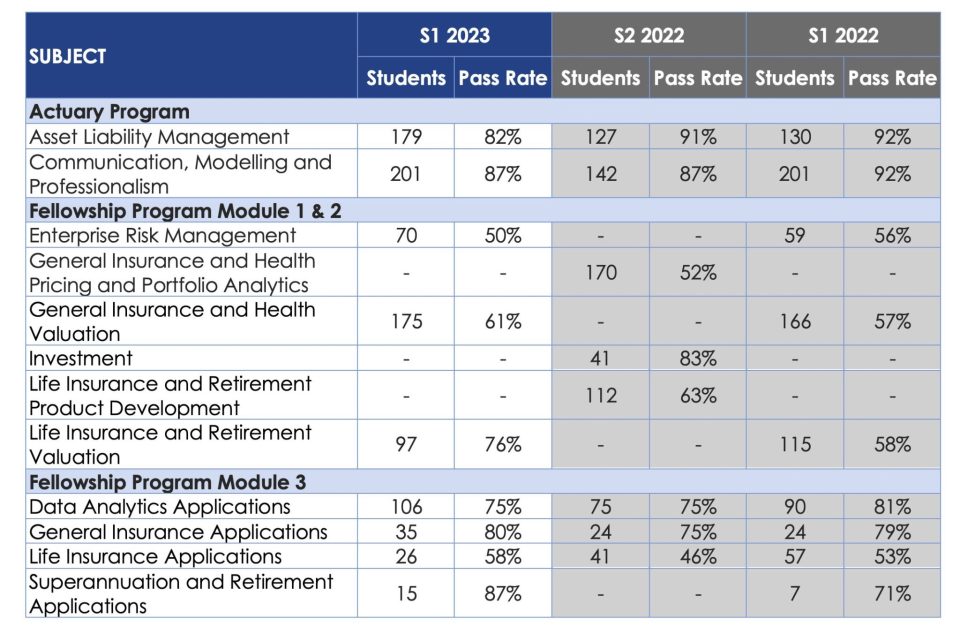 These results demonstrate our philosophy that well-prepared students are expected to reach pass standard. We have a rigorous assessment process in place, involving the Education Team and our 200+ independent volunteers to ensure we keep our standards high. We are confident of the calibre of our newly qualified Associates and Fellows.
For more on our standards, read our 2022 article, "The evolution of education and ensuring academic integrity", which discusses the importance we place on academic integrity. Stay tuned for a 2023 update on this topic.
Semester 1 2023 Prize Winners
Congratulations to our 2023 prize winners who have demonstrated academic excellence, sound critical thinking, and communication skills.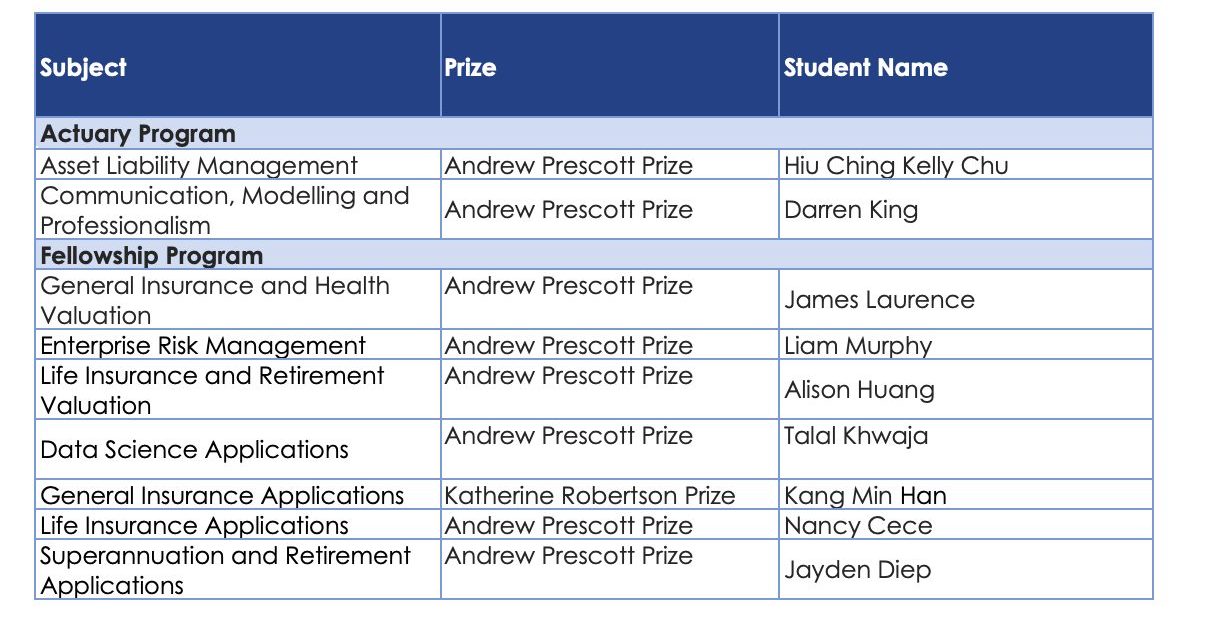 Launch of Microcredentials this Semester – Data Science Applications.
Congratulations to our first microcredential students! This semester we launched the Data Science Applications microcredential. Of those enrolled, half chose to take part in the assessments and all have been awarded the Data Science Applications Professional Certificate.
Our microcredentials are designed by Fellows for Fellows. The microcredentials are re-packaged Fellowship Application subjects with certificate levels based on the level of engagement and assessment of interest. The microcredentials are designed for members who are looking for a career change or want a refresh of the latest legal, regulatory, and professional frameworks.
From Semester 2, the Institute is offering General Insurance Applications, Life Insurance Applications and Data Science Applications as microcredential subjects.
Find out more and enrol in microcredentials.
Update on the Education Program
To support career-long learning, the Institute Education team also facilitates member-curated CPD, such as AASB17, to help qualified actuaries to upskill or refresh their knowledge of the latest regulations and techniques.
The Education Team continues to maintain the subject materials to reflect the latest industry development and practice specialties.
In 2023, this includes introducing AASB17 content for Life and General Insurance subjects and expanding the Health Insurance content in the General Insurance & Health Valuation and Pricing & Portfolio Analytics subjects. In 2024, we plan to offer a new Principles subject on Banking and a new CPD Course on Defined Benefit Superannuation Funds.
The Education Team extend their sincere thanks to all the volunteers who work with us to educate our next generation of actuaries.
CPD: Actuaries Institute Members can claim two CPD points for every hour of reading articles on Actuaries Digital.