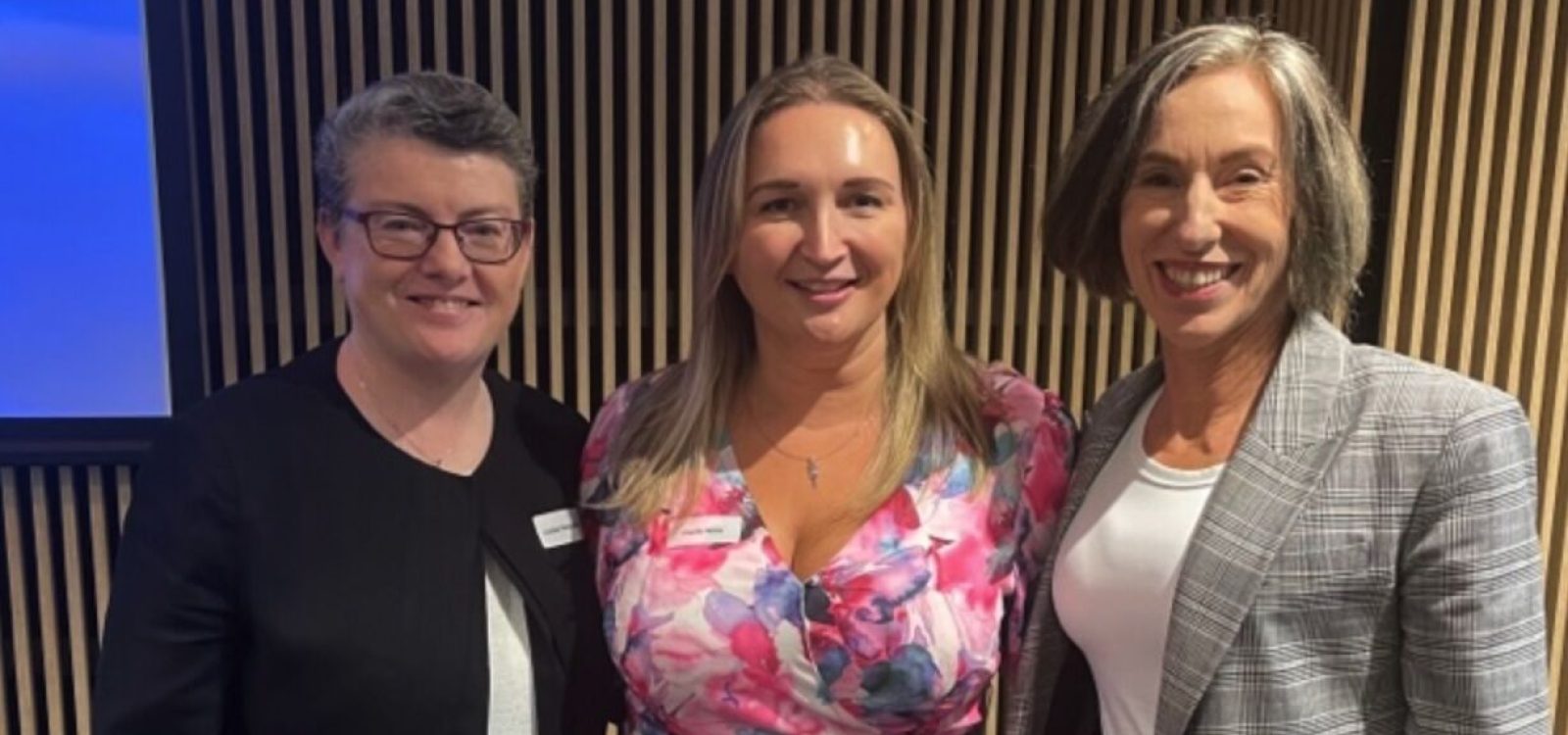 Event Reports
International Women's Day: Cracking the Code with President Naomi Edwards and guests Charlie Hales and Louise Petschler
In celebration of International Women's Day, the Institute held a panel discussion chaired by President Naomi Edwards and special guests Charlie Hales, Managing Director of Watersons Australia (a global cyber and digital consulting company) and Louise Petschler, General Manager of Education and Policy Leadership at the Australian Institute of Company Directors.
International Women's Day (IWD) is an annual celebration around the world where we commemorate the social, economic, cultural, and political achievements of women around the globe.
The Role of Actuaries
Consistent with this year's United Nations theme Cracking the Code: Innovation for a Gender Equal Future,[1] Naomi began the discussion by highlighting how data can be used to reveal, mask, improve, or worsen outcomes for various groups, including women. 
Actuaries have historically played a significant role in identifying gender-based trends in data. For example, 100 years ago actuaries identified the mortality experience differences between males and females, 50 years ago actuaries identified that women drove cars differently, leading to insurers rewarding this difference.
"As actuaries, we know that one answer to cracking the code is to "disaggregate the data". This simple act alone can change outcomes for women." – Naomi Edwards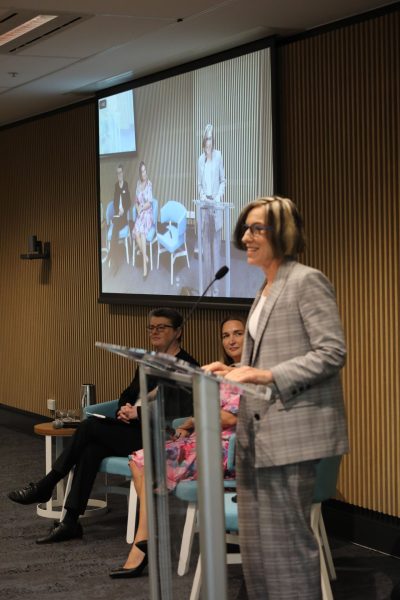 Institute President Naomi Edward opening the Insights Session
As highlighted by Naomi, data can be misleading and lead to adverse outcomes for women. For example, standard Covid PPE gear was initially sized for an average man, crash test dummies were also constructed to reflect a typical male form and algorithms used to identify heart attacks were based on the male experience. 
Although technology has recently been promoted as a method of reducing bias and discrimination in recruiting, technology can also be misled by the biases of the creators, emphasising the need for diverse thinking and experiences when designing systems. This is why laws like Law 144 in New York – a law that will force HR departments to test their AI recruitment tools for bias – have recently been passed and will most likely become the norm.
"The solution needs to be at the front end of technology. Our tech reflects the people who create it and it is still largely built by a narrow slice of society that still excludes women, black, indigenous and other minorities," said Naomi. 
Women in Cyber Security
Following this theme, guest speaker Charlie Hales began to share her experiences as a successful female in cyber security – a predominantly male-dominated industry. Emphasising the significant positive impact that a supportive work environment and policies can have, Charlie acknowledged the importance of having great female role models, flexible working arrangements and supportive partners. That's why Charlie's advice for women is to find an organisation that truly values you and not the hours worked in a day, as a supportive work environment can help anyone succeed.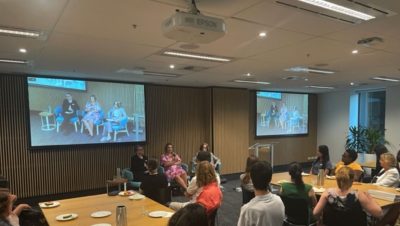 Charlie Hales speaking at the event
Charlie stressed the importance of fostering interest in technology and cyber security in female university students. Although hard skills are needed, soft skills like the ability to communicate and adaptability are just as important as an interest in computers and cables. 
Similarly, Charlie was very encouraging of established employees seeking lateral movements into tech and cyber security to take the jump. As Charlie shared, 'coding can be taught,' but the experience and diverse ideas that most established employees have to offer are much more valuable than they think, as these elements are so much harder to teach.
Women in C-Suite Positions and Boards
Board gender diversity plays a significant role in Louise Petschler's work with the Australian Institute of Company Directors (AICD) and the 30% Club. This allows Louise to have a unique insight into how female participation rates across the highest levels of business have progressed over time. 
As an example, Louise shared that in 2008 the number of ASX200 board seats held by women was roughly 8%. However in December 2022, 35.7% of ASX200 board seats are held by women and 45% of new ASX200-appointed directors are women.
One audience member broached the idea that the statistics of female participation on boards may be driven by a small number of women holding multiple board positions.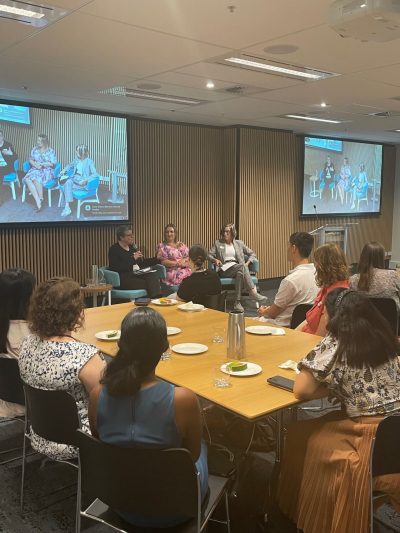 Louise Petschler speaking at the event 
Establishing a Pipeline of Empowered and Capable Women
Following the topic of an increase in women participating on boards and in C-Suite roles, the discussion progressed into discussing how best to promote higher female participation at all levels. 
One idea that Charlie raised was that women often feel that they must tick every box when applying for new roles, whereas men generally don't feel the same obligation. As a solution, Charlie suggested that a change in recruitment strategies that directly address this issue could help enable more women to progress in their careers.
Reflecting on Charlie's appreciation of having a supportive husband, Louise described how one of the significant challenges facing women was issues relating to the existing Australian childcare and parental leave systems that make it increasingly difficult for mothers attempting to return to work. The idea of job sharing or working part-time in senior management and C-Suite roles was floated as an example of a potential solution to help facilitate the balance between progressing a career and raising a family.
Louise expanded on the idea of flexible working, suggesting that although previously people had to beg or earn the right to work flexibly, recent insights into the prevalence of remote working in corporate jobs could lead to better work balance outcomes.
Looking to the Future
During Q&A, an audience member shared their experience of feeling that a barrier still existed that was not necessarily about the number of women coming through, but rather related to the pressure to be the 'right kind of woman' for more experienced roles. 
The panel responded by agreeing that social biases and pre-existing stigmas still exist and are not easily changed overnight but also challenged the idea of what the 'right' kind of woman was, reflecting how anyone could be an amazing leader given the right circumstances.
Reflections from the Diversity and Inclusion Working Group
With 34% of the Actuaries Institute's membership identifying as female,[1] it is important to continue to develop the scope of greater inclusion and encouragement of women within the actuarial profession.
That's why International Women's Day continues to be a staple with the Diversity and Inclusion Working Group (DIWG) and we would like to thank Charlie, Louise and President Naomi for sharing this insightful session.
References
[1] https://actuaries.logicaldoc.cloud/download-ticket?ticketId=a57cee9a-ef8b-4dd4-9fe0-4f578f46f21b
CPD: Actuaries Institute Members can claim two CPD points for every hour of reading articles on Actuaries Digital.