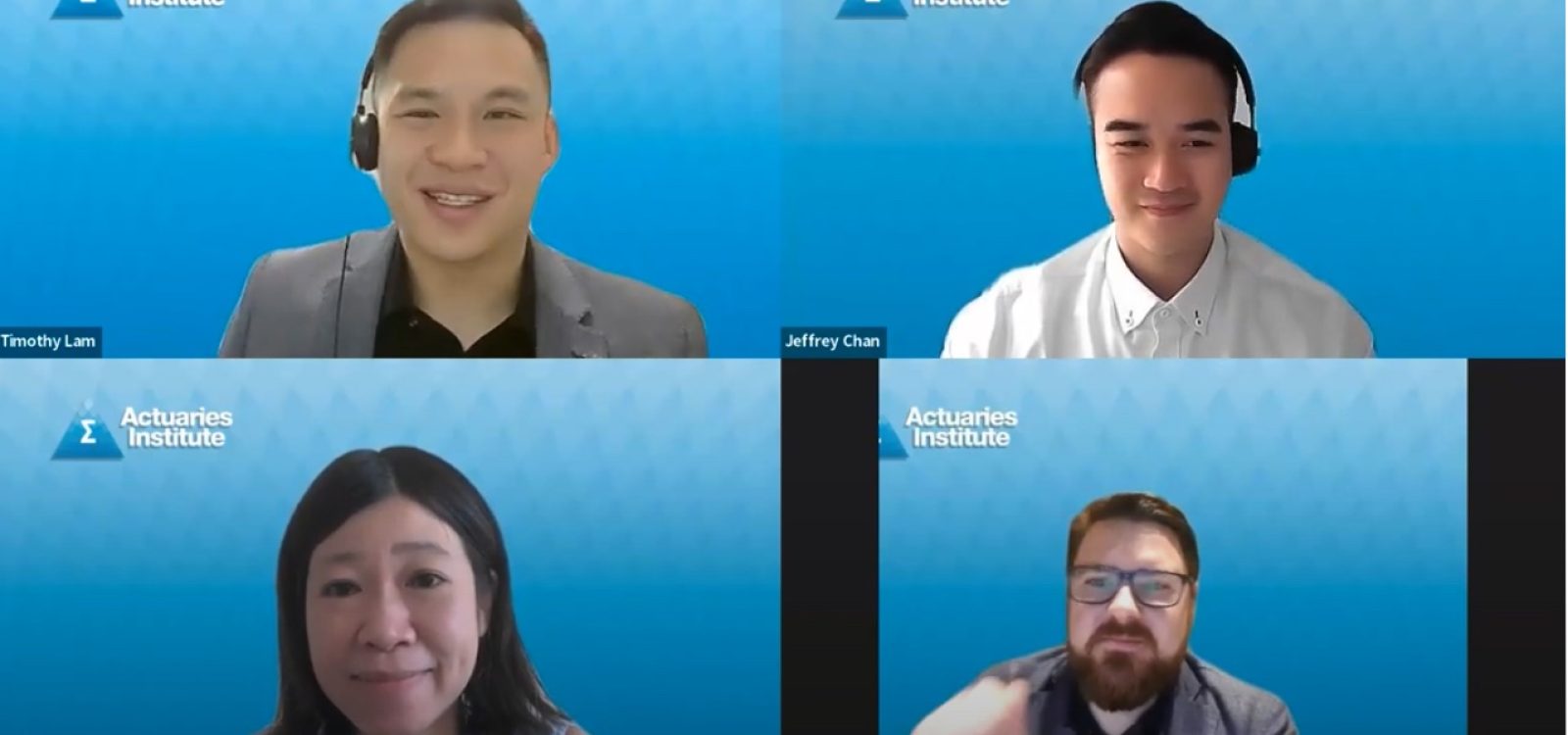 Data Science
Have you ever been stuck answering "What do you do for work?"
YAP NSW's latest Insights Session explores how data will change the industry over time and shares some tips on how to adapt.
The Actuaries Institute launched an 'Actuaries Use Data for Good' campaign in July 2022 with a mission of highlighting the difference that we can make in our roles.
The three key domains are:
C-Suite: shaping the strategic direction of an organisation to secure its future.
Actuarial Data Lab: doing the deep work, whether it's in established actuarial fields or emerging areas such as climate risk and data science.
Public Policy: contributing to conversations about equity, sustainability, and the direction of our society.
In a recent Insights Session hosted by YAP NSW, special guests Michael Storozhev, Jeffrey Chan and Iris Lun discussed Actuarial Data Lab.
The session began by exploring possible interpretations of the campaign and how it resonated with them. Attendees shared that the campaign provided:
Encouragement to use data science to provide a positive social impact to improve people's lives.
Improvement of trust between customers and insurers.
More opportunities to design better products for customers.
Accountability for ensuring that data collection is harvested in an ethical and responsible manner.
Optimisation of metrics across different stakeholders.
The three panellists all identified Actuarial Data Lab as being their main domain but acknowledge that the distribution across the three domains has changed as their careers have progressed as:
At the start of our career, we will all do data analysis, which is important as we need a strong foundation, as that is the first thing someone is going to ask for when they realise you are an actuary.
It is natural to migrate towards the other two as you build more experience, but Actuarial Data Lab will always be prevalent in your work in some capacity.
Actuarial Data Lab does not only capture those doing the actual technical work, but also those who are in a leadership position helping to mentor others, as well as those advocating for the development of new techniques. 
With the rapid development of technology enabling the adoption of new techniques, data science will continue to transform the actuarial profession. Some predictions that the panellists expect to see in the industry include:
Actuaries are very well positioned in the solving and understanding of what the business is trying to solve.
Creating opportunities for actuaries, such as in product design pricing, marketing, underwriting and claims.
Expansion in areas such as innovation, digitalisation, and human machine interaction.
The session also explored how young actuaries are interested in working overseas, especially after COVID-19. The panellists shared their experience:
Don't be afraid to do it! Australia is a safe place to return to as there is high demand for actuaries.
In Asia, actuaries predominantly work in the traditional industries such as insurance, pensions, and financial services. This is a great advantage for those wanting to familiarise themselves within these industries.
However, there is work in non-traditional departments e.g. underwriting and marketing too.
It's best to talk and network with people who work in these market to understand the differences in regulation and market dynamics.
Gone are the days of actuaries being limited to pricing and valuations!
Some parallels between working in insurance and other industries include:
If you have experience in demand modelling, your skills can be applied in the e-commerce industry for conversion analytics.
If you have experience in address-level pricing, there is huge demand for this skill in agriculture and defence around geospatial analytics.
As a result, there is no need to limit yourselves based on industry, as interviewers are looking for the same skills but described in a different language. If you are interested in transitioning, remember to learn how people in the industry talk, and focus on your skills and the value you can add – rather than simply defining yourself as an actuary.
Lastly, the session wrapped up with the panellists sharing some tips that we should keep at the forefront of our minds:
Be humble and open to learning from others.
Remember who we are as actuaries and continue to uphold professional and ethical standards.
Look for opportunities to further diversify our thinking.
Soft skills such as communication, active listening and empathy are essential for success in this domain.
Find better ways to collaborate to deliver a better outcome – not just for the business, but for customers and society.
We would like to thank our guests for sharing their knowledge and insights. Watch the presentation here.You can also find out more about the campaign here.
Are you a young actuary and would like to get involved?
Throughout the year, the Young Actuaries Advisory Board (YAAB) and YAP committees in each state hold many events targeted at building the knowledge and networks of young actuaries. Young actuaries are classified as members under 35 or with less than 15 years of experience in the profession. Visit the Actuaries Institute Calendar for upcoming events and join the Young Actuaries group on LinkedIn to hear about these and other opportunities for young actuaries.
CPD: Actuaries Institute Members can claim two CPD points for every hour of reading articles on Actuaries Digital.