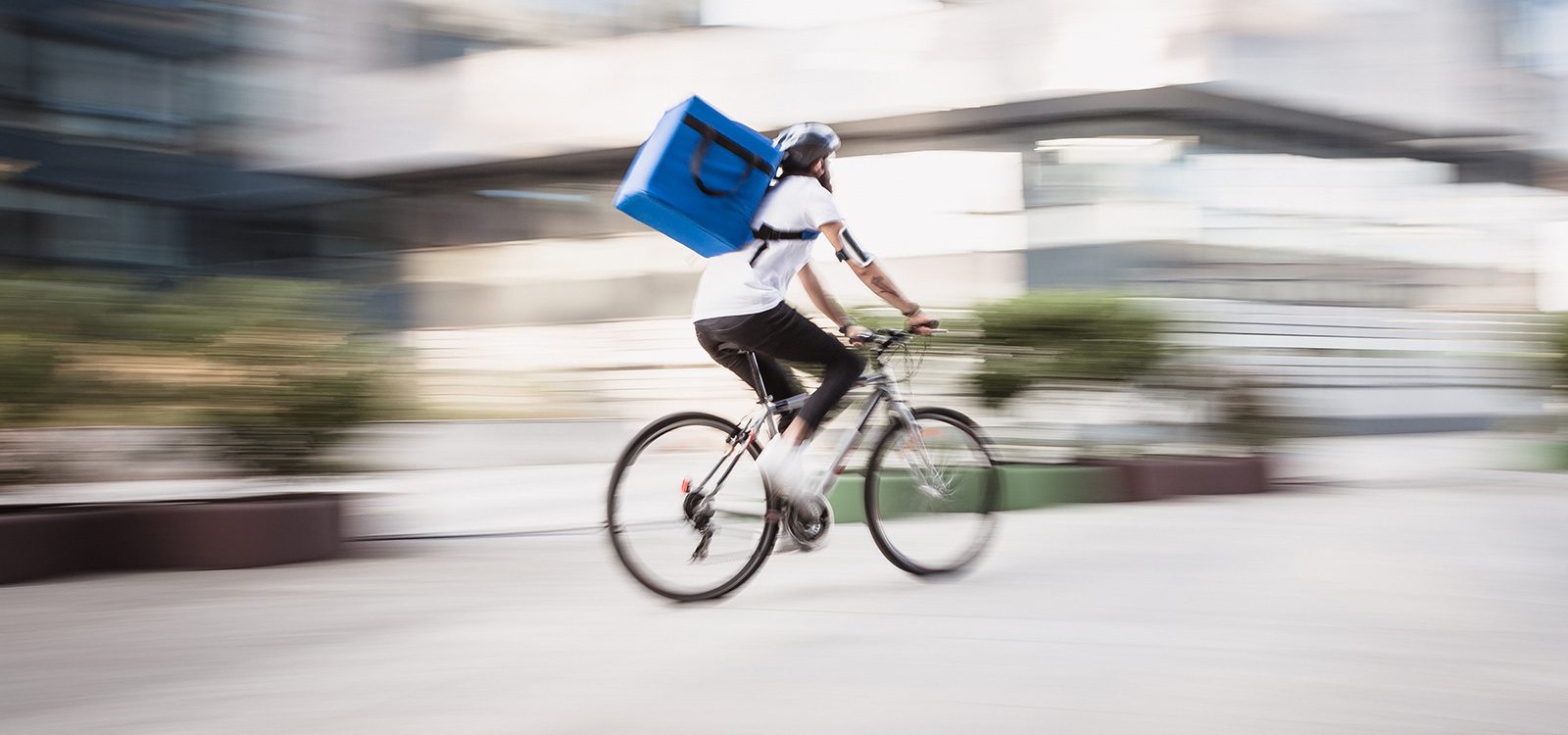 Young Actuary (student reports)
Innovation Challenge shines light on underlying gig economy issues
The Actuaries Institute Innovation Challenge, sponsored by Milliman and organised by the Young Actuaries Advisory Board (YAAB), saw teams of university students from Australia and Asia present their findings on a major societal topic: the gig economy.

The gig economy is a relatively new and thriving industry and is continuing to grow at an accelerated pace. Due to the nature of the contractual relationship between 'gig workers' and those they work for, they are generally not entitled to the normal benefits, insurance and protections of a standard permanent employee.
Consequently, participating teams in the Innovation Challenge were tasked with finding an inventive solution to the following question:
How might we better protect the financial well-being of gig-workers who do not have access to permanent employee benefits?
Each of the six participating university actuarial student societies first ran an internal competition consisting of members of their respective society. The winners of each internal competition were then invited to the finals.
Facilitated by Mark Samuels (YAAB), the finals saw each team present live to a judging panel consisting of Annette King (Institute President), Iris Lun (Institute Board Member), Scott Chow (Milliman), Farzana Ismail (Milliman) and Harrison Gee (YAAB).
'Actuaries Assemble', from the Australian National University, were ultimately declared the winners of the Innovation Challenge, receiving complimentary registration to the All-Actuaries Summit and one other major Institute event as their prize. 
Actuaries Assemble were also invited to showcase their presentation at the Summit's Radical actuaries and how they'd save the world plenary session.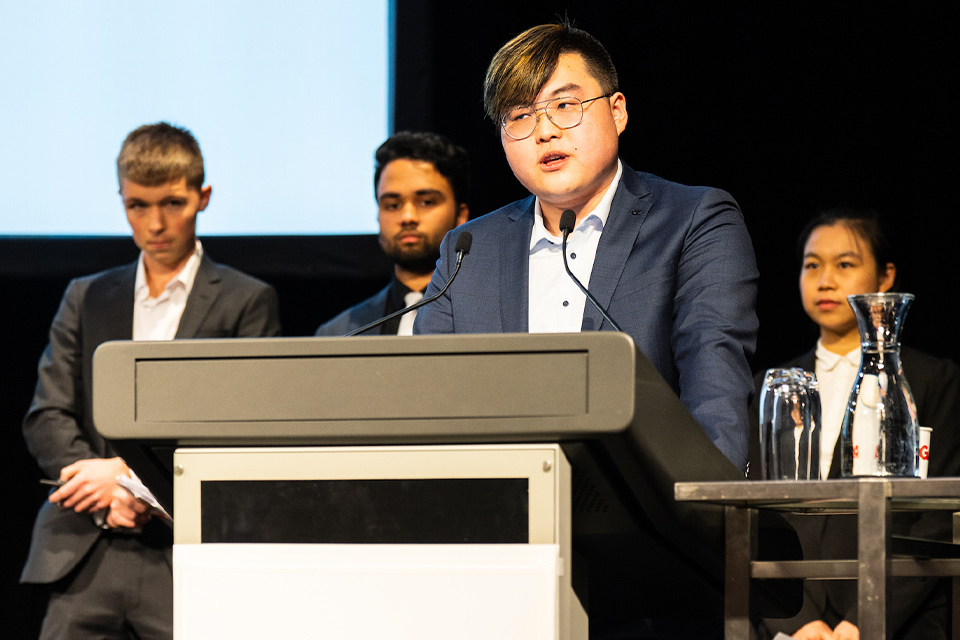 Read on for a short summary of the solutions proposed by each Innovation Challenge finalist.
Actuaries Assemble, of the Australian National University Actuarial Society
2022 Innovation Challenge Winners
Actuaries Assemble developed an innovative product for gig workers that included microinsurance for lost or stolen goods that gig economy drivers would normally have to compensate out of their own pocket (similar to the insurance cover for packages provided by Australia Post). Furthermore, additional superannuation payments made to the policy holder's account and the provision of benefit payments to cover sick leave and personal leave. Here, the policyholder's eligibility to take leave increases with the number of hours that they work, scaling up to the legislated leave entitlement of a full-time worker upon reaching a full time equivalent.
Actuaries Assemble
Nagulan Gnanavel
Suvitti Deo
Nancy Ziyue Tan
Soohoon Lee
Cameron Fidge

AS Consulting, of the Actuarial Students' Society at Macquarie University
AS Consulting's innovation involved an Investment Savings Plan targeting rideshare gig workers, with payments commencing upon injury or the rideshare worker's vehicle becoming unavailable (e.g. due to repairs). Any remaining balance would be withdrawn at the end of the policy. The product development timeline included partnering with an existing rideshare company and seeking support from a large insurer, with future plans to partner with additional companies who expanded to other gig industries.
AS Consulting
Aidan Chee
Ashwin Chettiar
Eamonn Hanna
James Thornton-Chen
Jason Wong
Melody Zhang

Bondies4Life, of the Bond University Actuarial Students Society
Bondies4Life recommended the provision of a tax offset for gig workers in the form of additional superannuation contributions, with the offset amount varying with different income thresholds. The product aimed to increase funds available for retirement, improving financial literacy of gig workers and encouraging declaration of income (leading to more accurate GDP reporting, increased data collection and gig worker's income history).
Bondies4Life
Oliver Yeung
Darcey Walsh
Jazmine Richards
Pierce Greffe
Chris Airey

BYSA, of the University of Melbourne Actuarial Students' Society
BYSA's innovation involved a financial services mobile application that provides a summary of income earned across all gig jobs undertaken (facilitated by linking existing apps), displaying financial advice on how to improve workers' financial wellbeing, links to insurance product offerings, facilitating voluntary superannuation contributions, provision of a scheduling system and a gamification system. This would encourage engagement and provide rewards such as better product offers as gig worker profiles, financial wellbeing and financial awareness improves.   
BYSA
Jinghan Yu
Vidura De Silva
Imran Akyol
Colwyn Bowie

PLECHK, of the University of Hong Kong Statistics Student Society
PLECHK suggested an Innovation Fund for Gig Workers set up to provide basic support for living expenses during periods of unemployment for gig workers. The Fund involved payment of a premium until unemployment or death. Upon retirement, participants would be able to withdraw any remaining balance. Unemployment status would be verified upon provision of a bank statement, where transactions are assessed to determine cessation of income. The use of benefit payments would be restricted to medical services, dining at ordinary restaurants, supermarket purchases or to repay existing debts.
PLECHK
Crosby Hung Sing Yin
Lyu Haoqi
Chen Difei
Shuai Hongyu
LI Haochen
Qiu Xiaoxin

MyGig, of the Monash Actuarial Students Society
MyGig proposed a product that aimed to be the 'middle man' between the gig worker and the clients that request the service. The product involved a service to hold the agreed compensation, which would be paid following an assessment of the quality of the service provided. The product aimed to facilitate dispute resolution, minimise any dispute processing time, improve the quality of services provided, and save gig workers the trouble of having to pursue legal action if they are not paid.
MyGig
Carl Dingfelder          
Brayden Stokes
Yufei Chen

Special thanks to Milliman for sponsoring the 2022 Actuaries Institute Innovation Challenge and to Mark Samuels, Queenie Chow, Ivy Tang and Hazel Vo for their contributions.
CPD: Actuaries Institute Members can claim two CPD points for every hour of reading articles on Actuaries Digital.