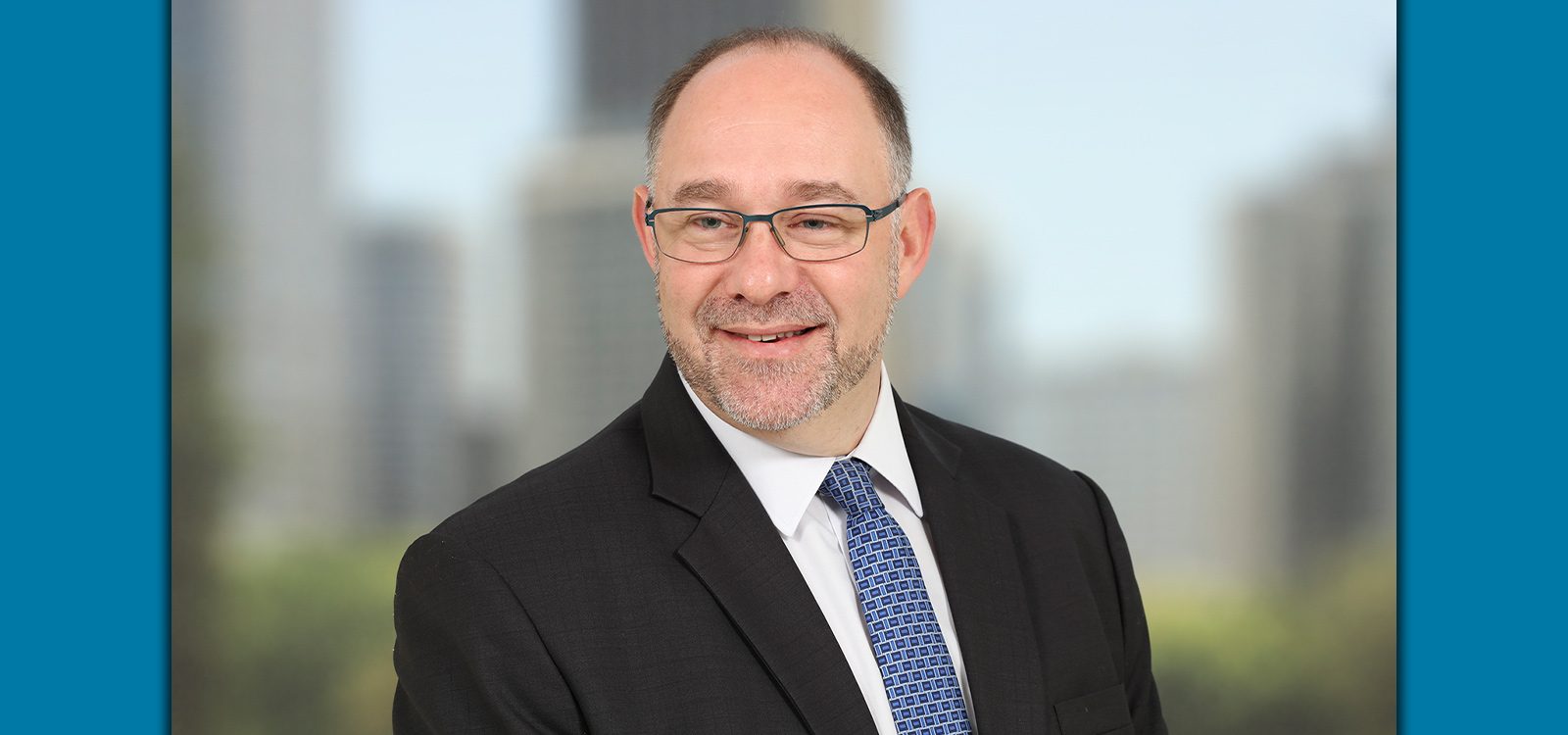 Under the Spotlight
Under the Spotlight – Alan Merten (Board Member)
Recently elected Actuaries Institute Board Member Alan Merten goes Under the Spotlight, discussing his passion for developing the careers of younger actuaries, the greatest influence on his career, and all things cycling.
My interesting/quirky hobbies?…Playing with personal technology gadgets, a bit at the bleeding edge. The biggest, most expensive one being my Tesla, bought when we moved back to Sydney from Singapore and cars looked cheap (relatively).
My favourite energetic pursuit?…Cycling – my wife and I just got e-bikes for our Christmas presents for ourselves. I can confirm that you can get a workout on an e-bike too!
What gets my goat?…Not very much, to be honest, as I am pretty tolerant. If I had to choose something, it would be walkers (or cyclists) on shared paths with headphones in their ears, concentrating on their phones and oblivious to others and the environment around them!
I'd like to be brave enough to…Be a better mountain biker but the fear in my gut keeps overriding the rational knowledge held in my brain that I should go faster so I can go over the obstacles.
Not many people know this but I…Had my honeymoon (30 years ago) in Bali, on the way to Switzerland where I was moving for a new job…at the East Asian Actuarial Conference!
Short description of career…Without ever planning very far ahead, a fascinating mix of employers and roles, living in seven countries, working in many more. Executive leadership roles running big and small insurers and wealth management businesses. Back and forth between consulting and corporate a few times along the way. I'm currently a Partner at Deloitte in Sydney, leading the Actuarial and Insurance Solutions market offering.
I became an actuary because…Comparing it to a double degree in Computer Science and Law, actuarial looked like only three years of study (I didn't quite understand the post-Uni study!) versus five years, and I could get a scholarship (as was very common at the time).
Where I studied to become an actuary and qualifications obtained…Macquarie University, BEc then FIAA, and then did an MBA at Macquarie Graduate School of Management a few years after qualifying.
My proudest career achievement to date is…Not one, but I am most proud of having helped to develop a number of people in their careers and seeing them grow and do great things in their businesses and with their people. I don't do this for the thanks or recognition but as an example, I was delighted, many years after working with him, to receive an email update from a previous staff member talking about his new leadership role and having reflected on people he had worked with, thanking me for the opportunity I gave him to step up into a role and for the coaching and support. That touched my heart!
Who has been the biggest influence on my career (and why)…My wife – being a willing sounding board and collaborator in our various moves around the world, occasionally pushing me to realise I needed a change and providing me with the support over many years to allow me to do lots of interesting things with my career, and to have a happy family life to balance my interests.
Why I'm proud to be an actuary…It's a challenging path to become an actuary, so I was proud to get to that point. Now, I appreciate the reputation and brand that we carry and the positive halo effect each actuary gets from being a member of a profession that is so well respected.
The most valuable skill an actuary can possess is …Effective communication (the receipt and passing on of information and ensuring it is understood by both parties).
At least once in their life, every actuary should…Spend time with the end recipients of the services of the companies we work for or advise (e.g., listening to insurance customer sales calls, visiting a claimant, sitting in on a financial planning session with a client).
If I could travel back in time I would…I wouldn't actually – there is plenty for me to do in the present and future, without having to go backwards. I have no desire to change any of my own experiences and while there are experiences of others in the past that could certainly be better, I've seen/read too much sci-fi were trying to change the past goes all wrong.
When I retire, my legacy will be…Having inspired and developed lots of next-generation actuaries to multiply the impact that I could have had as an individual, to ensure members of our communities have the best opportunity for financial security.
One of the most creative applications of actuarial capabilities that I have used in my career…Working with an insurer and a micro-finance bank to understand the financial protection issues that some of the poorest villagers in Indonesia had, and how to effectively provide relevant and affordable solutions to them.
The most interesting or valuable job or project I have worked on in my career and why…Designing, building, launching and then running a business focused on providing retirement advice and financial solutions to the average Aussie retirees to enable them to live a comfortable retirement. I learnt an enormous amount from people around me on branding, marketing, designing around customer needs (now the buzz-phrases are 'human-centred design' and 'customer journey mapping'). I learned to respect the incredible skills that the best financial advisers have in communicating complex financial matters and helping them make their most critical life decisions. I learnt that the leader's role is not to know everything but to tap into and rely on the expertise of others, taking people where they might otherwise not go themselves, as a team.
How my skillset evolved over my career…I remember sitting in awe at actuarial conferences early in my career, listening to experts talk about the industry. I've never been shy of asking questions and did and learnt from hearing the answers. I am still learning at conferences, but now, I do have some of my own views, so my learning comes a little more from having a debate than just asking a question. While I've certainly developed skills, I've also learnt that there remains lots more for me to learn and practice!
The advice I would give aspiring actuaries to be able to do my job…Get a variety of experience through your career in terms of the type of work you do, the type of people you work with and the sectors, companies and markets you work in. Care about engaging and inspiring the people around you. Be a lifelong learner.
My view about the future of the actuarial profession – in 10 years?…Very positive – we will be bigger and more diverse and inclusive of a variety of skills and experience that our members bring and where we apply them. We will still be known for our high professional integrity and objectivity and our mixing of art and science, applying judgement to insights gained from analysis of data to make and help others make better decisions about the future. We will be sought out more by companies, governments and other stakeholders to help on the community's most important issues where there are financial uncertainties about the future.
If I were the President of the Institute, one thing I would improve is…Once we have taken views on where our 'growth plays' should be, focusing attention on supporting actuaries to make moves in these areas and fostering both demand for our services and high-quality services in the areas of growth.
My best advice for younger actuaries…Find and do things you enjoy and are passionate about.  Be curious, do more listening than telling (something I continue to try to improve on), don't expect to know all the answers (and certainly don't pretend or suggest you do) and pay attention to people – learning from others, relying on others, coaching and supporting others.  Remember the world is not all about rational arguments and intellect!
CPD: Actuaries Institute Members can claim two CPD points for every hour of reading articles on Actuaries Digital.