Under the Spotlight
Under the Spotlight – Ricky Au
Ricky Au, of the Actuaries Institute's Diversity and Inclusion Working Group, goes Under the Spotlight to share his experience of celebrating pride in the workplace, what drew him to becoming an actuary, and the importance of being out and open in the profession.
My interesting/quirky hobbies… I find any excuse to analyse data. Some quirky data sets I have analysed include the music play count from iPods, gaming data and an excel-based love interest underwriting calculator.
My favourite energetic pursuit… Group exercise, especially 'LES MILLS BODYATTACK'. Imagine a room full of people sharing the same passion through sweat, lunges, burpees, tuck jumps and more sweat…who wouldn't want to be part of that?
What gets my goat… Hearing people try to pass discriminatory remarks off as jokes.

Not many people know this but I… Considered leaving Australia for good a few years ago. That was before Australia legalised same sex marriage, and one of my hometowns was legalising same sex marriage ahead of Australia back then. I told my now husband, "why live in a country where we are discriminated by law?"
Short description of career… I preferred General Insurance subjects back in university. I took a preference towards Life Insurance due to my internship with a life insurer during a summer holiday. I spent most of my work life to date with BT Financial Group/Westpac between Pricing and Valuation. I have moved into Product a few years ago to experience first-hand why so many actuaries have moved over to the other side of the fence.
I became an actuary because… Of survival instinct. My family moved to Australia four years before I had to select my university course. I have only been learning and using English for four years, much like 'f(x) = eX', so the first few years you don't know much. A bachelor's degree with numbers is probably my only bet if I intend to graduate with passing grades. I am glad that I chose this path, as the endless problem solving is what keeps me engaged throughout the years.
Where I studied to become an actuary and qualifications obtained… I started my actuarial education with UNSW and finished the Part III exams with an amazing study group.
I am most passionate about… People I love and care about.
What I find most interesting about my current role… What is more interesting than working on the new DI product?
My role's greatest challenges… A moving goalpost and endless uncertainties in the market.
My proudest career achievement to date is… The joys of sharing what I learnt with the new generation of actuaries.
10 years from now, I will be… Experiencing a dream that I don't know yet.
Who has been the biggest influence on my career (and why)… That would be my parents. They taught me values like hard work and kindness, and they demonstrated these values through words and actions. I believe that being a genuine kind person was the reason that I came across quite a few amazing managers and mentors over the years. They shared their knowledge, provided guidance and I looked up to them as my inspiration. I am the person I am today thanks to my parents and all these inspirational actuaries.
Why I'm proud to be an actuary… This job gives me a mindset that I could have a solid attempt at any problem that crosses my path, relying on the information available and the assumptions adopted. This gives me the confidence since we never know how the unknowns will unravel, but I am equipped with the tools and mindset to take a shot at it.
The most valuable skill an actuary can possess is… Contextualise a problem with logic and numbers and wrap it up in a story relevant to the people involved.
At least once in their life, every actuary should… Work outside of the financial services industry and look at the world from a different angle.
My best advice for younger actuaries… Play to your strengths and be kind.
If I could travel back in time I would… Live my life exactly as it happened, just so that I can experience all the sweet and bitter moments one more time.
Actuarial capabilities I use in my current job… I do not think the list ends, the concept of control cycle, good understanding of risks, phenomenal calculation & analytic skills, and more.
Skills actuaries should enhance to become more effective in my field of work… Every individual is unique, so it is best to play to your strengths.
Being out and open in the profession is important to me because…. I am most comfortable and at my best as my whole authentic self. It is important as work is a huge part of our lives so the thought of pretending to be someone else or hiding and lying about myself is exhausting. Being open also helps me better understand people around me and hopefully this will help other LGBT actuaries feel comfortable too.
What has your experience been as an LGBT actuary?… Not too different to being LGBT working in other fields. When I first started out, I was careful not to share anything personal with colleagues. This was both challenging and exhausting, I had to avoid using certain pronouns and only use the word 'we' instead. The stigma of how the world views the LGBT community frightened me, so it took me a long time before I was comfortable enough to come out to some of my closest colleagues at work. The lack of visible LGBT actuary representation made it difficult for me to accept my identity or have faith that my colleagues will accept me as well. I clearly remember my inner thoughts before I came out to my manager and subsequently to the wider team. If things went south, I was prepared to find a new job at a different company or even considered moving away from Sydney for a fresh start. It is good that I never had to activate Plan B.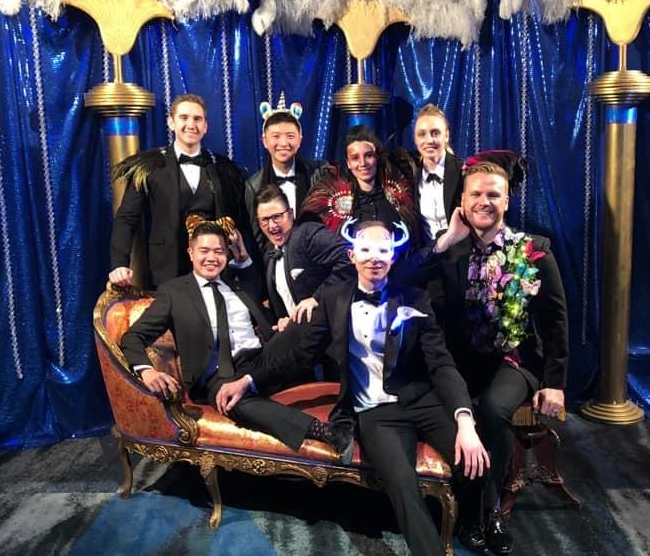 What advice do you have for other LGBT actuaries?… Be yourself, it is never easy, but you will know when it is the right time for you. The more of us being out and open in the profession will help others to understand we are no different to them, and makes the next generation of LGBT actuaries a little easier to be their true authentic self.
How do you celebrate pride in the profession?… I like to celebrate pride in small doses throughout the year through little day to day actions. I participate at diversity groups through the Institute and my workplace. I use a pride themed background during virtual meetings to raise awareness and spark a conversation to help others better understand LGBT community beyond the silver screen. I use phrases like 'boyfriend' or 'husband', hoping to help others understand that our lives are no different to theirs.
CPD: Actuaries Institute Members can claim two CPD points for every hour of reading articles on Actuaries Digital.