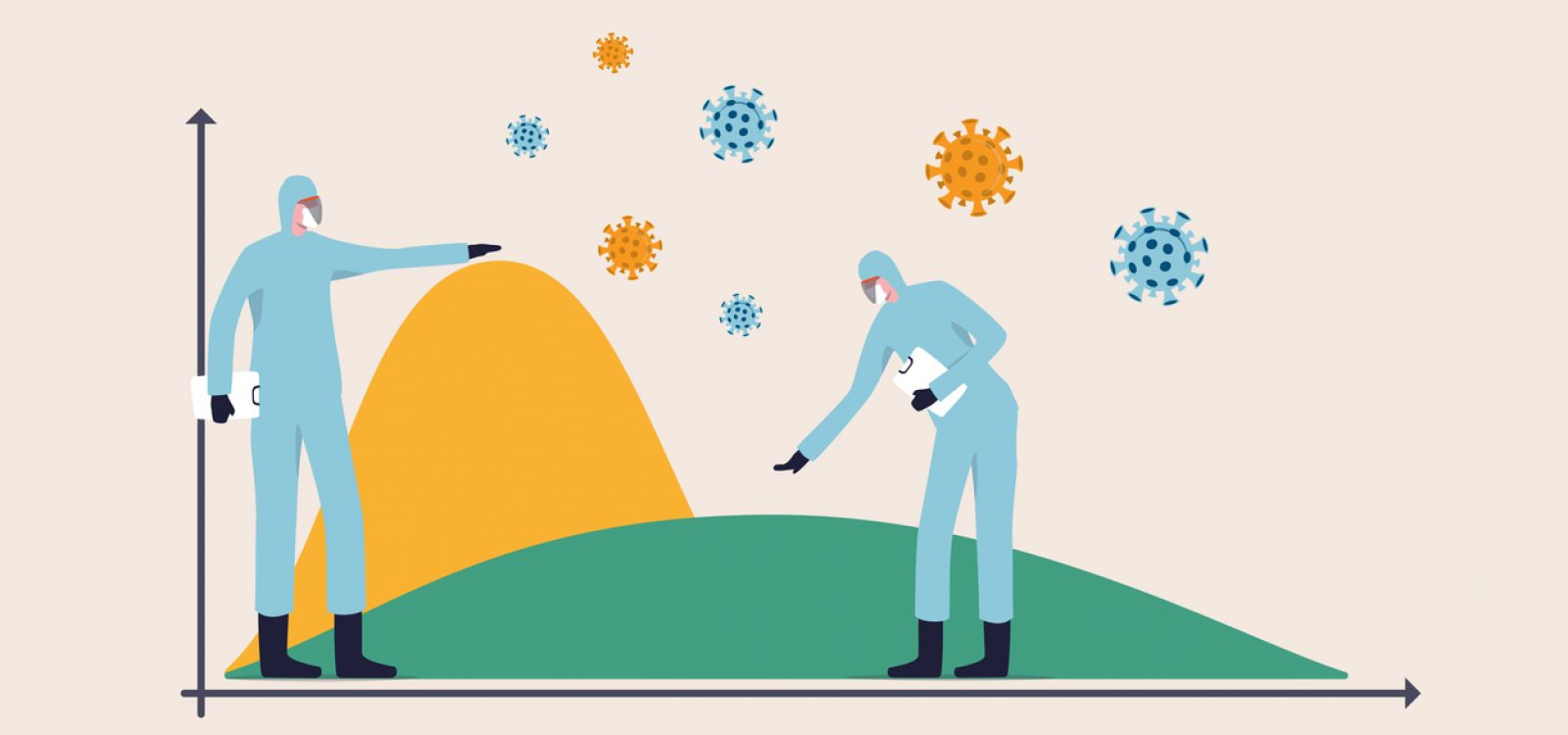 Covid-19 Blog
COVID-19 Monday Roundup 31 August 2020
Although not falling, the increase of global cases have remained steady. In Australia, Victoria's Stage 4 restrictions have managed to reduce case numbers while in NSW, the CBD outbreak has spread into various areas. APRA's recent reports evaluate the effects of COVID on our industries and we are now seeing cases of reinfection.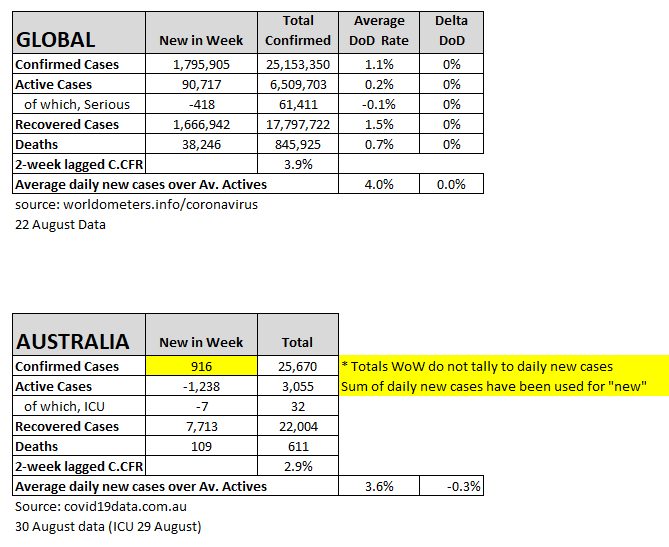 World Summary – 29 August
For six weeks, new cases have been 1.8 million. Joy would be falling new cases, but 'steady' is a welcome new phase after months of 'increasing'.
59% of new cases were in India, USA and Brazil; and 29% were in just 18 other countries with over 10,000 new cases each, headed by Colombia with 67,000, 3.7% of the weekly total.
Of the major outbreaks, only five (India, Argentina, Indonesia, Iran and Ukraine) are not yet establishing control.
Of 46 large outbreaks, the uncontrolled fell by two and the apparently-controlled rose by one.
Deaths were the lowest in six weeks at 38,249.
India, USA and Brazil accounted for 52% of all deaths, with over 6,000 deaths each.
Another four countries (Mexico,Colombia, Argentina and Peru) had over 1,000 deaths each.
Only France's new surge in new cases is appearing dangerous. Italy and Turkey's new surges are not yet problematic and Spain, Belgium and Netherlands appear to have contained their new surges.
New Zealand is containing their new outbreak, but there is no insight yet on the source of this 'outbreak from nowhere'. In world COVID-management terms, the New Zealand experience is one of the very important case studies.
 In world terms, Australia looks a strong success story, with new cases only 25% of the very sharp peak in less than a month.
Australia Summary – 30 August
Australia recorded 858 new cases this week (1,524 last week), taking total case numbers to 25,668.  Overseas travellers accounted for only 11 cases (18 last week).
Victoria recorded 784 cases, around half as many as 1,467 last week with the Stage 4 restrictions clearly doing their job.  However, the next phase of reducing case numbers may be challenging:
306 cases (46%) were confirmed as having an unknown source of transmission; the number is well down on last week (442) but it hasn't halved.
397 cases were in health care workers (including aged care workers) and 126 cases were in aged care residents (compared with 350 and 261 respectively last week). The graph shows the rolling seven-day average of cases in aged care residents, healthcare workers and all other cases.  The peak in aged care resident and healthcare worker cases was around a week later than the peak in other cases, and the proportionate reduction since then has been lower.  On 5 August, aged care residents and healthcare workers made up 21% of cases; this week it was 62%.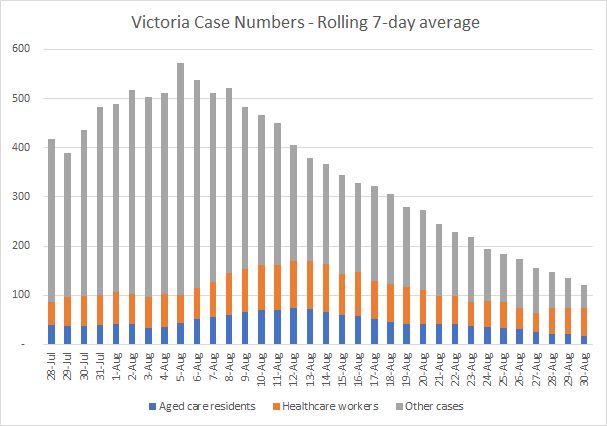 Victoria recorded 111 deaths, up slightly from 106 last week.  Of those, 102 deaths were associated with outbreaks in aged care (85 last week).
NSW recorded 48 locally acquired cases (27 last week):
28 cases from the new CBD cluster that originated at the City Tattersalls Club. This cluster has spread the virus far and wide, with cases linked to the CBD, inner west, inner east, north shore, northern beaches, north west, and the Central Coast.
11 cases are contacts of other cases
Nine cases with an unknown source of transmission (total 10 this week including the first case from the CBD cluster, compared with six last week).
NSW Health is strongly advising people who live or work in Sydney or the Central Coast not visit aged care facilities at this time.
Queensland recorded 14 locally acquired cases (nine last week) in respect of two clusters:
Two cases associated with the Wacol Youth Detention Centre (total 11 cases). All youths have tested negative.
12 cases associated with the Corrective Services Academy.
It is thought that these two clusters are linked (although links are tenuous) and that the detention centre cluster is linked to the Logan cluster (genomic testing cannot rule it either way).
No other state/territory reported any locally acquired cases this week.
Key market update
New COVID-19 research
Reinfection. A widely publicised case of a SARS-CoV-2 reinfection occurred in a 33-year-old man from Hong Kong, with genetic sequencing finding significant differences between the man's first and second infections. Two further cases of reinfection have since been documented in Belgium and the Netherlands.
Vaccines. Vaccines may not always produce an immune response in older people, so it is positive that Moderna's vaccine showed immune responses in older cohorts in trials this week. Meanwhile, Sinovac Biotech's vaccine candidate has been approved for emergency use in China to vaccinate high-risk groups such as medical staff.
The Australian government has reached an agreement with British pharmaceutical giant AstraZeneca to secure 25 million doses of a coronavirus vaccine if effective, but some Church leaders expressed ethical concerns in focusing on just one vaccine, because scientists used cells from a 1973 foetus in its development.
Preventing spread. Sero-prevalence results in Long Island showed healthcare workers had lower prevalence of COVID-19 than the general public, suggesting PPE can be effective.
After childcare centres were re-opened in Rhode Island, there was limited secondary transmission to other children, which the authors suggest was likely due to efforts to contain transmission, including maximum class sizes and face masks for adults. Separately, the WHO now recommends against face masks for children under age FIVE.
Distancing rules may need to be better nuanced, as respiratory droplets can travel up to 8 metres. A more nuanced risk matrix is presented in this paper, based on type of venue and activities undertaken.
One superspreading conference event has been blamed for up to 40% of Boston COVID-19 cases.
Treatment. Anticoagulants reduced mortality and intubation among hospitalized COVID-19 patients in this US study, by as much as 50%.
The US FDA issued emergency use authorisation of convalescent plasma to treat COVID-19, despite major concerns raised about the quality of evidence from clinical trials.
Risk Factors. Women mount a stronger immune response to SARS-CoV-2 than men, which could help explain worse outcomes among men, a study in Nature
New on the Actuaries Institute website this week.
CPD: Actuaries Institute Members can claim two CPD points for every hour of reading articles on Actuaries Digital.