Covid-19 Blog
COVID-19 Monday Roundup 3 August 2020
Another week with record new case numbers and fatalities in Australia, continuing to be dominated by Victoria. Six vaccine candidates have now reached Phase Three trials globally, whilst locally a Phase Two trial managed by Flinders University has been approved.  CPI records the largest drop on record, dominated by free childcare and low petrol prices. And in terms of understanding the disease, there's increasing evidence of long-term health implications as a result of COVID-19 with an Italian study showing that after 60 days from onset only 13% of patients reported being symptom free.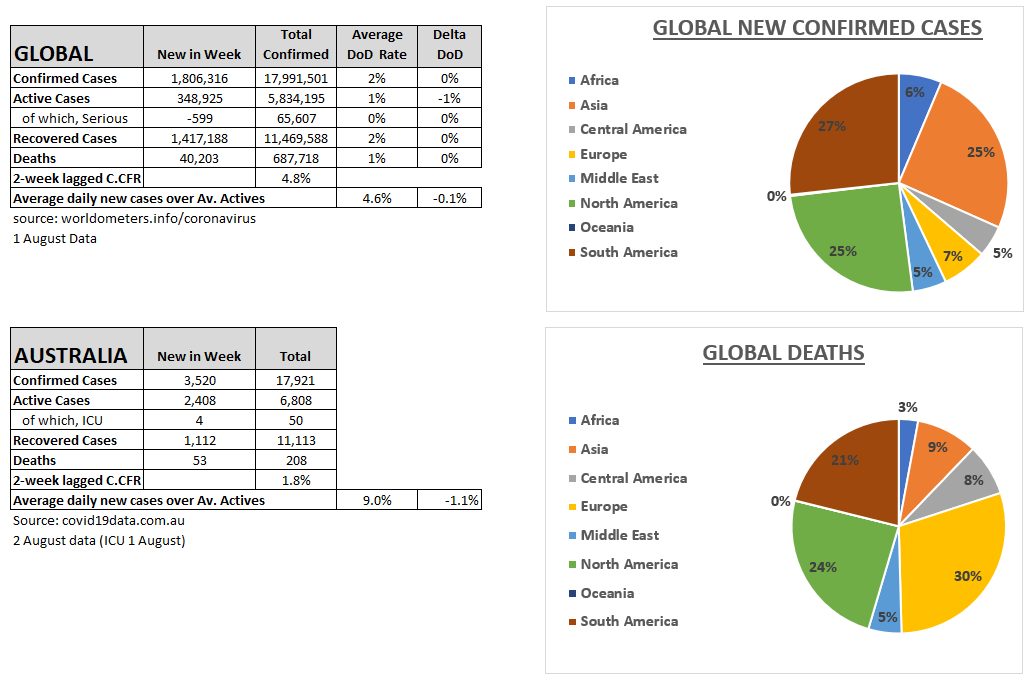 World Summary – 1 August
The pandemic new cases grew only 1.4% this week, but still delivered the 4th, 2nd and highest daily new case counts. The global growth rate fell slightly on the easing.
Deaths were the 6th highest in a week, and deaths as a percentage of new cases (2 week lag) reduced, resuming the trend of recent months.
63% of new cases were in the USA, Brazil and India; and nearly 26% were in just 18 other countries with over 10,000 new cases each, headed by South Africa with 69,000, 3.8% of the weekly total, and another welcome reduction in that country.
USA, Brazil, India and Mexico accounted for 62% of all deaths this week with over 4000 deaths each. Another four countries had over 1,000 deaths each.
In addition to the US, Brazil and India, there are large uncontrolled outbreaks in five other South and Central American countries, three in the Middle East, two in Eastern Europe and two in S.E. Asia. Elsewhere, large outbreaks have peaked, are coming under control or are controlled.
Germany, Spain, Netherlands and Belgium are experiencing potentially dangerous new surges that are yet to be controlled.
Australia Summary – 2 August
Victoria dominates the Australian situation with 3,376 new cases, up 36%, 96% of all new cases this week. It is not clear whether daily new case numbers are flattening as the health experts expected by now, following the Stage Three restrictions. Stage Four restrictions are now being introduced.
This week topped last week's highest weekly deaths, all but one in Victoria. Deaths included three males in their 50s.
NSW had 118 new cases, up 13%. Numbers are refusing to reduce, clusters keep growing and areas affected keep spreading. NSW has extended its strong recommendations into the range of settings that masks should be worn in public, but still no mandate. Woolworths are strongly encouraging customers to wear masks in their stores from Monday.
Queensland had nine new cases, imported from Victoria by two individuals avoiding quarantine.
Only Tasmania and ACT had no new cases in the week.
Key market update
New COVID-19 research this week
New on the Actuaries Institute website this week.
CPD: Actuaries Institute Members can claim two CPD points for every hour of reading articles on Actuaries Digital.