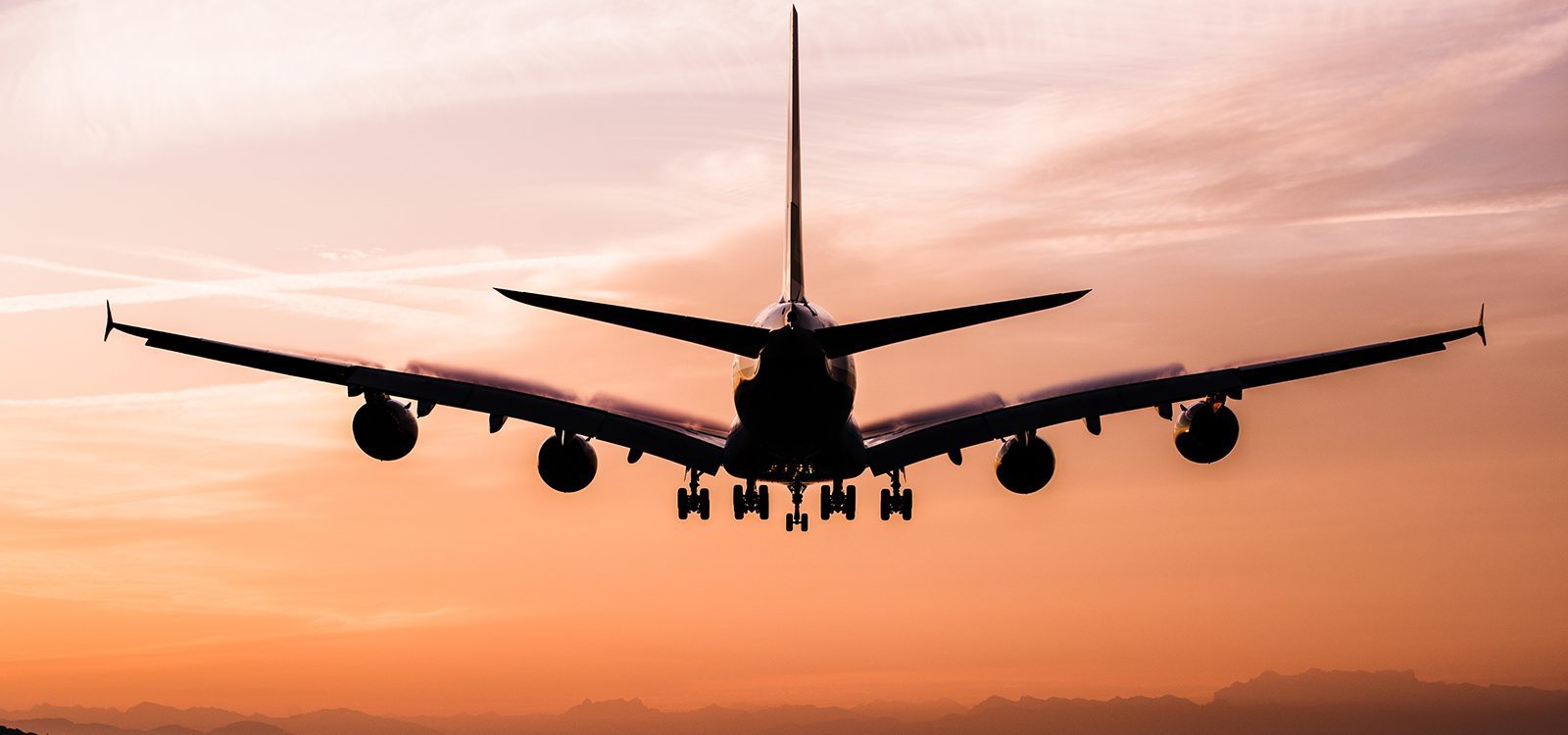 Covid-19 Blog
COVID-19 worldwide travel insurer responses
How have travel insurers fared in different countries during the pandemic? Daniel Vaughan takes a look at how different practices have led to markedly different outcomes in some markets.
The impact of the COVID-19 pandemic on the Australian travel insurance industry has been profound.  The combination of escalating claims costs, elevated levels of consumer dissatisfaction and decimated revenue has placed considerable strain on the industry.
At this juncture, it is worth looking to overseas to see how the experiences in other countries have compared and what organisations in those markets are doing to try to recover.  This article compares other markets in terms of coverage for a pandemic, how the industry has responded to the event and what the road to recovery might look like.
Coverage under pre-COVID-19 policies
In Australia, the coverage available to policyholders has varied according to the wording of the product they purchased (i.e. whether it contained a pandemic exclusion) and when they purchased the policy with reference to the date their insurer declared COVID-19 as a "known and foreseeable event".  Many polices had exclusions for pandemics or other known events. For those that didn't, , the DFAT Level 4 Do Not Travel advisory issued globally on 18 March 2020 generally provides a trigger for a cancellation claim to be made.
The situation in the US is quite different since pandemic exclusions generally did not exist within policy wordings. However, there is no equivalent claim trigger to the DFAT travel advisory and a fear or disclination to travel is not a covered peril.  In fact, most traditional policies contained a specific exclusion around government regulation or prohibition of travel and so have not responded to cancellation claims.
However, Cancel For Any Reason (CFAR) policies are more widely sold in the US than in Australia and is estimated to comprise around 5% of the market pre-pandemic.  Due to the state-based filing system (where products and prices need to be lodged separately with state regulators) it can be difficult for insurers to withdraw products or pricing quickly.  These CFAR products typically pay 50-75% of the trip cost and have been the source of much of the loss activity that has occurred in the US market.  Additionally, unlike Australia, most US policies include coverage in the event that an airline or accommodation provider becomes insolvent and with this remains the threat of future losses.
In the UK and the rest of Europe most policies provide coverage in the event of a pandemic. They have responded accordingly, covering the considerable losses sustained by policyholders.
Insurer responses to COVID-19
Insurers globally have generally provided a comprehensive response to medical claims that have arisen from the pandemic albeit these have comprised a fairly small proportion of claims.  This response has included, in many jurisdictions, an agreement by insurers to extend policy periods for medical coverage for travellers who are stuck overseas and trying to return home.
With regards to cancellation/curtailment claims, the most significant aspect of the pandemic, insurers have sought to rely on the terms and conditions within their policies in determining whether coverage is available.  In most jurisdictions, coverage for cancellation claims is only provided after the application of refunds/credits from airlines and other travel providers.  This is significant because:
The magnitude of the event has lengthened the time taken for policyholders to evidence their efforts to obtain such refunds and this has significantly delayed the claim finalisation process.
The global scope and duration of the event has placed airlines and other travel providers under extreme financial strain and hence has impacted their ability to readily provide such refunds. In some cases, airlines have offered deferrals and vouchers, potentially delaying eventual claims.
Ultimately this has been a major contributor to increasingly poor consumer outcomes for policyholders, both in Australia and globally.
In the US, where cancellation coverage was generally not available outside of CFAR policies, many insurers have followed a similar approach to airlines where they have been offering credits to policyholders for use with a future trip.  This, in combination with airline and hotel refunds, has served to largely contain consumer dissatisfaction around the lack of coverage in traditional policies.  That said, there is pressure from regulators and consumer groups around some of the exclusions that were prevalent in policy wordings.  There is also a class action which has been lodged against a large international insurer regarding the delineation of the pre- and post-departure legs of a travel insurance policy and the refund of unused premium is being sought.
Post COVID-19 Travel Insurance
Sales of new traditional policies have largely stopped in many jurisdictions due to the lack of international travel and insurer concerns around whether prospective policyholders understand the coverage (or lack of it) that they are purchasing.  The figure below shows the extent of border restrictions in place globally. Most countries have a full or partial travel ban in place.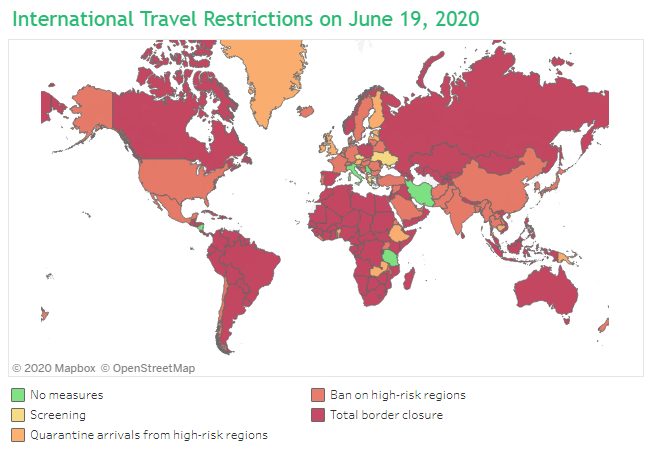 Policies are still being sold in the US because the government there hasn't stopped outbound travel and because (outside of CFAR policies) the policies generally didn't provide pandemic coverage beforehand and so the same consumer issues do not exist.  Insurers in the US are, however, trying to "re-file" CFAR products with more restricted benefits, including the removal of insolvency benefits (refunds where the travel provider goes bankrupt).
As well as defensive changes being made by insurers, there is some evidence of innovation occurring within the global industry as travel insurers look to adapt to a changing world and replace lost income.  This has included:
the launch of a new product in the US based around domestic driving holidays which includes a focus on coverage for car rental, cancellation and even pet illness.
the launch of "staycation" insurance for domestic holidays within the UK including cover for cancellation due to a diagnosis of COVID-19 for the traveller or a COVID-19 outbreak which necessitates closure of a hotel premises.
Predictions for the future of the industry are that products based around domestic travel are expected to be more popular in the short term.  Following the resumption of international travel, it is expected that traveller awareness of and interest in CFAR policies will rise.  Depending on the supply, coverage and pricing response of insurers for these products, this may translate into a larger proportion of future sales.
As the travel insurance industry strives to restore its income to pre-pandemic levels it may face significant headwinds.  More people will holiday domestically (either forced, by choice or even responding to government subsidies), which reduces demand for higher-priced international travel insurance.  In addition, some airlines, accommodation providers and booking agents are providing much more generous cancellation provisions which may reduce the perceived need for travel insurance amongst travellers. Such pressure will force many insurers to continue to diversity or to cut costs.
CPD: Actuaries Institute Members can claim two CPD points for every hour of reading articles on Actuaries Digital.