Covid-19 Blog
Pandemic Briefing – Business Interruption
The latest Pandemic Briefing has been prepared by the Business Interruption (BI) Working Group. It is based on their understanding, at the time of writing, of the issues for BI policy coverage of COVID-19.
The impact of COVID-19 is likely to vary across different businesses and locations, due to the various State and Federal requirements and the level of infections. In setting a central estimate, the Actuary will need to understand:
a) the policy wording, any exclusions and conditions; and
b) the benefits payable.
This note is intended to provide ideas around issues for consideration by Actuaries as well as potential sources of information.
The document is in draft form and the Working Group would be keen to hear your thoughts. All feedback can be directed to COVID19@actuaries.asn.au.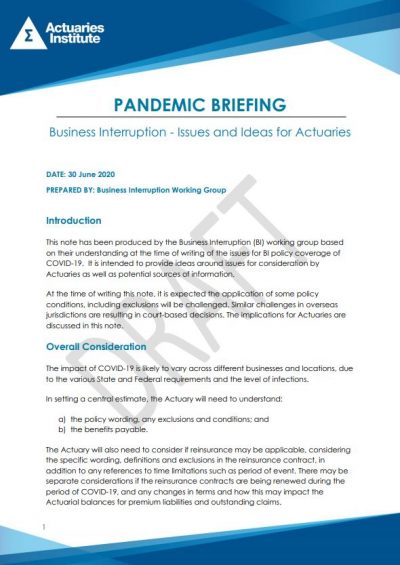 CPD: Actuaries Institute Members can claim two CPD points for every hour of reading articles on Actuaries Digital.