Covid-19 Blog
Pandemic Briefing – Asset Impacts
This Pandemic Briefing aims to identify various considerations relating to the impact of COVID-19 on the assets and investment side of the balance sheet, for life insurers.
Although this briefing has been prepared by the Life Insurance group of the COVID-19 Working Group, the considerations discussed are general in nature and may also be applicable to actuaries in general insurance, wealth management or superannuation.
This note provides a general overview of various key factors and considerations likely to impact asset values and expected returns, primarily in Australia. However, it is not designed to provide a detailed review of implications for each asset class and the considerations discussed within this note are not intended to be exhaustive.
It is currently in draft form and the group is keen to gather feedback from Members. All comments can be directed to Moz Ali.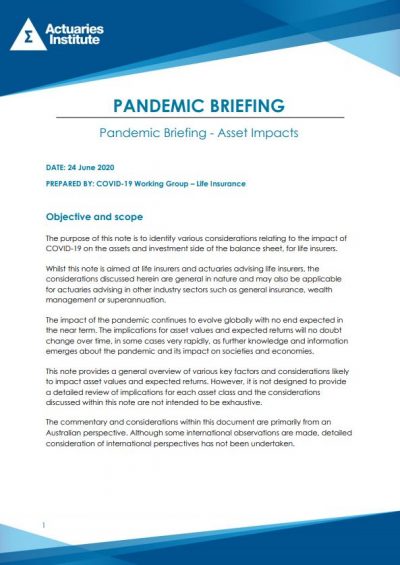 CPD: Actuaries Institute Members can claim two CPD points for every hour of reading articles on Actuaries Digital.