Editorial
How artificial intelligence is changing retail value perception
Actuary with Woolworths Group Jo Chidwala, outlines the most popular types of AI, what they can do for retail and why those who invest in cognitive insights will reap long term rewards as the retail market is revolutionised by the internet and big data.
The giant tsunami wave that is changing the US retail landscape – with almost 7,000 store closures over the past two years – is set to sweep into Australia in 2018.
Based on retail insights from Bain & Co, sales revenue for traditional retailers in the USA will reduce by 2.4% and profit margins will reduce by 1.5% by 2020, driven by strong competition from new market entrants like Amazon and Kaufland.
The battle to win back and retain customers continues to intensify with most traditional retailers in Australia actively participating in price wars to remain competitive. This aims to stimulate short-term sales momentum but can reduce long-term profitability. This is consistent with a 'red ocean' strategy which can be self-defeating, rather than broader strategies that help re-define the market.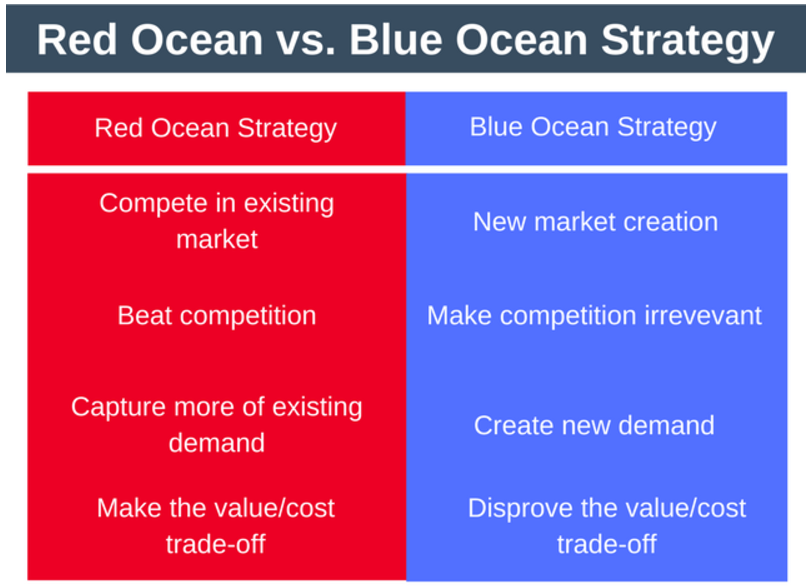 Customers don't evaluate pricing in isolation; other factors such as product range, store environment and seamless omni-channels strongly influence value perception. For example, Amazon has succeeded in establishing a low-price reputation and becoming a default search destination for thousands of products, without actually offering the lowest prices.
Leveraging AI to differentiate in a crowded market
Savvy organisations like Google, Facebook, Walmart and Alibaba are future proofing their businesses from competitive threats by building unique capabilities in artificial intelligence (AI) that are hard to replicate – a classic 'blue ocean' strategy. Such bold investments enable them to develop new products, create new markets, build customer loyalty hence, build trusted brands.
The most common type of AI currently used in the market is called supervised learning. This type of AI involves inputting data (A) to quickly generate some simple response (B). Within this framework, one of the most exciting areas of development is deep learning technology, that leverages neural networks (inspired in part by how the human brain works) to make decisions.
Examples where supervised AI learning is deployed
Retailers are increasingly using cognitive technologies to solve business problems with most playing catch up to market leaders like Amazon. A study by Davenport and Ronanki proposes three main types of AI applications:
Robotics and cognitive automation;
cognitive insights; and
cognitive engagement.
The most common application of supervised learning (AI) is in:
Process/cognitive automation – this entails automating physical and digital tasks. Robots that leverage machine learning technology are more advanced than earlier models because the "Robots" (that is, code on a server) act like a human being inputting and consuming information from multiple IT systems performing a range of tasks including:
transferring data from e-mail and call centre systems into systems of record – for example, updating customer files with residential address changes or service additions;
reconciling financial transactions and posting journals to balance accounts; and
reading legal and contractual supplier documents to extract commercial terms using natural language processing.
Cognitive insight – this the second most common type of AI- it uses algorithms to detect patterns in vast volumes of data and interpret the meaning. These machine learning applications can be used to:
better understand what individual customers want, when they buy, where they purchase and how they consume their products and services;
maximize return on investment from price promotions using predictive modelling technics to present the best offers;
automate personalised targeting of digital ads; and
provide retailers with more accurate models to forecast demand at store level, hence reduce 'out of stock'.
Cognitive engagement – whilst this form of AI is the least popular, it still promises to generate projects that engage employees and customers using natural language processing chatbots and intelligent agents. The software could perform wide array of tasks including:
Smart agents that offer on demand customer service addressing a broad array of issues from password requests to product support questions – all in the customers natural language;
Product and service recommendations that increase personalisation, engagement and sales, including rich language or images; and
Internal sites for answering employee questions on topics including grocery code of conduct, HR policy, employee and IT.
Stimulating demand by anticipating customer purchases – an example of 'cognitive insights' AI
Enterprises that engage with their existing customers are poised to grow revenue by proactively cross-selling complementary products. These organisations understand what individual customers want, when they buy, where they purchase and how they consume their products and services.
"Retailers that leverage big data analytics will build deeper and personal relationships with their existing customers by meeting specific customer needs on time."
According to research by Askuity, retail out-of-stocks cost the industry billions every year. "Studies into the issue consistently reveal an average OOS rate of 8%. In other words, one out of every thirteen items that a customer wants to buy won't be on the shelf when they're ready to buy it." Retailers and suppliers can leverage AI to manage inventory (by forecasting demand more accurately) particularly for untested price points or promotions. For example, supermarkets can forecast demand with improved precision at store level to avoid out of stock or overstocking when they run half price promotions
Customers want personalised offers and experiences– another example of 'cognitive insights' AI
The battle ground to acquire new and retain existing customers is shifting towards 'below the line' marketing strategies. With this approach, retailers proactively win-back or retain customers by delighting them with personalized and meaningful offers. This helps them to mitigate strong competitive threats, to increase customer loyalty, basket penetration and store traffic.
According to the CEO for a marketing firm called Huge, (Artificial Intelligence could make brand obsolete, 200]17), "Most of the internet up until today has been about more options. Now with machine learning, it's not about everything, it's about the perfect product just for me."
Coupling AI with big data analytics allows organisations to fundamentally shift from a one-to-many (segmentation) marketing approach, towards a more personalised pricing approach that drives value perception and maximises the willingness to pay for products and services.
AI empowers enterprises to augment and personalise products to meet evolving customer needs. AI leverages existing customer loyalty data to better understand customer purchasing habits, product preferences and how customers interact with different product features.
Loyalty that lasts
Modern shoppers are proactively switching retailers, products and brands – and in the worst cases scenarios exiting the market universe. To extend customer lifetimes, leading supermarkets are paying a premium for customer loyalty by offering meaningful offers to their most trusted customers via reward/loyalty programs.
The virtual assistant (AI) cherry picks the right deals for customers, consequently, saving them both time and money. The accuracy and relevance of personalized offers tend to improve over time driven by the continuous feedback loop inherent within AI.
Looking Forward
Whilst upfront costs to build AI capabilities are deterring, retailers that endure short term pain and make bold investments now will gain long term market leadership.
CPD: Actuaries Institute Members can claim two CPD points for every hour of reading articles on Actuaries Digital.