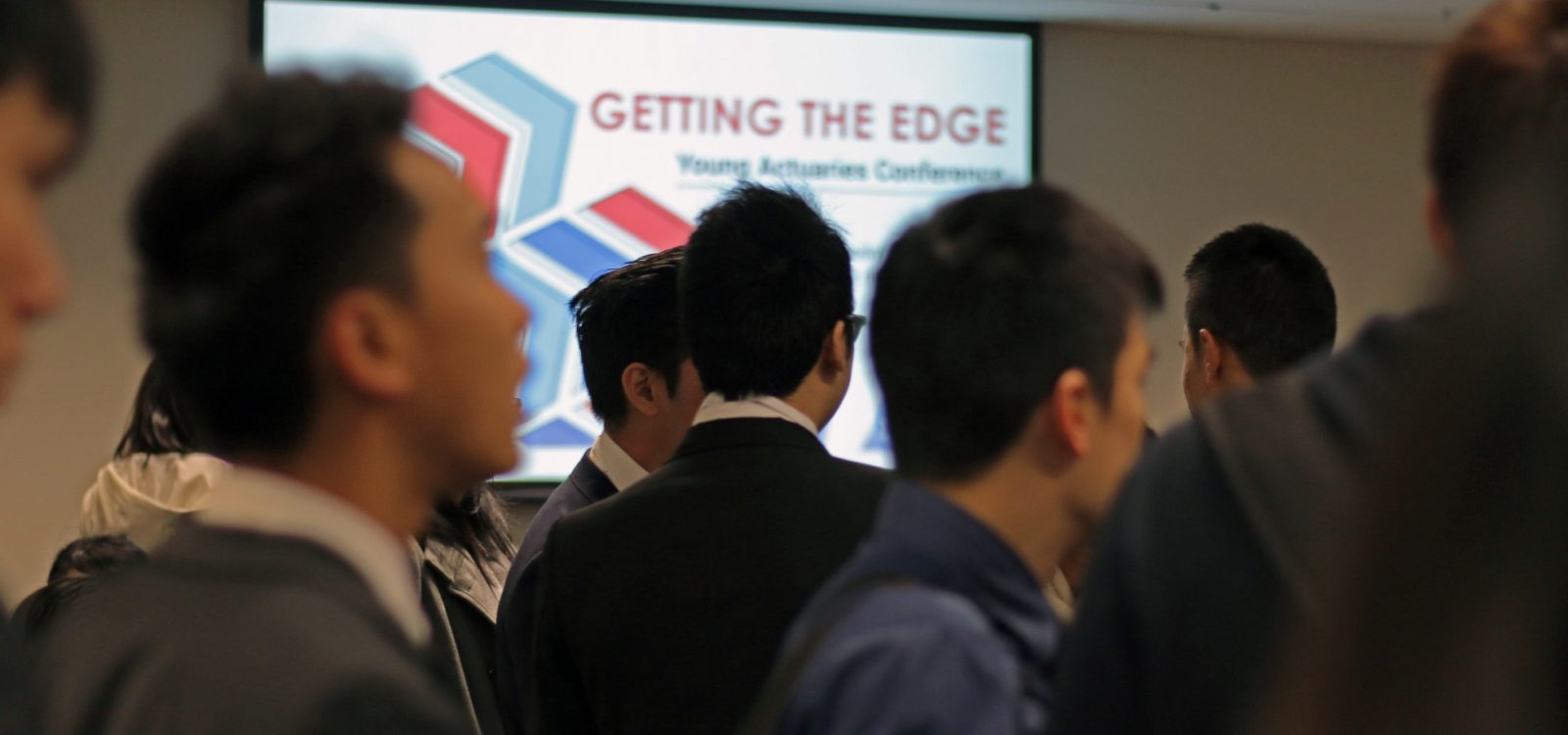 Career
The Young Actuaries Conference: An Overview
Avanti Patki and Timothy Lam review last week's popular Young Actuaries Conference, unpacking its four key themes 'Actuarial Passport – where to next?', 'Actuary of the Future', 'Talking the talk' and 'Strategic Thinking, Leadership and Personal Brand'.
An avid audience of more than 140 young actuaries working in the industry sat waiting in anticipation as the Vice President of the Actuaries Institute, Nicolette Rubinsztein, opened the very first Young Actuaries Conference held by the Actuaries Institute. 
The conference, tailored specifically for actuaries closer to the beginning of their career, kicked off with a message from Jenny Lyon and Nicolette emphasising the importance of having younger actuaries active and engaged in shaping the future of the profession. The plenaries, each with their own flavour, were rich with experiences and personal stories from each of the speakers and the key highlights have been provided below.
Plenary 1: Actuarial Passport – where to next?
With travel being one of the highest priorities on most people's to do list, what better way to combine personal and professional goals than by working as an actuary overseas! However, it is easier said than done.  The insights in this plenary brought home the point that while there are a number of difficulties associated with working outside Australia, the rewards are much greater.  Jas Singh, Managing Consultant at SKL Actuarial, spoke about the operating rhythm of different overseas markets while Elizabeth Martin, Consulting Actuary at KPMG Australia, and Raymond Bennett, Director at Deloitte Australia, talked the audience through their career journeys across the globe.
"A valuable session to understand the opportunities aboard," said Helena McGeorge, Actuarial Analyst at Deloitte Actuaries & Consultants who was in the audience.
The key learnings from this plenary were as follows:
Cultural differences play a bigger part than you would think! Make sure to tailor any job applications and other communications to suit the style of the market in which you are looking to find a role
Finish exams before travelling – travelling and working is hard enough without having to worry about study.  As a qualified actuary who no longer needs to spend hours at the study desk, you can better utilise your time to manage your personal affairs, to understand how to adapt to the new environment you're in (at work and outside work) and, of course, to stop and smell the roses!
Try to secure an overseas role before moving overseas, rather than going in cold and attempting to find a role once you are at your dream destination.  As Elizabeth rightly pointed out, it is really difficult to find hits for an English search term like "actuarial jobs in Paris" on a French search engine!  Small and unexpected obstacles like that might derail your chances of finding the right role in a different country
Even globally, the actuarial profession is small and tight-knit.  You will likely run into actuaries you have worked with overseas later in your career, making for a truly diverse and global professional network
Finally, the top tips from the speakers for young actuaries to start building a global career were to: learn a (relevant) language; network widely – you never know who might be able to connect you to an opportunity overseas; upskill your technical knowledge with the global context in mind; and learn to fuel your curiosity by asking the right questions
Plenary 2: Actuary of the Future
The Actuarial Education Pathway to Fellowship includes a need for specialisation – but does that mean we can only work in areas that actuaries traditionally perform duties in? Marc Mer, Manager at Deloitte Australia, provided insights into the various areas that actuaries can work in along with ideas as to how to develop oneself to succeed in non-traditional fields. This was followed by Nicolette's presentation on the diversity of the profession, where she discussed the demographic changes within our profession and how it may affect our working patterns in the future. Finally, Zhan Wang from Swiss Re and Alice Truong from Guardian Actuarial provided insights into their personal experience in utilising actuarial skills to give back to the community via projects for the government or charities.
"Plenary 2 broadened my mind in regards to the social perspective of actuaries and the changing diversity in our profession," Chetana Koganti, Actuarial Analyst at Deloitte Actuaries & Consultants who was in the audience.
The key insights from this plenary were:
Our skillset can be applied to areas other than the traditional fields – but we will still need to build on our core knowledge!
The demographics of our profession have changed significantly in recent years and it will continue to change!
We are likely to work well into our retirement, although most likely part-time under flexible work arrangements
Our knowledge can be utilised to develop deeper appreciation of social issues and assist those in need!
Plenary 3: Talking the Talk
A core aspect of actuarial work is to explain complex solutions in a simplistic way to stakeholders. The ability to communicate is thus one of the most important attributes to career success. Michael Stumbles from Swiss Re began this plenary with a discussion on the importance of clarity in communication as well as the significance of influencing and listening. Kit Ng, Senior Consultant Actuary from MLC, then spoke about how to design insightful and useful dashboards for different stakeholders. Con Asvestas from Quantium followed with a discussion on how to deliver impactful presentations to an audience that may not value actuaries as much as stakeholders from an insurance background. Finally, Jefferson Gibbs who is a Senior Partner from KPMG, provided tips on Stakeholder Wants, Content and Delivery as well as challenged us to step out of our comfort zone and develop communication skills by joining acting and debating classes. The key insights from this plenary were:
Always start at the key message, and finish with the details
Audience is the centre – tell the story to them accordingly!
Keep It Simple and Specific
Practice, practice, and more practice!
Plenary 4: Strategic Thinking, Leadership and Personal Brand
No youth conference is complete without a deep dive on how to build out and firm up one's personal brand early in one's career while leading from the bottom and taking a strategic view to one's career choices.  Darren Robinson, Chief Actuary for MLC, drew a parallel between how techniques to build a strategy for life insurers could be applied to building a strategy for an individual's career.  Anthony Tockar, an actuary by background and currently working as a data scientist at CBIG Consulting, spoke about finding his joie de vivre by becoming a pioneer for using data for good.  Greg Bird, Director of Pricing, Data & Risk Analytics at AMP, spoke about the way his actuarial roles over the years snaked between the technical and the strategic and between leading self versus leading others.  Lastly, Rashi Bansal, Chief Actuary and Head of Finance at BT Financial Group, spoke about the importance of representing the actuarial profession such that actuaries gain further credibility and trust amongst other professions to secure a seat at the table.  The key take-outs of this plenary were:
Network, network, network! If you're not "good at it", put yourself out of your comfort zone and practice building connections with people
Work on building credibility and trust amongst colleagues as early in your career as possible
Understand the big picture but don't undermine the detail
Grit, passion and resilience are traits that will get you far!
Make sure you are well aware of your strengths and weaknesses, leveraging your strengths to build out any gaps in your knowledge
"This session allowed me to better understand our competitive advantage that can be brought to stakeholders," said Chetana Koganti.
Final thoughts
As the plenaries came to a close and the drinks began to be served for the evening networking session, the day's events made it clear that there is no one way to success, no single magic formula for a stellar career. Even the most successful men and women in the profession have wandered through roles, found themselves in difficult situations, felt out of place and even experienced outright failures.  However, the common thread amongst each of the plenaries' speakers was the hunger for adventure and their ability to be comfortable being uncomfortable, whether it was starting work in a completely different country, pushing the bounds of the profession today to make it adaptable for tomorrow, or exploring and building their own personal brand.  All in all, a fantastic inaugural year for the first ever Young Actuaries Conference!
As always, thanks to our speakers, our sponsors (SKL and Finity), the Actuaries Institute and the Young Actuaries Conference Organising Committee for making this event such a success.
CPD: Actuaries Institute Members can claim two CPD points for every hour of reading articles on Actuaries Digital.