Read­ing time:
5
mins
Avan­ti Pat­ki and Tim­o­thy Lam review last week's pop­u­lar Young Actu­ar­ies Con­fer­ence, unpack­ing its four key themes 'Actu­ar­i­al Pass­port – where to next?', 'Actu­ary of the Future', 'Talk­ing the talk' and 'Strate­gic Think­ing, Lead­er­ship and Per­son­al Brand'.
An avid audi­ence of more than 140 young actu­ar­ies work­ing in the indus­try sat wait­ing in antic­i­pa­tion as the Vice Pres­i­dent of the Actu­ar­ies Insti­tute, Nico­lette Rubin­sztein, opened the very first Young Actu­ar­ies Con­fer­ence held by the Actu­ar­ies Insti­tute.
The con­fer­ence, tai­lored specif­i­cal­ly for actu­ar­ies clos­er to the begin­ning of their career, kicked off with a mes­sage from Jen­ny Lyon and Nico­lette empha­sis­ing the impor­tance of hav­ing younger actu­ar­ies active and engaged in shap­ing the future of the pro­fes­sion. The ple­nar­ies, each with their own flavour, were rich with expe­ri­ences and per­son­al sto­ries from each of the speak­ers and the key high­lights have been pro­vid­ed below.
Plenary 1: Actuarial Passport – where to next?
With trav­el being one of the high­est pri­or­i­ties on most people's to do list, what bet­ter way to com­bine per­son­al and pro­fes­sion­al goals than by work­ing as an actu­ary over­seas! How­ev­er, it is eas­i­er said than done. The insights in this ple­nary brought home the point that while there are a num­ber of dif­fi­cul­ties asso­ci­at­ed with work­ing out­side Aus­tralia, the rewards are much greater. Jas Singh, Man­ag­ing Con­sul­tant at SKL Actu­ar­i­al, spoke about the oper­at­ing rhythm of dif­fer­ent over­seas mar­kets while Eliz­a­beth Mar­tin, Con­sult­ing Actu­ary at KPMG Aus­tralia, and Ray­mond Ben­nett, Direc­tor at Deloitte Aus­tralia, talked the audi­ence through their career jour­neys across the globe.
"A valu­able ses­sion to under­stand the oppor­tu­ni­ties aboard," said Hele­na McGe­orge, Actu­ar­i­al Ana­lyst at Deloitte Actu­ar­ies & Con­sul­tants who was in the audi­ence.
The key learn­ings from this ple­nary were as fol­lows:
Cul­tur­al dif­fer­ences play a big­ger part than you would think! Make sure to tai­lor any job appli­ca­tions and oth­er com­mu­ni­ca­tions to suit the style of the mar­ket in which you are look­ing to find a role
Fin­ish exams before trav­el­ling – trav­el­ling and work­ing is hard enough with­out hav­ing to wor­ry about study. As a qual­i­fied actu­ary who no longer needs to spend hours at the study desk, you can bet­ter utilise your time to man­age your per­son­al affairs, to under­stand how to adapt to the new envi­ron­ment you're in (at work and out­side work) and, of course, to stop and smell the ros­es!
Try to secure an over­seas role before mov­ing over­seas, rather than going in cold and attempt­ing to find a role once you are at your dream des­ti­na­tion. As Eliz­a­beth right­ly point­ed out, it is real­ly dif­fi­cult to find hits for an Eng­lish search term like "actu­ar­i­al jobs in Paris" on a French search engine! Small and unex­pect­ed obsta­cles like that might derail your chances of find­ing the right role in a dif­fer­ent coun­try
Even glob­al­ly, the actu­ar­i­al pro­fes­sion is small and tight-knit. You will like­ly run into actu­ar­ies you have worked with over­seas lat­er in your career, mak­ing for a tru­ly diverse and glob­al pro­fes­sion­al net­work
Final­ly, the top tips from the speak­ers for young actu­ar­ies to start build­ing a glob­al career were to: learn a (rel­e­vant) lan­guage; net­work wide­ly – you nev­er know who might be able to con­nect you to an oppor­tu­ni­ty over­seas; upskill your tech­ni­cal knowl­edge with the glob­al con­text in mind; and learn to fuel your curios­i­ty by ask­ing the right ques­tions
Plenary 2: Actuary of the Future
The Actu­ar­i­al Edu­ca­tion Path­way to Fel­low­ship includes a need for spe­cial­i­sa­tion – but does that mean we can only work in areas that actu­ar­ies tra­di­tion­al­ly per­form duties in? Marc Mer, Man­ag­er at Deloitte Aus­tralia, pro­vid­ed insights into the var­i­ous areas that actu­ar­ies can work in along with ideas as to how to devel­op one­self to suc­ceed in non-tra­di­tion­al fields. This was fol­lowed by Nicolette's pre­sen­ta­tion on the diver­si­ty of the pro­fes­sion, where she dis­cussed the demo­graph­ic changes with­in our pro­fes­sion and how it may affect our work­ing pat­terns in the future. Final­ly, Zhan Wang from Swiss Re and Alice Truong from Guardian Actu­ar­i­al pro­vid­ed insights into their per­son­al expe­ri­ence in util­is­ing actu­ar­i­al skills to give back to the com­mu­ni­ty via projects for the gov­ern­ment or char­i­ties.
"Ple­nary 2 broad­ened my mind in regards to the social per­spec­tive of actu­ar­ies and the chang­ing diver­si­ty in our pro­fes­sion," Chetana Kogan­ti, Actu­ar­i­al Ana­lyst at Deloitte Actu­ar­ies & Con­sul­tants who was in the audi­ence.
The key insights from this ple­nary were:
Our skillset can be applied to areas oth­er than the tra­di­tion­al fields – but we will still need to build on our core knowl­edge!
The demo­graph­ics of our pro­fes­sion have changed sig­nif­i­cant­ly in recent years and it will con­tin­ue to change!
We are like­ly to work well into our retire­ment, although most like­ly part-time under flex­i­ble work arrange­ments
Our knowl­edge can be utilised to devel­op deep­er appre­ci­a­tion of social issues and assist those in need!
Plenary 3: Talking the Talk
A core aspect of actu­ar­i­al work is to explain com­plex solu­tions in a sim­plis­tic way to stake­hold­ers. The abil­i­ty to com­mu­ni­cate is thus one of the most impor­tant attrib­ut­es to career suc­cess. Michael Stum­bles from Swiss Re began this ple­nary with a dis­cus­sion on the impor­tance of clar­i­ty in com­mu­ni­ca­tion as well as the sig­nif­i­cance of influ­enc­ing and lis­ten­ing. Kit Ng, Senior Con­sul­tant Actu­ary from MLC, then spoke about how to design insight­ful and use­ful dash­boards for dif­fer­ent stake­hold­ers. Con Asves­tas from Quan­tium fol­lowed with a dis­cus­sion on how to deliv­er impact­ful pre­sen­ta­tions to an audi­ence that may not val­ue actu­ar­ies as much as stake­hold­ers from an insur­ance back­ground. Final­ly, Jef­fer­son Gibbs who is a Senior Part­ner from KPMG, pro­vid­ed tips on Stake­hold­er Wants, Con­tent and Deliv­ery as well as chal­lenged us to step out of our com­fort zone and devel­op com­mu­ni­ca­tion skills by join­ing act­ing and debat­ing class­es. The key insights from this ple­nary were:
Always start at the key mes­sage, and fin­ish with the details
Audi­ence is the cen­tre – tell the sto­ry to them accord­ing­ly!
Keep It Sim­ple and Spe­cif­ic
Prac­tice, prac­tice, and more prac­tice!
Plenary 4: Strategic Thinking, Leadership and Personal Brand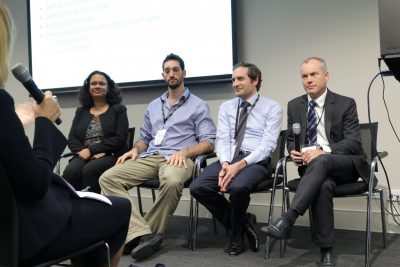 No youth con­fer­ence is com­plete with­out a deep dive on how to build out and firm up one's per­son­al brand ear­ly in one's career while lead­ing from the bot­tom and tak­ing a strate­gic view to one's career choic­es. Dar­ren Robin­son, Chief Actu­ary for MLC, drew a par­al­lel between how tech­niques to build a strat­e­gy for life insur­ers could be applied to build­ing a strat­e­gy for an individual's career. Antho­ny Tockar, an actu­ary by back­ground and cur­rent­ly work­ing as a data sci­en­tist at CBIG Con­sult­ing, spoke about find­ing his joie de vivre by becom­ing a pio­neer for using data for good. Greg Bird, Direc­tor of Pric­ing, Data & Risk Ana­lyt­ics at AMP, spoke about the way his actu­ar­i­al roles over the years snaked between the tech­ni­cal and the strate­gic and between lead­ing self ver­sus lead­ing oth­ers. Last­ly, Rashi Bansal, Chief Actu­ary and Head of Finance at BT Finan­cial Group, spoke about the impor­tance of rep­re­sent­ing the actu­ar­i­al pro­fes­sion such that actu­ar­ies gain fur­ther cred­i­bil­i­ty and trust amongst oth­er pro­fes­sions to secure a seat at the table. The key take-outs of this ple­nary were:
Net­work, net­work, net­work! If you're not "good at it", put your­self out of your com­fort zone and prac­tice build­ing con­nec­tions with peo­ple
Work on build­ing cred­i­bil­i­ty and trust amongst col­leagues as ear­ly in your career as pos­si­ble
Under­stand the big pic­ture but don't under­mine the detail
Grit, pas­sion and resilience are traits that will get you far!
Make sure you are well aware of your strengths and weak­ness­es, lever­ag­ing your strengths to build out any gaps in your knowl­edge
"This ses­sion allowed me to bet­ter under­stand our com­pet­i­tive advan­tage that can be brought to stake­hold­ers," said Chetana Kogan­ti.
Final thoughts
As the ple­nar­ies came to a close and the drinks began to be served for the evening net­work­ing ses­sion, the day's events made it clear that there is no one way to suc­cess, no sin­gle mag­ic for­mu­la for a stel­lar career. Even the most suc­cess­ful men and women in the pro­fes­sion have wan­dered through roles, found them­selves in dif­fi­cult sit­u­a­tions, felt out of place and even expe­ri­enced out­right fail­ures. How­ev­er, the com­mon thread amongst each of the ple­nar­ies' speak­ers was the hunger for adven­ture and their abil­i­ty to be com­fort­able being uncom­fort­able, whether it was start­ing work in a com­plete­ly dif­fer­ent coun­try, push­ing the bounds of the pro­fes­sion today to make it adapt­able for tomor­row, or explor­ing and build­ing their own per­son­al brand. All in all, a fan­tas­tic inau­gur­al year for the first ever Young Actu­ar­ies Con­fer­ence!
As always, thanks to our speak­ers, our spon­sors (SKL and Fin­i­ty), the Actu­ar­ies Insti­tute and the Young Actu­ar­ies Con­fer­ence Organ­is­ing Com­mit­tee for mak­ing this event such a suc­cess.
This work is licensed under a
Creative Commons Attribution-NonCommercial-No Derivatives CC BY-NC-ND Version 3.0 (CC Australia ported licence)
.
CPD Actuaries Institute Members can claim two CPD points for every hour of reading articles on Actuaries Digital.