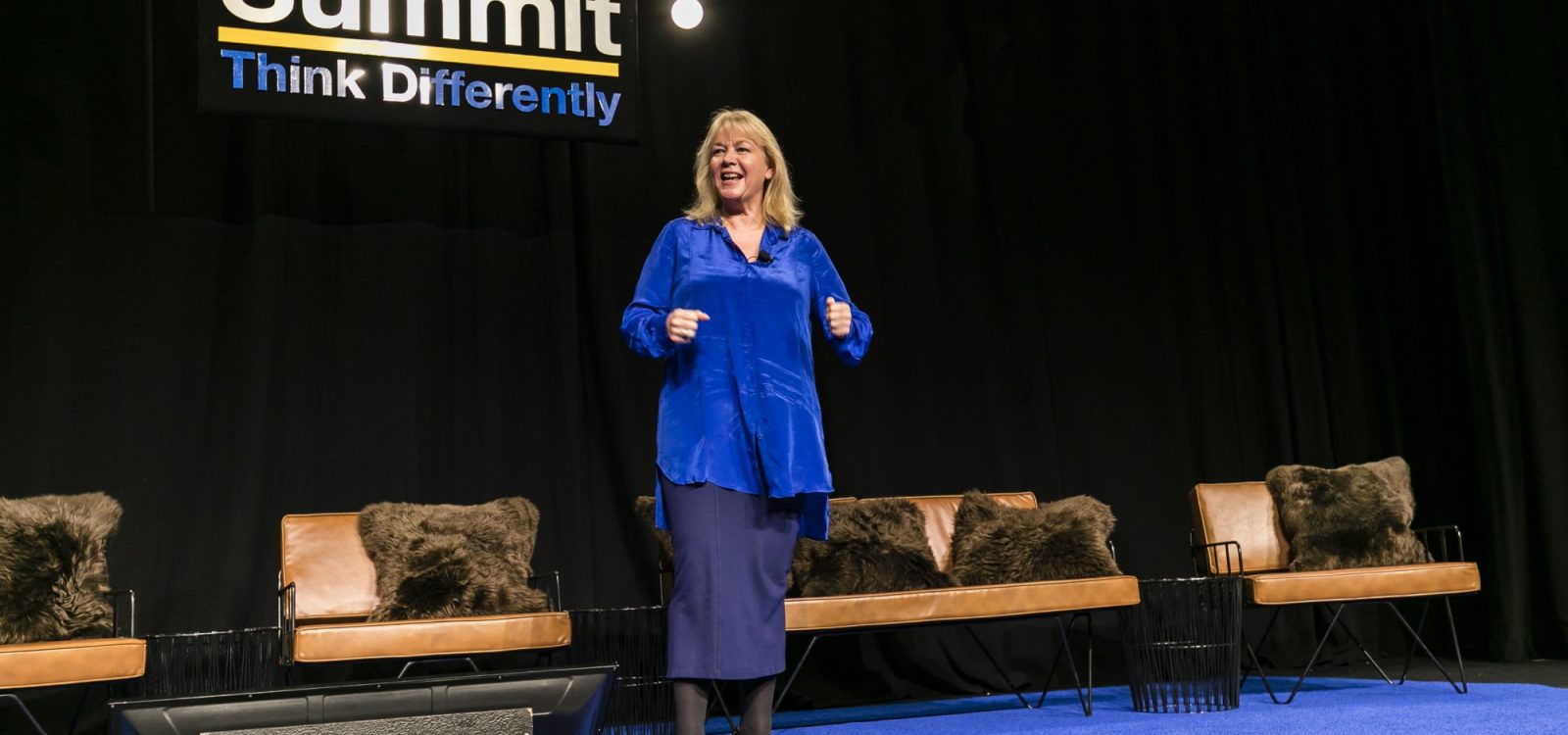 Event Reports
Actuaries Summit 2017 – What you missed!
The 2017 Actuaries Summit brought together a range of ideas affecting actuaries and the industries they work in. Here is a summary of Day 1 of the two-day biennial event in Melbourne.
The 2017 Actuaries Summit played host to 450 delegates at Melbourne's Grand Hyatt.
In opening the Summit, Jenny Lyon said "as a profession we need to maintain our outward focus. There are many social changes ahead and as a profession we can make a contribution".
Presentations from a variety of the Plenary and Concurrent Sessions are now available on the Summit 2017 Program Snapshot page. You can also view the Photo Gallery.
Facilitator Emma Alberici, presenter of ABC's Lateline program, then opened the first Plenary considering the theme Think Differently in light of digital disruption in the media industry; insurance for the sharing economy; and health and diversity. 
She encouraged delegates to "leave no idea behind" by adding their questions and thoughts to The Ideas Hub – a sticky note depository in the foyer. 
Keynote speaker Audette Exel took to the stage to share her experience as a founder of the Adara Group and CEO of its Australian corporate advisory businesses. As a social entrepreneur in the financial services sector, Audette empowered people working in financial services to use their mastery to make a significant impact on the lives of hundreds of thousands of people living in poverty across the globe.  
"You [actuaries] are all doing amazing work with risk management; keeping our economies safe, keeping our country safe," said Audette. 
She also encouraged delegates to think outside the box. "Gratitude is the most powerful enabler you can possibly imagine if you want to make a change. Not taking no for an answer has also been at the core of everything I have done and still do today," said Audette.
Plenary 2 – Think Differently about Society saw Julia Lessing (Guardian Actuarial), Juliet Bourke (Deloitte), Renee Hancock (Good Shepherd Finance) and Richard Enthoven (Hollard Insurance) discuss the "new normal" for expectations of companies and professions.
"Skillset and brand are
two of the main obstacles we need to overcome as actuaries to solve the 'wicked problems of society' like homelessness, abuse and mental illness," said Julia. 
The panel tackled socioeconomic and gender diversity and inclusion and discussion ranged across the full gamut of societal change. "In the times of challenge, human creativity is released most ferociously," said Richard
Q&A time generated discussion in areas where financial services has potentially lagged behind society, but how 'thinking differently' in terms of agile work practices can change this.
The Concurrent Sessions kicked off with Concurrent 1 featuring seven varied presentations. Robert Kerr looked at critical illness and trauma product developments across the globe as well as the impact standardised definitions have had in various markets. Genevieve Hayes provided timely advice to organisations looking to enhance the analytical capabilities of their existing actuarial team. The Institute's Cyber Insurance Working Group provided a comprehensive introduction of the risks and opportunities of insuring cyber risk in Australia.  Adewuyi Ayodele Adeyinka unpacked the influence of e-innovation on performance.
Concurrent 2 had presentations on group insurance structures, retirement planning and social security, as well as risk culture from board and trustee perspectives. The Institute's Climate Change Working Group (CCWG) presented on the funding mechanisms help prepare for climate change.  In speaking about Suncorp's Cyclone Resilience Benefit, incentivising customers to become cyclone resilient, Jon Harwood said "we can't stop the cyclones from happening".
In Concurrent 3 presenters looked at the Future of Life insurance as well as the Impact of Mental Health on the Insurance Industry. Joshua Martin discussed an overview of mental health conditions and Michael Dermody offered insight on the role of actuaries in identifying risks, uncertainties and opportunities in insuring these.  Richard Lyon reported on the results of his investigations into cohort equity in a presentation on Intergenerational Equity while Adam Butt gave an overview of the content and delivery styles of the Massive Open Online Course (MOOC). Trang Duncanson, Maria Muir and Darren Robinson explored how 'Scrums'and 'Sprints' can support the strategically focused actuarial function while other presenters looked at the design of successful and resilient lifetime retirement income products. 
In Concurrent 4 Jessica Chen and Damjan Vukcevic looked at the state of genetics research and ideas on how these advances could impact life insurance and its product design. Brendan Counsell and Shweta Krishna looked at IFRS 17 Implications for life and general insurers. Marc Mer, Gloria Yu and Adam Karasiewicz challenged actuaries to re-think the way we do our work by adopting exponential technologies. 
Their paper "Man versus Machine – the rise of the robo actuary" explored how "in an 'eat or be eaten' environment, those who embrace the disruption will be the ones that survive and thrive". Ilan Leas, David Millar and Anton Kapel from the LIWMPC gave an update on the industry while Douglas Isles offered an interesting perspective on Behavioural Finance in the Investment Management Process. Martin Mulcare and Rick Gilmore also presented on the importance of Professional Relevance – both individually and as a profession – challenging the audience to consider the direction of their own career path.
Plenary 3 'Think Differently about Customers' drew insights from Geoff Summerhayes (APRA), Helen Troup (CommInsure), Dr Martin Fahy (ASFA) and David Johnson (Deloitte). Each speaker gave their unique take on balancing different stakeholders' needs, especially in a world where social media enables them to reach a wide audience quickly. 
Geoff encouraged actuaries to help overcome the challenges in transitioning to a more customer centric business. "The challenge is how quickly industry responds," he said. Helen shared three customer stories that changed the way she thinks about designing and marketing products, and dealing with customers in extenuating circumstances.  
"You've got to be open to feedback and when you've done something wrong, you need to move quickly to fix it," said Helen. 
"What drives customer trust in organisations? It's the number of customer interactions," said David, discussing how personalised offerings are being used to drive more effective business.  
Martin challenged the audience to think deeply about the long-term picture, and not take the "easy way out" when rushing to adopt technology to serve customer needs. "What turns data into insights is wisdom," he said. 
An insightful Q&A focused on the issue of customer and community trust in the industry and wrapped up a packed first day at #ACTSUM2017.
Delegates then headed down to Melbourne Town Hall to enjoy dinner and entertainment with an Alice in Wonderland theme including the Mad Hatter. 
A fabulous performance by jazz trumpetist James Morrison and band, had guests dancing the night away!
CPD: Actuaries Institute Members can claim two CPD points for every hour of reading articles on Actuaries Digital.