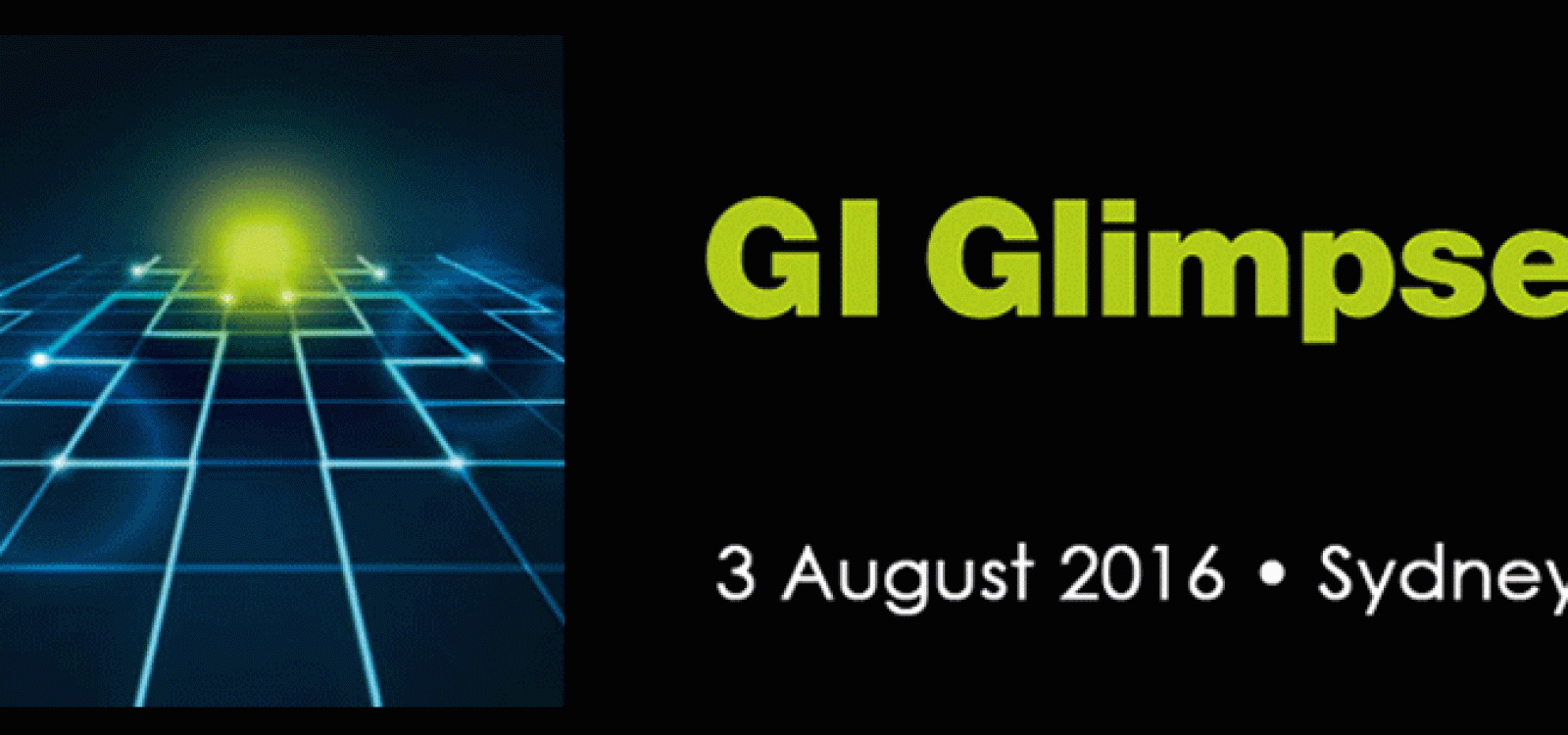 Event Reports
2016 GI Glimpse seminar highlights
Following its success last year, the Actuaries Institute hosted the GI Glimpse seminar for the second time on 3 August 2016. Targeted towards the Institute's younger members working in the general insurance industry, this half-day seminar aims to provide a snapshot of the topical issues currently faced by the general insurance industry. This year, the seminar focused on three topics: innovation, data analytics and cyber risk.
With over 100 delegates and presenters in the room, our very own CEO, David Bell, opened the seminar to a packed audience. Natasha De Souza, Senior Manager at Ernst & Young, was our Master of Ceremonies and did a fantastic job facilitating the sessions and Q&A throughout the day.
In the face of an increasingly dynamic world, organisations are forced to adapt and innovate in order to remain competitive. The keynote 'The 7 E's of Innovation' by speaker Ron Arnold, Group General Manager of the Ventures function at IAG, discusses the key to successful corporate innovation: explore, envision, experiment, embrace, extend, endure and endorse. Drawing upon events throughout history and his personal experiences, Ron addressed the need for organisations to be proactive, not reactive, about change.  In particular, actuaries play an important role when it comes to exploring disruptions in the industry, envisioning what the future could look like, and designing experiments to test which future disruptions are worth pursuing.
The first plenary, 'Data Driven Decisions – The Way of the Future', was sponsored by PricewaterhouseCoopers. Chris Dolman, General Manager of Data Analytics at IAG, opened the plenary with an introduction into data driven analytics. As organisations start investing more into big data, the challenge for actuaries is how we can take advantage of this trend and add value in other less traditional areas. Hugh Miller, an Actuary at Taylor Fry, followed with a high-level discussion on the software and tools available for data analytics. From desktop to cloud, Excel to Hadoop, one-way tables to neural networks, Hugh impressed us all with his extensive knowledge on all things technical. As the final speaker of the plenary, PwC Actuary Chao Qiao took us through his research into behavioural economics and his case study into workers compensation. Chao emphasised that people act irrationally and organisations which miss irrational behavioural patterns will continue to experience shortfalls in their models.  Overall, the plenary was filled with humour from all speakers and provided an excellent overview of where data analytics is heading and the opportunities available for actuaries in this space.
Plenary two, 'Cyber: Emergent Risks, New Opportunities', followed after afternoon tea and was sponsored by Sententia. Tony Vizza is the Sales & Marketing Director at Sententia and opened the discussion into cyber risk with a discussion around the growing rate of cyber crime.  The annual cost of cyber crime is estimated to be between $380bn and $570bn globally, which isn't hard to believe after Tony explained how easy it is to hack into any system. Chris Mackinnon, the Country Manager for Lloyd's Australia Limited, continued the discussion with a look into how we can risk rate cyber crime.  In particular, Chris delved into a case study for a theoretical "Business Blackout" (an extreme but plausible cyber crime event), including the various stages for a blackout and the aftermath. The plenary closed with an exploration into the challenges and opportunities insurers face when it comes to cyber insurance by Susie Amos, Principal at Finity. It was eye-opening to gauge just how quickly cyber risk has emerged, but it's also full of opportunities for actuaries to play an important role when it comes to managing this risk.
The day ended with mingling over drinks, as the delegates got to know each other a little better and shared their thoughts about the day's discussions.  It was a great way to finish off the seminar and we all took away some valuable insights.
On behalf of the Organising Committee, I would like to give a warm thank you to all the presenters for sharing their time with us, as well as Liz Gemmell from the Institute's events team for her seamless execution of the seminar. Such events are particularly important for engaging our younger members and I look forward to seeing more delegates at next year's GI Glimpse!
CPD: Actuaries Institute Members can claim two CPD points for every hour of reading articles on Actuaries Digital.