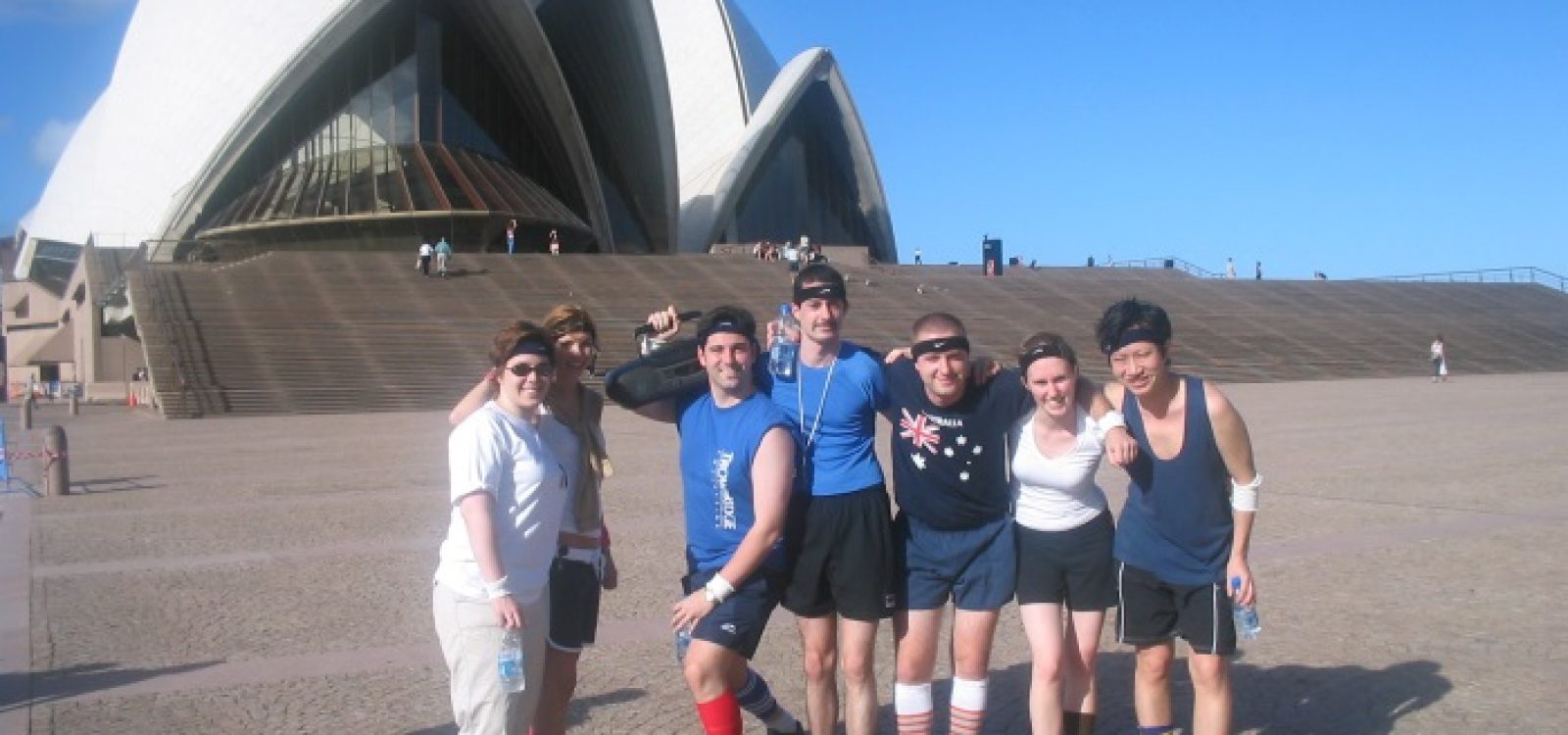 Actuaries at Play
Actuarial dares
For an actuary, passing an exam is an important milestone. It means one step closer to the end, or just the end of their seemingly never-ending course and definitely something worth celebrating. Gae Robinson shares some memorable moments in the history of Finity's actuarial dares.
Finity's longstanding tradition of exam dares (which began in our days as Trowbridge Consulting) has seen many brave feats, strange activities, and sometimes just plain silly stuff.  Here's how it works:
Shortly before exam results, each person nominates a dare that they'll complete if they pass.
The proposed dare is approved and ratified by Finity's Exam Dare Committee. Greater levels of bravado/foolishness are expected on qualification.
If you pass, you complete your dare – ideally, on results day.
Below, for your enjoyment, is a showcase of dares – by category.
Personal grooming
The most impressive 'personal decoration' to date is a permanent one: the Institute's logo tattooed discreetly on the inside of an ankle.  And I think you can guess what happened when, years later, the Institute updated the logo.  The updated version is on the other ankle, of course!
Public Performance
The 'individual performance' dare reached its high point when one of our Melbourne men dressed in a very undersized sequinned pink outfit, stood on a sculpture in the Bourke St Mall and performed a dance to Kylie Minogue songs.  This attracted quite a crowd, including just a little too much attention from one scruffy member of the public (sadly, no photos could be unearthed!).
There have been memorable group performances too.
Imitation as Flattery
The dare may involve dressing up as one of your esteemed colleagues.
Services to the Public
When the dare involves providing a service to the public, the public may respond favourably.  Or not.
Character dress-up
Superheroes and other characters are, naturally, popular choices.
Highly personalised
What do you do when the exam pass-er is a very vocal, dyed in the wool Liberal supporter?  You ask him to dress up as Julia Gillard and present a pro-Labor speech on the footpath!
Ladyboy
Let's just say: this happened three years in a row.
And that's how it's done!
The dares make Results Day fun for everyone in the office – including the other tenants on our floor, who are now used to seeing gorillas, Superman, green-haired people etc in the bathrooms.
The great dares become legendary, and tales are passed from generation to generation. In all our years of dare activity, the only 'injuries' have been to dignity.
The tradition remains strong!
Fittingly, as I complete this article it is Results Day.  Here I am with my (temporary) doppelganger.
CPD: Actuaries Institute Members can claim two CPD points for every hour of reading articles on Actuaries Digital.