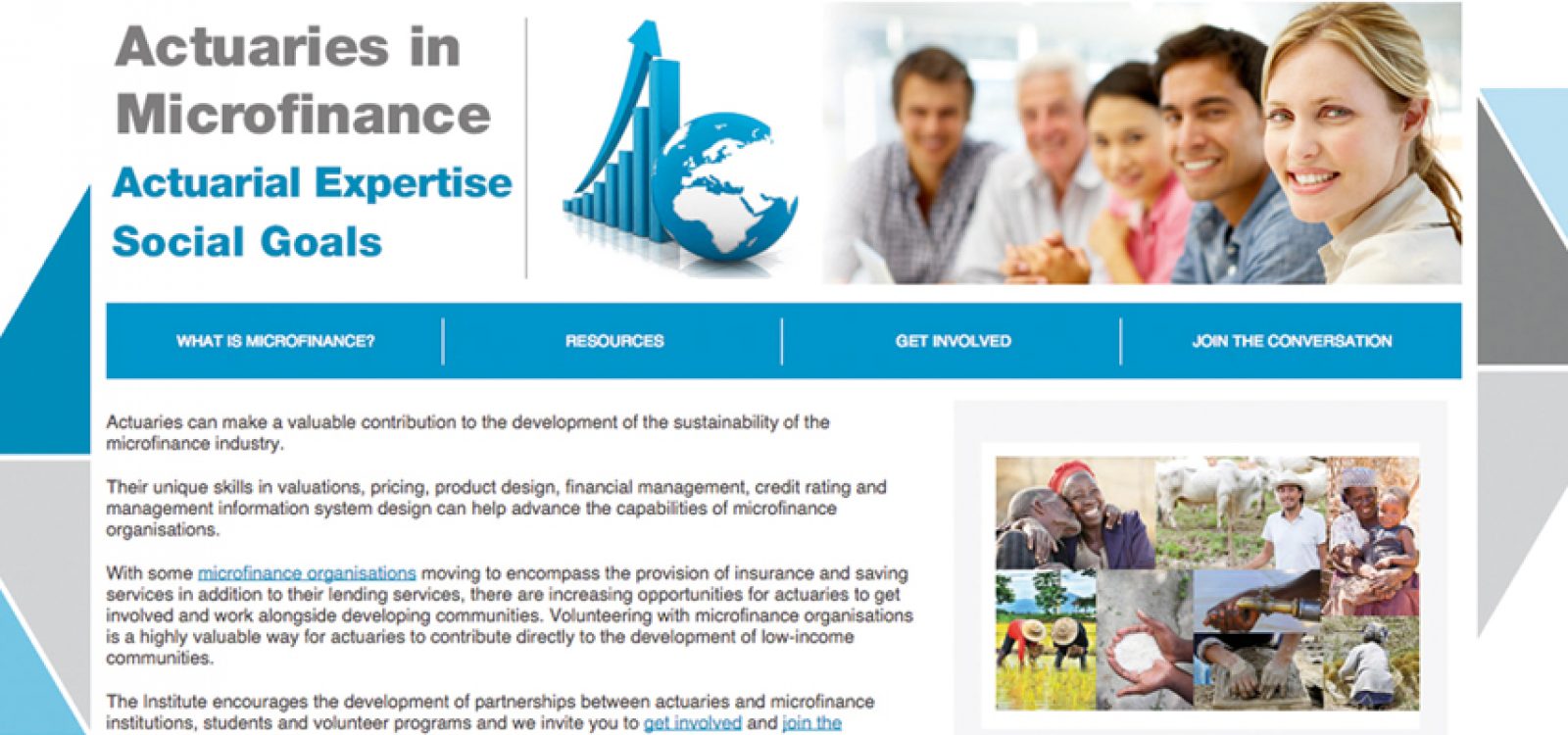 Features
Actuarial Expertise, Social Goals – The Launch of the Institute Microfinance Website
Microfinance refers to the provision of financial services to the poor – credit, savings, insurance and fund transfers – as a way of helping them to help themselves. In November 2012, a Pulse survey was carried out on this subject, to see whether Australian actuaries see this as an area where they could make a valuable contribution.
The results were quite positive, indicating that some respondents were already involved in the microfinance sector and many more were interested to learn more or become involved. In response to this interest, a website dedicated to microfinance has just been created as part of the Actuaries Institute site.
The purpose and facilities of the website can be broken down into three main areas, as follows.
MICROFINANCE JOBS AND VOLUNTEERSHIPS
The strongest insight revealed by the aforementioned Pulse survey was that there is latent demand among actuaries to work or volunteer in the microfinance industry. Specifically, although a third of respondents were interested in volunteering, only 5% had previously done so, and the experiences of this 5% were overwhelmingly positive. More detail of this is provided in the following graph of some of the survey results.
To fulfil this demand, the new website features a careers section entitled 'Get involved'. This section contains a web form that should be filled out by anyone interested in, or curious about, working or volunteering in microfinance. The Actuaries Institute's Access to Insurance/Microfinance Working Party will respond to submissions and help by providing advice, introductions or opportunities as appropriate. The 'Get involved' section also features a list of microfinance organisations, both Australian and international, that provide microfinance services and/or listings of job opportunities within the sector.
LEARNING ABOUT MICROFINANCE
53% of respondents to the Pulse survey indicated that they were interested in learning more about microfinance (compared to 31% indicating that they were not interested). In response to this, the Institute's new microfinance website includes a resources section, with a resource library containing a variety of materials relating to microfinance. A wide range of topics is covered, such as the effectiveness of microfinance in alleviating poverty, microinsurance product design, progress in particular countries and regions, and the potential role of actuaries. The resource library is open to contributions, and there is a facility to 'Submit a resource' on the site.
Links to other sources of information on microfinance are also provided.
CONNECTING WITH OTHER ACTUARIES INTERESTED IN MICROFINANCE
The website is also intended to function as a way for actuaries interested in microfinance to find each other and ask questions, discuss ideas and share experiences. To this end, the site provides a section entitled Join the conversation, containing a discussion forum that anyone can post to. Currently the forum has three categories: Q&A, Issues in Microfinance, and Careers in Microfinance.
We hope that Members will make use of the Institute's Microfinance website, which is set to become a resource and a hub for connecting the pockets of interest and knowledge that exist among Australian actuaries about this fascinating and important topic.
CPD: Actuaries Institute Members can claim two CPD points for every hour of reading articles on Actuaries Digital.