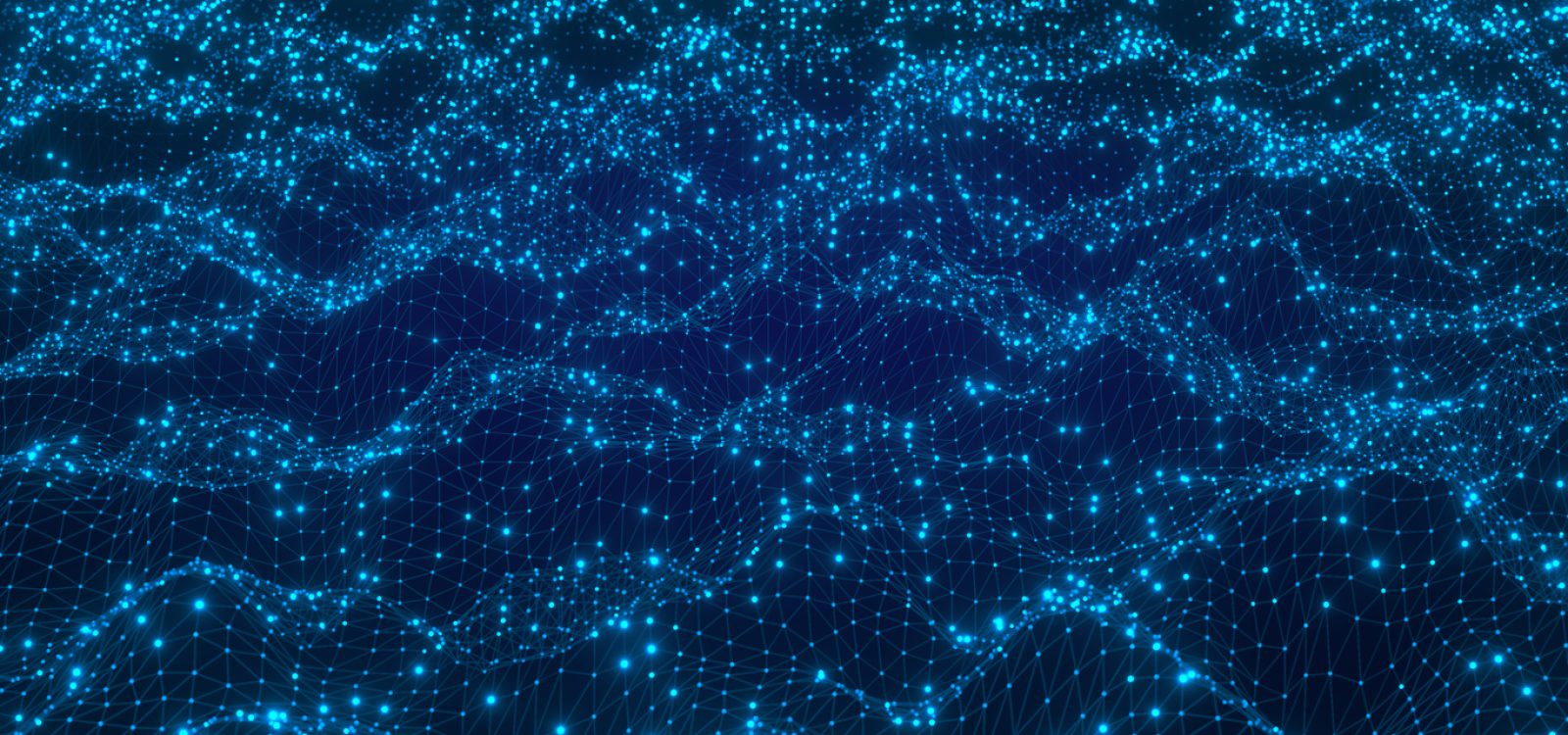 Event Reports
What are employers looking for when recruiting Data Scientists?
The May Data Science Sydney Meet-Up included:
A panel discussion with Dr Debbie Zhang, Senior Director of Data Science Intelligence Augmentation at the ATO, Dr Stefan Dulman, Principal, Emerging Capability at NAB, and Stephen Samild, Head of Business & Operations Analytics as QBE.
What are Data Science Sydney Meet-Up events?
Data Science Sydney Meet-Ups are monthly gatherings of the data science community, where actuarial and non-actuarial data scientists explore the potential of data through advanced statistical, computational, and analytical tools. Participants engage in networking, knowledge sharing, and pizza.
This month's session involved a panel discussion with data science employers who shared what skills and traits they look for in candidates. The session kicked off with an update on data science hiring market trends from Greg Perl.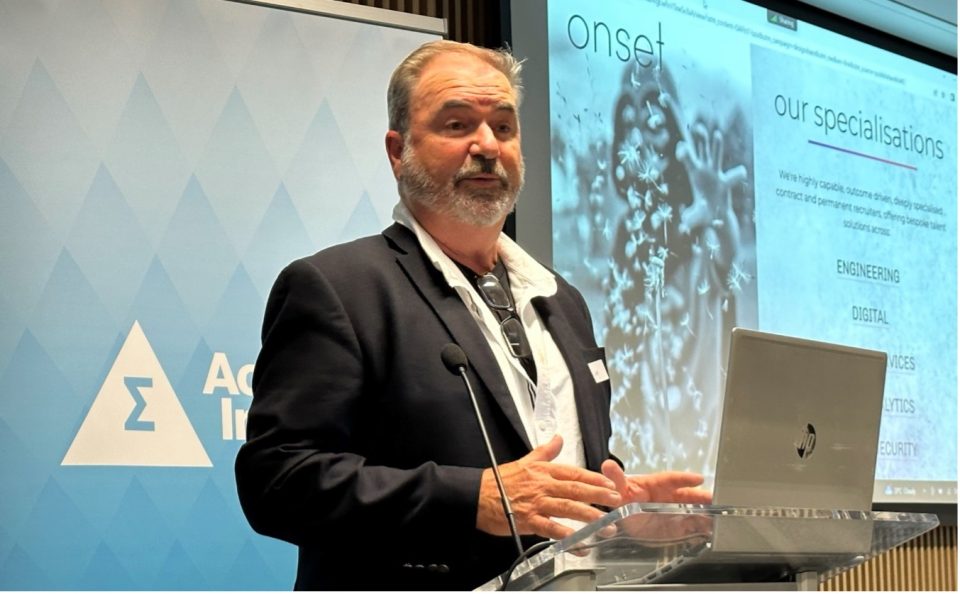 Greg Perl from Onset recruitment, giving an update on the Data Science Hiring Market
Data Science Hiring Market
Greg Perl from Onset – a specialised recruitment firm – shared that despite cutbacks in big tech companies, data science hiring remains robust. CommBank is currently leading the way in data-science recruitment, followed by other notable companies such as Quantium.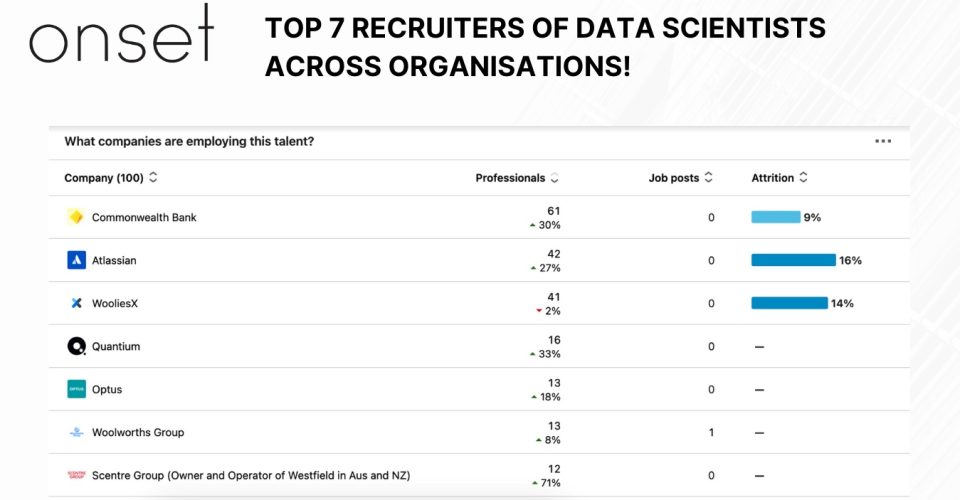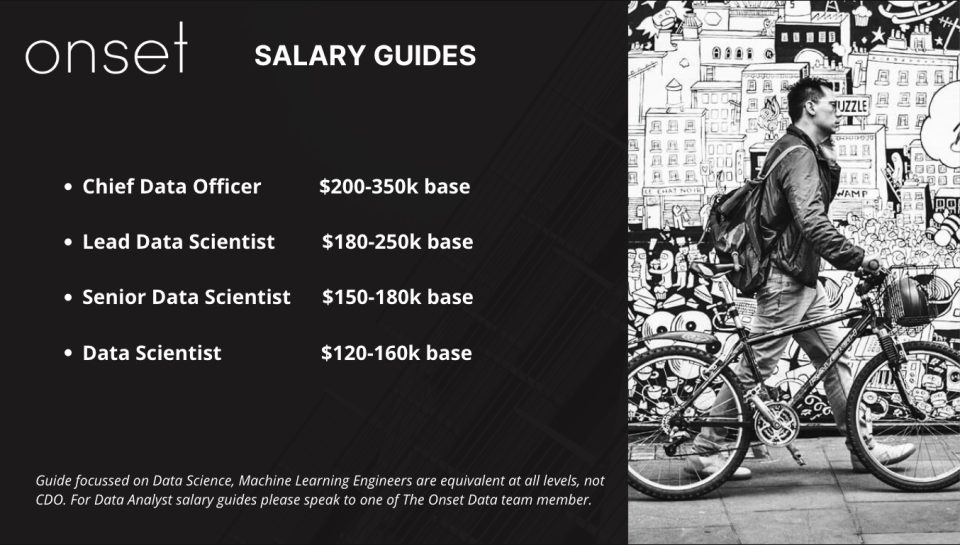 Greg highlighted that data science salaries boomed during COVID-19 as many firms expanded their data science capabilities. Growth in salaries has since stabilised as shown above.
Introducing this month's panel
Following the market update from Greg, Eugene Dubossarsky – founder of Data Science Sydney – introduced panellists Dr. Debbie Zhang – Senior Director of Data Science Intelligence Augmentation at the ATO -, Dr. Stefan Dulman – Principal, Emerging Capability at NAB – and Stephen Samild – Head of Business & Operations Analytics at QBE.
The panellists who have extensive experience in hiring data scientists, shared their insights into what employers look for in candidates.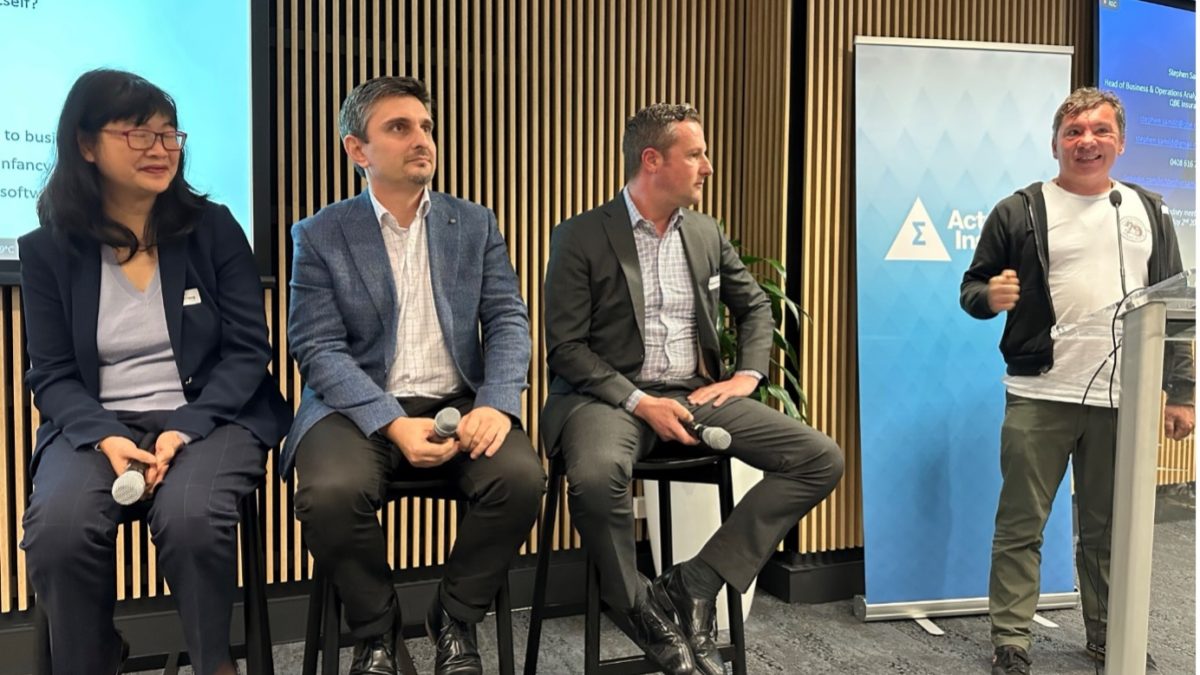 Eugene Dubossarsky, the founder of Data Science Sydney, introducing the panellists (from left to right) Debbie Zhang, Stefan Dulman, and Stephan Samild.
What's the must-have skill?
The panellists unanimously agreed that programming skills, particularly proficiency in Python, are essential for data science candidates. They emphasised the ability to write functions, handle data, and utilise open-source packages for predictive modelling.
Stefan suggested that dedicated a few weekends to learn and practice Python, can be sufficient to acquire these skills.
'If you don't know Python, you won't stand out.' – Stephan Samlid.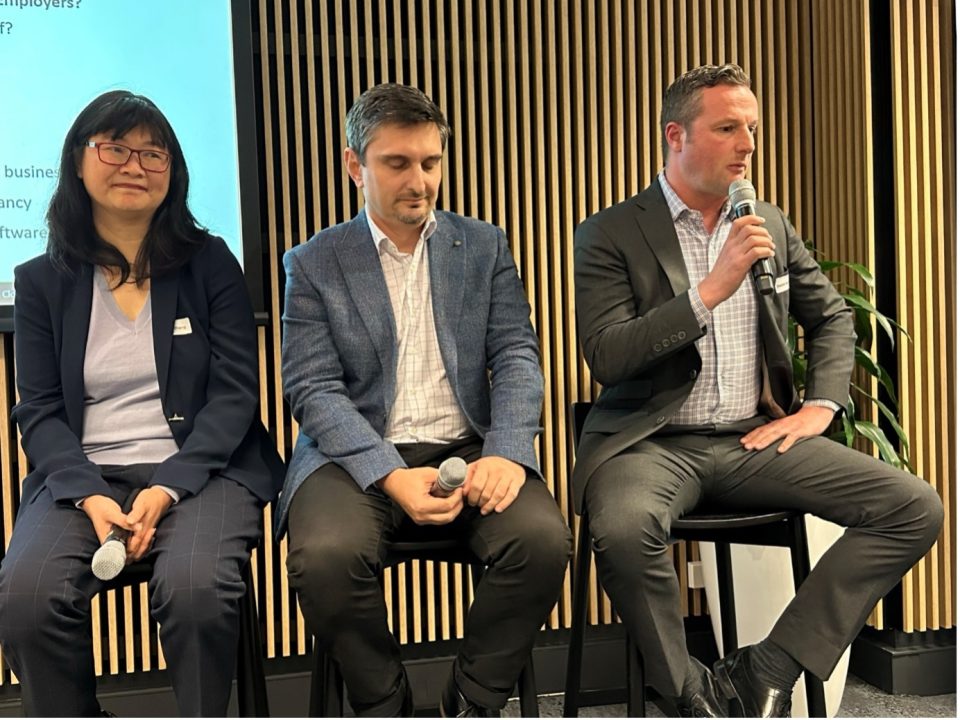 Stephan Samlid talking about the importance of knowing Python.
Are qualifications important?
While a quantitative degree is considered important, there was a difference of opinion regarding higher qualifications amongst the panel.
Stephen expressed that a master's degree is optimal, as higher qualifications may lead to the need for un-training certain habits.
However, Debbie and Stefan countered this view, highlighting the value they have found in candidates with PhDs. They emphasised the ability of PhD graduates to work independently and uncover insights from vast amounts of data.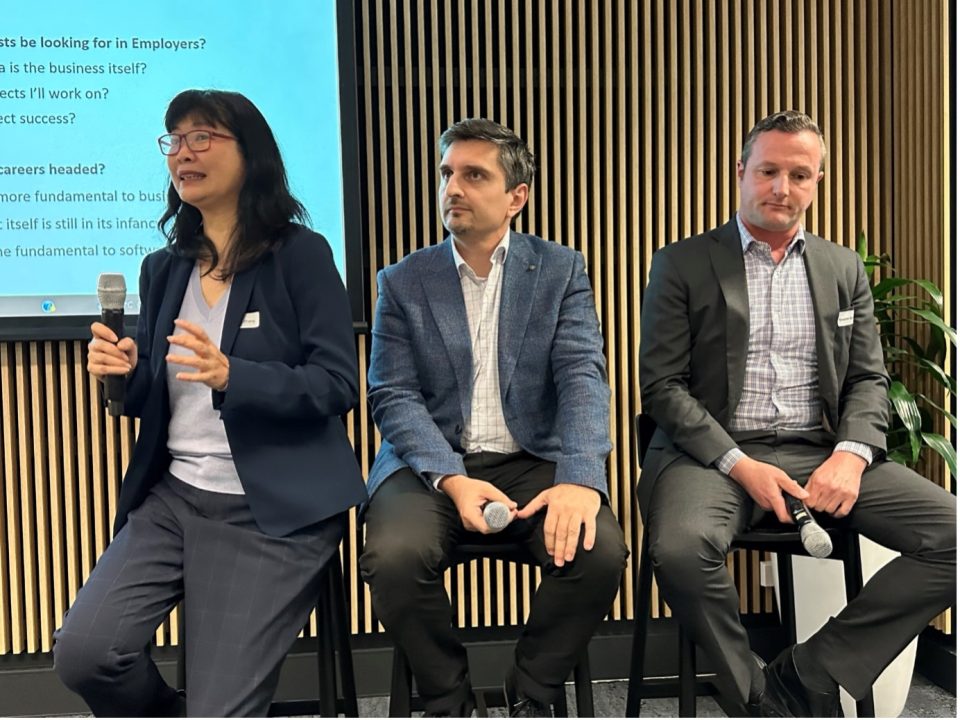 Debbie Zhang talking to the value of a PHD.
Are soft skills important?
The panellists held differing opinions on the importance of soft skills. Debbie emphasised their significance for internal stakeholder management, while Stephen believed that data scientists should primarily focus on the product's impact.
Stefan noted that soft skills and the 'team fit' are considered during the interview process, but technical skills remain paramount. He cautioned employers against seeking candidates with an equally high level of soft skills and technical capability, as these candidates are extremely difficult find and may not even exist.
"When you see a role for someone who has to sell and influence C-suite but needs lot of experience building many models with different languages, this is a job set up to fail." – Stefan Dulman.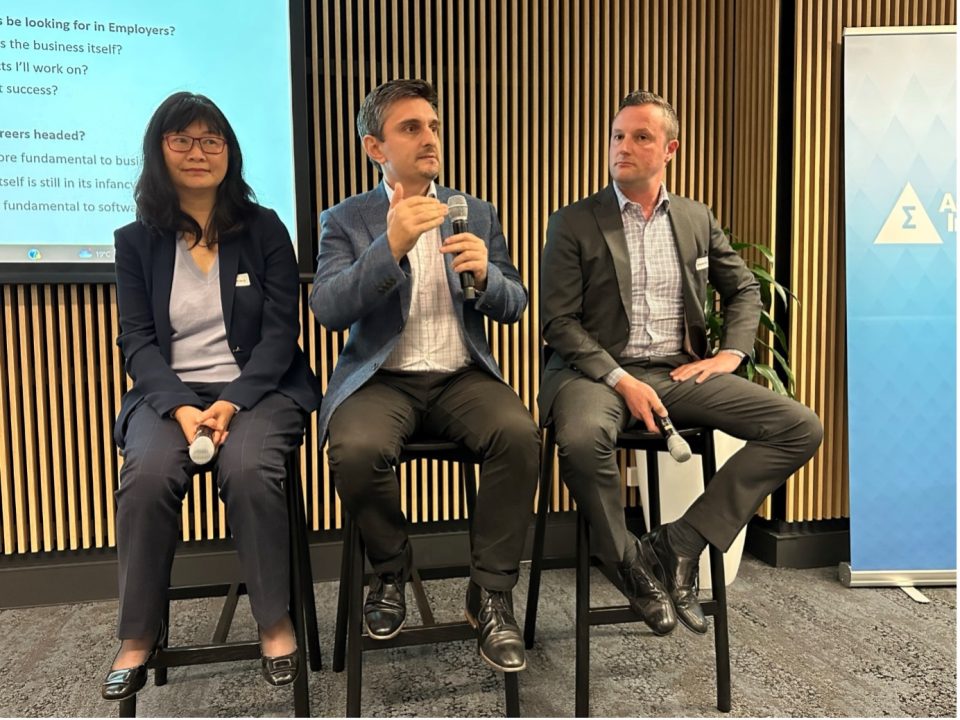 Stephan Dulman speaking about job roles that are "set up to fail."
Experience and Domain Knowledge
Panellists agreed that end-to-end predictive modelling experience is crucial for data science positions regardless of whether it comes from post-graduate study, work experience, or data science projects.
Additionally, possessing domain knowledge in a specific field differentiates candidates and strengthens their application. Demonstrating an understanding of a company's products and business through prior experience or passion is highly beneficial.
Attitude
Panellists highlighted that an attitude focused on continued learning, staying up to date with new technologies, and delivering business impact is highly valued.
They emphasised the need to balance embracing new developments with an appreciation for traditional data science methods, as many businesses rely on them. Candidates should demonstrate a keen interest in the product and the business impact of their work.
Choosing an Employer
The panellists recommended that job seekers consider the company's dependence on data and the amount of data it produces. Understanding who decides what is analysed and how success is evaluated, provides insights into opportunities for growth within the organisation.
May's Data Science Sydney Meet-up provided valuable insights for attendees as were able to gain first-hand knowledge on how to launch a successful career in data science, and what key qualities to consider when hiring.
CPD: Actuaries Institute Members can claim two CPD points for every hour of reading articles on Actuaries Digital.