ICA2023
The brothers Joyce: On risk management and Rain Man
To close ICA2023, Medibank Corporate actuary, Anthony Joyce, interviewed his brother, soon-to-retire Qantas CEO, Alan.
Along with some brotherly banter, the two talked about the value of actuaries, airline safety, the courage to make the right decisions – and Rain Man.
Anthony began by asking his brother about his long history of advocating for diversity and inclusion and driving it through Qantas. Alan replied that while there's a moral perspective, it also makes good business sense.
"We know, for example, that minority customers are four to five times more likely to pick companies with people that represent them," he said.
"We know it attracts employees who are increasingly looking for purpose beyond money. We know that our diversity approach has allowed us to attract unbelievable talent from all around the world. In short, we believe greater diversity and inclusion has made us better at risk management, at strategy, and that has turned into performance."
To highlight his message, Alan reminisced about a time an Indigenous woman asked him at a public gathering if there could ever be an Indigenous woman as CEO of Qantas. Alan's reply?  
"Well, a long time ago no one would have thought a gay Irishman would be in charge of Australia's national airline."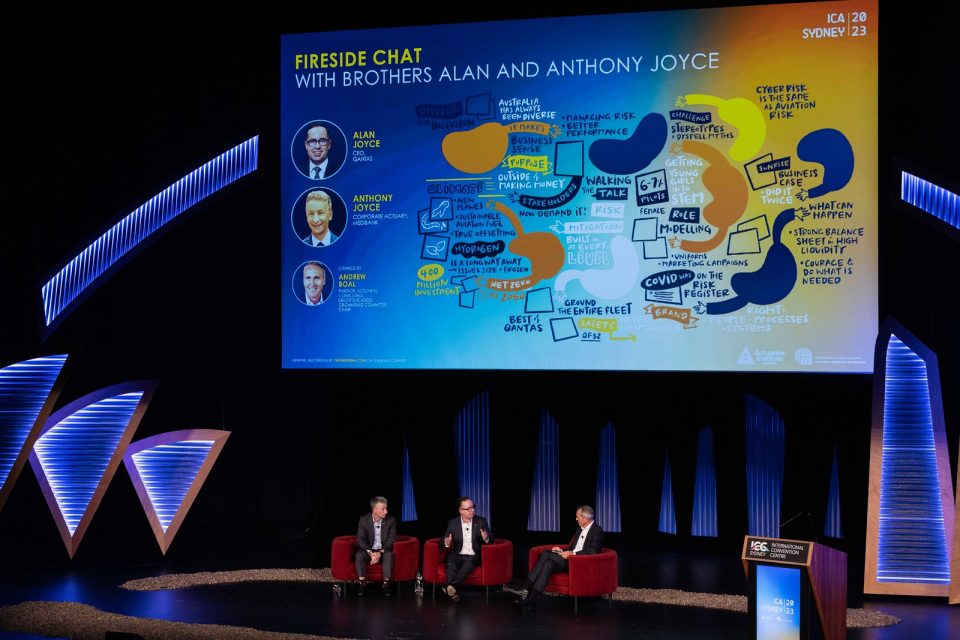 Role modelling, safe flying
Alan also talked about Qantas' approach to using role models to attract more women into engineering and pilot positions. In one example, Qantas chose a highly-qualified 787 pilot, Captain Lisa Norman, to pilot the company's landmark flight from Perth to London.
Switching to the always crucial issue of airline safety, Anthony asked Alan to reflect on Dustin Hoffman's famous Rain Man lines:
Charlie: Ray, all airlines have crashed at one time or another, that doesn't mean that they are not safe.
Raymond: QANTAS. QANTAS never crashed.
Charlie: QANTAS?
Raymond: Never crashed.
According to Alan, Qantas has been flying jets since 1959 and never lost a single flight.
The secret to that success is the utter avoidance of complacency – and an understanding of the inherent risks of flight.
Alan quoted his Chief Safety Officer who once reminded him: "We put 500 people in an aluminium tube with two rockets on it and send them into the air." According to IATA there were 32 million flights in 2022. And only five fatal accidents.
QF32
The most famous example of Qantas' obsession with passenger safety was the explosion of an engine on flight QF32 over Indonesia.
In a crisis meeting, Qantas' chief engineer told Alan the airline needed to ground its six-plane A380 fleet. According to Alan Joyce, that decision cost the company over $200 million but at the crisis meeting, not a single executive mentioned money. The focus was on understanding the risk until they could mitigate it.
When the plane was cleared to fly again, the crew of the original flight all asked to be with Alan Joyce on the flight back to Australia. They were looking to show that Qantas would never put a plane in the air that was not safe.
"It's one of the proudest moments I've ever had," said Alan. "We saw the best of Qantas."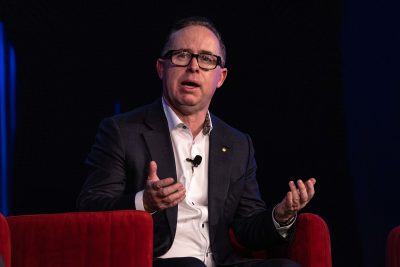 Managing constant shock syndrome
Having dealt with flight emergencies, wars, volatile fuel prices and a pandemic, Alan says airlines are in what a predecessor dubbed 'constant shock syndrome.'
"What do you do to prepare?" said Joyce. "You need a strong balance sheet, lots of liquidity and a risk management system, processes and people that are dynamic enough to help you take the necessary tough actions."
Asked how he found the courage to make those tough decisions, Joyce quoted Franklin Delano Roosevelt. "In any moment of decision the best thing you can do is the right thing. The next thing you can do is the wrong thing. And the worst thing you can do is nothing."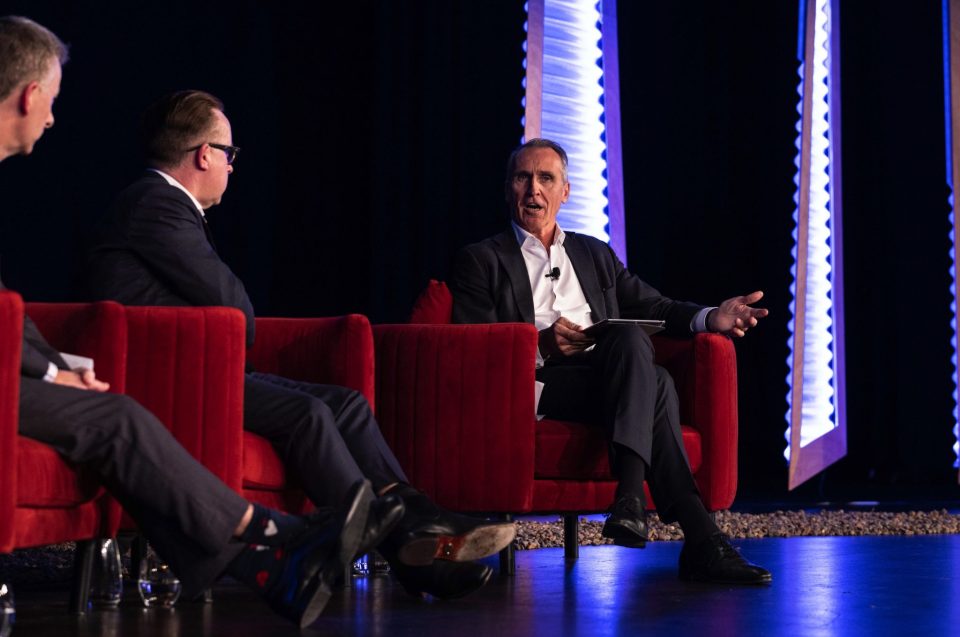 (Chair Andrew Boal with the Joyce Brothers on stage)
The difference an actuary makes
Anthony wasn't going to let his brother leave the stage without talking about actuaries. He asked the Qantas CEO about the company's investment in Taylor Fry.
Alan replied that it was very important to bring on board actuarial skill sets – including risk management. Taylor Fry were also vital to building the business case for Project Sunrise, Qantas' plan to run direct flights from the east coast of Australia to Europe and New York.
"That's a capital investment decision that's as big as Jetstar," said Alan. "We needed Taylor Fry to identify the risks and quantify the potential revenue it would bring in. Thanks to the pandemic, we needed to get them to do it twice. And we are really glad we brought on board their deep analytical skills."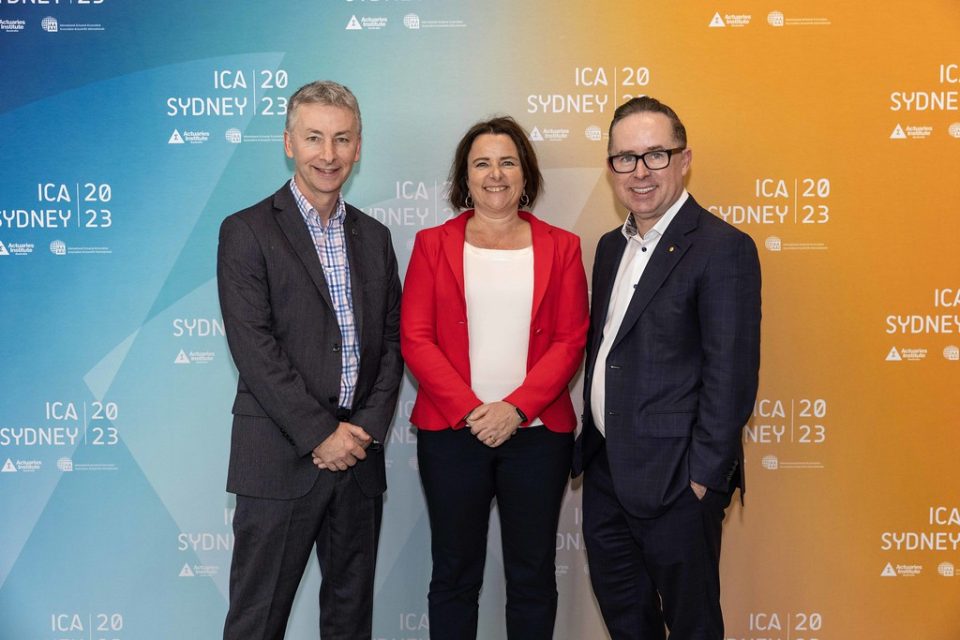 LTR: Anthony Joyce, Actuaries Institute CEO Elayne Grace and Alan Joyce
CPD: Actuaries Institute Members can claim two CPD points for every hour of reading articles on Actuaries Digital.