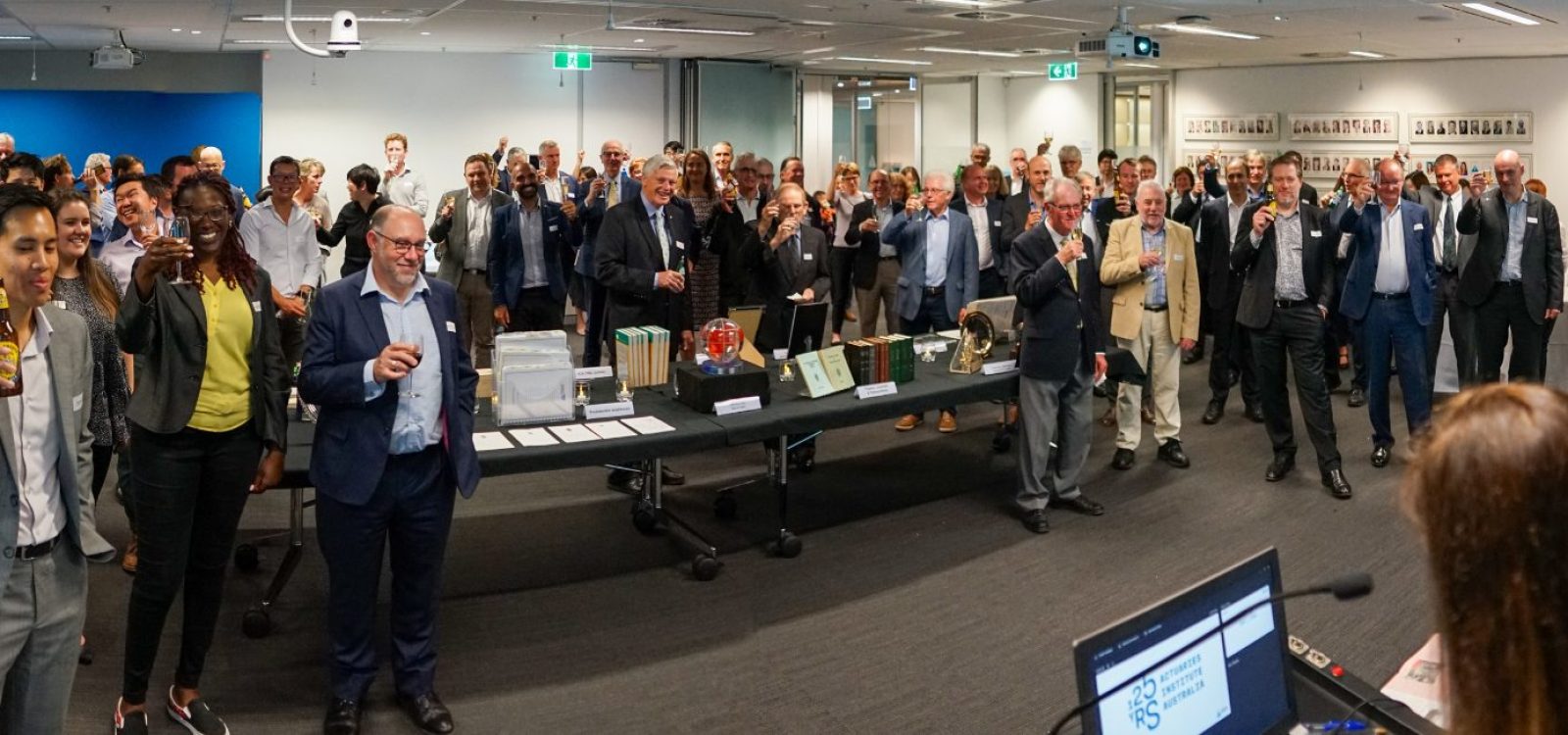 Features
45,655 reasons to celebrate
On Wednesday 19 October, a night sky's worth of actuarial stars and leadership past, present, and future gathered to celebrate the Institute's 125-year history – and the promise of its future. Here's what happened.
Cultural anthropologists believe shared celebrations are building blocks of culture. Mental health experts think they release "endorphins, dopamine, serotonin, and all the lesser-known chemicals of joy."  Organisational psychologists say they add meaning and purpose to corporate life.
Ordinary people? Well, they'll tell you a good celebration is a party.
Whatever your position on the virtue of celebration, Wednesday the 19th of October witnessed an extraordinary event as the Institute formally celebrated 125 years as a professional body, dating its genesis back to a meeting of 17 actuaries in Sydney in 1897. As Institute CEO Elayne Grace mentioned in her opening remarks, the spark that fired the birth of our profession was lit by William Reginald Day – a 23-year-old actuarial trainee. So it's fitting that the party (celebration!) featured a mix of medal winners, past Presidents, former Actuaries of the Year, and a raft of young actuaries from the YAAB.
 

"It's so nice to see so many familiar faces, to have our younger and senior actuaries here. That mix passes on our heritage from one generation to the next. It underpins 125 years of our great profession." 

Elayne Grace, Actuaries Institute CEO
Opening a hatch to the past
Only at a one-in-125-year event would a quarter century feel "not that long ago." But that was the view of those breaking the seal on the Institute's time capsule.
"Buried" in the Institute reception area on 17 August 1997 to celebrate our centenary, the capsule was re-opened at the end of the 125-year celebrations producing plenty of laughter as it revealed a bottle of wine, annual reports, a telephone and a mobile which will now be considered 'old-fashioned.' There was also a tie, Catherine Prime's necklace and even an a gossip column!
Fittingly, the capsule was opened by Trevor Mathews who was president back when the capsule was locked in 1997. Trevor was accompanied by Jenny Lyon was the QED time capsule sponsor. All agreed that Trevor had handled the passage of time better than the capsule's HP12C.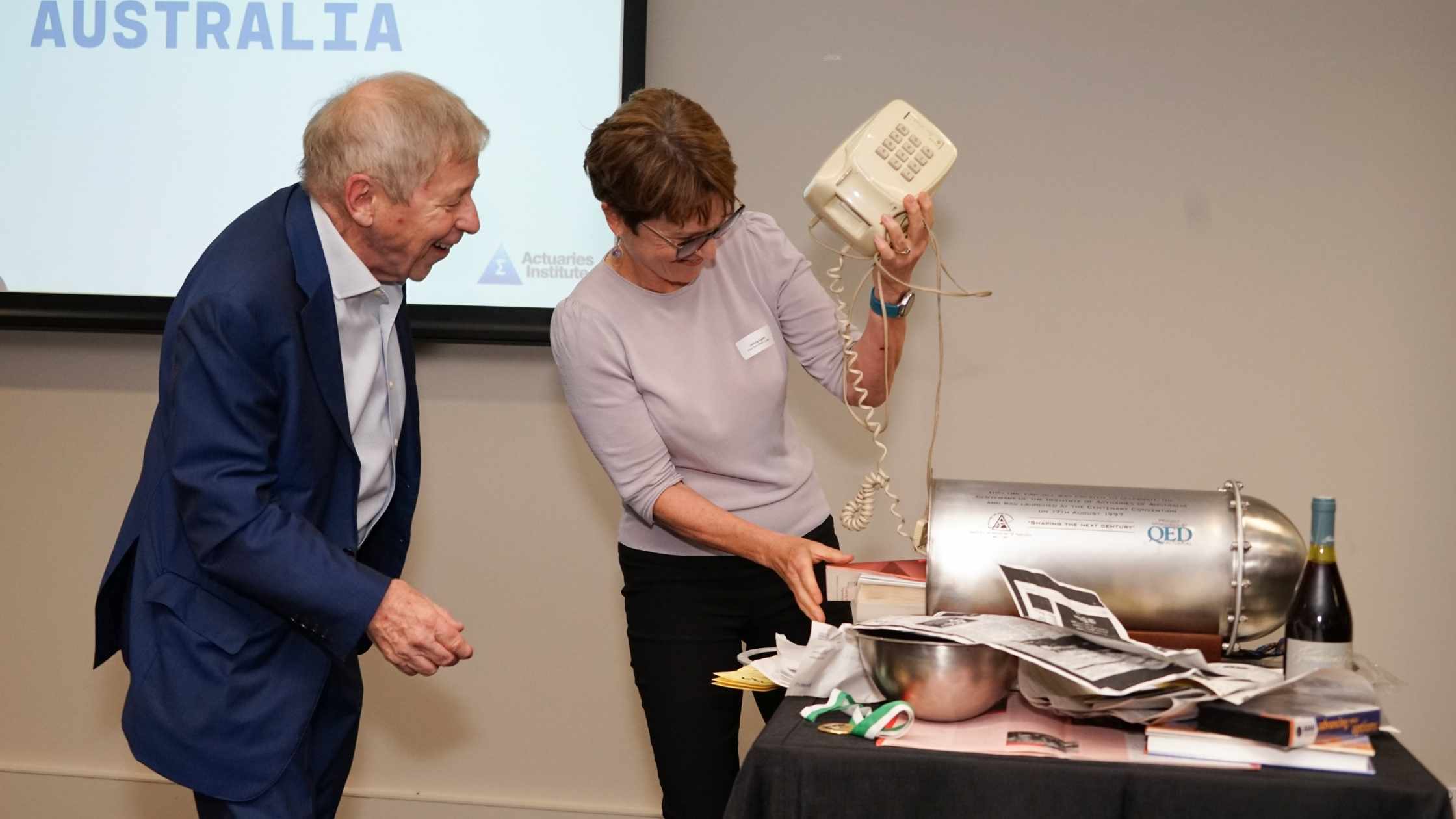 (Trevor Matthews – Actuaries Institute President, 1997 – and Jenny Lyon – QED time capsule sponsor and past president 2017– were instrumental in the creation of the time capsule.)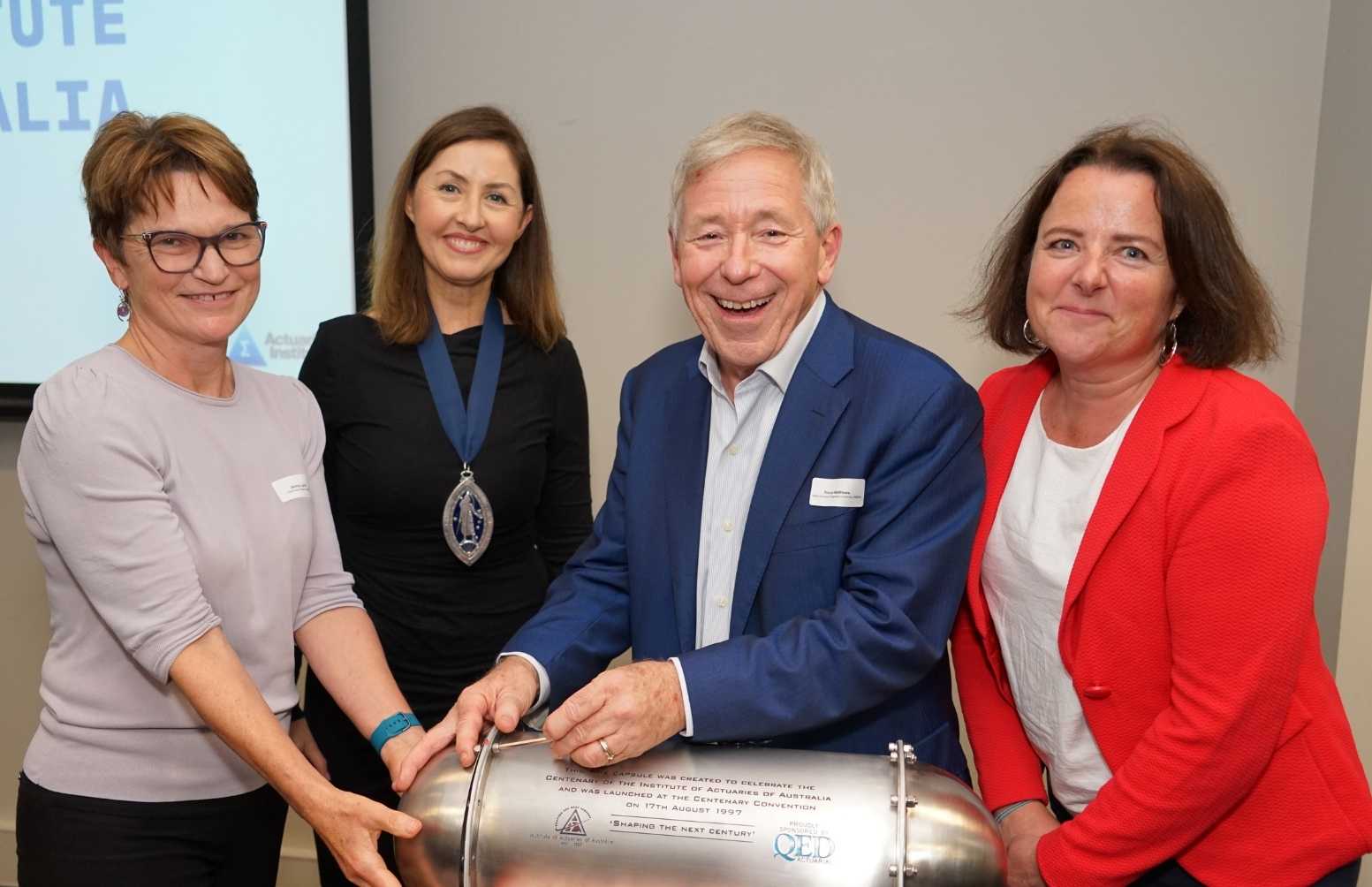 (Trevor Matthews  and Jenny Lyon with Actuaries Institute President Annette King and Actuaries Institute CEO Elayne Grace)
A history lesson
Institute President Annette King then took the stage to remind the 100 guests that there was an Australian Actuaries Institute before cars, aeroplanes and antibiotics. Even before there was a Commonwealth of Australia, or a Republic of Ireland or the Republic of India.
Annette asked guests to remember "the fearless few" who travelled to the UK to do their actuarial exams in the 1900s. They would have undertaken a ship journey to Portsmouth of more than five weeks – and paid around $8,000 in today's money – to have a crack at that exam.

(Past Actuaries Institute Presidents from left to right: David Goodsall, John Pollard, Trevor Matthews, John Newman, John Trowbridge, Jenny Lyon, Tony Coleman, Hoa Bui, Chris Lewis, Jefferson Gibbs, Fred Rowley, Annette King and Bozenna Hinton). 
Annette highlighted the importance of the Institute's own exams – the actuarial degree first launched in 1968 and our own exams in 1980 – and how that really set the seal on the profession's independence and credibility.
Recounting a theme she's come back to frequently since her President's address, Annette then traversed the impact Actuaries have had on Australian business and society.
Our influence on the creation of the super industry – an industry now worth more than $3.5 trillion
The impact actuaries like John Trowbridge and Greg Taylor had on the shape of General Insurance in this country
Our involvement in a whole range of activities that have made life better for ordinary Australians – ranging from affordable life insurance to super to pension reform, to disability insurance and better thinking about flood protection, intergenerational equity and so much more.
Both our President and CEO were at pains to talk about the profession's long contribution to our broader society. Elayne Grace said, "Our actuarial profession is something I know we are all very proud of. It is close to our hearts and has given us wonderful opportunities to contribute".
Annette emphasised that while the profession has more than its share of stars – individuals who have reinvented business models and shaped whole industries – much of our contribution comes from the "quiet actuaries". The ones who balance stakeholder interests every day and bring our training, discipline and intellectual rigour to bear on crucial business and social problems.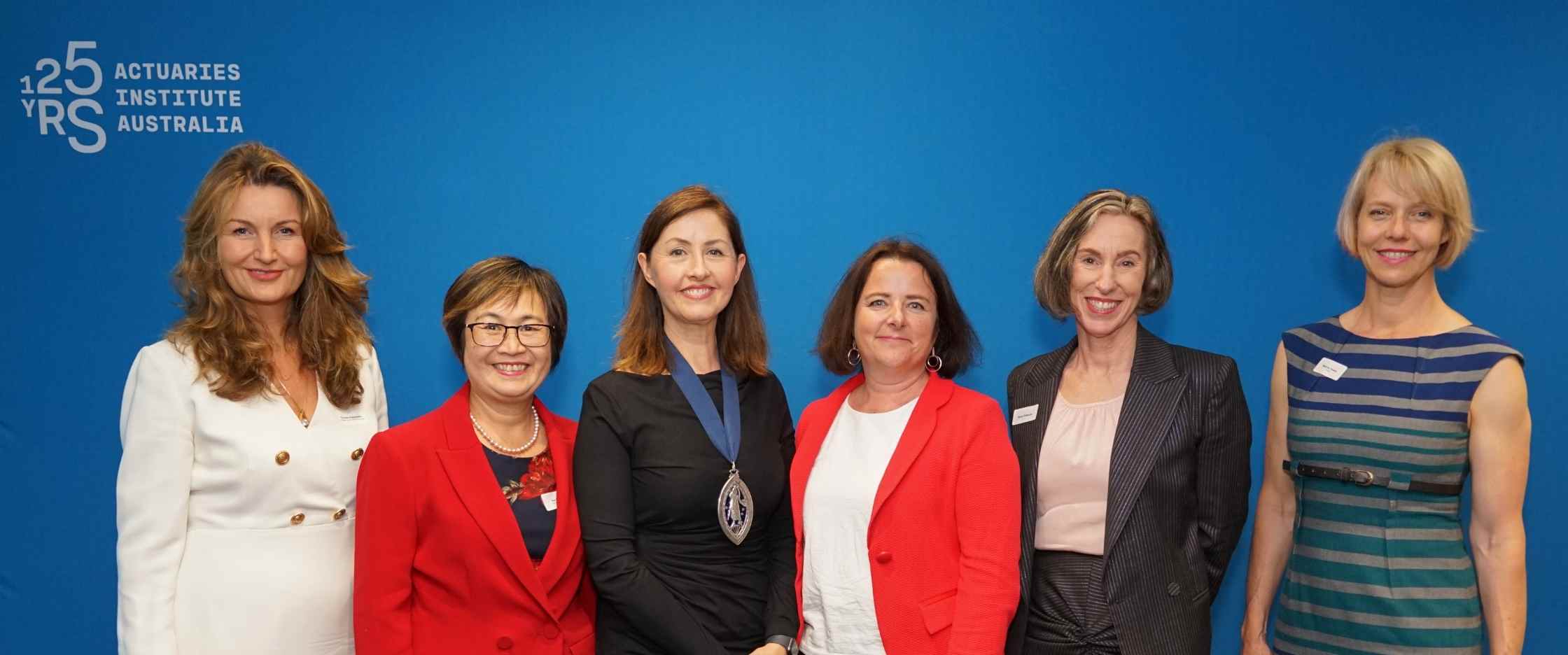 (Left to right: Nicolette Rubenzstien, Hoa Bui, Annette King, Elayne Grace, Naomi Edwards and Melinda Howes)
Data for the future, data for good
Both Annette and Elayne were keen to discuss how the future of the profession is bound up with the growth of the data industry.
"The future we all see is one where data rules. We are making our mark there too, partnering with firms in retail, telecommunications, banking, airlines, real estate to help them carefully and ethically speed their data to value."

Annette King, Actuaries Institute President
To highlight how data is shaping the actuarial profession – and the actuarial profession is shaping data – Annette paid tribute to Actuary of the Year, Chris Dolman. "…who in one person sums up where we are on data. We want to be the data experts business and governments rely on to get things done. We want to lead technically. But we also want to go beyond the science to help people think deeply about data – it's appropriate to use, the ethics, its regulation."
Where to now?
With so many luminaries in the room, there was plenty of post-speech conversations about the future – the challenges facing the profession, the evolving shape of actuarial careers, and what the Institute can do to prepare today's actuaries for the future. There was recognition too that "prediction is difficult, especially when it's about the future," and that there are events and trends that will shape the future of the profession that no one can yet see. 
Yet that doesn't mean that strategy and planning can be ignored. Annette King highlighted all the strategy work the Institute has been rolling out over the past three years including Data for Good, our 2022-23 Seizing Opportunities strategy and the long-term Horizon 2035 vision.
It's that kind of thinking –  the plus the character, adaptability, and integrity of individual actuaries – that will underpin the future of the profession. Will we have another 125 years? Only the future can tell. But as an actuary would say, "On the balance of probabilities…"
*45,655 is the number of days since the birth of the Institute at the time of publication*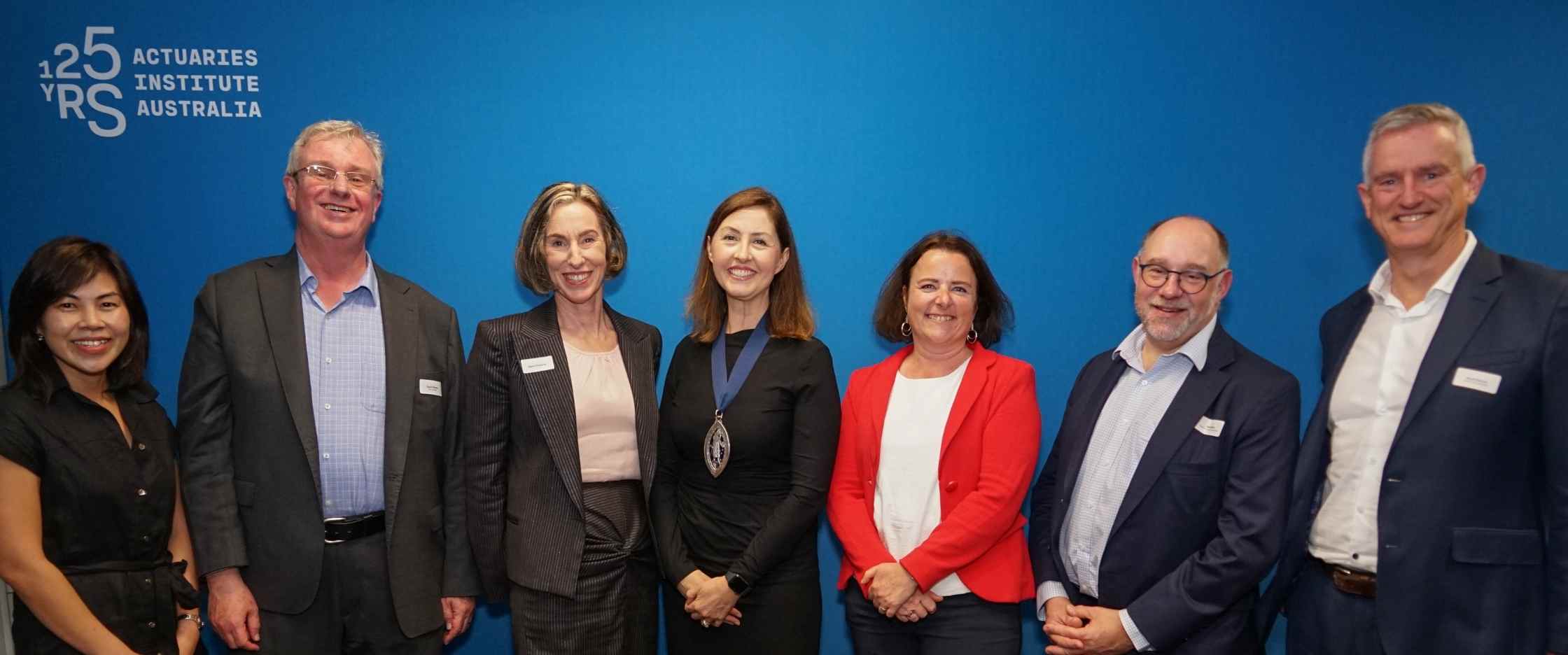 (Current Councillors with CEO Elayne Grace Left to right: Jia Yi Tan, David Whittle, Naomi Edwards, Annette King, Elayne Grace, Al Merten and Scott Reeves)
CPD: Actuaries Institute Members can claim two CPD points for every hour of reading articles on Actuaries Digital.