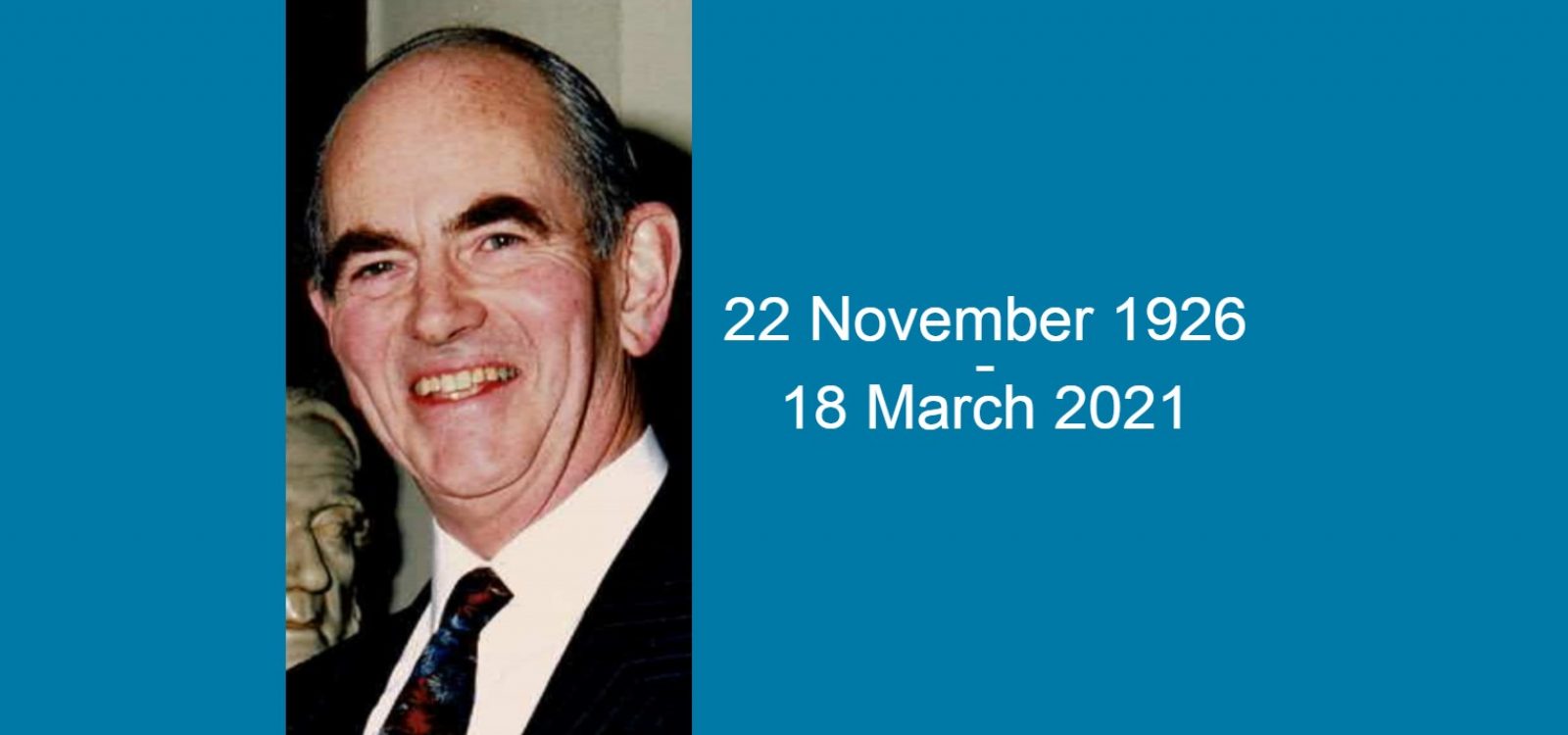 Obituary
In memoriam Dr Stewart Lyon FIA
In memory of my late father-in-law and respected actuary Dr Stewart Lyon, Trevor Matthews and I reflect on Stewart's life and career, characterised by kindness and brave leadership, his dedication to the actuarial profession, his renown in numismatic circles and his keen interest in music and amateur radio.
I first met Stewart in 1983 when he, and his wife Elizabeth, visited Australia in his role as President of the Institute of Actuaries (UK) and as Chief Actuary of Legal & General visiting the Australian branch where Trevor Matthews was the Managing Director.
I had just passed my first actuarial exam and was the (relatively new) girlfriend of his son Richard who was working at AMP and studying to be an actuary. I was naturally somewhat in awe of Stewart who I came to learn, had a significant intellect, a deep interest in many different fields and yet he was always very humble and ready to focus on others and their interests.
Stewart had a strong connection to Australia well before Richard moved here. David Kimber (President of the Actuaries Institute, 1981) who he had worked with in Liverpool and been best man for, had moved to Australia to work.
"Stewart made several visits to Australia in his role as Chief Actuary of  Legal & General, and during one of these trips he bravely attended a dinner organised by the not too serious Society of Macquarie University Graduate Actuaries (MUGs). 

He was President of the Institute of Actuaries at the time and MUGs dinners had never been honoured with such distinguished company. Stewart seemed quite surprised to be presented with the prestigious Presidential Mug Award. As always, he spoke warmly, humorously, and graciously and left a very positive impression on the group of young actuaries who were present. I have some terrific memories of Stewart.  No doubt, I am one of many to whom he gave wise advice and guidance."

– Trevor Matthews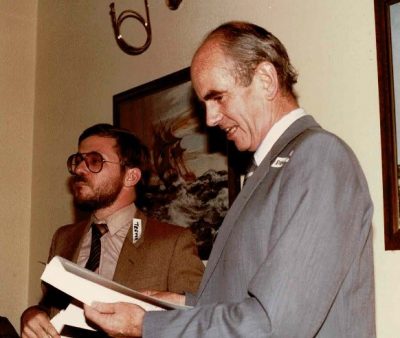 Another actuarial friend of Stewart's, Ian Salmon, who had also moved here from the UK, was responsible for encouraging Richard to return to the UK from Canada where he was working, via Australia, and work for AMP for a couple of years (it turned out to be much longer). These connections, and the international nature of the actuarial profession meant Stewart and Elizabeth made many friends here and visited regularly. As well as speaking at the MUGS dinner in 1983, he attended the 1984 International Congress of Actuaries held in Australia.
There were many subsequent trips to visit Richard and our family, as well as keeping up with other actuaries and friends here. We enjoyed several holidays with Stewart and Elizabeth, and they travelled widely in Australia and around the world.
Born Colin Stewart Sinclair Lyon on 22 November 1926 he attended Liverpool College where he began his life-long interest in Anglo-Saxon coinage, followed by Natural Sciences at Trinity College Cambridge. He described his next steps as "somehow I stumbled into the actuarial profession". He worked for the Liverpool & London "to pursue a career in pensions", subsequently joining Legal & General in London.
For most of his professional career, Stewart had a special interest in the roles of state and occupational benefits in the fields of pensions and disability.
From 1982 to 1984, Stewart served as President of the Institute of Actuaries, which also awarded him a Gold Medal (its highest award) in 1991.  When presenting the medal, Hugh Scurfield, the then President of the Institute of Actuaries, said "his profound sense of equity has allowed him successfully to balance the interests of society, commerce, government, and the profession in his negotiations on the profession's behalf over so many years."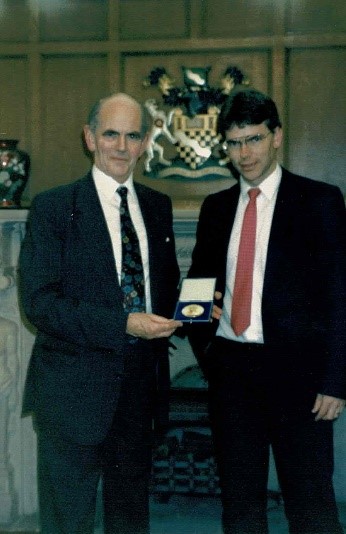 Stewart was a trustee and treasurer of the government-funded Independent Living Fund for the first five years of its existence (1988-93). This Fund, set up to enable severely disabled people on low incomes to buy in personal care at home, was co-sponsored by the Disablement Income Group, of which he had been an active member since 1966, including as Chairman in the 1970s.
In 1958, Stewart married Elizabeth Richards, a talented pianist, and they had a clarinet quintet of children – yes, they are all musical. 
Music was also very much part of Stewart's life – from recording some piano sonatas in his early years to being a serious friend, supporter, sponsor, and promoter of musical events.  He and Elizabeth were life members at Glyndebourne for over thirty years and, latterly, keen supporters of the Welsh National Opera. His many keen interests included numismatics, music, and short-wave radio.
In addition to having been President of the Institute of Actuaries, he was a Fellow of the Society of Antiquaries, President of the British Numismatic Society, Chairman of the Disablement Income Group, and so much more. He had a strong Christian faith and an inherent compass of fairness and dignity.
Stewart's interest in Anglo-Saxon Coinage had turned into serious research which continued to the end.  In recognition of the extensive collection of his published papers, Trinity College Cambridge awarded him a PhD in October 2004.  He continued to research and publish, including, in 2019, his long-awaited labour of love (his sylloge) – a book about the Stewart Lyon Collection which is on loan to the Fitzwilliam Museum in Cambridge. Stewart was a numismatist of great stature and truly respected by all his colleagues.
Stewart was an enthusiastic short-wave radio operator – with aerials strung between trees in the garden to optimise reception – and was involved in a commemoration of the first wireless contact between the UK and Australia from the old Marconi Wireless Station in Waunfawr, Wales. 
On retirement, Stewart and Elizabeth chose to relocate from Guildford to Anglesey where they became active members of the local community, learning Welsh and getting involved in parish life and fundraising at nine parishes and in local music and the arts.
Stewart retained his sharp intellect to the end.  When he died at the age of 94 on 18 March this year after a short illness, he still had a long list of things he wanted to finish.
Stewart will be sadly missed as a major intellectual subject-matter expert in the numismatic world, by the actuarial profession and amongst Amateur Radio hams, musical organisations, archaeological groups and the communities and churches at Holy Trinity & St Mary's, Guildford and in and around Malltraeth, Bodorgan, Anglesey.
Stewart was much loved by his wife, Elizabeth, and their five children, 10 grandchildren and a brand-new great grandchild, Leo, whom Stewart sadly was unable to meet.
CPD: Actuaries Institute Members can claim two CPD points for every hour of reading articles on Actuaries Digital.