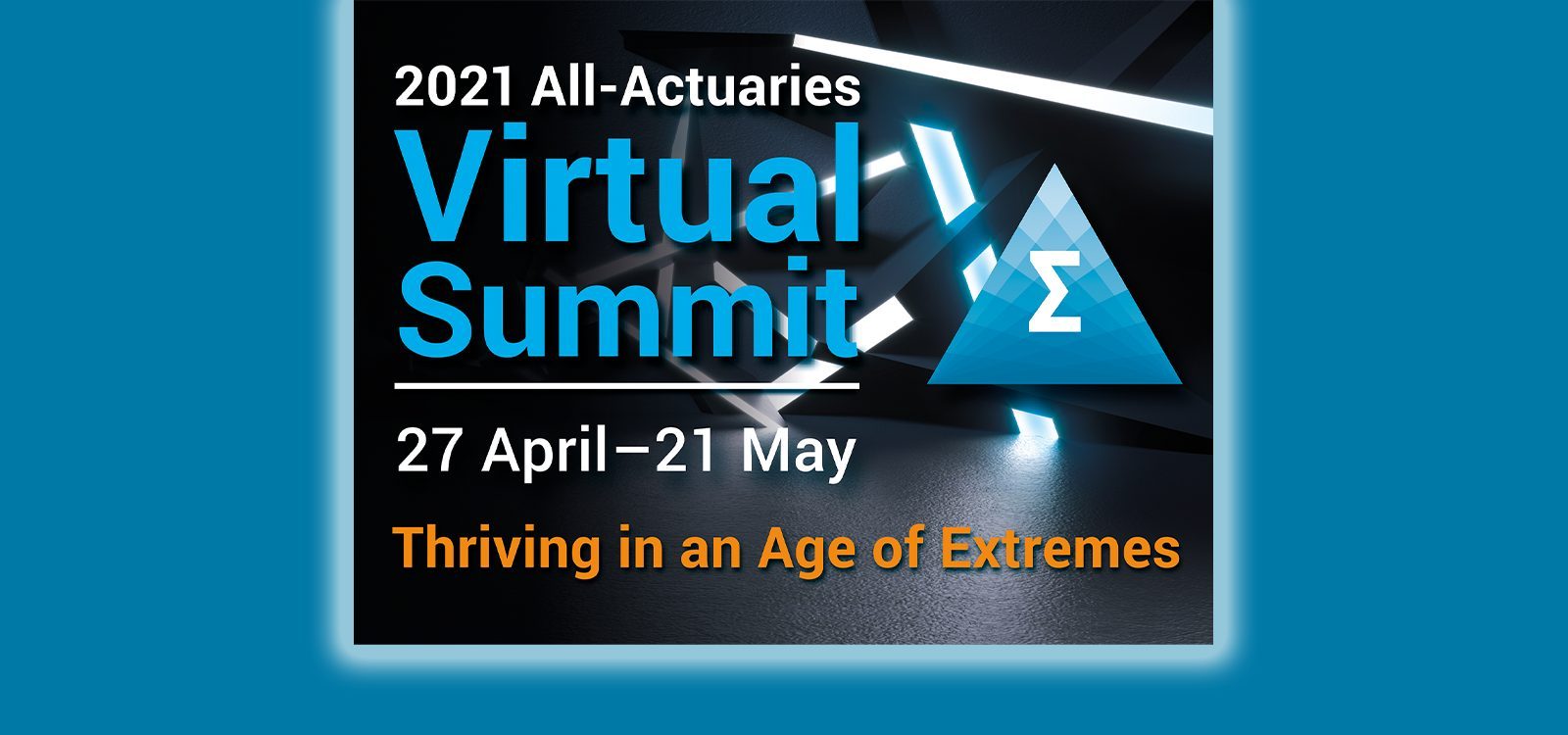 Podcast
2021 Virtual Summit to cater for all
Following on from the record-breaking 2020 All-Actuaries Virtual Summit, Jennifer Lang (2021 Virtual Summit Organising Committee Convenor) and Naomi Edwards (Actuaries Institute Vice President) discuss the ins and outs of the 2021 Summit in the latest Actuaries Institute Podcast.
Jennifer and Naomi dissect the exciting plenary and concurrent program on offer, the high-profile guest speakers locked in to present, and the great registrations options which are simply too good to pass up.
Listen to the summary podcast below:
Listen to "All-Actuaries Summit retains virtual format for 2021" on Spreaker.
The events of 2020, headlined by the COVID-19 pandemic, the ensuing widespread societal and economic impacts, and the ongoing impact of climate change, inspired the theme for the 2021 Virtual Summit; Thriving in an Age of Extremes.
The current early bird registration options for the 2021 Virtual Summit present a terrific opportunity for prospective attendees to receive a $100 discount off the full registration price. Closing on Friday 26 February, the early bird discount is available to Members and Non-Members. There is also a special offer for registrants who have an income of $70,000 or less p.a.
The 2021 Virtual Summit Organising Committee have worked hard to curate a plenary and concurrent program which not only caters to all practice areas, but also appeals to people from outside the actuarial profession.
"Whether you're working in data analytics, or you just sit on the board of an insurer, or you're in risk management, every single plenary (and concurrent) is going to have something relevant to where you work," Naomi explained.
Naomi, who is one of the three confirmed Chairs of the plenary program so far, spoke of her enthusiasm for the plenaries which will feature top-line talent. This includes Queenie Chow (Microinsurance Specialist, Milliman), Adam Driussi (CEO, Quantium), Dee Madigan (Creative Director, Campaign Edge and Panellist), Estelle Pearson (Principal, Finity Consulting), Nicolette Rubinsztein (Non-Executive Director).
"My favourite one, the title of it is 'Revolutionary Actuaries'. You've probably heard Elon Musk say he wanted "revolutionary actuaries". And its really asking that question, "What is that? Is that who we are? Are we revolutionary in our thinking?" Naomi said.
The multi-practice angle of the concurrent program has resulted in a diverse selection of speakers, who will present more than 70 sessions across the four-week Virtual Summit.
"I think one of the great things about the concurrents is it gives you the chance to go and see what another practice area is doing. But we've also got quite a few that go across practice areas," Jennifer said.
With the COVID-19 pandemic still present throughout Australia, it was a no-brainer for the Organising Committee and Institute HQ to focus on making the 2021 Summit a virtual event. Last year's inaugural Virtual Summit recorded a record attendance of more than 950 delegates, which is significantly higher than the standard attendance of previous in-person Summits.
The flexibility for attendees to participate from anywhere in the world, and the ability to re-watch sessions, made the 2020 Virtual Summit accessible for far more people. 
"I talked to quite a few people, employers and also attendees, about how it (the 2020 Virtual Summit) was much more accessible, particularly for people not from Sydney or where we often have the Summit. So, they felt like they were coming on a level playing field for the first time," Jennifer said.
Although the Summit will be conducted entirely online, the Organising Committee remains hopeful that some form of COVID-safe physical networking can take place throughout the event.
"As everyone knows, what might happen in three months' time is still quite up in the air. So we're certainly hoping to try and create some physical networking opportunities in different places where people might be, but obviously that will depend on where we're up to with COVID-19 and where the different border restrictions are… we're hoping that it might be around plenaries, so that people can watch the plenary together and be involved in the plenary, but we'll have to see what the restrictions are as we go," Jennifer explained.
Registration options
The early bird registration price of $545 of Members, $645 for Non-Members and $295 for low-income registrants offers great value for the Virtual Summit.
Find out more and register now for the 2021 All-Actuaries Virtual Summit.

CPD: Actuaries Institute Members can claim two CPD points for every podcast listened to.