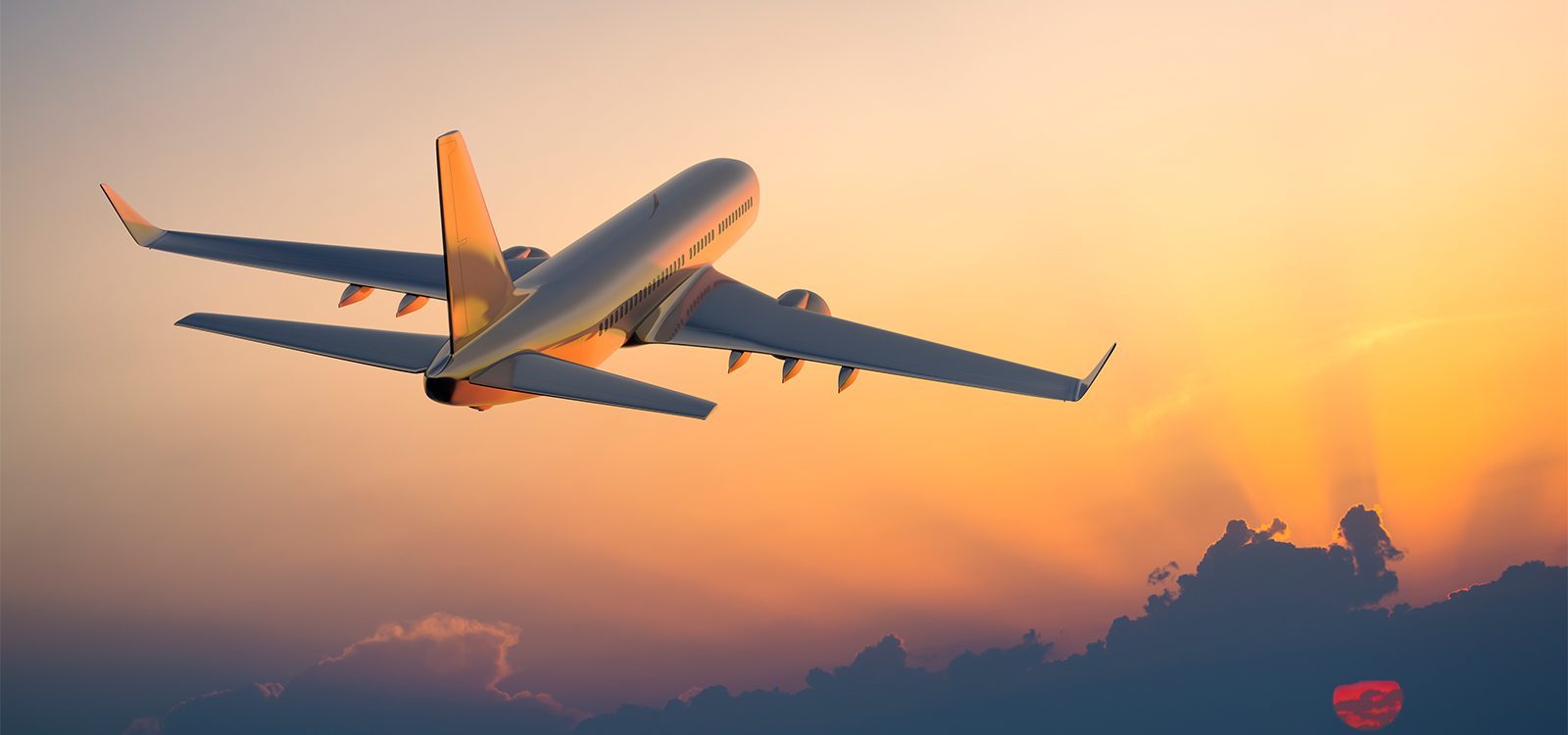 Covid-19 Blog
Reviving the travel industry and travel insurance market
The COVID-19 pandemic had an unprecedented impact on the travel industry and travel insurance market. Before the outbreak, demand for travel (as measured by revenue passenger kilometres or RPKs) had been relatively flat [1]. The outbreak was the tip of iceberg for the travel industry.
Domestic and international RFK plummeted in February 2020, as COVID-19 spread across the globe and large scale lockdowns were imposed. The largest contraction across international and domestic markets [1] occurred between April 2020 and June 2020. Since May 2020, there was a rebound mainly driven by domestic markets.
Restrictions on international travel remain high and leisure travellers are worried about economic uncertainty, high unemployment rates, and the lack or end of government support [2]. In Australia, international visitation dropped by 60.7% for the year ending October 2020 compared to 2019 [3]. Therefore, air travel recovery remains weak with a sluggish international passenger demand and a slow domestic market growth.
Chart 1: Air Passenger Market 2020 – RPK % year-on-year
Growth in international and domestic RPKs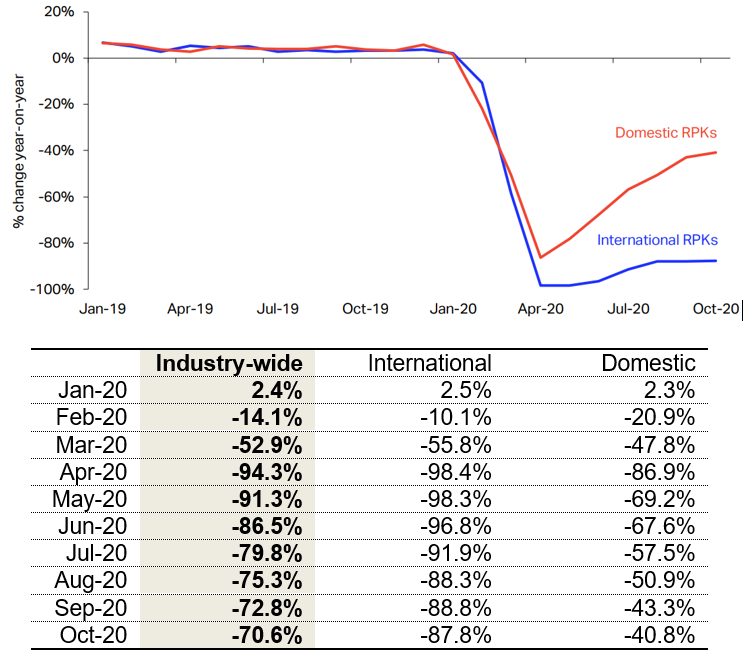 Soon after the declaration of COVID-19 as a global pandemic by the World Health Organisation (WHO) and with global travel bans in place, some travel insurers stopped selling new policies, while others tightened terms and conditions on their existing contracts. For example, Australian insurer Cover-More suspended the sale of its cancel-for-any-reason (CFAR) add-on product [4]. In some countries under lockdown, there were no sales of travel insurance. In fact, there were increased refunds due to cancellation of travel policies, in view of unutilised travel days, or relating to customers who had bought Annual Travel plans.
Two major trends can be observed for the travel insurance market. Reduced passenger volume led to a reduced market for travel insurance. However, coverage for risks such as trip curtailment and medical expenses under pandemic conditions have become vitally necessary. This could lead to a substantial increase in the penetration of travel insurance [5].
In the next section of the article, we discuss several initiatives to revive the travel industry and travel insurance market.
What can be done to revive travel?
Government Initiatives
Governments around the world play a primary role in reviving the travel industry. In countries like Singapore, tourism is vital in attracting capital, business and talent to the country. Singapore ranked 26th in the world in terms of tourist arrivals and tourism contributed 4.1% of its GDP in 2017 [6]. Given the significance of tourism for Singapore, their government has been proactively engaged in several initiatives to kick-start the travel and tourism industries.
Green Corridors (Travel Bubbles)
Green corridors or travel bubbles would allow travel between low-risk countries. For example, the Singapore and Hong Kong governments agreed on a green corridor for their citizens to travel between the two countries. Travellers would need to go through Polymerase Chain Reaction (PCR) tests at the origin and at the destination. Once testing is cleared there is no need for travellers to go through mandatory quarantine requirements [7]. However, this initiative was postponed due to a subsequent COVID-19 outbreak in Hong Kong. A similar plan is on the cards between Australia and New Zealand, to provide a green corridor for their citizens to travel between the two countries [8].
For green corridors to work there should be mutual consent from all parties involved. The Singapore government has taken a step further by unilaterally allowing travellers from other low risk countries to travel to Singapore. Under this initiative, currently Singapore allows travellers from Taiwan to travel to Singapore subject to successful PCR test at the origin and the destination [9]. 
Some insurers in Singapore are offering insurance cover for COVID-19-related medical expenses for inbound travellers [10]. Travellers intending to visit Singapore can purchase inbound travel insurance with COVID-19 cover before travelling and the cover will kick start upon arrival after clearing another PCR test. Travellers are covered for medical expenses if they are infected with COVID-19 during their stay in Singapore. Such initiatives from the insurance industry can go a long way to help revive tourist arrivals as inbound tourists may find it difficult to get travel insurance inclusive of COVID-19 cover in their local markets.
Initiatives such as green corridors are a pragmatic approach and can be equally applied to other countries looking for ways to revive their travel and tourism industries.
Initiatives by Insurance and Airline Industries
Insurers and airlines play a vital role in reviving the travel industry and travel insurance market. We have seen collaboration between insurers and airlines taking place in markets such as Singapore, Hong Kong and the Middle East. AXA Insurance Hong Kong and Cathay Pacific have partnered to provide free COVID-19 coverage to all passengers who fly with Cathay Pacific. The cover automatically applies when customers book their flights [11]. AXA Insurance Singapore partnered with Scoot and AIG partnered with Singapore Airlines to provide COVID-19 cover with travel insurance for their customers respectively. [12],[13].
COVID-19 Coverage in Travel Insurance
It has been more than a year since the outbreak of the COVID-19 pandemic. Insurers are now better equipped with information on the virus, treatments available, mortality rates, average time to recover, and the spread of virus (e.g. low-risk and high-risk countries). Insurers are in an informed position to provide cover for COVID-19 related losses and we have seen that some insurers include COVID-19 cover in their travel insurance policies. However, terms and conditions can be onerous with exclusions for high risk countries. The availability of COVID-19 coverage in travel insurance provides a much-needed relief to travellers and can encourage more people to fly again.
COVID-19 Passports
 The availability and fast approval of COVID-19 vaccines has been welcome news. Generally, it takes approximately 10 years for a vaccine to become available for wider use. The breath-taking speed at which COVID-19 vaccines became available, necessitated by the doom and gloom state the world was facing, is absolutely astounding. Driven by the promising results some of these vaccines showed, there is already talk about COVID-19 vaccine passports in travel industry.
Some companies are developing apps and systems for travellers to upload details of their COVID-19 tests and vaccines, thus creating digital credentials that could be presented before boarding planes [14]. Singapore Airlines has initiated a new digital health verification process, which will be the first-ever based on the International Air Transport Association's (IATA) Travel pass framework [15]. More airlines are likely to follow, encouraging more people to travel.
Importance of Reinsurance
Naturally, insurers providing any type of COVID-19 cover will be concerned with the risk of accumulation of claims. Therefore, the reinsurance market plays a pivotal role in providing capacity to insurers with COVID-19 cover and hence helping the revival of the travel industry.
We have observed in the most recent renewal of reinsurance policies, pandemic exclusion has been a common feature along with the hardening of rates. There is a limited reinsurance market willing to consider pandemic related coverage. Therefore, a pragmatic approach to designing reinsurance coverage is important to satisfy the risk appetite of both insurers and reinsurers. From our experience in designing COVID-19 related reinsurance coverage, non-proportional type coverage is the preferred choice for reinsurers who are willing to provide capacity. COVID-19 reinsurance coverage can be a part of Personal Accident reinsurance coverage, which often includes travel insurance or only covering COVID-19 related losses from travel insurance.
From our experience, a scenario-based approach is suitable for the design of the reinsurance cover. Several plausible scenarios can be selected with assumptions on infection rate, travel patterns and coverage requirements for setting up deductible and vertical cover limit. It can be challenging for insurers to project income from travel insurance due to economic uncertainly, new outbreaks and changes in travel advisory by governments. Therefore, high uncertainly in travel patterns and hence income applicable to reinsurance coverage, compelled us to consider a tiered approach to determining vertical limit requirements. For example, layers in a non-proportional cover can be triggered by either meeting income thresholds or the accumulation of COVID-19 related losses. This approach also helps to save reinsurance cost for insurers particularly in a hard market like we are experiencing now.
Conclusion
The travel industry was catastrophically impacted by the COVID-19 pandemic and it continues to face unprecedented challenges. Similarly, the travel insurance market has not been spared. Reviving travel is vital for economies around the world and the livelihood of millions of people. Governments, airlines, insurance/reinsurance industries, and industry bodies can play vital roles in kick starting travel industry with various initiatives. We discussed some of these initiatives in the article. In essence, the collaboration of all stakeholders is paramount to the revival of travel industry.
Special Note: Authors would like to thank Mudit Gupta (FIAA) and Tan Wei Chyin (FCAS) for reviewing the article and providing invaluable feedback.
References
https://www.iata.org/en/iata-repository/publications/economic-reports/air-passenger-monthly-analysis—feb-2020/

https://www.iata.org/en/iata-repository/publications/economic-reports/air-passenger-monthly-analysis—october-2020/

https://www.tourism.australia.com/en/markets-and-stats/tourism-statistics/international-market-performance.html

https://www.itij.com/latest/long-read/global-travel-insurance-industry-adapts-covid-19

https://www.uni-global.eu/interview-covid-19-pandemic-the-impact-on-travel-insurance-industry/

https://www.budgetdirect.com.sg/travel-insurance/research/singapore-tourism-statistics

https://www.straitstimes.com/singapore/transport/spore-hk-air-travel-bubble-to-start-on-nov-22-with-one-flight-a-day-to-each-city

https://www.channelnewsasia.com/news/world/new-zealand-agrees-on-travel-bubble-with-australia-early-2021-13767464

https://www.channelnewsasia.com/news/singapore/covid-19-singapore-open-up-to-travellers-from-taiwan-ong-ye-kung-13750320

https://www.todayonline.com/singapore/inbound-visitors-singapore-can-now-buy-travel-insurance-cover-covid-19-medical-costs

https://www.insurancejournal.com/news/international/2020/12/07/593035.htm

https://www.singaporeair.com/en_UK/us/plan-travel/privileges/travel-insurance/singapore/

https://www.straitstimes.com/life/travel/insure-against-covid-19-when-you-travel

https://edition.cnn.com/2020/12/27/tech/coronavirus-vaccine-passport-apps/index.html

https://www.wionews.com/world/singapore-airlines-announces-launch-of-covid-19-passports-for-a-safer-travel-352070
CPD: Actuaries Institute Members can claim two CPD points for every hour of reading articles on Actuaries Digital.