Covid-19 Blog
COVID-19 Monday Roundup 27 July 2020
In a week when COVID-19 cases reached records both globally and in Australia, the UK and US governments signed deals with vaccine manufacturers which may delay access for other countries. Early trial results suggest the drug interferon-beta may significantly reduce severe disease and death from COVID-19. And Insurers will be carefully watching test cases brought by regulators on Business Interruption insurance.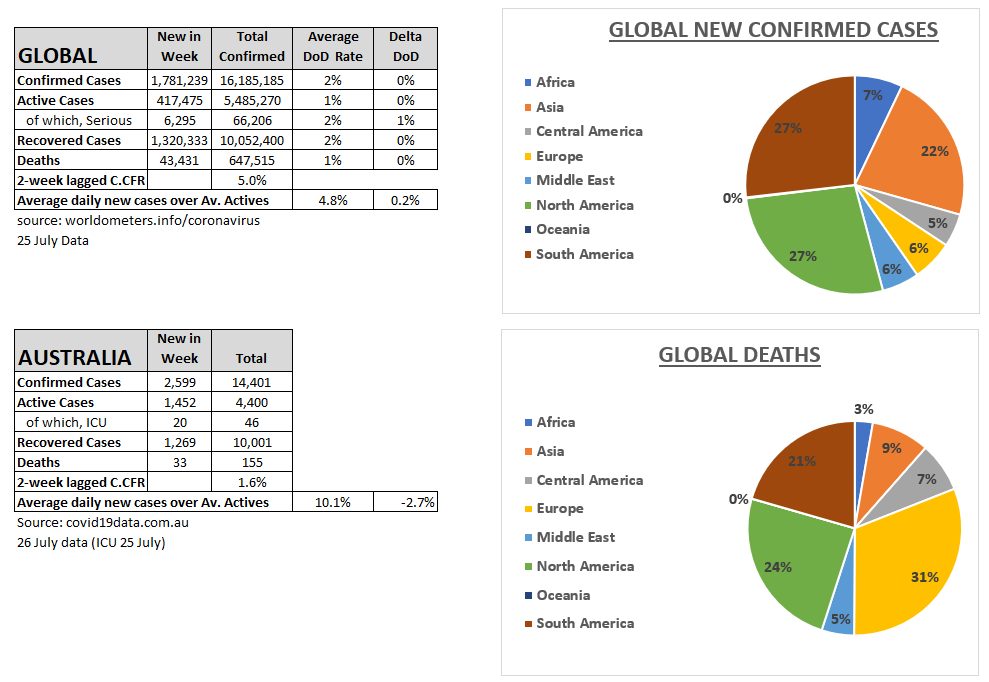 World Summary – 25 July
The pandemic delivered the four highest daily new case counts this week and the 3rd highest death count.
At 3%, deaths as a percentage of new cases (two week lag) have begun to increase, having declined steadily in recent months.
62% of new cases were in the USA, Brazil and India; and 26% were in just 19 other countries with over 10,000 new cases each, headed by South Africa with 83,000, 4.7% of the weekly total, and a welcome reduction in that country.
Brazil, USA, India, Peru and Mexico accounted for 66% of all deaths this week with over 4000 deaths each. Another three countries had over 1,000 deaths each.
In addition to the US, Brazil and India, there are large uncontrolled outbreaks in four other South and Central American countries and in Israel and Indonesia. In Europe, Russia is bringing their outbreak down very slowly, and in the Middle East, most outbreaks are coming back under control.
Australia Summary – 26 July
Victoria dominates the Australian situation with 2,485 new cases, up 24%, 96% of all new cases this week. Daily new case numbers remain high, but the better news is that they have flattened somewhat.
We've had our highest weekly deaths, all in Victoria, and including a 40 year old male.
NSW had 104 new cases, up 14%, but the situation in NSW does not appear to be out of hand. While most cases are linked to the Melbourne outbreaks, it's clear that the disease can spread rapidly and widely if social distancing is not observed.
The rest of the country had just 10 cases, traced principally to overseas returns.
In NSW, as well as tighter restrictions now in place for cafes, restaurants, weddings and funerals, hospital staff are also now required to wear masks within 1.5 metres of patients, as NSW Health raised the risk level to amber.
Mask wearing became mandatory in Melbourne this week. Additional measures to support Victorian aged care providers, include workforce funding support to reduce workforce sharing, infection control training, increased testing and additional care capacity at outbreak sites.
Key market update
New COVID-19 research this week
New on the Actuaries Institute website this week.
CPD: Actuaries Institute Members can claim two CPD points for every hour of reading articles on Actuaries Digital.