Stories from Seclusion
A Younger Perspective
Statistics suggest that over half of our members are aged under 35 so this week, Martin explores the recent experiences of some younger members. Eight people kindly accepted their invitation to share their views. Not everyone elected to have their name attributed to their quotes but we are very grateful to all of them. It may not be a representative sample but the insights are intriguing.
Working From Home
In terms of context, half of the respondents are living with their parents so that has influenced their experience of working from home. One person has returned home – "I'm living with my family for the first time in five years" (anon). Another has impressed her parents – "They now see how late I sometimes have to work" (anon). I hope Tim Lam's mother appreciates Tim's acknowledgement of her role: "The person that is most impacted is actually my mother, who has told us that she has to cook more for lunch than previously given my father, brother and I are all working/attending university from home!"
As per a recent article, most people found that a lot of time was saved with no commuting and fewer interruptions. Different people made different use of the time. For Claire White, "Commute time has become park time!". Kieran Smith is "getting to spend a whole lot more time with my dog, Harry":
On the other hand, Joyce Wang found it hard: "I lost my normal wind-down period (on the train), but now I have found my new wind-down method, which is to cook up a nice meal for myself and my partner to enjoy every night."  Tim Lam now finds it "difficult to separate work from other life activities."
Other benefits were noted:
"Being able to see them at 5pm rather than arriving home at 6.30pm" (Kieran)
"It has also been great watching our new kitten grow up." (Ryan Starkey)
"I also quite enjoy not needing to wear business attire when working from home" (Joyce).
Of course, not everyone is working from home as Claire observed – "There are a handful of people in the office, those for whom working at home is proving difficult (like those with young children)."
Ryan is in the unusual position of starting a new job during lockdown so "…I had to meet everyone at my workplace virtually.  This has gone surprisingly well. My colleagues are comfortable to chat over video, which really makes a difference when meeting people for the first time."
The global experience is also causing a shift in outlook: "Any career plans I had to go on international secondments (which I would have loved to experience at my current age) have now been placed on hold until… well who knows?" (anon).
Finally, I was intrigued with this observation: "I feel much less anxious in meetings with senior staff. They are much less intimidating behind a screen" (anon).
Lifestyle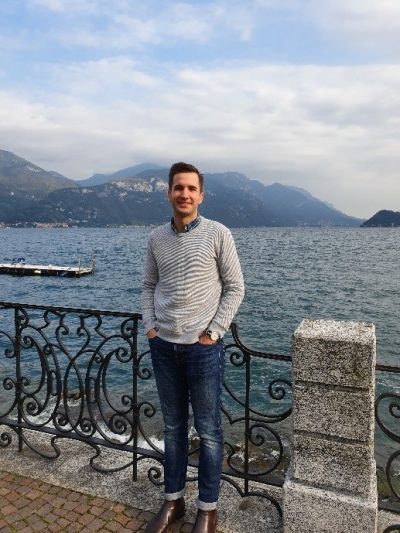 There were some common themes for the restrictions that have been most difficult to manage, particularly going to cafés, pubs and restaurants and attending celebrations. "Two weddings have been postponed this year" (Claire). "I really do miss celebrating birthday parties with family and friends." (Ryan)
So what are they doing instead? "The cancellation of Part 3 exams meant it was the perfect opportunity for me to complete some online learning" (anon). "Prioritisation of family time" (Tim). "Not a good entertainment activity to recommend, but I started to play video games" (Joyce).  "Reading! I haven't had time to read a novel in a long time" (anon). "Doing more housework!" (anon).
Many responses emphasised the lack of opportunity to travel. Ryan included a photo, as he reminisced about his visit to Lake Como (right).
Health and Exercise
Although many responses noted that they missed playing sport or going to the gym, most people reported that that they are feeling well, summarised neatly by Ryan: "My wellbeing has improved because I am exercising more, have more time to explore new recipes each night and stay on top of chores during lunch and usual commute time."
It may not be easy, of course. "I've had to go back to basics – running outdoors and Jane Fonda-esque videos." "I used to go out for a short walk during lunch time and go to gym a few times a week" (Joyce). "It now requires a more active effort to make sure I maintain a similar amount of steps to that done pre-COVID" (anon). "My exercise routine was distorted and I haven't been able to pick it back up until recently (Tim). "My personal training is in the park now – it's cold in the morning!" (Claire).
One response reflected a healthy self-awareness of their improved mental state: "I think the main contributors to a healthier mindset would be: More breaks throughout the day (even though I am working longer hours); More sleep; Less anxiety from work" (anon).
Social Connections
The most common restriction that was nominated as having a negative impact was not being allowed to visit friends and family. As Claire put it, "we don't live near our extended family and we've missed our friends." Another had a specific gripe: "border closures mean that my interstate friends cannot visit me in the sunshine state."
At the same time, as Joyce observed, "during the lockdown, we all recognise the importance to connect with our close ones and give each other the support we need…. With the help of technology, I could continue to play board games, exercise, watch movies, etc. with friends." Claire is a fan of Zoom: "We've had many Zoom quiz nights and Sunday morning family chats. Many friends had moved interstate over the last couple of years and the rise of Zoom has meant that those friends now aren't missing out on our usual group catch ups."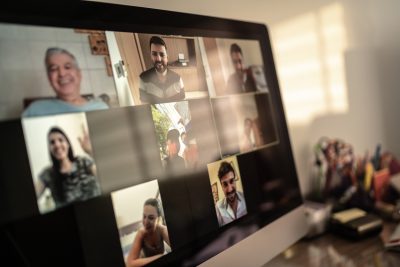 There were different views on the quality of the relationships being fostered online – "I have become closer with some of my friends while maintaining a similar relationship with others" (anon) vs "We keep up to date but it's not quite the same" (anon). Nevertheless, it was evident that everyone who responded was making an effort, even if "this whole experience has made me believe I could secretly be an introvert" (anon).
Financials
All respondents reported that they were saving more, even those who had suffered a reduction in their income. There were some interesting comments:
"My urge to shop has gone down. Not good for retail business but good for my wallet" (Joyce).
"This experience has made me realise how quickly transport, coffee, dining and entertainment costs add up" (Ryan).
"We haven't been able to spend our "fun money" on anything so that goes straight to the mortgage!" (Kieran).
Looking Ahead
I asked what recent changes may become permanent and there were some fascinating insights:
"I would really like to maintain my level of exercise (cycling and walking) and continue to bake more often. This will be a challenge when long days and commutes return" (Ryan).
"Be more cautious and aware of mine and other people's personal space" (Kieran).
"With working from home becoming the new 'normal' I believe that more workplaces are becoming more comfortable with flexible working and are now using new technology platforms/ seeing increased uptake of existing ones to accommodate for flexible working conditions. It will be interesting to see if this continues, as more people start working from the office and how different people's experiences vary" (anon).
A number of people have committed to continue to work from home, at least one day per week, so this final comment was relevant:
"We don't know how working from home will impact our skill development at such an early stage of our careers. Working alongside senior staff and seeing how they think is one of the best learning tools available to us. Presenting to clients and interacting with people on the floor helps us to develop our confidence and communication" (anon). Hmmm…
That wraps up the younger perspective and many thanks again to the eight thoughtful contributors.
CPD: Actuaries Institute Members can claim two CPD points for every hour of reading articles on Actuaries Digital.