Covid-19 Blog
Pandemic Briefing – ICAAP Considerations
This briefing aims to assist actuaries advising entities on the capital implications of the COVID-19 pandemic and is applicable to life insurance, general insurance, banking and health actuaries.
The Board is responsible for ensuring that their regulated institution holds capital commensurate with its risk profile, and that the institution has a Board approved Internal Capital Adequacy Assessment Process. COVID-19 has materially impacted the operating environment of regulated institutions. In these uncertain times, Boards will need to review their business objectives, risk profile, risk appetite and associated capital requirements.
Feedback on this briefing can be directed to the discussion forum here.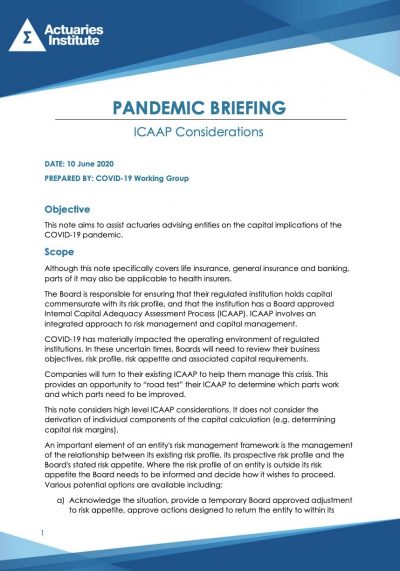 CPD: Actuaries Institute Members can claim two CPD points for every hour of reading articles on Actuaries Digital.