Stories from Seclusion
Stories from Seclusion
Today we are beginning a weekly series that looks at the personal experiences of our Members in dealing with the restrictions associated with COVID-19. We are beginning with two accounts from actuaries who were overseas when the pandemic was declared.
Next week we will share views on working from home. If you would like to contribute, our survey is still open.
Postcard from Nicaragua – Adventures of An Actuarial Couple
Jon and Jay Harwood
Jay and I are writing to you from Nicaragua. We are currently stuck smack bang in the middle of Central America in one of the few countries that hasn't to date put in place any measures to combat the COVID-19 pandemic. This is how we come to be here…..
For a while now, Jay and I have had a 'bucket list goal' of visiting 100 countries. We didn't want to wait until our twilight years to make this dream a reality, so we bit the bullet and decided 2020 was the year that we would travel the world. We had the first month booked and a rough plan after that and we thought that by the end of our trip we would likely have reached a lifetime tally of 50 countries. We started in mid-November 2019 with Hawaii and Canada and have spent 2020 travelling through Mexico and making our way through each central American country, en route to Panama. From Panama, our plan had been to take a cruise (!) to Europe, most likely to Spain (!!). As time progressed both options clearly became untenable.
We had been paying attention to the virus since the end of January. The risk of contagion to Australia was on the forefront of our minds, as opposed to the risk where we currently were. Our first experience with government responses to the looming pandemic was when we crossed the border between Guatemala and El Salvador on the 1st of February. We were greeted by health officials who were taking our temperature. I was surprised and impressed with the proactiveness of the government here and was bemused that a poor central American country was taking the risk of a pandemic more seriously than Australia and most of the western world at that time. (El Salvador still has one of the lowest rates of infection in the world). Throughout February we were keeping tabs on the progress of the virus and becoming increasingly concerned for what it meant for Australia, at the same time counting our blessings that we were as far away from the virus as possible, with no confirmed infections in Central America.
We had entered Nicaragua in early March and had heard shortly after that El Salvador had shut their borders and Guatemala was planning to do so too. On 6 March the first confirmed Central American Covid-19 case was reported in the tourist hotspot of Costa Rica, followed shortly thereafter by the international hub of Panama. Those two countries were to be the next on our list and as borders shut around us we were hemmed in on both sides. We were also keeping a close eye on the progression of the virus in the United States and found it odd that there were so little reported cases when it appeared that many of the Australian cases were Aussies returning from the US. Around the middle of March we received the level 4 travel advice that we should go home. Everything changed so quickly and it suddenly became a very stressful situation.
To get home we had 40 hours of flights and transits ahead of us as well as crossing into a number of countries. We had to go via the US and by that time we had figured that the virus was most likely to be widespread there and that going through two sets of customs in the US was going to unnecessarily expose us. We had heard plenty of flight cancellation horror stories, being refused entry onto flights and rumours about further border closures. So we were facing both a high risk of contracting the virus and a high risk of being stuck in another country. We had travel insurance, however we could not confirm that coming home early would constitute a claim so there was a cost angle to weigh up as well. Back in Nicaragua, hotels and hostels were shutting down. We found that we were the only ones in our hotel after a couple of days and the idea of not having any accommodation was a scary prospect as well. The Nicaraguan health system is not well resourced although many of the doctors are highly regarded. We considered what it would be like to be outsiders in a country going through a pandemic. Our Spanish skills are limited and we definitely don't look like locals, so we considered the possibility of hostility towards us due to being foreigners. As an Australian with Asian ancestry, Jay faced the additional risk of race based attacks at home.
Finally, we considered what we had to come back to in Australia. We had no home to go to as we had it rented out for a year and it appeared from the news that if we left in mid to late March then we would be arriving home, likely with the virus in tow, when the country was hitting its peak cases. At that point Australia was the 17th most affected country in the world.
After weighing up all these considerations we decided that the risks involved were too high relative to just staying put and bunkering down. Our number one priority was to reduce our exposure to the illness and ride out the storm. We decided to rent a home and self isolate here. We had assumed that this would mean that we wouldn't be leaving for at least two months and, as of the time of writing, all borders around us are closed as well as the international airport. So we are here to stay, for now.
We have largely adopted the same practices as back home. We only leave the home twice a month for a grocery run, with a self made mask a requisite. We have thrown ourselves into 'self improvement' with a daily routine of yoga, Spanish lessons and, more recently, online learning. Our Spanish vocabulary is now around 1500 words, with the next goal to get to 2000! What I've found somewhat ironic over this time is we are more connected to people. I'm calling friends and family so much more than I ever did when back at home. I've reconnected with friends and ex work colleagues who had moved overseas and we are playing online games nearly daily with different friends around the world.
We are currently safe and sound here. We haven't gone crazy yet or contracted cabin fever, so are continuing to count our blessings. If anyone is interested in what we have been up to over the last couple of months and how our story continues, you can find us on Instagram as bucket_list_travellers!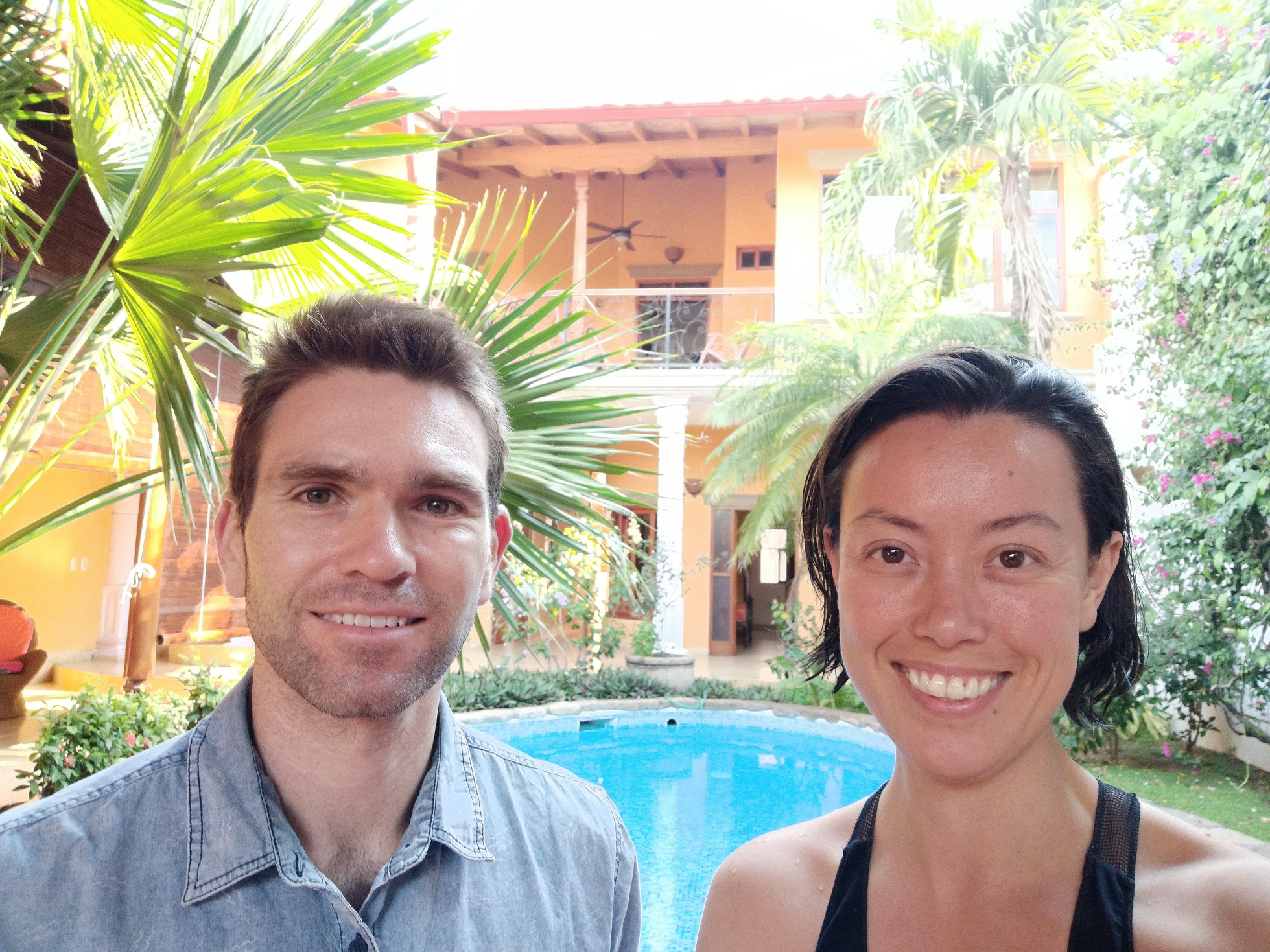 The Lonely Way Home
Karen McIntosh
My husband, Col, and I have spent northern winter in our apartment in Silver Star, a tiny ski resort in British Colombia, Canada, for the last 10 years. In addition to the delights of the ski resort, I am a ski instructor and Col volunteers with the Ski Patrol. We were originally flying back to Australia in mid-April, but moved this forward a few weeks. We then decided to go back earlier.
Qantas wanted A$11,500 for us to change the date of travel from Los Angeles to Brisbane online. They said the same thing on multiple phone calls, on different days, after waiting on hold for hours. Col and I are top-level frequent flyers, but it made no difference because of the rules of our fare. A friend, Lisa, was visiting from Melbourne. She isn't a top-level frequent flyer, but was able to change the date of her Qantas flight from Los Angeles to Melbourne for about A$1,000- and upgraded her class of travel using frequent flyer points.
On Saturday March 14, Silver Star closed. The snow this season was awesome, so closing early was a pain! There was discussion that the Canadian-US border would be closed. We decided on the night of March 18 to cross the border the next day. An amazing friend, Dan, came with us to drive our car back across the Canadian border. On March 17 we left the apartment, dropped our friend Lisa at Kelowna airport, and drove across the border to Spokane Washington, about 5 hours from Silver Star.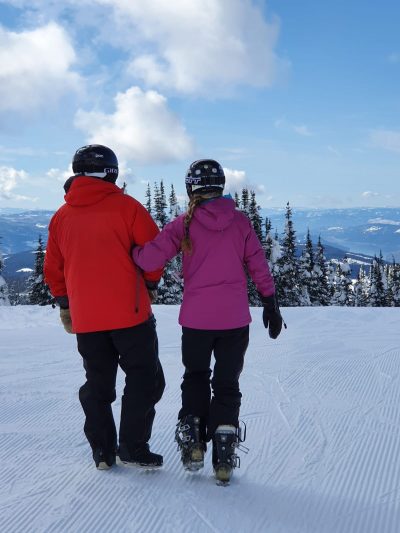 The land border crossing was fine and we all stayed overnight in Spokane. Dan left the next morning to drive back to Silver Star and two week's quarantine at home – very unusual at that time. The border was closed that very day, so we had just made it!
We hired a car. Washington had had a lot of deaths by then, so all restaurants were closed. We had a brainwave and crossed the state line into Idaho, where cafes were still open for another day or two. We did a big shop at the local supermarket, then hung out in a cabin on a lake for a few days. It was cold – ice on the lake's dock – but we had a great wood fire going so stayed toasty and warm.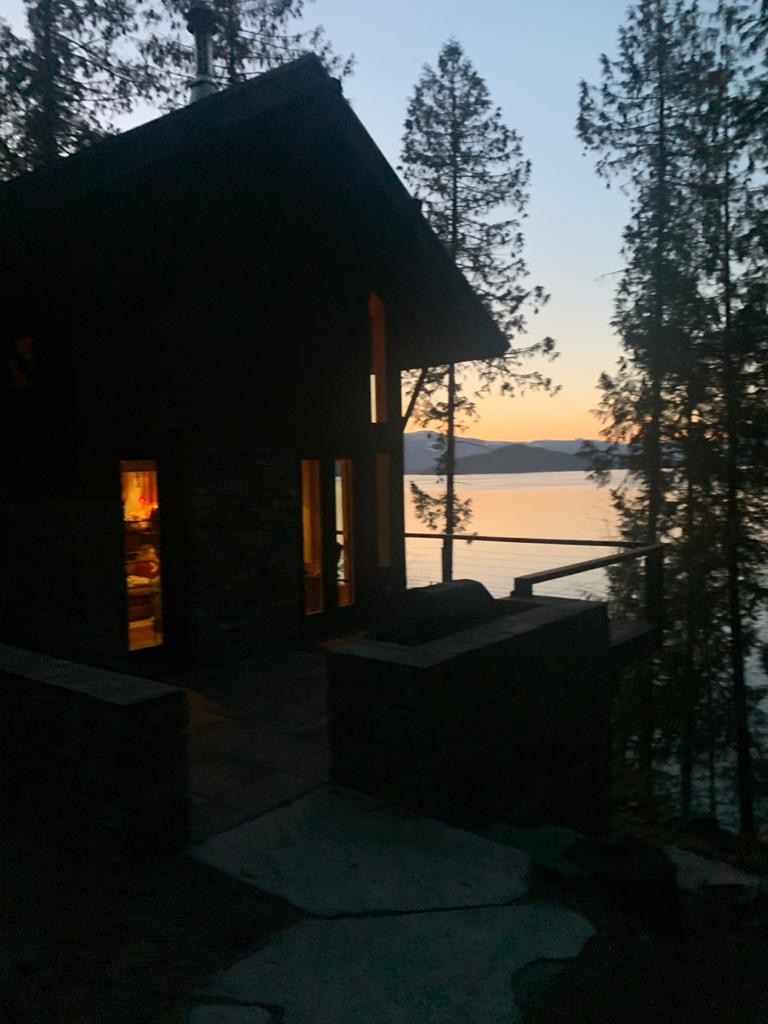 On March 23 we left the lake cabin and drove back into Spokane. We were on an Alaskan Airlines flight from Spokane to Los Angeles. We had booked to travel a day early in case the flight was cancelled to allow enough time to drive to LA, if necessary, to make our Qantas flight back to Australia.
Spokane airport was deserted. There were four staff to check us in. One woman still told us that two bags were 1kg overweight and wanted to charge us US$100. "There are still rules you know!" We shuffled stuff around and didn't have to pay.
Normally the Transportation Security Administration (TSA) security line is quite painful but we were literally the only people in the TSA queue. There were three other people on the normal-sized jet. LA was beautiful, smog-free, and there were only a few cars on the freeways which are normally like car-parks.
Tom Bradley Airport in LA is normally a zoo but it was deserted. We went to the Qantas check-in counter and asked if we could travel a day earlier. They were fabulous: Of course we could and of course there was no extra charge. The flight was only 25% full. The flight crew were wonderful and had their own tears at the landing announcement. Many have flown with Qantas for 20 years and they had no idea when they would be working again.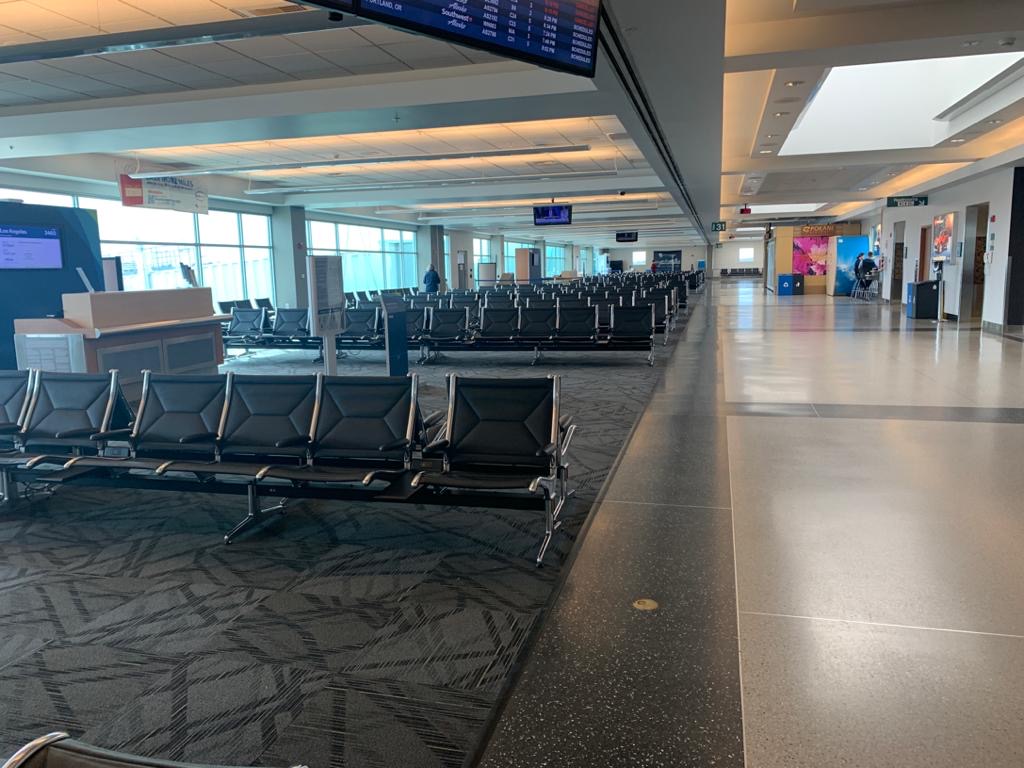 Col and I landed and went straight into two weeks self-quarantine in a rented house because we are renovating our house north of Brisbane. But we could stay in a house and not in a hotel room, woohoo! We have moved into another house until our renovations are finished. All good!!
What sticks in our minds is how incredibly wonderful so many people have been on our journey home. I hope we can all be kind and not hide behind rules.
CPD: Actuaries Institute Members can claim two CPD points for every hour of reading articles on Actuaries Digital.