AACI
Spring 2019 updates show extreme weather conditions
The Australian Actuaries Climate Index has been updated for spring 2019, with the results showing extreme weather conditions that laid the foundations for the devastating bushfires seen across Australia in recent months.
The index measures extreme weather conditions and sea levels across Australia and how these vary over time. It was launched in November 2018 and is updated quarterly. 
The latest release of the index shows that every region in Australia experienced above reference period average extreme high temperatures. Parts of Western and Southern Australia broke records for extreme high temperature. Above reference period average consecutive dry days were observed in every region except Tasmania, and every region recorded below reference period average extreme rainfall.  In addition, Australia as a whole observed the fourth highest extreme wind levels on record. Australia has not experienced below average extreme high temperatures relative to the base period of 1981 to 2010 since 2012.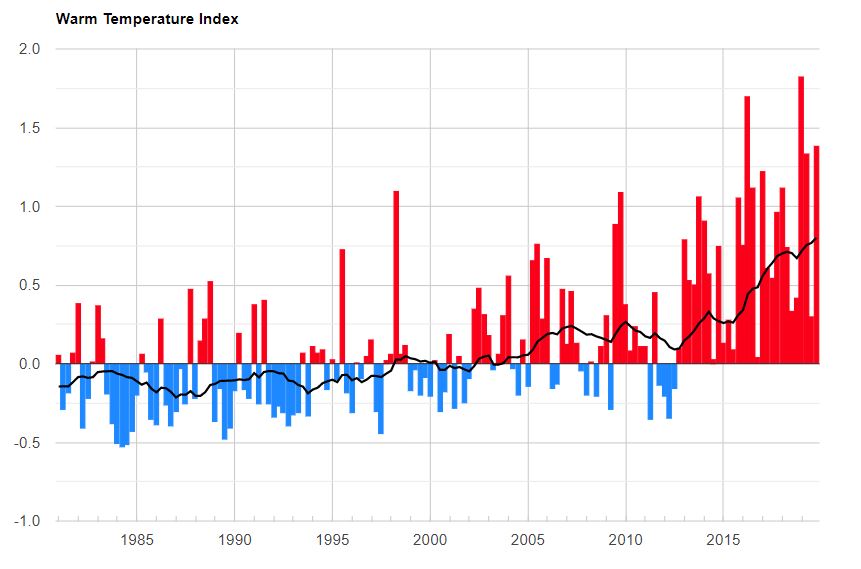 Fire risk is influenced by a number of weather conditions, including high temperature and dryness, which increase the risk of both the initial outbreak of fire and its subsequent intensity and high winds result in bushfires spreading rapidly. All three of these factors were observed in the Spring of 2019.
Importantly, these weather conditions are influenced by natural cycles, as well as being exacerbated by climate change. The spring of 2019 saw a neutral ENSO, an exceptionally strong positive Indian Ocean Dipole (IOD) and sudden stratospheric warming over Antarctica. The warming over Antarctica contributed to a negative Southern Annual Mode (SAM). This combination can lead to warmer than average spring temperatures and below average rainfall, as was observed in the period spanning September to November of 2019.
The interaction of natural climate cycles and climate change is complex, though there is evidence that climate change is affecting the natural cycles. For example, positive IOD events have been becoming more common and stronger, according to experts at ANU1.
Actuaries Institute chief executive Elayne Grace said that the index provides evidence of what is occurring in Australia's environment. "We have all seen the devastation of the summer: terrible bushfires, followed by regional hailstorms" Ms Grace said. "The Index records the factors that we know can lead to incredible damage among communities". 
As at the 23rd of January 2020, the bushfires have resulted in reported losses of $1.65 billion, with more losses expected to be reported as victims are able to return to affected areas. NSW has been hit the hardest, with 81% of claims being reported in this state.
The index results for the Central Slopes region shows the extreme conditions leading up to these losses. This region, which includes parts of NSW and QLD, observed the 3rd highest value of consecutive dry days on record. It has also not observed a below reference period average value for high temperature since 2016.
While the fires that have ravaged Australia in the summer of 2019/20 are abating, the trend in extreme values documented by the climate index indicates that events of this nature are likely to be more common in future. This is especially true when extreme weather caused by climate change coincides with natural weather patterns that have always existed.  The Indian Ocean Dipole has dissipated and thus we should see a return to more normal conditions shortly. However, global warming is affecting Australia, so these natural cycles are superimposed on a long-term trend.
https://edition.cnn.com/2020/02/12/australia/australia-extreme-climate-bushfire-intl-hnk/index.html 
CPD: Actuaries Institute Members can claim two CPD points for every hour of reading articles on Actuaries Digital.