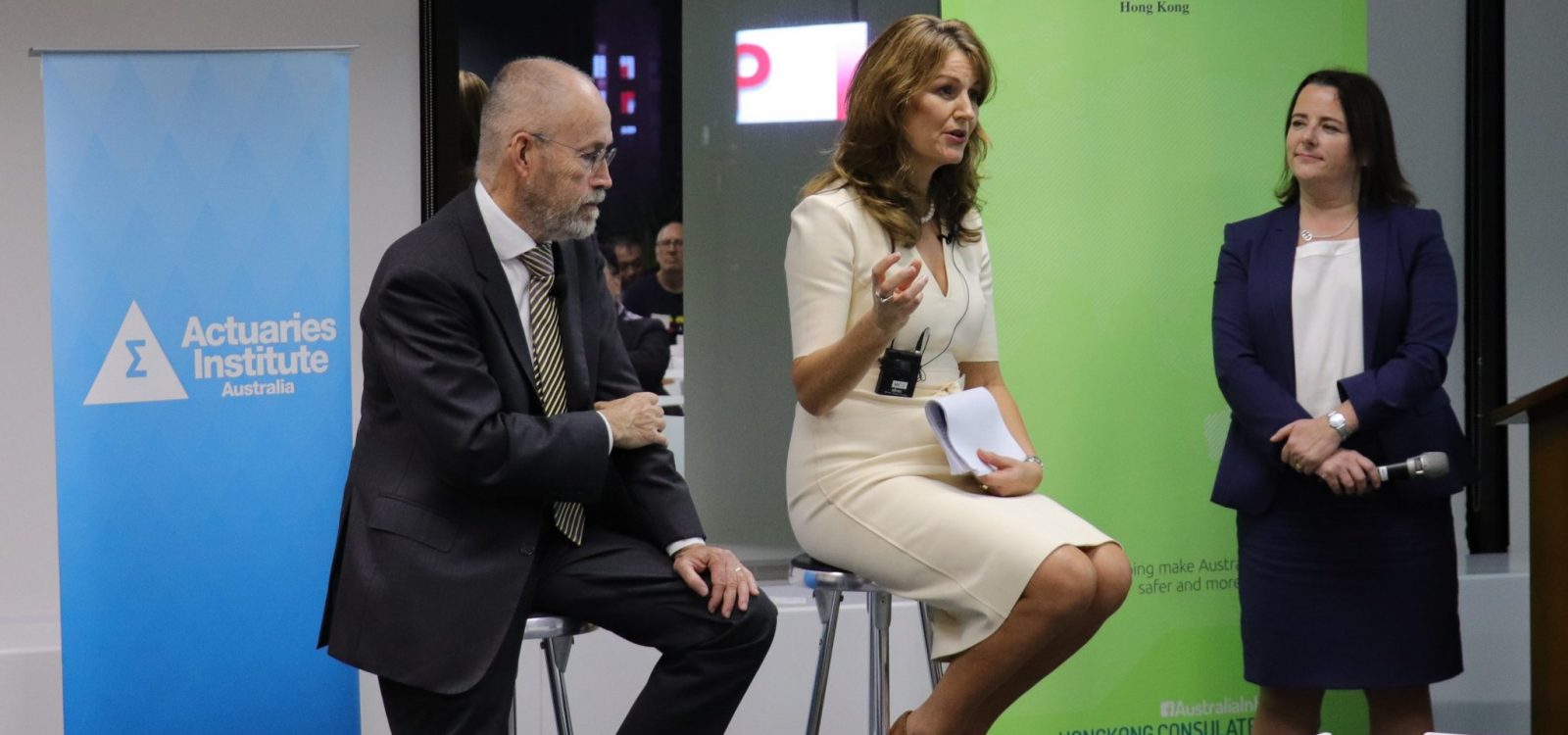 Inside Asia
Leading the conversation in Hong Kong – Asia Tour 2019
A Leadership Forum at the Australian Consulate General in Hong Kong saw the Actuaries Institute share its thought leadership on professionalism in a post Royal Commission environment, and compare with the local experience in Asia.
This year we were delighted to have Ian Laughlin, Actuary of the Year 2018, Steve Hui, Institute Council Member and Andy Yang, Chairman of the Asia Sub-Committee join us in Hong Kong, following the China meetings on the Asia Tour 2019. Read about the China leg of the Tour here.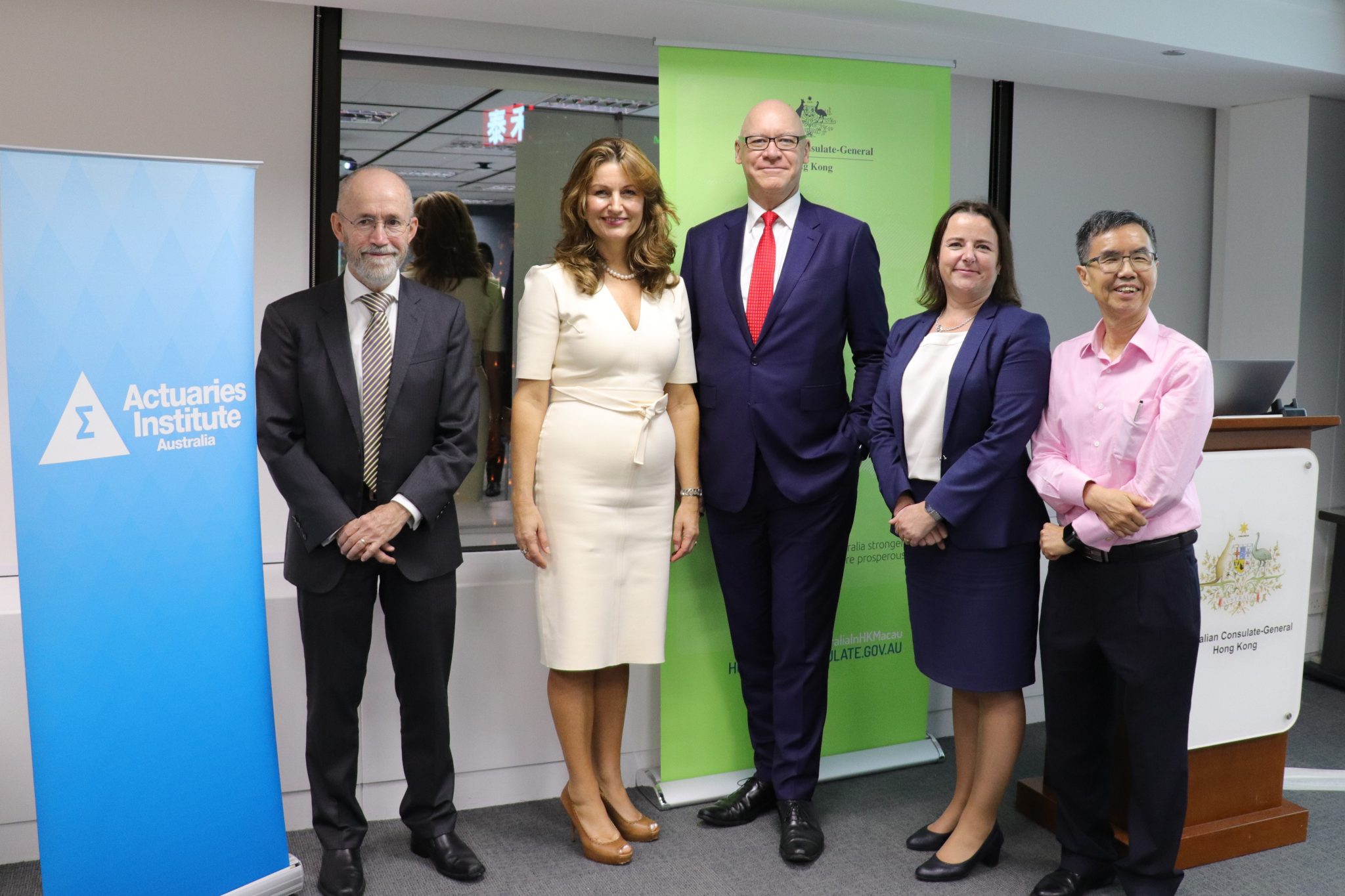 President of the Actuaries Institute, Nicolette Rubinsztein, joined Ian Laughlin in presenting a special 'Leadership Forum' on the topic of "Lessons Learnt from Royal Commission and Social Risks" at the Australian Consulate General Hong Kong office on 26 June.
Nicolette shared the key findings and lessons learnt from the Royal Commission into Misconduct in the Banking, Superannuation and Financial Services Industry, including the changes that have occurred in the business environment in parallel, and the implications for the actuarial profession.
"Although we talked about learnings from our Royal Commission, my lasting impression was that the markets are so different in terms of distribution channels and products compared to Australia," said Nicolette.
"It was great to meet our Asian based members. My overall impression was of a vibrant and energised membership base there."
CEO of the Institute, Elayne Grace, attended the Forum and commented on the audience's engagement.
"It was great to see their interest in Nicolette's personal observations on the learnings from the Royal Commission."
"There seemed to be real acknowledgment of the need to put the customer more at the forefront," said Elayne.
"I saw a number of attendees take photos of Ian Laughlin's slides which again reinforced the need to really keep up to date with current social expectations and modern social networks."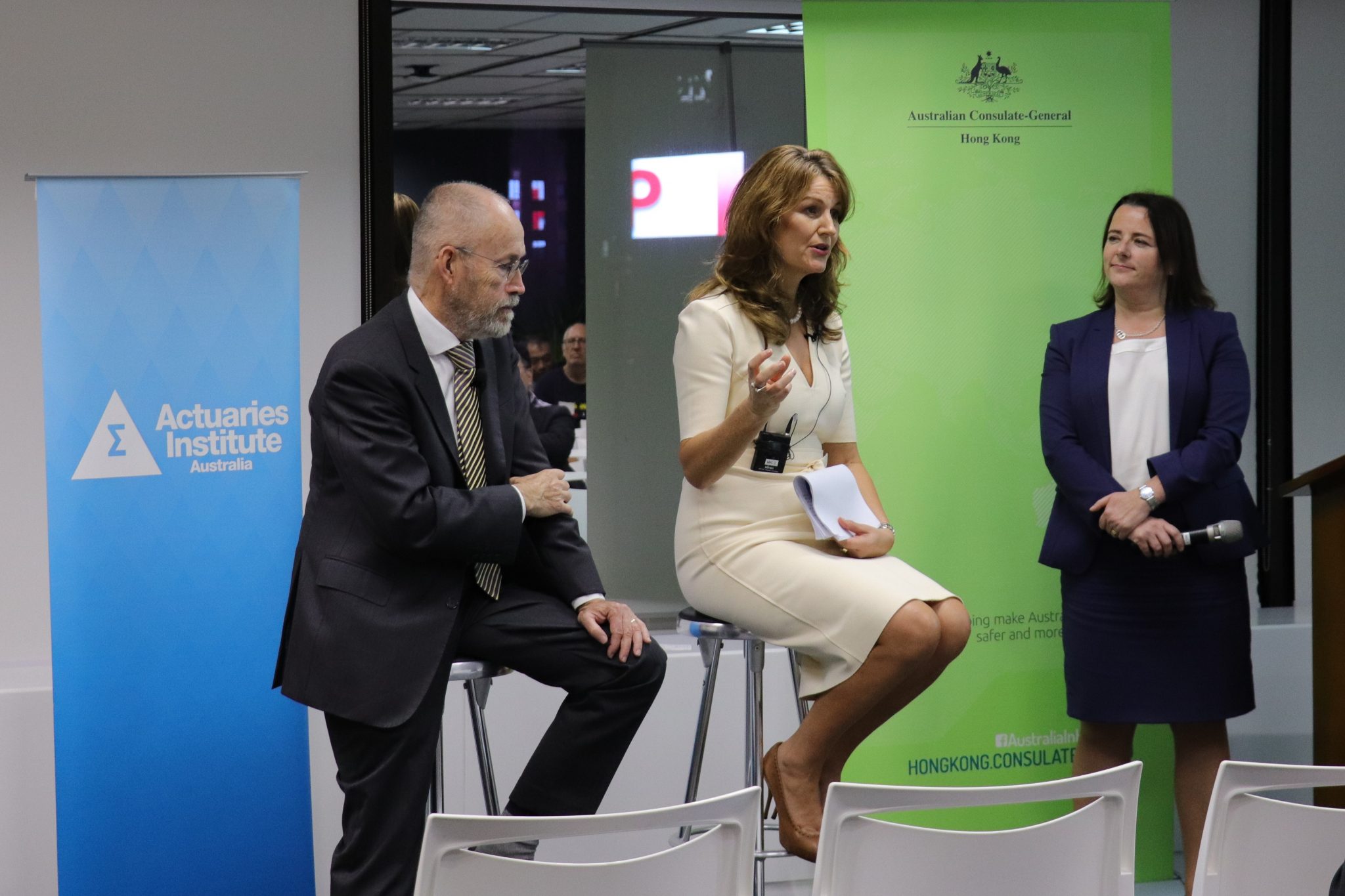 Michaela Browning, Australia's Consulate-General to Hong Kong and Macau delivered the welcome speech at the Forum. She highlighted the value of the work done by actuaries and the Institute's effort in supporting the supply of actuaries. The shortfall in actuaries in China was a key point raised in this year's Asia Tour.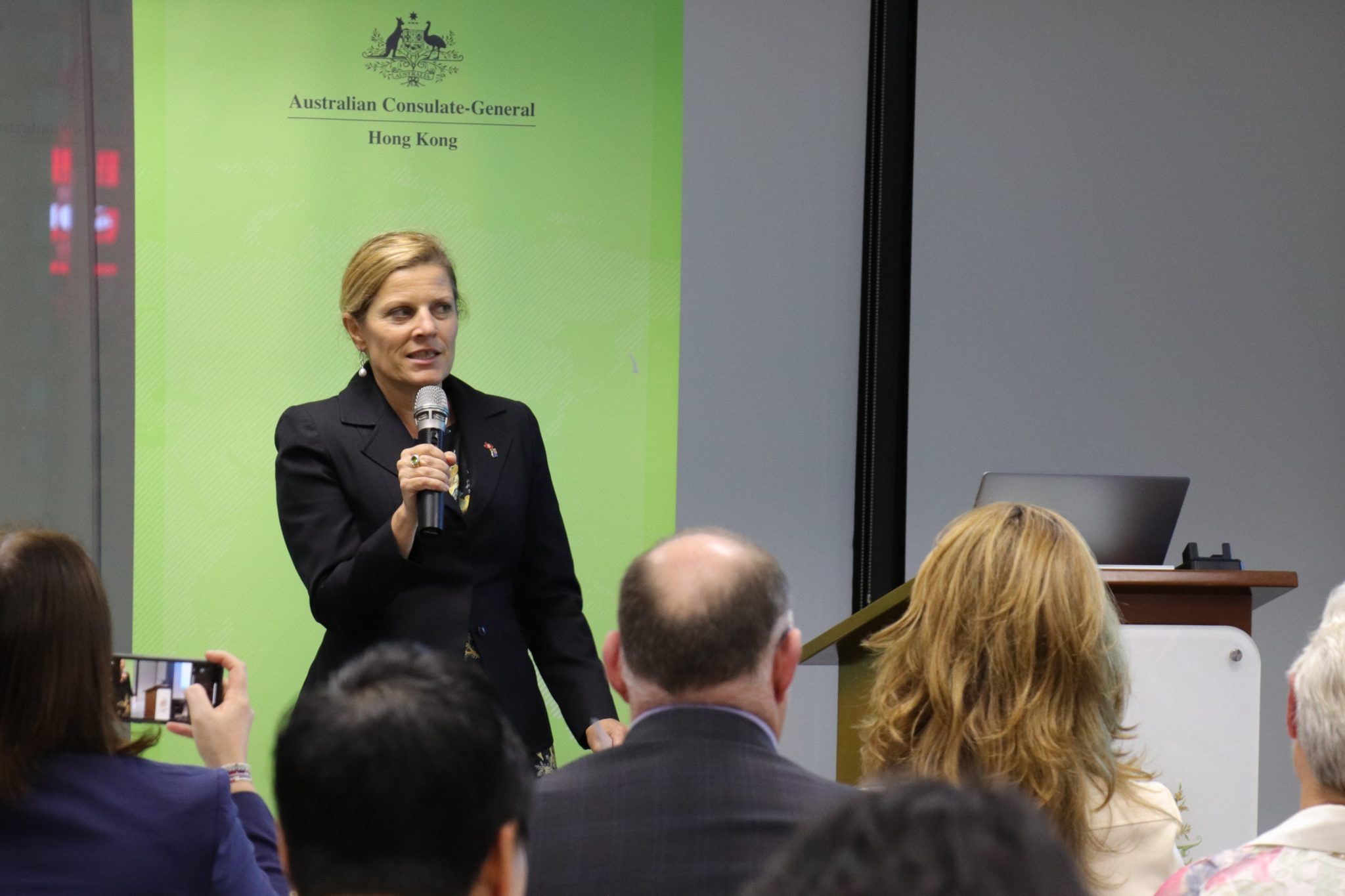 Ian Laughlin shared insights based on his renowned Dialogues papers: Social Risks – For a Financial Services Business and The Social Condition Report – A Suggestion for Financial Services Business.
"Social Risks are risks that a business is exposed to as a result of decisions and behavior that are inconsistent with prevailing social attitudes and norms and how they are changing, and which could result in damage to the business's key relationships." – Ian Laughlin in Social Risks – For a Financial Services Business.
Ian stressed that a social condition report is worthy of as much rigour and investment as a financial condition report is, in terms of measurement and management.
Reflecting on this presentation in Hong Kong, Ian said local perspectives on social risks and social condition were not particularly evident, with one exception:
"The widespread protests underway before and during our time in Hong Kong were a good example of an entity (the government in this case) not having a good understanding of prevailing social attitudes and expectations," said Ian.
"Hong Kong seems to have suffered greatly as a result."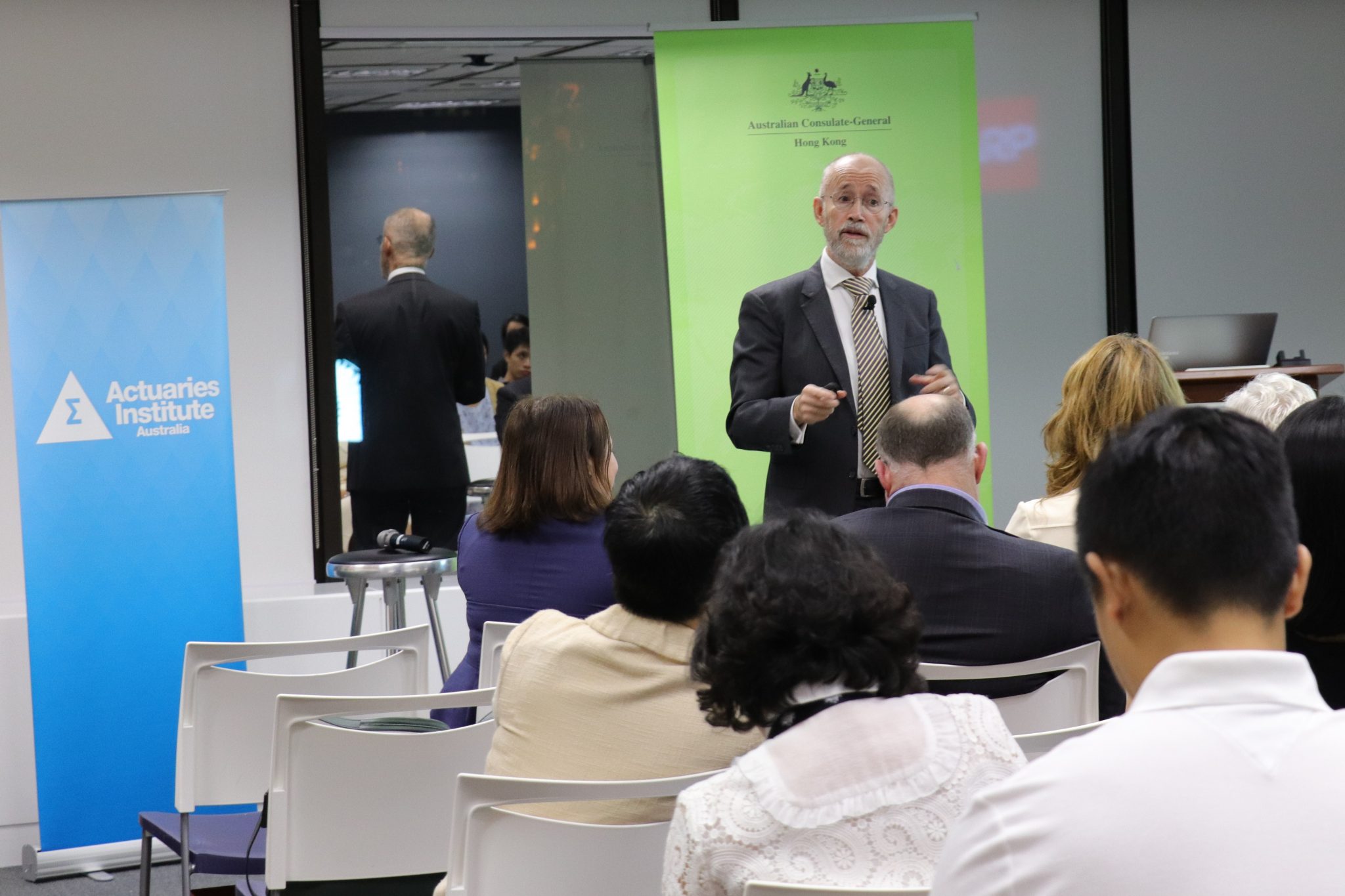 This Leadership Forum was a perfect platform for the Institute to reach out to its Australian members based in Hong Kong, as well as the Australian expats local in Hong Kong, and showcase the Institute's thought leadership.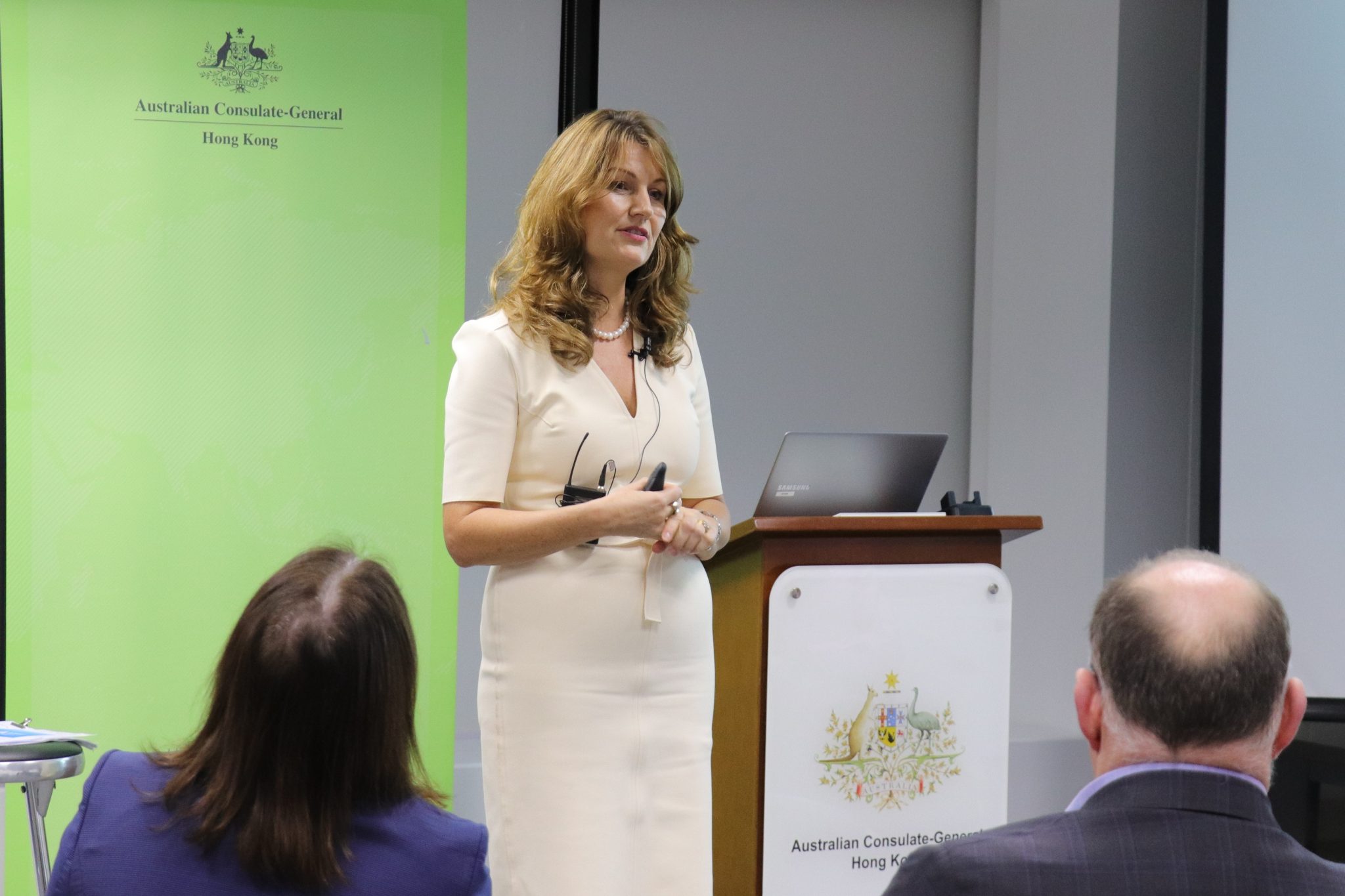 The Institute thanks the Consulate-General office for its support in co-hosting the Leadership Forum.
The Actuaries Institute is one of 16 members in the 'Support Australia' umbrella group representing key Hong Kong-based Australian organisations. Support Australia helps promote a positive and cohesive image of Australia in Hong Kong.
CPD: Actuaries Institute Members can claim two CPD points for every hour of reading articles on Actuaries Digital.