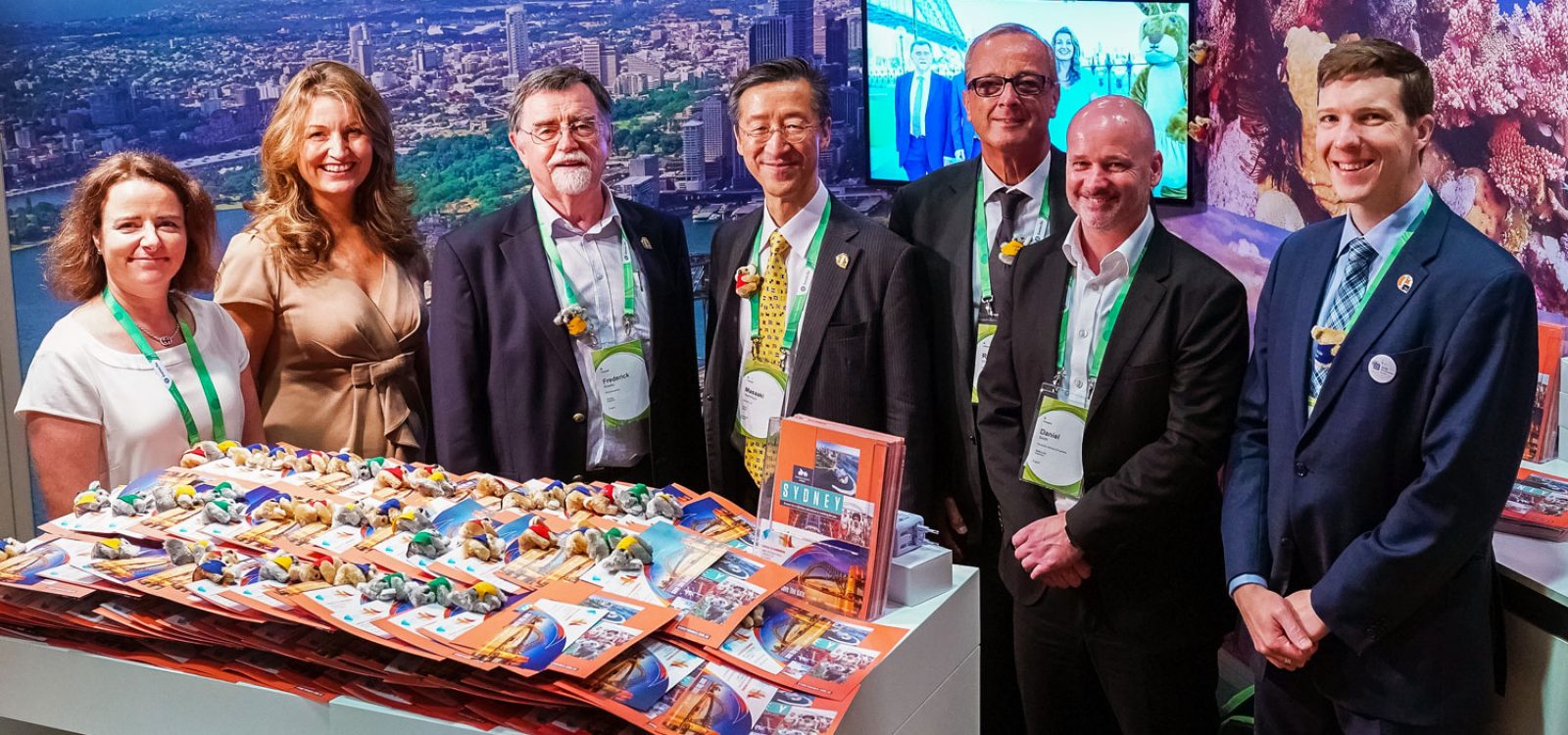 Event Reports
A truly international event – report from this year's International Congress of Actuaries in Berlin
Daniel Smith reports on the highlights of the ICA2018 in Berlin including singing a new version of Waltzing Matilda with 2,500+ international delegates, handing out countless clip-on koalas, and being hosted by the Australian Ambassador to Germany.
Members should now be aware that Australia is playing host to the International Congress of Actuaries in 2022. 
The Congress is held every four years and the 2018 version was recently held in Berlin, Germany. 
I attended the five-day conference along with Actuaries Institute Senior Vice President Nicolette Rubinsztein, CEO Elayne Grace, and about 30 members from Australia including David Whittle (Treasurer of the ICA2022) and David Knox (Scientific Chair of the ICA2022).
Some of the highlights out of Berlin were:
The number of attendees – there were around 2,500 attendees and whilst there were a large number of German-based delegates there was a strong representation from a broad range of countries making it a truly international event.
The ICA2022 booth – we were told that people go crazy for clip-on koalas and seeing someone dressed in a kangaroo suit.  I was initially sceptical… but they were right!  I don't know how many clip-on koalas we gave away or how many photos were taken with 'Rooby' the kangaroo but the action at the Australia booth was non-stop. Hopefully we see the same sort of enthusiasm from delegates attending the Congress in Sydney in 2022!
The Australian contingent – Colin Grenfell organised a dinner for Australian delegates on the Monday night.  About 20 attended the dinner and it was great to get the views of our members on the Congress set-up and what we should replicate or consider doing differently in Sydney.
Congress Ambassador program launch – Hosted by the Australian Ambassador to Germany, we were privileged to have the opportunity to attend a cocktail function in the Australian Consulate hosted by Her Excellency Lynette Wood the Australian Ambassador to Germany. With about 50 attendees, we took the opportunity to launch our Congress Ambassador program which seeks to encourage actuaries from around the world to promote ICA2022. There will be plenty more written on the ambassador program in the coming months – look out for updates from your ICA2022 Committee!
The Congress sessions – the Congress had no shortage of fantastic content for attendees to digest. The plenary sessions contained a range of speakers from various backgrounds.  An interesting session had the Alexander Sixt, CAO of rental car company Sixt and Frank Sommerfeld, Member of the Board of Management at Allianz, providing their perspective on autonomous vehicles and their potential impact on society.  It was clear that current regulations in Germany would impact the ability of autonomous vehicles to optimise the productivity of the vehicle fleet and that it is therefore likely that the use of autonomous vehicles will be "driven" by regulation.
There were 15 presenters, speaking in 10 sessions from Australia in the ICA2018 program. Highlights included:
Mengyi Xu (UNSW)'s paper on 'Demand for Annuities and Long Term Care Insurance with Recursive Utility: Impact for Housing' which won IAA section best paper – health
Jennifer Alonso-Garcia (UNSW)'s paper on 'Saving Preferences in Retirement: the Impact on Mandatory Annuitization, Flexibility and Health Status' which won ICA2018 best paper award – aspects of long term savings: uncertainty in low real returns, longevity and inflation
Passing the baton on – the handover ceremony – As part of the closing ceremony, the baton was handed to Sydney. We had the opportunity to show our introductory video (watch below), which was well received. At the request of the ICA2018 organisers we also sang Waltzing Matilda with some alternative lyrics. The audience liked it, and many stood up and joined in the singing.  I'm not sure it will get a run in Sydney though!
The lyrics were:
Once a short, bald actuary bid for the ICA
Under the name of Australian Actuaries
And he sang out the dates April 4 to 8 22
You'll come to Sydney Australia with me
Sydney Australia, Sydney Australia
You'll come to Sydney Australia with me
And he sang out the dates 4 to 8 April 22
You'll come to Sydney Australia with me
Down came Yoshimura san with Sydney as number one
Up jumped the Aussies grabbing Ruby with glee
And they sang as they put the dates into their calendars
You'll come to Sydney Australia with me
I look forward to us being able to build on the successful and effective event components of ICA2018 and having a diverse but relevant program for both practitioners and academics.
Diversity and Inclusion at ICA
ICA2018 successfully implemented for the first time a Diversity and Inclusion (D&I) workshop.
It was a follow on from similar workshops at the previous two ICA's, driven by the seemingly indefatigable Cathy Lin, former Chair of IACA. 
The D&I workshop was held on the day before the full conference began and attracted about 70 delegates from all over the world.  One of the key aspects Cathy, and Lesley Traverso the Institute's D&I Working Group Convenor, aimed to promote in the workshop was communication and sharing of the different diversity issues that affect people's working lives from around the globe. 
They set out to firstly give an overview of the diversity landscape particularly as it affects professionals. Each table at the workshop then discussed several questions between them and shared their insights, revelations and conclusions on what their group discovered about each other at the end.
"The dialogue covered a wide range of issues from working mothers, to creating diverse teams, to interview techniques that eliminate bias, to the challenges of "creative" governments!" said Lesley Traverso.
"It was clear that there wasn't much difference in terms of the issues, between countries. Only the flavour and context were different. As a result, several countries asked for us to support them in carrying out workshops locally to help them work on activities that make a difference," said Lesley.
"We are looking forward to progressing this in 2022, and in the meantime, we are constructing a website and blog to enable people to post questions and keep us up to date with activities that they are doing."
Overall, ICA2018 was a well organised and enjoyable Congress. Those of us attending with our sights set on ICA2022 certainly learnt a lot about the organisation of a Congress and hopefully we can use this to ensure that ICA2022 is a very successful Congress.
The Virtual Congress of Actuaries – VICA

Much of the Congress content is still available as recorded sessions for our members to view on the VICA platform until December this year. You can access this platform via a code provided by our Events Team. Get in touch with them to find out more.
Plenary Session:
"Future of Low Interest Rate Environment" 
Peter Praet (European Central Bank)
Length 0:35
ICA 2018 Best Paper Award – Long-Term Risk: Modelling, Measuring, Managing and Economic Valuation – Assessing the Economic Impact of Longevity Hedges
Andrew Cairns (Heriot-Watt University, Edinburgh)
Length 0:26
IAA Section Best Paper Award – AFIR-ERM
An Analysis of the Solvency II Structure Regulatory Framework's Smith-Wilson Model for the Term Structure of Risk-Free Interest Rates
Peter Løchte Jørgensen (Aarhus University)
Length 0:21
Bob Alting von Geusau Prize – Consistent Yield Curve Prediction
Mario V. Wüthrich (ETH Zurich)
Length 0:46
CRO Round Table
Sue Kean (Old Mutual Group), Tom Wilson (Allianz Group), Frieder Knüpling (SCOR), Frank Schepers (WTW)
Length 1:03
Cyber Risk: Actuarial Economic Theory of Cyber Risk
Shaun Wang (Nanyang Technological University)
Length 0:42
IAA Risk Book
Eberhard Müller (riskmueller consulting GmbH), Dave Sandberg (Allianz), Sam Gutterman (self-employed), Stuart Wason (former OSFI)
Length 1:04
Part of the problem or part of the solution – are actuaries carbon neutral?
Esko Kivisaari (Finance Finland)
Length 0:32
Economic IRR and its application
Naoki Sunamoto (Fukoku Mutual Life Insurance)
Length 0:22
A method to determine model points with cluster analysis
Yosuke Goto (Meiji Yasuda Life Insurance Company)
Length 0:17
CPD: Actuaries Institute Members can claim two CPD points for every hour of reading articles on Actuaries Digital.