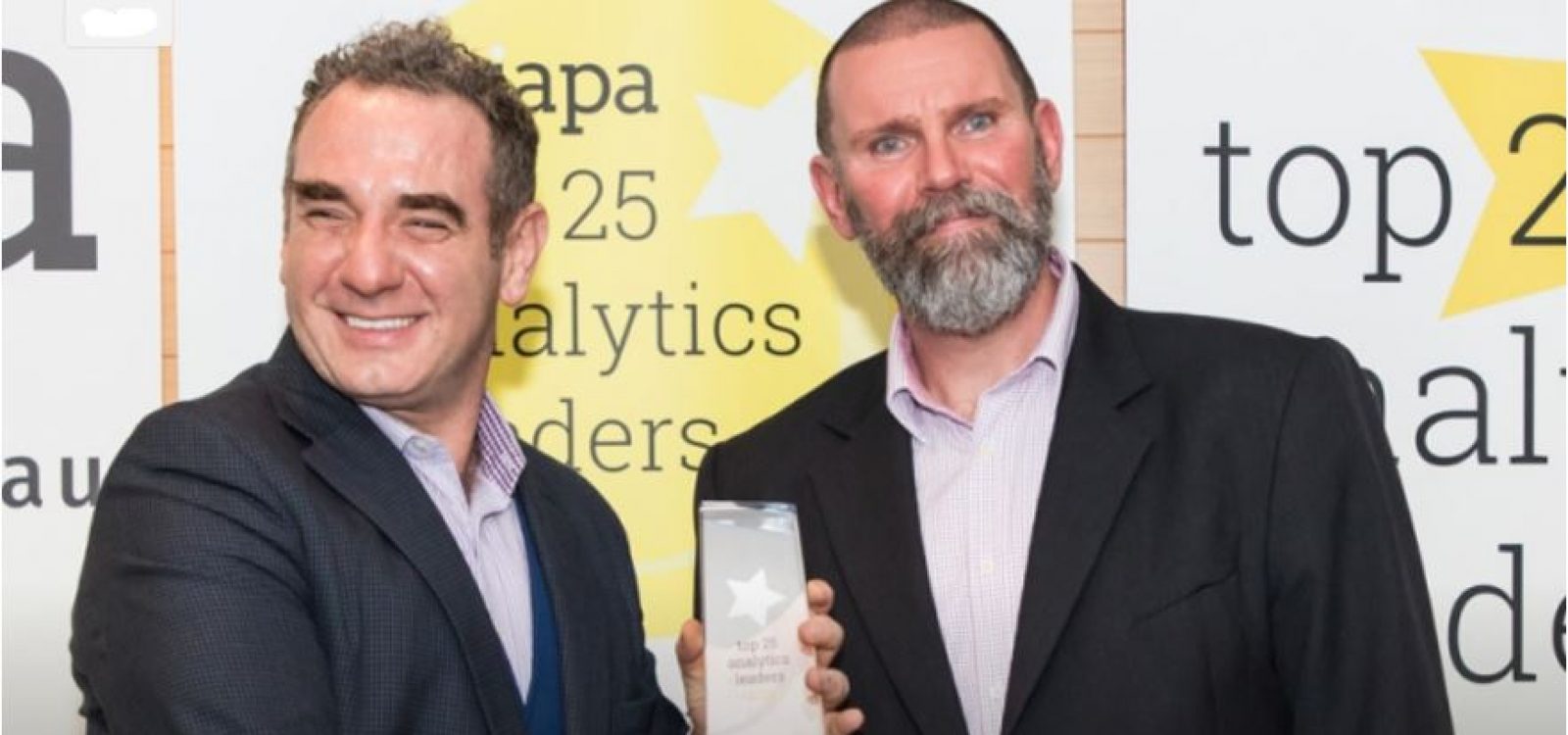 Report
Actuarial skillset takes top spots in IAPA Top 25 Analytics Leaders list
Two Fellows of the Actuaries Institute and a Chief Data Scientist trained in actuarial science have featured in the Institute of Analytics Professionals of Australia's (IAPA) inaugural Top 25 Analytics Leaders program.
Actuaries Mitchell Prevett (Head of Analytics at Quantium) and Victor Bajanov (Executive – Product Analytics at Quantium), both Fellows of the Actuaries Institute, featured in the inaugural IAPA list.
Mitch took out the number five spot in the list of "top 10 analytics leaders" which the judging panel also ranked from the list of 25.
Matt Kuperholz, Chief Data Scientist at PwC, took out the number one spot. Matt studied actuarial and computer science and has presented at Actuaries Institute events on the role of analytics in solving business challenges. 
CEO of the Actuaries Institute, Elayne Grace, commented:
"Congratulations Matt, Mitch and Victor. It is fantastic to see actuaries recognised for the leading edge analytical skill-set and commercial acumen that they provide to businesses. Actuarial training provides a deep foundation for people working in Data Analytics which, as this prestigious List shows, is a valuable asset in this exciting field."
Judged by a panel of leading analytics and business leaders, the IAPA Top 25 Analytics Leaders recognises excellence in four key areas:
strategy and impact;
influence and advocacy;
innovation and improvement; and
team growth and leadership.
The Awards were presented at a Cocktail event on 19 June. View the full Top 25 list here.
"Analytics and data science has become crucial to the success of any organisation today – it is a fantastic initiative by the IAPA to recognise and highlight the role it has come to play," said Victor.
"The top 25 leaders list is impressive not only because of the individuals there (very honoured to be among such strong company!), but also because of the diversity of professional backgrounds and industries. This highlights just how much analytics is now part of how business is done, no longer its own niche." – Victor Bajanov.
Victor has worked on the delivery of a personalisation engine for retail giant Woolworths and overseen the development of 'Pricing Central', a price recommendation and approval management engine with 1000-plus users in 10 countries. You can read more about his story here.
"The inaugural cohort of top 25 leaders in analytics spans all industries from financial services, utilities and telco to eCommerce, education, software, IT and government. Consulting organisations are also strongly represented," said Annette Slunjski, IAPA General Manager.
"Analytics is no longer a large organisation's secret weapon. All businesses stand to benefit from analytics-led insights" – 

Annette Slunjski
Actuaries in Analytics
The Actuaries Institute is committed to promoting emerging areas of data analytics, especially through its Data Analytics Working Group (DAWG). 
Until December last year, Mitch Prevett was Chair of the DAWG. He outlined his vision for actuaries in data analytics in
this article 
where he said:
"The core actuarial skill set is highly relevant in this new world. The capacity to aggregate and analyse different volumes of information effectively is fast becoming the basis of competition for business." – Mitch Prevett
Following the Institute's General Insurance Seminar (GIS) in 2015 where Matt gave this
presentation
, he shared his thoughts on "big data", a term he claims to both "love and hate".
Find out more on the Actuaries in Data Analytics microsite.
COMING SOON: The Actuaries Institute is inviting actuaries and data analysts to make a short video on what excites them about Data Analytics. There are $1000's in prize money up for grabs and the chance to showcase your work in Actuaries Digital, the CareerView Podcast and at the hugely popular 2018 Data Seminar, later this year! The competition opens Monday 16 July 2018. Find out more:

CPD: Actuaries Institute Members can claim two CPD points for every hour of reading articles on Actuaries Digital.