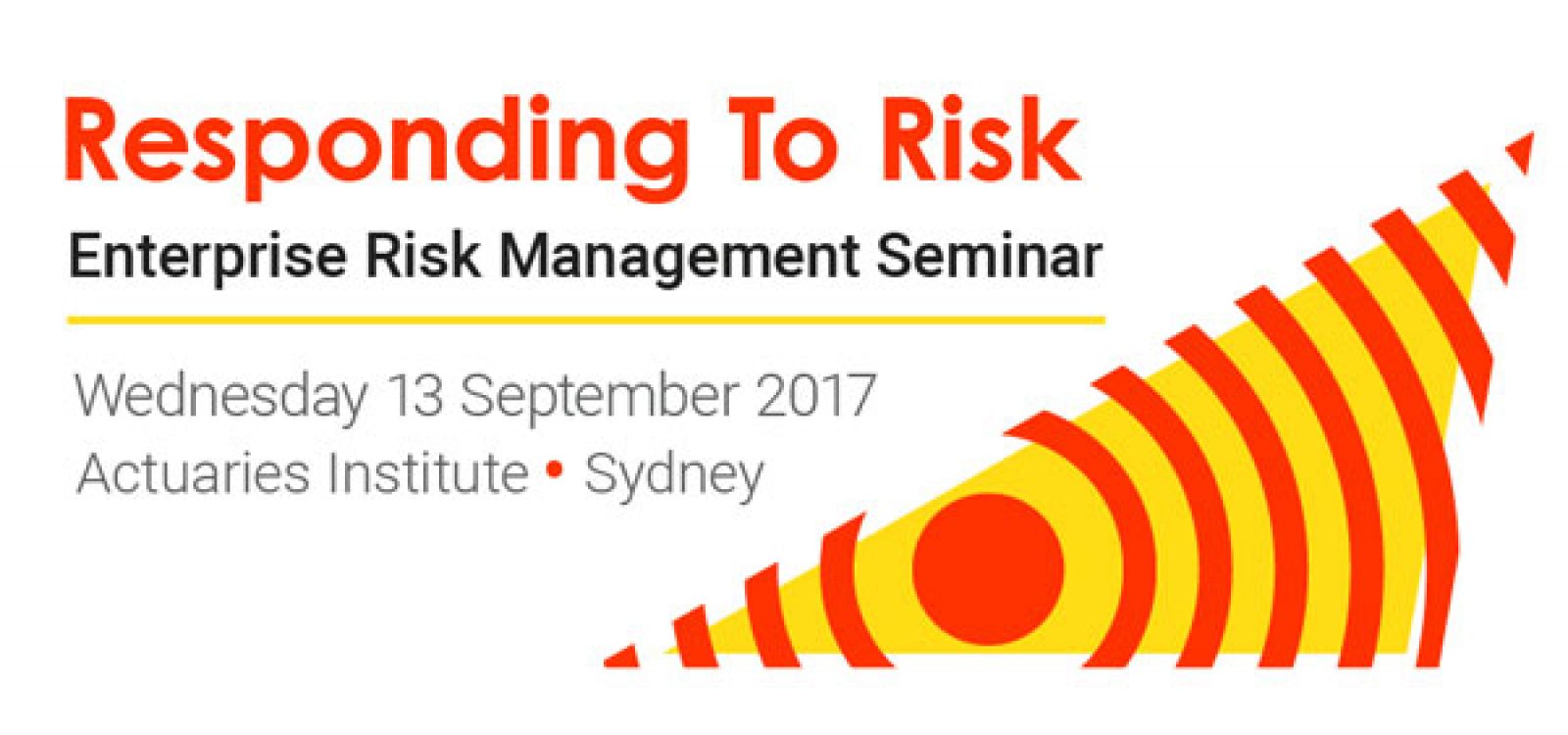 Event Reports
What can you expect at the 2017 ERM Seminar?
Following the strong feedback received for last year's event, the Actuaries Institute's ERM Seminar is back in 2017. Brett Riley looks at the topic, speaker and opportunity line up.
Around 80 to 100 people are expected to attend this year's ERM Seminar in Sydney on Wednesday 13 September 2017 .  This year's theme is 'Responding to Risk'.  All organisations face a multitude of risks.  The successful ones have clear and well developed strategies, plans and processes to deal with their risks, whether they have materialised or not.
The organisers are expecting Chief Risk Officers, risk managers, risk analysts, non-executive directors, actuaries working in a range of roles and others interested in risk management to attend.  Based on last year's seminar, we are expecting significant attendance from non-members, drawn to the practical and topical nature of the seminar and the opportunity to hear from thought leaders and key regulators.
The keynote address will be given by Dr John Hewson.  He is one of Australia's most experienced economists, financial commentators and company directors.  Dr Hewson served in Federal parliament, most notably as leader of the Federal opposition for four years.  He is currently Professor at the Crawford School at ANU and Adjunct/Professorial Fellow at four other universities, Chairman of ABN Amro Australia and Chair of the Asset Owners Disclosure Project on climate risk.  Dr Hewson also comments frequently in the media.
Dr Hewson will offer his perspectives on some key economic, financial and political risks facing Australia and the world.
The first plenary on Conduct Risk features two speakers.  Darren Williams, Head of Risk, Wealth Advice and Distribution for ANZ will give his view on industry-wide conduct issues in financial services.  Then Tal Morgenstern from Oliver Wyman, will provide a view of matters in Australia and overseas.
Plenary Session Two will be the regulators' turn.  Firstly, Fahmi Hosain, Head of Governance, Culture & Remuneration at APRA will provide APRA's perspective on risk culture and related issues, including an update on APRA's pilot reviews of risk culture within industry.
After a networking lunch opportunity, the third plenary's theme is "Responding to Paradigm Changes".  Warren Dresner of Willis Towers Watson and Stephen Britt of IAG will discuss how changes in the business environment can impact companies' risk profiles.  On the one hand, this change presents challenges for updating and maintaining a range of risk models.  But these shifts can also disrupt markets – for example, since the global financial crisis the move to a low interest rate environment has implications for asset-liability and capital management, particularly with new entrants enter insurance markets seeking higher returns.
Plenary Session Four explores how resilient organisations respond to risk better.  It is preferable for management and the Board to proactively managing the risks and threats they face, rather than constantly "fire-fighting".  Paul Hurrell, a noted cyber and fraud risk expert, will discuss how this specific threat can be better managed.  Tony Harb of InConsult will then explore some cases studies and lessons learnt from prior business continuity events.  Finally, Saskia Goedhart, Group CRO for AMP will share her risk insights from working in consulting and corporate roles in Australia, Europe and North America, including dealing with strategic risks.
In Plenary Session Five we will summarise the responses from our inaugural survey of Chief Risk Officers of APRA regulated entities, with a focus on understanding different approaches by industry (e.g. banking, general insurance, life insurance and private health insurance), and by size of organisation.
The final, sixth plenary is titled "Organising the Response to Risk".  In this session we will explore the relationship between executives and Boards in managing risk.  Potential improvements to governance arrangements will be considered, including lessons learnt from overseas.  An introductory presentation will be given by Nicolette Rubinsztein, who is an actuary, former executive at Colonial First State/Commonwealth Bank and now a non-executive director and author.  Nicolette will then be joined for a panel session including Dominique Fox (Executive Manager Risk and Compliance, Westfund Health Insurance), Rob Curtis (Global Regulatory Leader for Insurance at KPMG) and Jacob Mamutil (Principal at Finity Consulting and Enterprise Risk Management Practice Leader).
The ERM Seminar will have multiple networking opportunities, during registration, at lunch and afternoon tea and in the networking drinks session after the plenaries have concluded.
Registration for the ERM Seminar is open.  Early bird registrations close on Friday 25 August 2017.  Register your place and invite your colleagues and your network contacts to attend as well, to help you organise your response to risk.
CPD: Actuaries Institute Members can claim two CPD points for every hour of reading articles on Actuaries Digital.