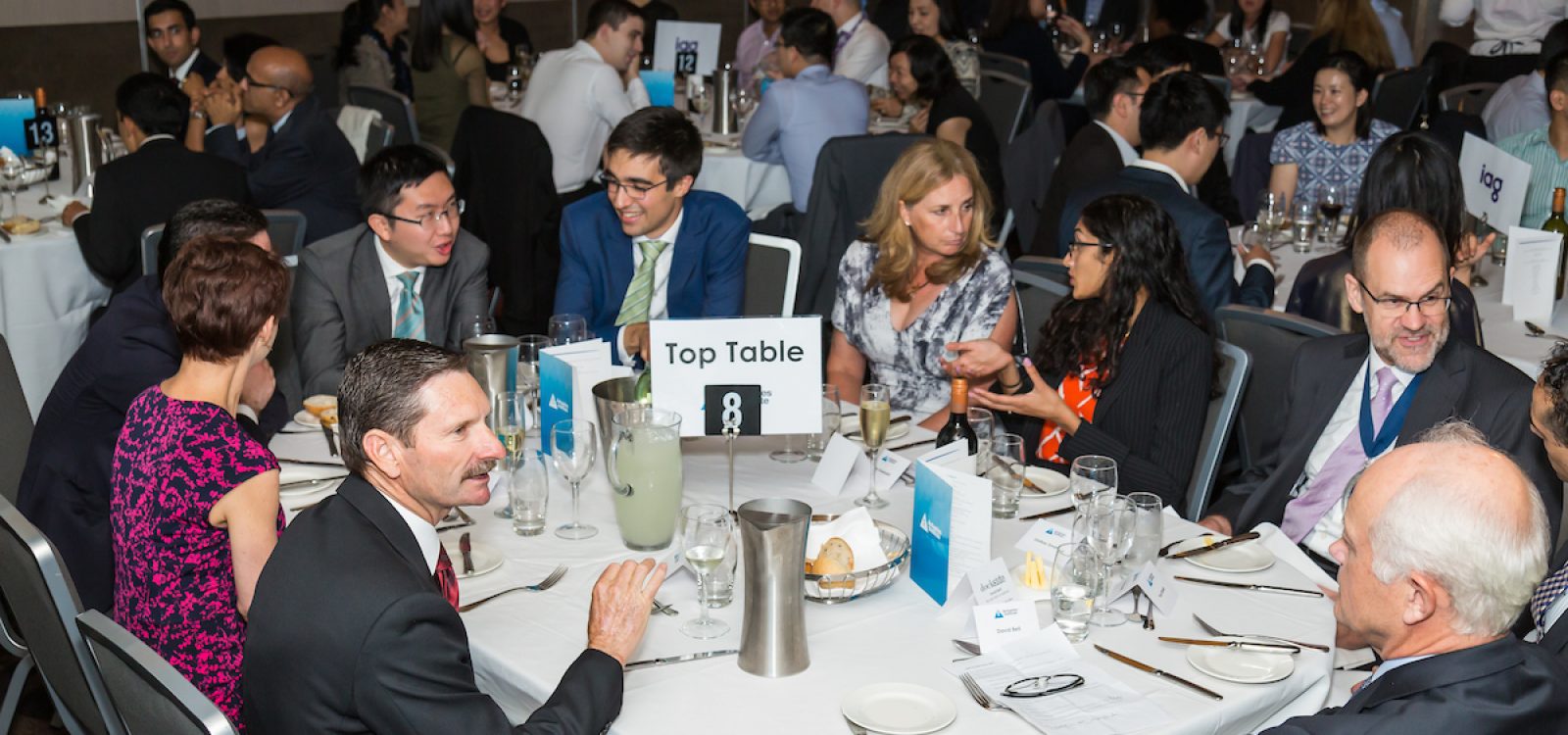 Event Reports
2016 Actuary of the Year Sarah Johnson celebrates with new Associates and Fellows at the Sydney Celebration and Networking Dinner
Tuesday 29 November was truly a night of celebration. Not only were our new Associates and Fellows awarded their qualification certificates, but after being announced as 2016 Actuary of the Year last month, Sarah Johnson was officially presented with her award. 
Colleagues, family and friends gathered at Dockside on Tuesday evening for a night of celebration.  As President Lindsay Smartt congratulated the two Associates and 18 Fellows on achieving their qualification, he was reminded of his own experience and how rewarding it has been.
"Of all the experiences I have had this year as President, without a doubt, the one I really look forward to is this occasion – when we as a community celebrate your great achievement.  Perhaps it's because I look back and still remember how much hard work and sacrifice was involved. Perhaps it's because I enjoy seeing the future of our profession spreading their wings and taking flight.  But really, it's because I believe that the conferring of qualifications is arguably the single most important role of the Actuaries Institute."
"Tonight is a celebration, and it's wonderful to join in this event as your family, friends and colleagues mark this very important milestone in your career" Lindsay commented.
| | |
| --- | --- |
| President Lindsay Smartt presents Edward Yeldham with his Fellowship certificate. | President Lindsay Smartt, CEO David Bell, Councillor Chao Qiao, Paul Rehill, Edward Yeldham, Alka Kalasabail, Susan Mooney, Daniel Rose, Anne Rose and Doug Rose |
It was also a special night for Sarah Johnson, Scheme Actuary, National Disability Insurance Scheme (NDIS) who was named 2016 Actuary of the Year last month.
Sarah began her actuarial journey in health at PwC as a graduate where her passion for public health grew. She became more involved in social policy and following Kevin Rudd's 2020 Summit recommendation of a National Disability Insurance Scheme, started the NDIS journey. Now, as the NDIS Scheme Actuary since its inception in 2013, Sarah's honorable efforts in carrying forward the NDIS and building a sustainable way to support people with a disability have been acknowledged.  "The government committing to an NDIS was huge. The three years of trial have finished and we are now focused on transitioning to full scheme – essentially rolling out across the country" said Sarah.
However, President Lindsay Smartt highlighted that it is not only Sarah's effort with the NDIS that has earned her the award. It is also the contribution she has made to the actuarial profession. "[Sarah] has showcased the vast potential of actuaries to contribute positively to broader social and economic decision-making…Sarah has dedicated her career to promoting the important role the actuarial profession plays in the development of social policy. Her drive and passion are a credit to the profession" he said.
About the profession, Sarah said "the actuarial profession is at the forefront and has a big role to play. The benefits of a lifetime approach and rigorous actuarial modelling is starting to feature more prominently in social welfare… as a profession I hope this can continue and expand – and indeed continue to be a career path for actuaries." 
Sarah went on to thank John Walsh AM, 2001 Actuary of the Year, Peter Martin, Australian Government Actuary and 2014 Actuary of the Year, David Bowen NDIS CEO, the NDIA team and the Actuaries Institute. 
President Lindsay Smartt presented Sarah with the award, commenting that "the NDIS is one of the most important social initiatives in Australia since the introduction of Medicare."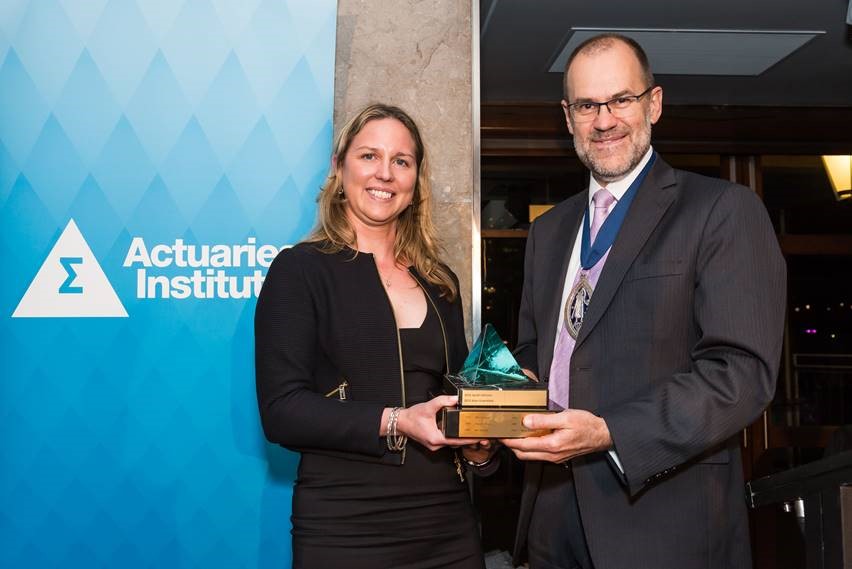 He said, "this award recognises Sarah's major contribution to the success of the NDIS, the introduction of actuarial techniques and the value of actuaries in a new field. As the foundation Scheme Actuary of the NDIS, Sarah has taken the actuarial profession into a new and exciting area of social policy."
| | |
| --- | --- |
| John Walsh and Sarah Johnson | Sarah and John celebrate with the NDIA Team and friends and family |
Attendees continued celebrating throughout the evening, enjoying drinks and catching up with colleagues, friends and family. To read more about Sarah Johnson as 2016 Actuary of the Year, click here.
Once again, congratulations to our newly qualified Associates and Fellows of the Actuaries Institute. 
CPD: Actuaries Institute Members can claim two CPD points for every hour of reading articles on Actuaries Digital.