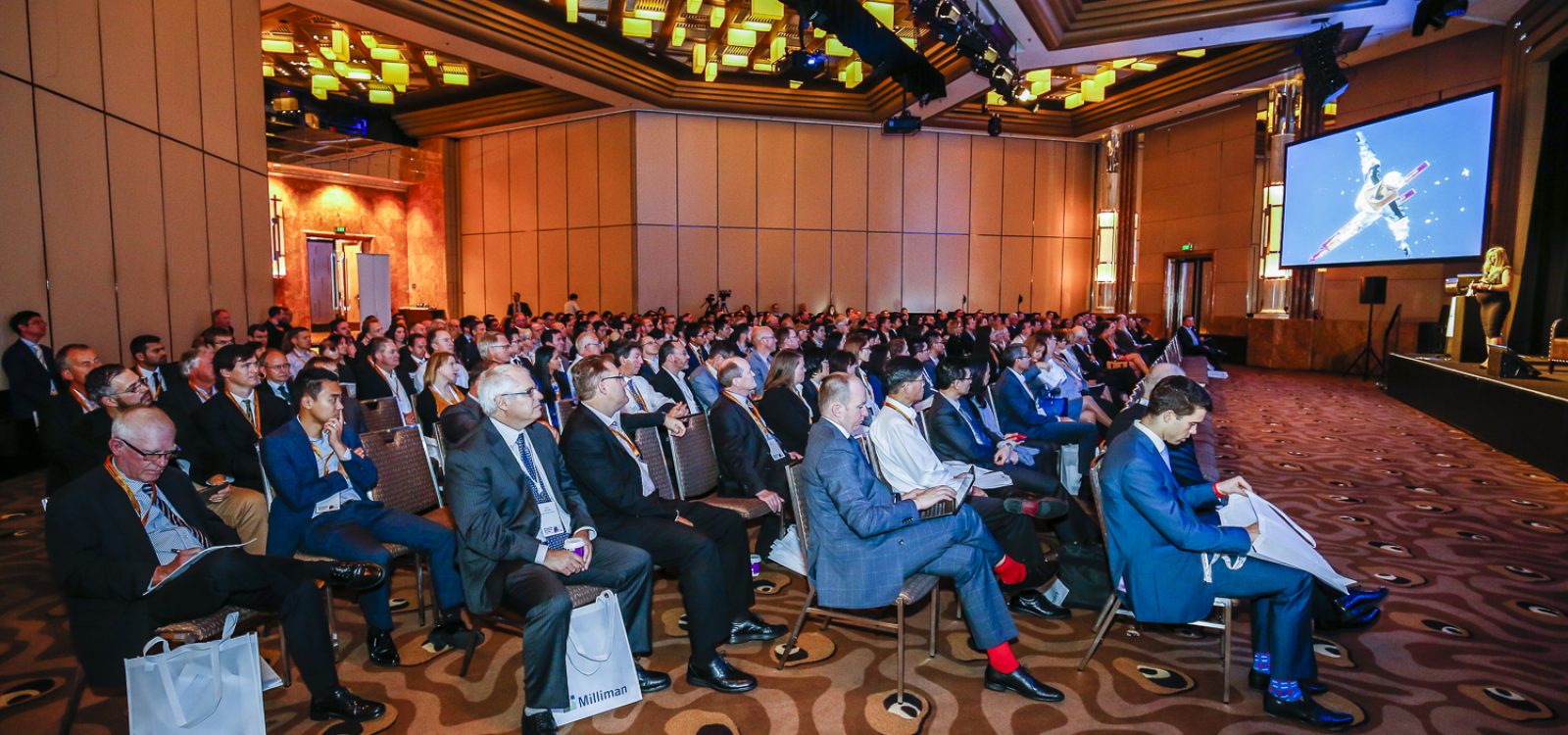 Features
The Future of Financial Services – FSF 2016 Wrap Up
FSF2016 examined how disruptors will impact the financial services industry. It asked, how can actuaries reimagine their career in the future world? Where are the opportunities?
Actuaries Institute President Lindsay Smartt welcomed more than 420 delegates to the 2016 Financial Services Forum (FSF) at the Grand Hyatt Hotel in Melbourne on Monday 16 May. ABC anchor and Walkley award-winning journalist Virginia Trioli facilitated the Plenary Sessions, commanding a fast paced Q&A with expert speakers across a range of industries.
The Forum focused on emerging 'disrupters' to the industries in which actuaries work, especially life insurance and superannuation. It featured new insights on our ageing population, retirement income and life insurance products, banking regulation and trends in the sharing economy, along with various career development presentations.
Presentations from a variety of the Day 1 Plenary Speakers and Concurrent Sessions are now available on the FSF Program Snapshot. A full Photo Gallery is also available.
A high-flying career
Delegates gathered on Monday morning for a Keynote Address by world champion aerial skier and senior IBM business executive, Alisa Camplin OAM.
"I've heard half-a-dozen really great presentations in my time – and this was one of them," said CEO David Bell whose latest column is inspired by Alisa's words.
Alisa had delegates up on their feet, simulating the body positioning required for a double twist aerial ski jump. The demonstration highlighted how much preparation a world class aerial ski jump, lasting just three seconds in the air, requires.
"A vision without a plan is just a wish. You absolutely need both." – Alisa Camplin
Alisa shared details of her ambitious strategic plan, and 'tough years' working multiple jobs, that helped her make it to the Games.
She decided she wanted to be a champion aerial skier before she had actually learned to ski, at age 19. She curated a team of expert trainers and mentors, and considered seemingly every way to perfect her daily routine and out-train competitors.
"A vision without a plan is just a wish. You absolutely need both," said Alisa. 
Ignoring 'stop signs' and critics and silencing her inner negativity to become her "own biggest cheerleader" was also a key to success, she said.
"All of us could ask ourselves 'am I working hard enough when nobody else is watching?'" said Alisa. 
In Q&A time, Virginia probed Alisa for further tips on her approach to discipline, motivation and leadership in both sport and business.
Empowering an ageing population
Plenary 2 followed with a fascinating discussion on regulatory, policy and real world 'Challenges of an Ageing Population'; topical especially with the July 2 Federal Election approaching.
"41% of our members arrive at retirement without a process of financial planning or adjusting." – Jon Sedawie, General Manager, Product Strategy, Cbus
Mike Woods, Professor of Health Economics at UTS, outlined the growth in Australia's elderly population and projected shifts in ratio of working people to retirees.
He emphasised the trend to empower older people; reposition nursing homes as multiple care use assets and strengthen individual control, choice and community living.
"There is important work being done to make sure we're on the same page here with common goals because that creates certainty and opportunities to invest," said Mike.
The Forum next heard from Jon Sedawie, General Manager, Product Strategy, at industry super fund Cbus, who urged funds to be more to their members than simply 'funds administrators'.
"41% of our members arrive at retirement without a process of financial planning or adjusting," he said, adding that holistic advice is needed to allay customer anxiety about retirement and help put plans in place.
Nicolette Rubinsztein (pictured above), Director of UniSuper and Actuaries Institute Councillor shared five key pieces of research on retirement income products and her 'top 10 learnings' in this area since her time as General Manager at Colonial First State.
"Annuities have been described as a 40-year risk exposure to an insurance company – how do we reconcile this poor image?" she asked, adding that there is much good work to be done by actuaries in this space.
In data we trust
Plenary 3: 'Technology Opportunities' saw three distinguished speakers discuss the importance of data collection and analysis to market traction and business success. Head of Financial & Business Services at Google, Colin Barnard discussed Google's mission to "organise the world's information and make it universally accessible and useful.
Oliver Moore, Client Partner for Facebook shared insight on leveraging data and analytics to deliver highly personalised marketing strategies to the 11 million Australians who use Facebook daily.
Finally Adam Driussi, Actuary and Co-founder and CEO of Quantium outlined how his company is helping clients create data by analysing, for example, catalogues, bank statements and receipts.
"There are so many opportunities to use data and analytics to help retailers make decisions on stock supply and placement, the list is endless." – Adam Driussi, actuary and co-founder and CEO of Quantium
GoGet sustainable
Day 2 of FSF kicked-off with a look at the fast-growing car-sharing economy. GoGet's General Manager for Victoria and South Australia, Justin Passaportis, engaged delegates with interactive data displays showing the strong uptake of GoGet car sharing services in Australia cities.
"Soaring populations, limited space and increasing congestion call for intermodal transport," said Justin. He also outlined GoGet's latest partnerships with Melbourne universities and local councils to test new car sharing technologies and fleets.
"We believe car sharing is integral to the transition to driverless cars. We are a reluctant disrupter, we are part of the solution and are learning as we go." – Justin Passaportis, GoGet's General Manager for Victoria and South Australia
To engender better financial stability in the insurance industry generally, Adrian Rees (pictured below right) of APRA called industry players to remain focused on fundamentals and sensible underwriting, as well as board and management mindfulness. 
He also touted the importance of Appointed Actuaries and CROs working together. "This is critical to developing a sensible risk management framework that's fit for your business," said Adrian.
Equity Analyst Siddarth Parameswaran (pictured below rightfrom JPMorgan was the final plenary speaker on Tuesday morning. In regards to longevity risk, Siddharth said that so far, only one player (Challenger) has had a strong voice and captured the market's mind on where solutions on longevity should go. He called for industry discussion on capital intensive versus non-capital intensive models in this area.
Insurance and society
FSF's final plenary saw three distinguished speakers talk about the big challenges facing industry and society.
"100 years ago lung cancer almost didn't exist. People will look back on smoking deaths as a 'strange period' we lived through, similar to the plague." – Dr Bronwyn King, Radiation Oncologist and CEO of Tobacco Free Portfolios 
Sharanjit Paddam, Principle at Deloitte, detailed the 'pervasive and systemic' impact of climate change on sectors from agriculture to tourism, mining, energy, health, housing and employment.
Dr Bronwyn King, a Radiation Oncologist and CEO of Tobacco Free Portfolios shared her work to get 33 superannuation funds to implement tobacco-free investment mandates, following her experience treating hundreds of terminal patients with tobacco-related illness.
"100 years ago lung cancer almost didn't exist. People will look back on smoking deaths as a 'strange period' we lived through, similar to the plague," said Bronwyn, adding that every metric associated with disadvantage is now associated with smoking around the world.
Finally, Margo Lydon, CEO of SuperFriend outlined the latest work of the industry funds forum and mental health foundation to deliver targeted workplace programs, initiatives, resources and the latest research to improve the mental health and wellbeing of 'all profit to member' super fund members.
The session concluded with Q&A time before Virginia thanked all speakers and 2016 delegates for participating in an array of vibrant conversations at the intersection of actuarial analysis and the future of Australia's financial services industry.
Delegates enjoyed a Cocktail Party on Monday night and took the chance to debrief on the insights gathered from the day's presentation.
Over eight Concurrent timeslots, the Forum featured sessions on a range of topical issues, from a critique of the Intergenerational Report, to a look at the Banking and Finance Oath, to possible designs for retirement income products and how data analytics might transform everything from retail sales to life insurance products. Others explored the latest trauma definitions and trends in disability insurance, as well as the uptake of Robo-advisors and optimal investment strategies for Australian retirees.
A number of presenters called on actuaries to use their 'highly transferable' skills to innovate and contribute to wider fields.
"We have so much potential to impact on society; to bring credit to our profession and ourselves. We need to take ownership for our own careers as individuals" – actuary at Deloitte, Marc Mer
The Institute would like to thank the FSF2016 Organising Committee: Wade Matterson (Milliman), Peter Chun (Colonial First State), Ilan Leas (Pacific Life Re), Cindy Vuong (Deloitte), Jia Tan (CBA), Diane Somerville (Deloitte), Leonie Semmens (PwC), Thuy Truong (EY), Louise Ryves (Quantium), and from the Actuaries Institute: Elayne Grace, Emma Simonson and Elizabeth Gemmell.
The Institute would also like to thank all its sponsors. The Silver sponsors for FSF2016 are: RGA, Gen Re and Willis Towers Watson. The Bronze Sponsors are: Milliman, SKL, FIS, Deloitte, KPMG and Munich Re.
CPD: Actuaries Institute Members can claim two CPD points for every hour of reading articles on Actuaries Digital.