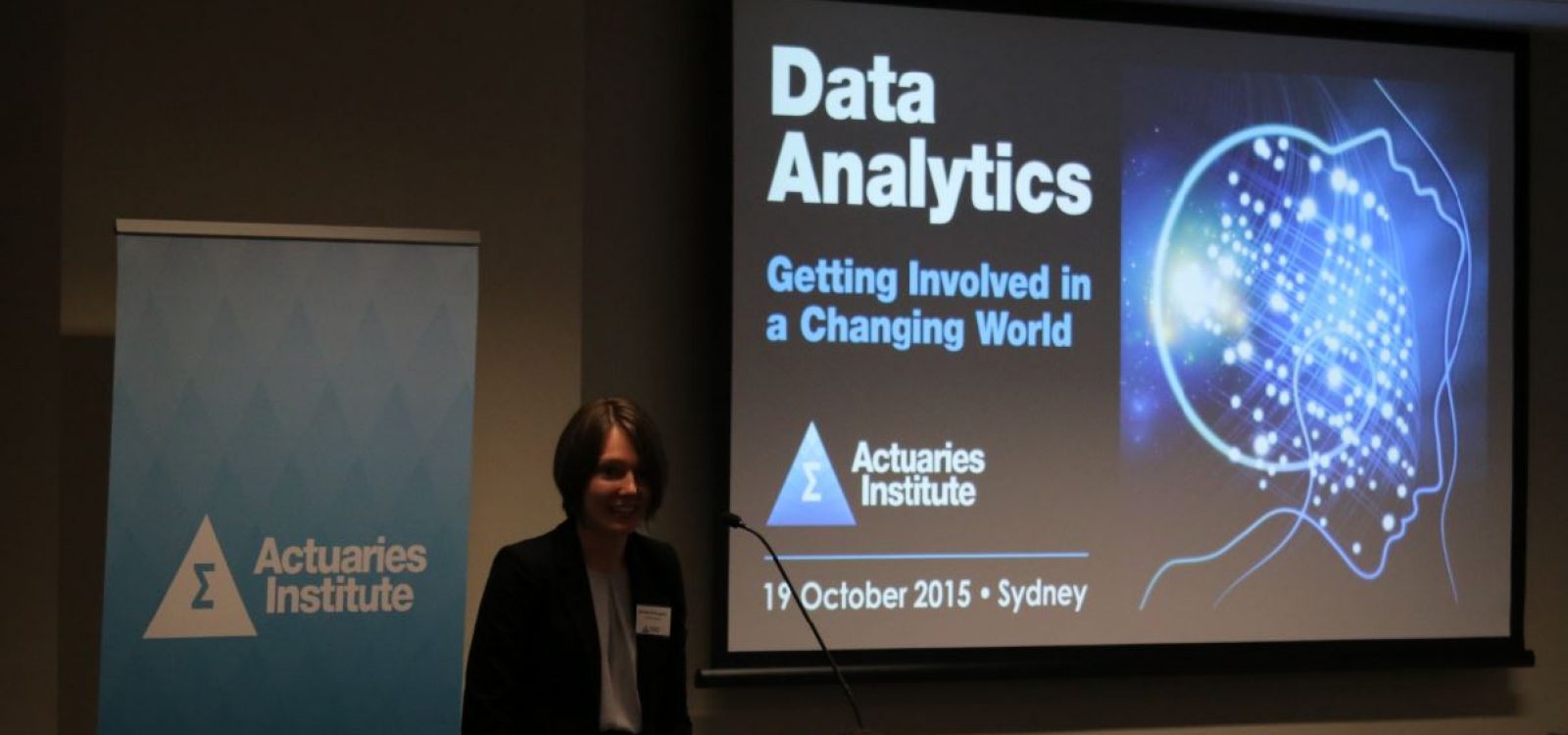 Event Reports
The 'IT' thing – forging a data-focused career
Actuaries have strong grounding for a career in data analytics but a greater understanding of IT systems and programming languages is needed for success in the field. Jas Singh reports on the Actuaries Institute's inaugural Data Analytics Seminar.
Unless you've been living under a rock you'll know there is a strong view that the field of data analytics presents immense employment opportunities for actuaries. There is already a lot of interest in the area and, increasingly, many in the profession are either working full time in the data analytics area or are contributing to projects involving data analytics.  At the recent Data Analytics Seminar, those gathered at the Actuaries Institute had the privilege of hearing from several data analytics practitioners about their own experiences.
As someone who works closely with actuaries and their employers, I have a knowledge of the skills which employers need. I believe strongly that actuaries bring a solid blend of analytical and commercial skills, along with an ability to present insights.
It is the ability to bring meaning and relevance to the data which will help differentiate us and also make a key contribution to business performance.
While the above-mentioned traits are a good starting point, it has become clear to me that anybody who is serious about working in the sector should invest some time in understanding the practical tools and developments which the practitioners referred to in their presentations.
While you won't need to be an expert, it would be helpful to have a good understanding of the practical coding as well as the background to some of the different software options below. 
This will help you to understand the "language" and "thinking approach" of data analytics, contributing to your ability to have informed and evolved practical discussions. 
R
SAS
Python
SQL
Java
Unix
Hadoop
SPSS
Matlab
Tableau
Spotfire
Qlikview
D3
The Actuaries Institute is currently running a Kaggle competition. Getting involved in such exercises will help you get familiar with these different software options as well as develop an understanding of how to go about interrogating data sets and understanding different variables. This is at the heart of data analytics work.
One of the speakers mentioned that they learned coding on the train while commuting to work and spent a lot of their personal time "playing with data sets".
There are many online sources which could help build your understanding of how to go about working with data sets.  Some of these sites include:
Increasingly, data sets are getting bigger and bigger. Machine learning is playing a more important part in data analytics, for example, decision trees are built to predict the relevant factors and fine-tuned by applying different statistical distributions to the data sets. Again, if you want to get involved and move into the data analytics sector, playing with data sets and learning the basics will take you a long way. Coursera, edx, good old text books can help you with the learning. 
"The ability to speak the language of both the hands-on coders and analysts, as well as the business decision-makers, is key to this success."
Ultimately, if you want to find a job in data analytics you need to apply for one, or many. This might mean looking for an internal transfer if your organisation has a data analytics team or perhaps volunteering for a project in the area. Talking to others in your company who are working in the area will not only give you some insight into their day-to-day work but also enable you to build some contacts and demonstrate a real interest. You may need to look outside your company, applying for a few jobs which look interesting just to get some insight. Finding out what you don't know can be very helpful.
One of the barriers to moving from a core actuarial role to a new field has often been the salary levels. However, latest understanding indicates that comparable salaries can be paid in this industry and there is obviously significant potential for the future. So you should not allow salary to be a major barrier although you may need to take a short term fall while you prove the value you can bring.
Communicating the key insights and business decision points derived from your analysis of the data is what will ultimately determine your success as a data analytics practitioner. The age old principles of effective communication such as knowing your audience, filtering key messages, building credibility by highlighting the modelling work in optimal doses and business relevant language will be the key to success. The ability to speak the language of both the hands-on coders and analysts, as well as the business decision-makers, is key to this success.  Actuaries are well placed to bring this bridge between the groups, provided we are prepared to listen, learn and ultimately speak up to make recommendations.
Working in a collaborative environment with many other smart and capable professionals will also be very important in building a successful career in data analytics. Increasingly, companies are building the data analytics teams around complementary skill sets and behavioural traits.
Employer engagement, ongoing learning and first class communication will ultimately determine your journey as a data analytics practitioner and, of course, an actuarial qualification will definitely give you an edge.
CPD: Actuaries Institute Members can claim two CPD points for every hour of reading articles on Actuaries Digital.