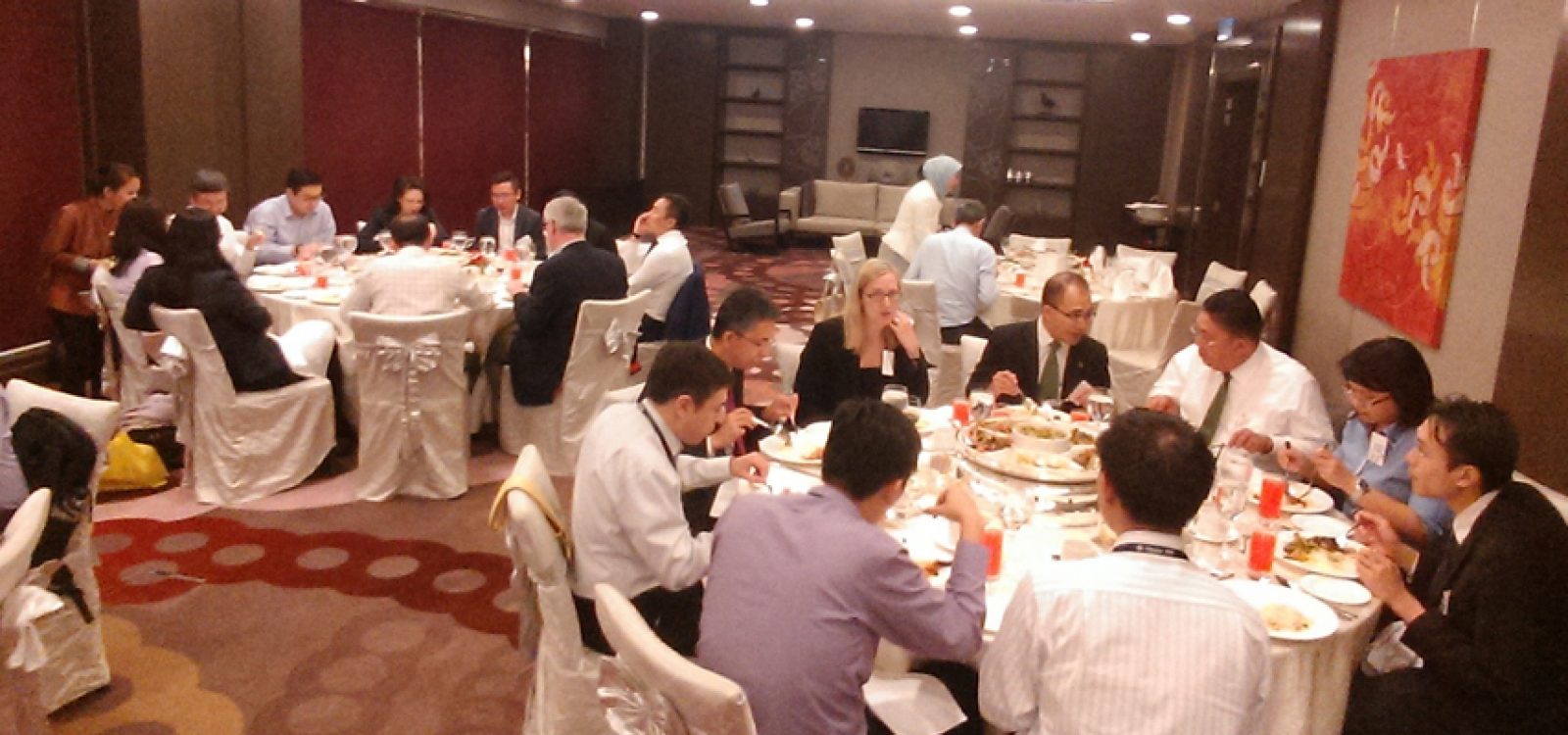 Features
Crouching Tigers, Hidden Dragons and Spouting Merlions
July saw Institute CEO, David Bell, and I take the CPD tour back on the road to Asia.  Around 600 of our members live and work in the Asian region and the annual tour provides an opportunity for the President and CEO to meet with members and to provide some high quality face-to-face CPD.  This year, over nine days, we visited Hong Kong, Shanghai, Singapore and Kuala Lumpur where 80% of our members based in the Asian region work.
Feedback on Dr Simon Longstaff's presentation "The Tiger in the Room" about ethical decision making, strategic risk and using subversive leadership to challenge "how we do things" was enthusiastic in every location despite some of the cultural differences between the countries we visited. What I had not realised was that most other actuarial associations (including the local Asian associations) have a minimum number of professionalism CPD hours to complete each year and so there is a strong demand for CPD of this type.
Since the CPD event was held in the evening over dinner (based on feedback from previous tours) during the day as well as meeting with groups of our members, David and I met with representatives of the local actuarial associations as well as the insurance regulators in Hong Kong, Singapore and Malaysia. A few things became quite clear to me from those meetings. Firstly, the pace of change in the Asian region is rapid through a combination of growing insurance penetration, liberalisation of markets and pricing and new insurance regulation – especially around risk based capital. For example in Shanghai we learned about the fledgling health insurance market, in Hong Kong about the regulator plans for RBC and in Malaysia the implementation of Financial Condition Reports for general insurance companies from next year. These changes are increasing the demand for actuaries – in China we were told that there are currently 500 actuaries but the expected demand over the next few years is for 5,000. While the local universities are playing a role in producing more actuarial graduates there will clearly be a strong demand for actuaries who have trained overseas. This confirms the view that I expressed at the start of the year that more and more we will see the career paths of our members taking them to Asia. For our younger members, the development of the Asian insurance markets should be exciting and I think that the Institute can do more to showcase the changes in these markets and the opportunities that these might present for our Australian-based members.
Another thing that became clear was how active the UK and US actuarial associations have been in the region working with local universities and providing on the ground support to their members and promoting their own organisations with employers. One of the five goals in the Actuaries Institute Strategic Plan for the next three years is to reach further in Asia including building stronger relationships with members and other stakeholders . Our visit to Asia impressed on me the importance of us delivering well on this goal in a timely manner. It also highlighted the need for us to focus on the support we provide to our student members in the region not just our qualified members. In China and Malaysia, for example, our members are predominately students and we need to look carefully at how we can support them through our education process.
With four or five meetings a day as well as travelling from city to city there was not much time for sightseeing. However we did manage to fit in a half hour in Shanghai in the rain thanks to Robert Chen who helped organise our meetings there and promoted the CPD event.  Also in Singapore we fitted in a stroll along Marina Bay in the midday sun to visit the spouting merlion. I'd like to thank our members and local ambassadors Robert, Matthew Maguire in Singapore and Loo Hai Teh in Kuala Lumpur for arranging meetings for us and generally assisting in making sure that we gained maximum value from our trip. I should also thank David Bell for both challenging me to make the trip with only carry-on luggage (a whole new experience for me and one that I very much appreciated as we marched past the queues at the baggage carousel at airport after airport) and putting up with my sightseeing attempts (I hope that David's suit recovers from the drenching it received in Shanghai).
The final stage of the CPD tour to New Zealand started on 11 August and I look forward to seeing both members and non-members at the CPD sessions and dinners in Auckland and Wellington. Having learned from the mistake of last year's President Daniel Smith, I'll definitely be packing a warm coat for this leg of the tour!
August also sees Sydney host the international ASTIN, AFIR/ERM and IACA Colloquia of the International Actuarial Association running over four days with a number of local and international speakers discussing cutting-edge actuarial research and areas of interest to the international profession in the fields of Insurance and Risk. Response to the Colloquia has been slower than we would have liked so I would encourage members to think about attending this event if only for a day since this is the first time since 1997 that the Colloquia have been held in Australia.
Finally in my last column I mentioned that we would be establishing a discussion forum to facilitate a debate among the profession on the role of the Appointed Actuary. The forum is now up and running and can be found here. There are a number of discussion questions including the purpose and scope of the AA role, the idea of a Board approved framework for actuarial advice rather than regulating the AA advice, the issues of dual hatting and conflict of interest management, the content of Financial Condition Reports and the value of external peer review both in general and life insurance. Don't sit around a wait for others to lead the discussion and debate – this is your chance to have your say!
CPD: Actuaries Institute Members can claim two CPD points for every hour of reading articles on Actuaries Digital.