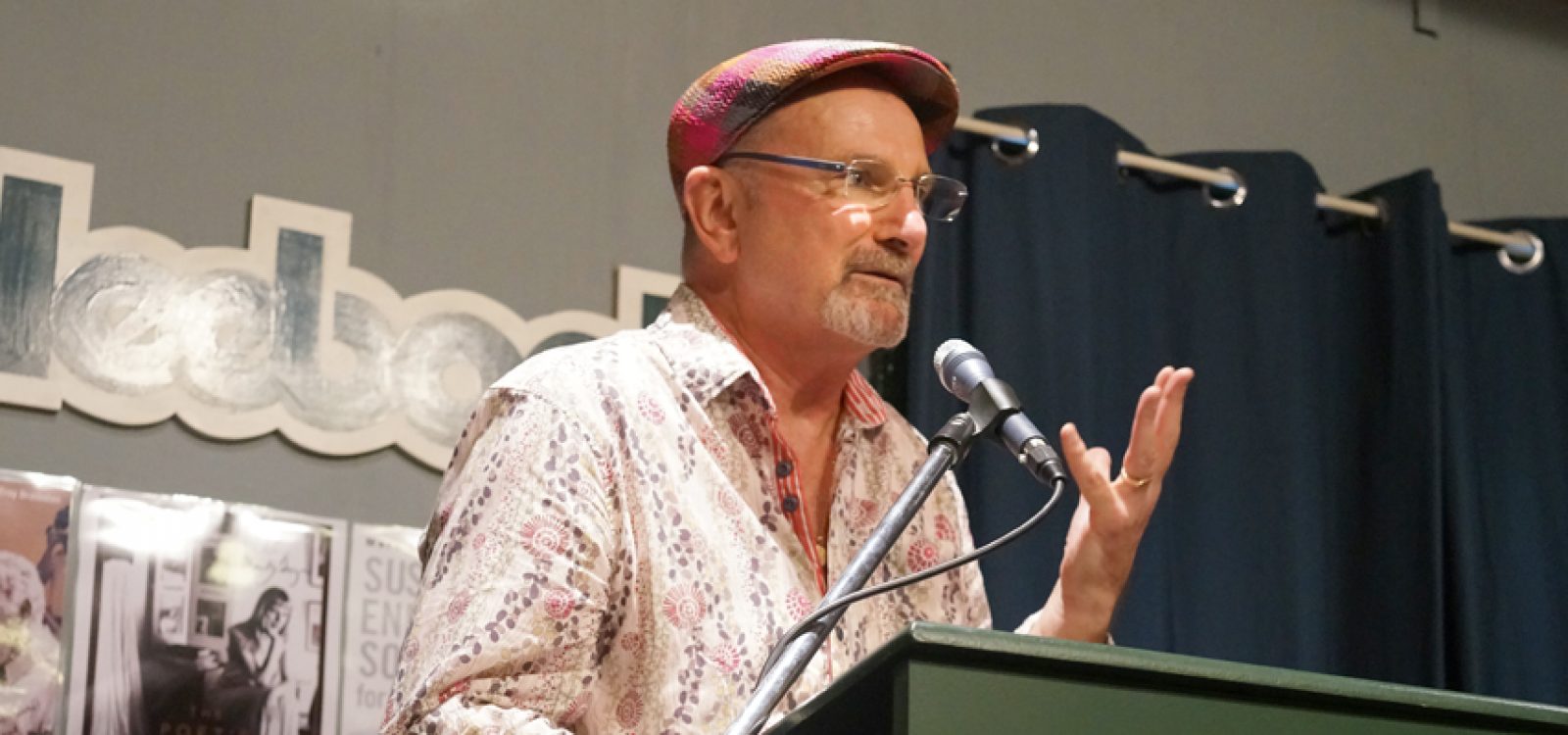 Actuaries at Play
Why Write Poetry? … Why Breathe?
I could also add love, family and music. I realised a lifetime ambition on 26th April when renowned poet, Les Wicks, my wife, Julie, and my children, Alana, Leigh and Rick, helped me launch my first poetry collection at Gleebooks.
The launch marked my second serious attempt at achieving publication. The first was completely unsuccessful; the second began when I left full-time work to embark on a so-called portfolio career, started attending workshops run by prominent poets such as Les Wicks and Les Murray and the acceptance of individual poems in the occasional paper-based or online literary and topical journal. After accumulating the usual pile of rejection slips for the manuscript I had put together over this time, I sent the manuscript to the publisher of a Tasmanian journal who agreed to look at it after accepting a poem for the journal. It was a great surprise and thrill when he agreed to publish the manuscript.
The collection is entitled An Existential Grammar and is published by Walleah Press in Tasmania. (Copies are available from their website for a modest price!)
I have been writing poetry since my teens. As you might expect my early stuff was derivative and angst- ridden. I hope I travel a little further afield these days.
I am in the midst of a creative writing course at Sydney University which will hopefully seed another manuscript.
I have always regarded poetry, mathematics and music as closely related. I recently came across a quote from the great economist, Alfred Marshall: "There are I believe in the world few things with greater capability of poetry in it than the multiplication table". Of perhaps marginal actuarial interest, the second line of the poem that opens my collection refers to "the combinatorial mercies of war".
SOUTHERN WRIGHT WATER
(After reading Judith Wright, A Human Pattern: Selected Poems)
Surf is guitar, still water single piano notes, leaves feather the air like memory. Seaspray is scented with fable and renewal, and hope is a flowering gum.
My wife's forbears berthed their generations not far from here when steamers still cut through the whip-water heads. A once eagle on the family tree mixes with now inaccessible soil somewhere nearby. The last crop but one have maintained his vocabulary of sun, cloud and rain.
There is both home-leaving and home-coming in our arrival. We connect through parallel wardrobes and pantries and a lightly loaded car. We imagine the birds remember us, though they don't seem to know our names. We are providentially seed, the better for it. Our trees stand more constant to their need.
The equipoise of a lake and two beaches within easy walking distance settles like the ocean on the horizon above the roof-lines as infant night enables sight and the dark-light waves wash through our ears.
Sometimes we plot the day ahead, sometimes we tune out, remote in hand, sometimes the old flirtation animates ambling love through our feet on the cradling lino, a glass too many of wine, tea served in crockery that aches to be held fragile and firm as breath.
CPD: Actuaries Institute Members can claim two CPD points for every hour of reading articles on Actuaries Digital.