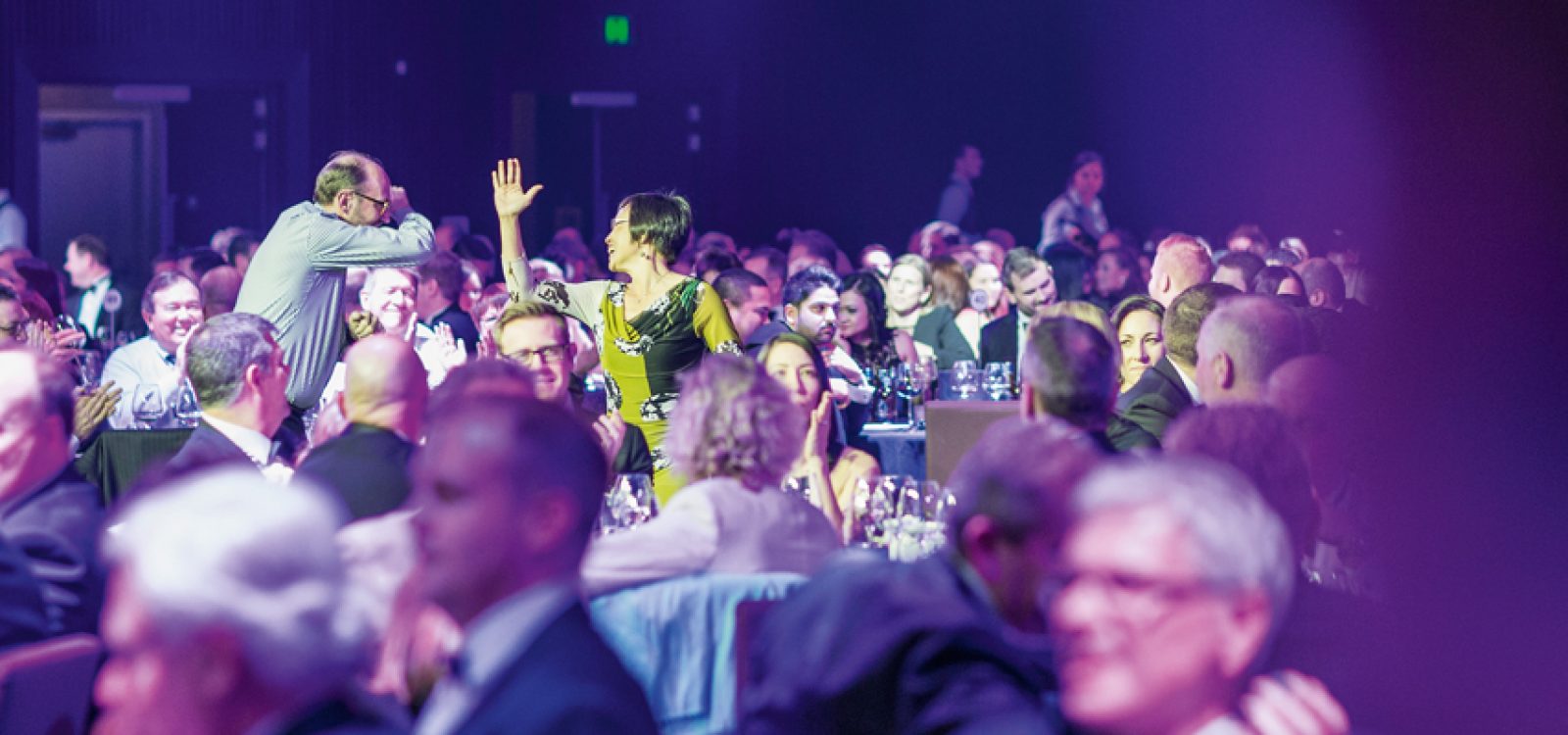 Event Reports
Australian Insurance Industry Awards
In what has become somewhat of a tradition, each August under the well-lit Sydney skyline Australia's insurance community trades suit for sequin, Vittoria for vino and emerges en masse for its annual night of celebration.
The Australian Insurance Industry Awards, or the 'Oscars of Insurance' as some have come to know it, is every actuary's, reinsurer's, underwriter's, broker's, loss adjuster's, claims staff's and advisor's opportunity to prove that which they know to be true: One, that there's a penchant for glamour hidden under the graphs and product disclosure statements. And two, that this complex, challenging industry has a warm, fuzzy inside that flies in the face of outsiders' perceptions.
"From the outside, insurance can appear as a great monolith," began Prue Willsford, CEO of the Awards co-founder, the Australian and New Zealand Institute of Insurance and Finance, in her welcome speech.
"But once you're on the inside, it's a very different story. In reality, we are one big, blended family. And, like any family, while we compete with each other, in the end we are a group of people who support each other and who want our family to succeed."
No one proved this notion better than the actuarial component of the audience, both for its strong attendance at the Awards and for the significant airplay received on the night by insurance family 'siblings', actuaries Finity Consulting and Taylor Fry.
Finity was a major partner of the event and also sponsored the Service Provider of the Year award, a category it lent its name to after winning the prize five consecutive years. This winning streak resulted in the company's induction into the Awards Hall of Fame in 2012.
Not to interrupt the history of high achieving actuaries at the Awards, at the lectern this year as a presenter, Estelle Pearson, Finity Managing Director, announced that she would pass the 2014 Service Provider of the Year title to fellow actuaries Taylor Fry.
On collecting the trophy from Ms Pearson, Taylor Fry director Win-Li Toh thanked Finity for its support, acknowledging the privilege of belonging to an industry where competition doesn't get in the way of camaraderie. But as much as the Awards are about good will and community, it is also about achievement, Win-Li giving some insight into Taylor Fry's ascent to the winner's podium.
"We are passionate about innovation in the analytics and actuarial work we do, so we are constantly seeking new ways to add value to our clients' business. We are very excited to win the award and take it as an endorsement of our practical and responsive approach to our clients and to the industry," she said.
Congratulations and hearty handshakes between presenters and winners weren't the only evidence of the warmth that the Awards attempt to capture. This year, the crowd jumped on the opportunity to engage with each other during the event via social media, sharing group selfies (as directed by event MC, ABC presenter Adam Spencer), tweeting updates on happenings throughout the night and tagging photos from Facebook for many days after the August 20 event. Such was the enthusiasm generated by the chance to 'share', 'like' and 'retweet' that by August 21 over 71,000 Twitter accounts had been reached – a number that goes far to reveal the web of friendships that characterises the industry.
It is this spirit of fun, celebration and community that Prue Willsford said drives the annual event.
"These Awards are about recognising excellence but they are also about celebrating being part of a collegial, supportive professional community that does its utmost to produce great results."
And amongst the high pitched chinking of champagne flutes, enthusiastic backslaps and friendly competition that saw a record number of submissions for the titles, it seems that this is exactly what the Awards are doing.
These awards are about recognising excellence but they are also about celebrating being part of a collegial, supportive professional community that does its utmost to produce great results.
2014 WINNERS AND FINALISTS, THE AUSTRALIAN INSURANCE INDUSTRY AWARDS:

Consult Insurance Solutions Pty Ltd Simplex Insurance Solutions

MEDIUM BROKER OF THE YEAR

Roderick Insurance Brokers Pty Ltd Scott Winton Insurance Brokers

SMALL MEDIUM GENERAL INSURANCE COMPANY OF THE YEAR

National Transport Insurance (NTI)

CommInsure
Westpac General Insurance Limited

LARGE GENERAL INSURANCE COMPANY OF THE YEAR

Suncorp Group
Zurich Australia Insurance Limited

Barry.Nilsson. Lawyers               HWL Ebsworth Lawyers

LIFE INSURANCE COMPANY OF THE YEAR

AIA Australia                              MLC

CLAIMS SERVICE PROVIDER OF THE YEAR

National Transport Insurance (NTI)

CGU
Suncorp Group                         Swiss Re

UNDERWRITING AGENCY OF THE YEAR

SERVICE PROVIDER TO THE INSURANCE INDUSTRY

Gratex International JB HiFi

CelsiusPro (Aust) Pty Ltd – Joint Winner Gratex International – Joint Winner

Budget Direct Insurance Box and SSP

ANZIIF LIFETIME ACHIEVEMENT AWARD

Allianz Australia Suncorp Group

GENERATION I YOUTH DEVELOPMENT AND EMPLOYER OF THE YEAR

INSURANCE LEADER OF THE YEAR

Phil Hay – BT Financial Group

ANZIIF LIFETIME ACHIEVEMENT AWARD
CPD: Actuaries Institute Members can claim two CPD points for every hour of reading articles on Actuaries Digital.