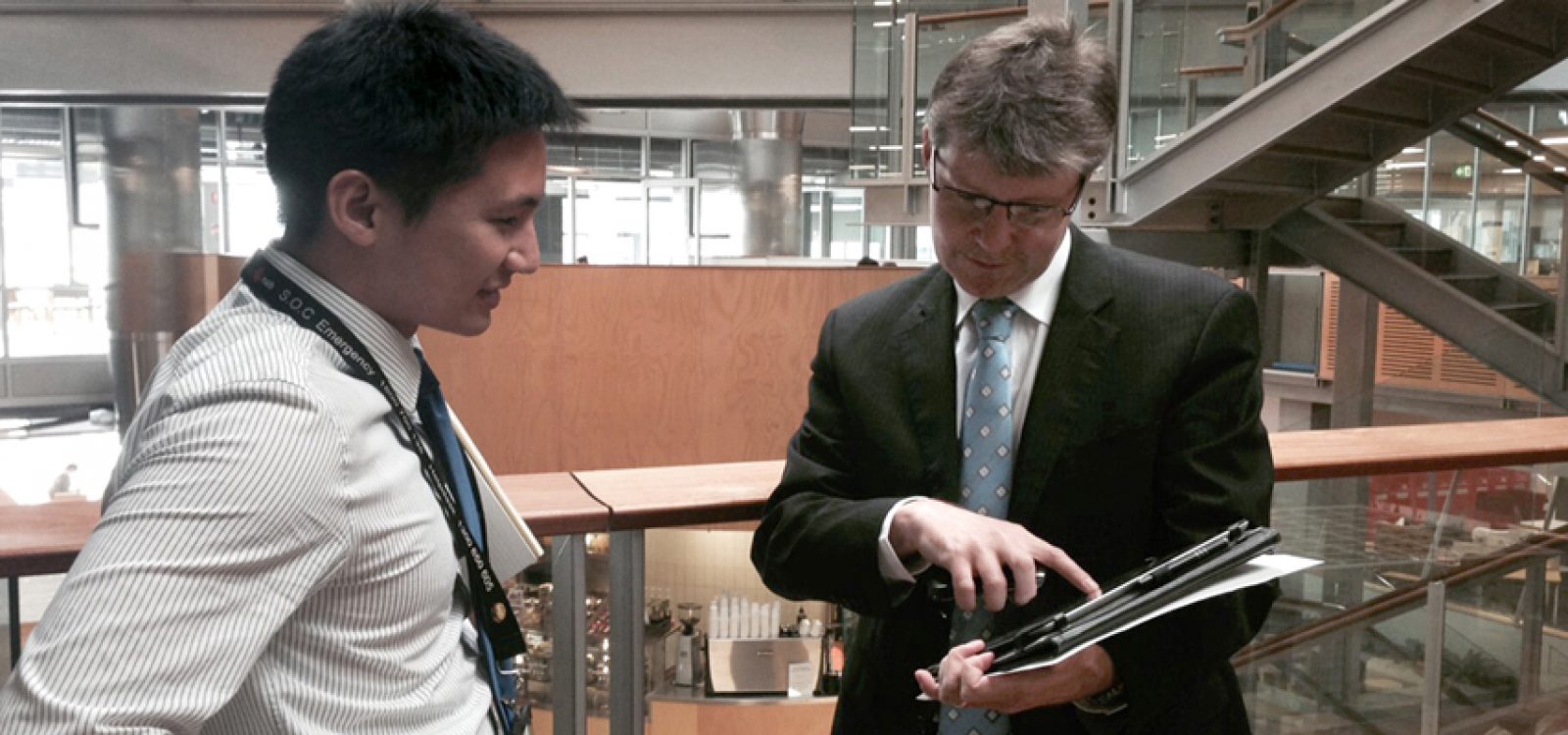 Executive Interviews
An Interview with Phillip Everett – Head of Group Capital and Pricing Intelligence, National Australia Bank (NAB)
The Institute's newly formed Banking Practice Committee has been established to support actuarial development in the banking industry at a time of heightened focus on the Australia's financial system. Phillip Everett, Head of Group & Capital Pricing Intelligence – National Australia Bank (NAB) will lead the group with the aim of contributing to the strategic direction of the Institute, actively supporting the development of actuarial practice, and identifying and promoting opportunities for members working in banking.
Phillip took a break from his busy schedule to discuss his diversified career and the changing landscape of actuaries in banking.
ADAPTATION IS KEY
In his early school days Phillip Everett was very strong in applying mathematics, so he seemed destined to become an actuary from a young age.
"My father came across an actuary who was a tenant in the building he was working in and they began discussing my skillset. Without ever meeting me, my father's colleague recommended the profession as a good career for me and the seed was planted," said Phillip.
Phillip went on to study Economics and Statistics at the University of Adelaide and began his career as an actuarial analyst at National Mutual. In this role Phillip began to learn the importance of having an open mind and being adaptable, something he has carried with him throughout his entire career.
"In my mind there is nothing more important than being able to adapt in your career. I have constantly adapted to the environment around me, which hasn't always been easy but has been necessary to stay in the game. At National Mutual in Adelaide we had a specialist consulting firm Palmer Gould Evans that worked across a number of areas including defined benefit super schemes, master trusts, workers compensation, friendly societies, legal work and general insurance. We were forced to adapt our skills to all areas; there was no room for one trick ponies. Learning how to do this was one of the most valuable lessons in my career," Phillip explains.
National Mutual sold Palmer Gould Evans to Buck Consultants and Phillip ended up moving to Melbourne shortly after. On qualifying, he wanted to expand his horizons and began studying a Diploma of Financial Planning, which led him to his next role as a product actuary at Plum.
"Joining Plum was the best decision I ever made. I would recommend that everyone join a similar firm at some stage of their career. It was an end to end business and I was exposed to every aspect of the company and was lucky enough to work with a variety of people – from those in the sales team to senior management, relationship managers and other product managers. Having visibility of the entire company showed me how all the different business units work together," he said.
"I also received some of the best career advice from the sales team at Plum. As an actuary we can find it overwhelming presenting and connecting to senior executives. The sales team taught me people are just people no matter what their position is," he said.
Since then, Phillip's career has flourished within the Australian banking industry at NAB. Over his time at NAB he has held a number of roles including Head of Portfolio Strategy and Pricing, Head of Portfolio Pricing and Capital Management in Business Banking, Senior Adviser in Capital Insights and his latest role as head of Group Capital & Pricing Intelligence.
"Working for a bank opened more doors for me than I could have ever imagined. By branching out of some of the traditional actuarial areas I could embrace far more varied professional opportunities. My career took off after joining the bank.
"I only have one career regret, which is spending too much time in a role simply because it was comfortable and safe. When I really thought about it I wasn't that happy with the scenario and the work wasn't satisfying. I wish that I had branched out sooner because once I did I never looked back," he said.
OPPORTUNITIES ACROSS BANKING
During the past eight years in banking, Phillip realised that bringing together information from a number of different areas of the bank was the most enjoyable part of his job.
"The large banks are massive institutions with pockets of highly intelligent and skilled people such as people who build risk models, treasury specialists and corporate finance specialists. I get satisfaction from bringing these all together and solving things in a pragmatic way," he explained.
"In this industry people still have a narrow view of the ability of actuaries and still do not fully understand what we do. It is important we brand ourselves as financial services professionals with a highly useful actuarial skillset.
He said individuals need to demonstrate what they are capable of and not expect there to be a career path solely based on their actuarial qualifications.
Don't bank on one skillset: be prepared to change your spots.
"Bankers are very straight forward people and you need to be able to demonstrate how you can add value. Interestingly, a lot is based on other skills which are usually developed throughout a career and one of the most powerful tools we have as actuaries is translating those skills across industries. There are lots of talented actuaries who have done this successfully," he said.
In June 2013 Phillip and a number of actuarial colleagues working in the banking industry established the Banking Practice Committee to help link more actuaries in the industry.
"The power of the Banking Practice Committee is our ability to give Institute members better visibility across the areas of banking that actuaries are working in, with the view to promoting the actuary brand within banking and helping actuaries understand the opportunities available to them."
A CHANGING LANDSCAPE
Phillip believes it is highly important to act as a mentor for the younger generation of actuaries and he aims to encourage and develop people to help them take career risks, especially as the landscape of the profession changes.
"We need to mentor the younger generation and support them as they develop their careers. It's so important to encourage as many actuaries as possible to branch out of traditional roles and to be more flexible in the type of roles they consider working in.
"The actuarial landscape is changing. With a number of data based roles being taken overseas or replaced by technology, actuaries need to work on providing on-the-ground advice and explaining what is behind the numbers.
"This is where the opportunity lies for actuaries. We need to work on diversifying our skillset and embrace the changing landscape of the actuarial profession," he concluded.
CPD: Actuaries Institute Members can claim two CPD points for every hour of reading articles on Actuaries Digital.